Question :
Topic-  Leadership
Project: Task Based on the above two articles and other relevant literature provide response to the following:
Discuss changing perspectives of leadership in different economic, social and political contexts.
Evaluate the challenges in leadership in today's volatile business environment.
Briefly analyse different characteristics of responsible leadership.
Discuss the Importance of demonstrating responsible leadership to be able to lead the organisation during a process of change.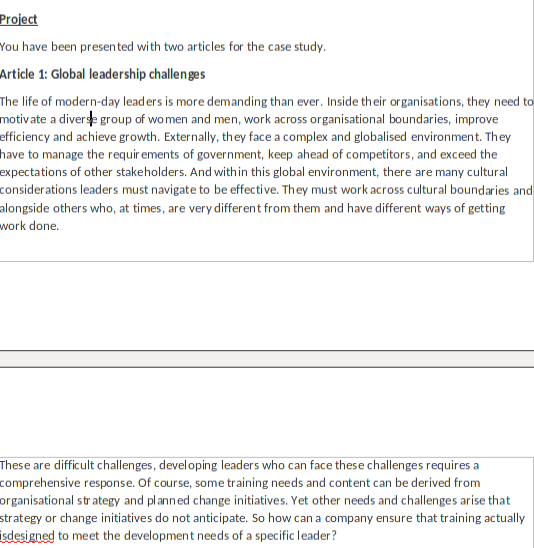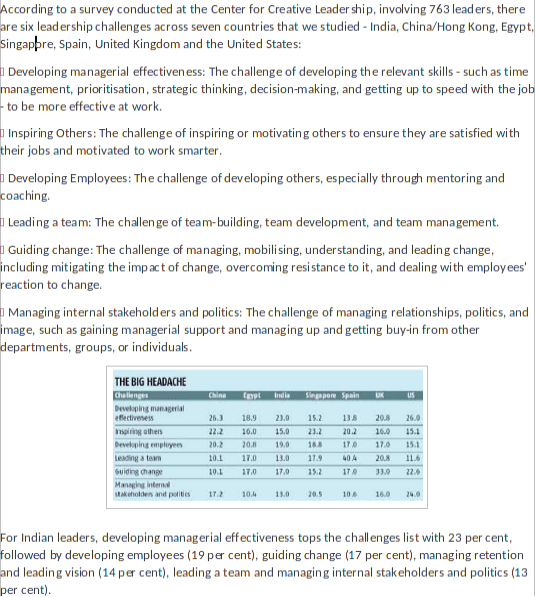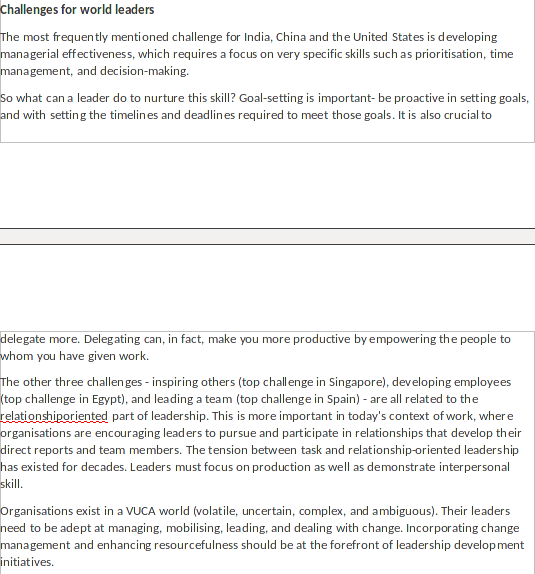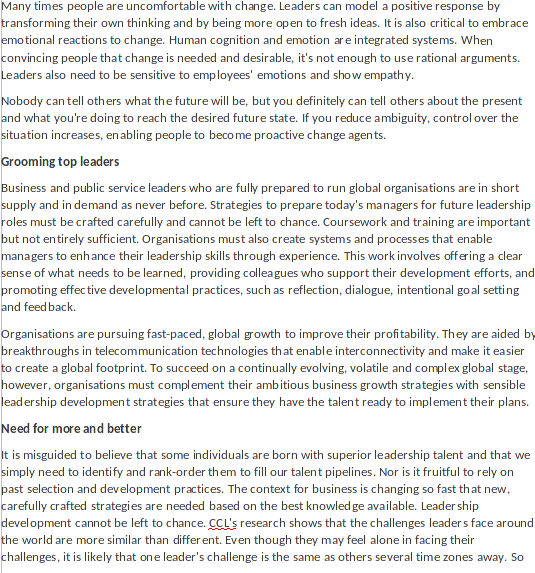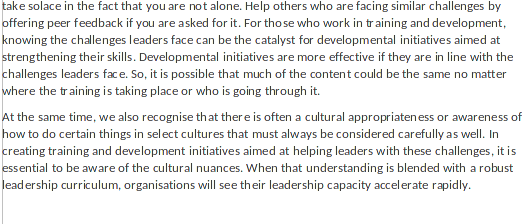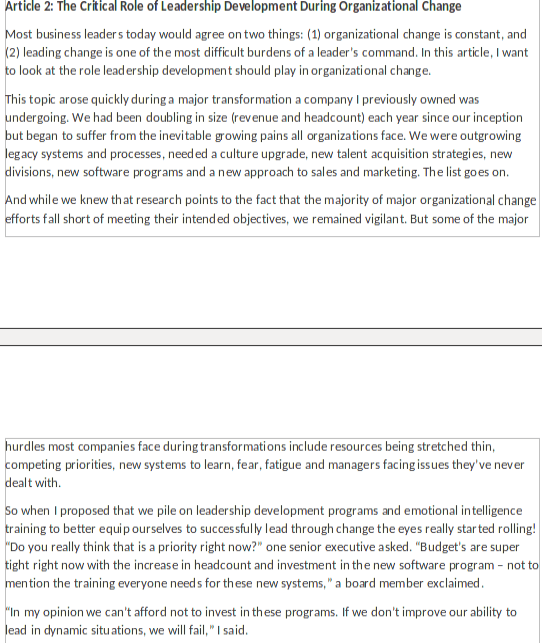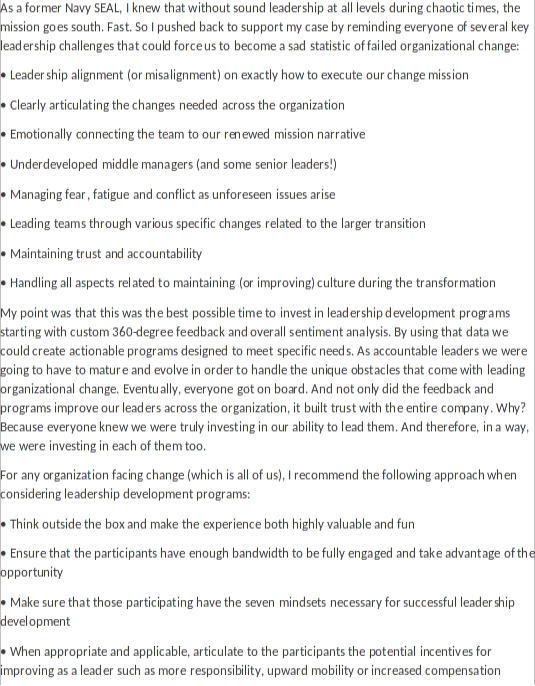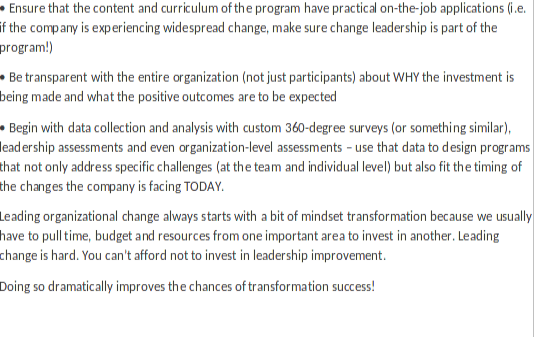 Answer :
Organization Selected :
N/A
INTRODUCTION
Leadership can be understood as an important function of management which helps to maximize efficiency in all levels of company and to achieve organizational goals with coordination among team members and management hierarchies. The role of leader is extremely vital for company as the duty to represent the goals and mission of company relies upon him. This report explains the changing perspectives of leadership in economic, social and political contexts and the challenges in leadership in today's volatile business environment (Alford, 2019).This report also elaborately explains the various characteristics of a responsible leadership and analyses the importance of demonstrating responsible leadership in organization during process of change in volatile business environment.
1. Changing perspectives of leadership in economical, social and political context
In today's dynamic business world the role of leadership is changing on various perspectives in context of economical, social and political scenarios where role of leader is complexly diverse and dynamic in nature.
A+ Grades @Affordable Prices!
We deliver all academic papers from dissertations & assignments to thesis, & case studies. 5000+ satisfied students, you could be next! Place Your Order Now!
Order Now
You may also like to visit - Assignment help
Economical contexts
Growth of economy- The economic development of an economy in whole is highly dependent on good strong leadership skills shown by leaders. This is particularly important and an evolving perspective for leaders in economy because of the core values an economy in whole holds for the growth of country. The role of leader in economy is directly linked to foster economic development and decisions for equal distribution of resources.
Culture diversity- Leaders in economy must make diversity a priority which includes thinking globally, appreciating culture diversity in amalgamating with different economies to enhance the diverse productivity (Bush, Bell and Middlewood, 2019).Leaders must encourage new developing technological culture by building partnerships with various economies and enhance cross culture leadership in economy to foster growth and creativity. With the changing perspectives of leadership in economy, leader must master their cultural intelligence skills.
Social contexts
Vulnerability - The changing perspective of leadership requires leaders to develop vulnerability and openness in social scenario. It helps to provoke innovation and motivation in social groups by building diversity culture in leading a team. A vulnerable leader enhances dedication and enthusiasm in team members by working towards building strong interpersonal skills and respectfulness for employees in social groups.
Developing managerial effectiveness – The changing perspective of leadership requires leaders to develop time management skills, prioritization in decision-making while working the strategical decisions to be more effective in managerial performances in social groups. Leaders must work with discipline and determination with analytical skill's knowledge to foster managerial effectiveness in groups (Western, 2019).
Political context
Managing internal stakeholders –It is an important perspective of leadership to enable good communication and managing strong professional relationships with stakeholders and serve an example of integrity and loyalty to the people they present themselves to. Leaders by building strong professional relations with stakeholders foster growth and bring progressive development.
Accountability – It is crucial for effective political leadership to be accountable and hold the responsibility for their actions and decisions. They need to focus their energies and time on sustainable growth and working towards opportunities for growth and progressive development. By enhancing the accountability in leadership a leader enables richer communication and creates an inviting environment for intercultural dialogue.
2. The challenges of leadership in volatile business environment
Technological advancement - Leaders in present volatile business environment face the challenge of technological advancement which is evolving due to changing business scenarios. Leaders are under constant pressure to cope up with the advancement in technological up gradation for building risk management strategies and regulatory compliance. Technological advancement aims the leaders to work with superior technology usage and reach the production targets by keeping business goals in mind.
Globalization - Leaders in the age of globalization cannot limit actions within the limit of territory of a nation, modern leaders need to think globally in terms of policies which is interconnected with the world at large. Globalization challenges leaders in adapting changing business cultures of various countries which are dynamic and continuously evolving. Leaders must aim to take decisions in company by working towards globalizing the company structure, which enhances the overall productivity levels along profit margins.
Changing demographics – Leaders in today's volatile business environment face numerous challenges with changing demographics at workplace, where workforce is constantly evolving with changing expectations and working criteria. Leaders face the challenge of adapting work styles with changing demographics to enable an organization work with efficiency.
Ability to lead through more complexity and ambiguity – Leaders in today's volatile business environment are under constant pressure to work with changing complexity and ambiguity in working styles. Leaders need to evolve themselves with effective performance in technological advancement in working methods at organization which improves their overall ability and enhance the leadership style (Fernando, 2016).
Pace of change – Leadership in today's volatile business environment are under pressure to evolve themselves with the pace of change in working methods and use various advanced technologies in their working methods. The rapid pace of change increases the competition in companies working in same industry, thus challenging leaders to work technically in formulating strategies.
Delivering constant and stable growth results – Leaders in today's volatile business environment face the challenge of delivering constant and stable growth results. The constant influx of new technologies means that company need to operate with continuous innovation and function out the duties with utmost sincerity. Leaders need to upgrade their operational efficiency while delivering their functions.
Internal collaboration – Leaders in today's business environment face challenge in building strong internal collaboration within the origination as due to dynamic business culture there are various factors on which employees may feel differentiated. Leaders must focus on building strong business ethics by working with management principles which fosters creativity and discipline among employees.
Changing customer preferences – Leaders in today's volatile business environment are under pressure to adopt new working techniques with changing customer preferences for reaching the production targets. It is vital to keep up with innovation in the competitive industry for organizations to gain an edge in marketplace. Leaders must aim to make strategies and decisions in production targets by working on market analysis, which enables a detail study about customer preferences.
You may also like to read - Characteristic of Responsible Leadership in Organizations
3. Different Characteristics of Responsible Leadership
There is a requirement for having right characteristics in a leader of organization so that the functioning of business can remain smooth. Most important factor that a powerful leader must have is knowledge of when to talk and when to listen.
Communication
Communication skills in leader has to be good so that communication about changes can be spread in organizations operational departments easily. Right communication will do its role very well so that functioning can take place better. There are a lot of changes which are taking place in all organizations which are there in market. Before communication takes place by leader it is important to keep future vision for organization and employees of organization very clear. Employees must understand that how important are changes for the organization and for themselves to improve their personal skills (Patel, 2017).
Motivated
Leader must be ready for changes themselves which are taking place in organization and they are well motivated to get the work done in organization. Managing themselves emotionally and physically is a very important characteristic which they must have to make organization function better. Leader must have the courage to face all the troubles and conflicts which come in front of them and solving them is a very important factor (Fernando, 2016).
Confidence
Confidence is another factor which leader should have or at least show in the organization so that the employees who are working under them are motivated and sure that leader is thinking for best of them. A responsible leader should take the entire team with them and motivate them for the changes which are taking place in organization. It is very important for leaders to inspire everyone in team so that efficiency in business can increase. Changes will take place but characteristics of an effective leader can help organization to function better.
4. Importance of Demonstrating Responsible Leadership
Leaders play a great role in getting in the changes in organization because they have a control on employees and it is on employees if organization will continue to function same or change. Leaders are hired so that they can make the internal functioning of organization better and since there are a lot of changes which are taking place. Motivating the employees is a very important factor when there are changes taking place in organization because that will make the changes come in the organization smoothly. Employees must be updated about all the decisions which are taking place in business so that they can mentally be prepared for them to come (Fernando, 2016). Sudden changes in organization is going to make employees demotivated to function. Self awareness of leader has to be present in organization and professionalism they care in organization will be observed so carrying themselves in organization has to match standards of firm.
Team work in organization is having the business reach their goals and objectives faster which is a very important factor for business to get a competitive advantage. Team work will help the organization to have proper functioning which is important through which all employees are motivated and are giving their best in organization and that can be handled by leader of business. Self skill's improvement is the knowledge which the employees must get when there are changes which are taking place in business (Guthey, Kempster and Remke, 2018). Leaders have to make sure that they are providing employees with the right knowledge about the changes which are taking place and there is a transparency in the organization regarding the changes. Leaders are the bridge between the management and the employees and all decisions which are made by the management has to be implied by the leaders in employees.
A responsible leader only will be able to guidance the other employees in firm when there is a change which is coming in organization. Employees must have the proper guidance in company when changes are coming so that can have a clarity in work which will make functioning in firm better. Training is a part of the leaders functioning in organization therefore it is very essential for leader to provide employees with that so that standards of firm can be matched. Handling the different cultures in organization has to be managed because there are different cultural background factors who are working in firm. Engagement of all employees in tasks allotted should be there so that tasks can be completed faster only a responsible leader will be able to do this factor properly. Passion is present in all the employees of organization and that can be got into action when leader knows functioning and characteristics of a leadership in organization (Six Roles of a Leader During Change, 2020).
Leaders have to make decisions so that they can make the employees of the organization take out their best and the right skilled employee must be given the right work to do in the company so that the company can make the most from it. Behaviour of the leaders play a very important role as well because the behaviour will reflection in actions which will make the employees have a negative impact of work environment. Leaders have to make sure that the employees are getting a positive atmosphere to work in so that organization can get the best from that factor. Responsible leaders make the best come out from the employees which will make the organization achieve their targets from time to time.
Experts Are Listening!
Have doubts about academic writing? Clear all of them in a minute! Call the experts and get your answers immediately! Dial Now!Contact Us
Students also like to read about - Analysis and Evaluation of the Leadership of Jack Ma Founder of Alibaba Group
CONCLUSION
From the above report it can be concluded that the leaders of the organization have a very important role which they play in firms. The report covers that the functioning and characteristics of the leaders in detail which they must have in order to make the organization earn a profit and function smoothly. Self motivated, inspiring, engagement, communication, etc are present in leaders so that the organization can take out the best from the employees when there are so many changes which are coming up in organizations. Technological changes is most which are taking place therefore requirement of leaders and there functions in organization is very important for firm to understand.
REFERENCES
Books and Journals
Alford, B., 2019. LEADERSHIP PRACTICES FOR EQUITY AND EXCELLENCE. Educational Leadership, Culture, and Success in High-Need Schools. p.85.
Bush, T., Bell, L. and Middlewood D. eds., 2019. Principles of Educational Leadership & Management. SAGE Publications Limited.
Western, S., 2019. Leadership: A critical text. SAGE Publications Limited.
Fernando, M., 2016. Responsible Leadership in Practice. In Leading Responsibly in the Asian Century (pp. 103-141). Springer, Cham.
Fernando, M., 2016. The Future for Responsible Leadership. In Leading Responsibly in the Asian Century(pp. 177-190). Springer, Cham.