What is Referencing Generator Tool
You have done your research and written your academic paper; the only thing left is to complete the referencing page. Now, if you are searching "how to cite my sources?" Don't worry; industry experts are here to help you out with online referencing. We understand the challenges you face while finding relevant sources and creating references. Global Assignment Help's online reference generator is a 100% accurate, 100%free AI Tool that can help you cite your source and prepare a referencing page per your chosen referencing style. Read further to know how perfectly we help you format your referencing page using the best reference generator tool.
Referencing Guide
With our detailed guide for referencing generator, you'll get a clear picture of which referencing style to be used for your assignment, how to use the chosen referencing style manually, and how to use the referencing style with the online reference generator? Find free referencing guide help by clicking the icons below.
SAY HELLO TO GLOBALASSIGNMENTHELP.COM
More than 28 Million references for your research. Access countless reliable sources on your topic with a simple click.
Easy-to-Use Source Generator
Quick Access to Credible Sources
Effortlessly export citations
Secure backup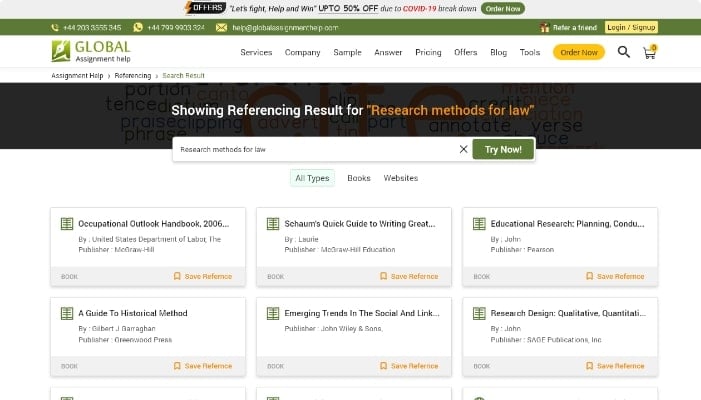 Benefits of Our Online Reference Generator Tool
Making a Flawless Reference list:
They lessen the possibility of citation or reference list mistakes. As you progress in the writing process, they assist you in effectively organizing your sources.
Formatting perfectly:
With our referencing generator, you can be sure that all of your references are consistent. In addition, whenever necessary, you can switch between several reference formats.
Helps in Creating Bibliographies :
They can be a saviour in creating a bibliography for any content like a thesis, dissertation, articles, press releases, case studies, essays and more.
Helps in Error Free In-text Citation:
Apart from reducing plagiarism to 0%, It helps reduce the chances of redundant citations, abbreviations and outdated content mentions.
Save Time and Stress:
In particular, the instant and free reference generator tool for lengthy papers is quicker than manually citing sources.
How To Use Online Referencing Generator Tool And Guide ?
Select a citation style
To choose the proper referencing style, consult your professor's guidelines and our online referencing guide. Check your university's website if such instructions still need to be provided.
Check your Sources
Websites, articles, books, and other sources have different citation guidelines. Thus we recommend that you check the source online before making a citation. You can also refer to the referencing guide.
Chose the input
We use web databases to fill in all required fields automatically. If the source isn't available, you may modify your citation or create one yourself.
Review the Citation Fields
If you choose the auto input, we recommend that you go through the data we managed to collect and make sure it matches your needs to make instant changes.
Citation Generation
This is an easy step. After reviewing the style, source, and fields, simply click the final button to see the referencing generator work wonders. Your citation is complete and ready to be pasted!
Apply the Reference List.
Create, amend, and download your paper's entire reference list. You may also use the free reference generator to change the citation style for all of your sources at once.
Get Start Now
With Free Referencing Generator, Cite Every Source Under The Sun
Books Referencing
Use our app to cite every book, encyclopedia or journal you have used. Input the name of the author, the book title, the URL or the ISBN to get instant referencing results.
Article Referencing
Are you using an article from Jstor, PubMed or other such sources? Just enter the name of the article or its URL on our app to get in-format citation generation results.
Webpages Referencing
Just enter the URL of the website concerned on our referencing generator, and we will do the referencing for you according to your chosen referencing style.
Others Inspirations
If you're worried about providing credit to other online sources, such as journals, dissertations, and research, our referencing tool is here to your rescue!
Referencing Generator can Correct Most Common Citation Errors
Any academic paper is incomplete without correct referencing, so using the online referencing generator tool is necessary. The most important thing our online reference generator does is that it validates the written piece of the writer with correct source citation, avoids plagiarism, makes the document look professional with the right style and justifies the research.
Incorrect Format Citation
Using Wrong Citation Style
Incorrect Paraphsing
Falling to Citation Quote or Idea
Self Plagrisim
Not Submitting Full Biography
Citing the Wrong Source
Get Accurate Referencing
IS YOUR CITATION CORRECT?
Create citations according to the academic standards in a few clicks.
Use Citation Generator
Make Your Paper Perfect With Free Online Writing Tools
The paper submission is full of struggles, but GlobalAssignmentHelp.com's FREE academic tools online can make it a breeze! Irrespective of the task you are struggling with – typing, online referencing, proofreading, editing, including referencing generator online they cover all your academic writing needs. So don't hesitate to try them now! They can power-boost your grades to A+.
Get Assistance for All Referencing Queries
What is the best referencing generator online?

Global Assignment Help offers the best referencing generator and guide, which helps students to create citations and references quickly, easily, and automatically. The most important feature of this software is its ability to generate exact citations based on the discipline's guidelines and style guides.

How do I create references?

You can create references manually by listing your sources and matching them to the format, but it is a cumbersome process. So instead, GlobalAssignmentHelp.com's referencing tool will take care of all the online and offline references for you. So all you need to do is type in your name and click on the button "Generate", which will create a perfect referencing list for your assignment.

Why should I use a Referencing Generator?

You should use the referencing generator tool as it saves time, creates an error-free referencing list, and helps with in-text citations and bibliography. With this referencing tool, you need not worry about creating citations or references manually for both books and online journals anymore, as this tool will do it for them automatically. You can also choose from multiple styles, which means they do not need to worry about formatting their work too much!

How often can I use the referencing generator and guide?

You can use the referencing generator and guide limitlessly! It is free and 100% accurate! Students, teachers and professors of any level of education can use referencing tools. This tool is easy to use, and there are no restrictions on the number of characters or words used in your reference.
Do I need to pay to use referencing generator?

No, you don't need to pay to use referencing tool and guide. Global Assignment Help's referencing generator is an excellent tool that helps you create citations and reference lists quickly, easily, automatically, totally FREE and limitlessly! In addition, it has a powerful referencing style database that can fill all your citation needs in one go.

How this referencing tool will match my assignment guidelines?

Referencing generator is a wonderful referencing guide that will help you create references for your assignments. The best thing about this generator is that it will match your assignment guidelines. You can choose from the diverse platter of referencing styles per your university's assignment format rules.

How will I use referencing tool help?

According to fair use policy, after getting the referencing help document:

Check: First, you must check if it matches the guidelines you need in your assignment. If it still needs to, review your inputs.
Use: If you have received the needed referencing list, insert it in your paper, as it contains both online and offline sources.
Mark: Use the marked positions for in-text citations and create straightforward bibliography in the format you need.

What if I am not satisfied with referencing tool results?

The referencing guide includes various formatting options to help you make your references look precisely how you want them to. Although the chances are slim, if you are dissatisfied with the refining tool results, you can use it again by confirming that the details you entered are correct. If you are still unhappy, contact our customer service representative and get expert assignment help. Our customer care executives are happy to help!