Apple Case Study Help & SWOT & PESTLE Analysis from Expert Writers
Apple Inc., formerly known as Apple Computer Company, is one of the biggest tech companies across the globe for the last two decades. The company achieved this status because of its top-notch service and the team of qualified people. Students who enroll themselves in the renowned business schools like Harvard, Stanford, Columbia, Booth, etc. get an opportunity to write a case study on Apple company. In the case study, the professors ask them to conduct SWOT and PESTLE analysis, which fret them, and they look for Apple case study help.
If you are also among those students who are struggling to complete the draft, seeking an Apple Case Study Writing Service from Global Assignment Help is the best available option. It is because our professional writers are experienced and keep themselves updated with every small or big news of such tech brands, which they use while writing Apple company case study. Below our professionals have shared insight into Apple company for better understanding.
A Brief Profile of Apple Inc.
Apple Inc. is a technology giant with a wide range of electronic products, including tablets, computers, cellphones, wearable devices, and television products. It was incorporated back on April 1, 1976, as a computer hardware and software company by Steve Jobs along with Steve Wozniak and Ronald Wayne. Since then, the company has transitioned into creating many other compelling devices and established a chain of retail stores across the globe to provide customers with the best buying experience. As of now, in 2020, Apple Inc has 511 retail stores worldwide. In the year 2018, Apple Inc has dethroned Microsoft, Google, and Tencent like other companies to become the number one tech company with a $327B market value.
Before we dive into more information, let's have a look at the profile of Apple Inc.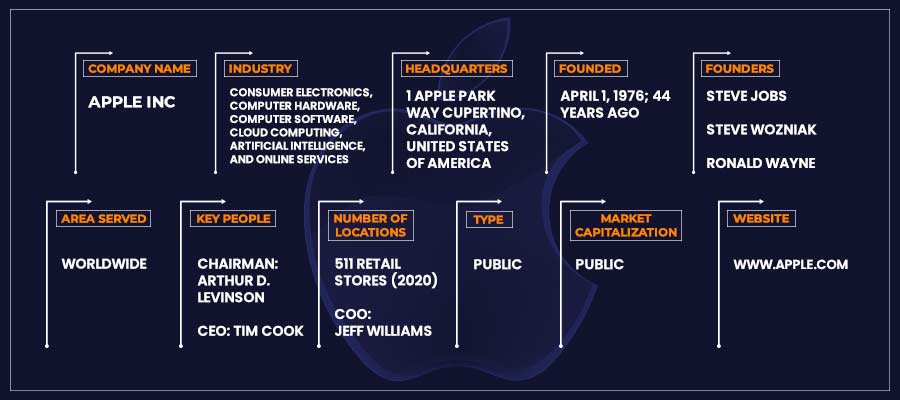 As you have already got an insight into the company, it is the right time to understand how to analyze both internal and external factors of the organization using SWOT and PESTLE analysis. While Apple case study writing, you need to gather every required data to include in the content and make it worth getting an A+ grade.
Let's get started by learning about SWOT first and then its four strategic planning techniques.
SWOT Analysis of Apple (Case Study of Internal & External Factors)
SWOT analysis comprises internal and external environmental factors that drive the business either positive or negative side. Internal factors include the company's strengths and weaknesses, whereas external factors involve opportunities and threats to the company.
If we talk about the Apple case study writing service, you are required to conduct a SWOT analysis to take an overview of Apple's current situation in the market based on these four factors. To learn more about it, you can seek Apple case study help from our writers. But for now, let's get started by understanding every factor one by one.
Strength
The strength of Apple involves marketing expertise and its brand image across the world. When you seek Apple case study writing help from us, you get to know that the company is capable of introducing any new product in the market by virtue of its strong brand value. Every product that the company launches are automatically considered as premium products under the niche or segment. Our writers never miss a chance of including authentic information in the case study. Thus, they have shared a few major strengths of the company below.
Powerful brand image & value
Huge profit margin on every product
Effective and rapid innovation processes
Imperfectly perfect supply chain management
Leadership in the market for multiple products
Massive customer base than that of any other brand
Weakness
While taking the Apple case study help, one should not miss analyzing the company's weaknesses. It is part of the internal factor which impacts the growth of the business. The company is struggling with the fall of iPhone sales globally. It is because of the lack of innovation and charging higher prices. If any business has strengths, it doesn't mean that the company does not have any weaknesses. Our Apple case study help experts have conducted thorough research and come up with a few weaknesses, which are as follows.
The network of distribution is limited
High selling price than that of competitors
Lack of products' compatibility with other devices
Decreasing sales of its major product, i.e., iPhone
Opportunity
The SWOT analysis pinpoints one of the most significant opportunities available to the Apple company. You should know that the opportunities are the external factors that impact the business growth positively when catered rightly. When you seek Apple case study writing service from Global Assignment Help writers, you get the document with a well-conducted SWOT analysis that has listed every possible opportunity that the company has in the market or environment.
Here are a few opportunities that the Apple company has:
Expanding the network of distribution
Using cash in enhancing research and development
Developing new product lines using innovative techniques
Reducing the cost of making products by investing new plants across the globe.
Threat
The threat is the most important element of SWOT analysis. It helps in identifying every possible hurdle or difficulty that will impact the business growth in the near future. When you seek Apple case study writing help from us, you will get the right information about every threat that the company has in the market. According to Apple competitive advantage case study, most of the threats that a company experiences over the period are from its competitors present in the market. Our experts have listed a few threats that Apple has from its rivals.
Limited product range
Aggressive competition in the market
Rising labor cost in different countries
Increase in the manufacturing cost per product
These are the four elements of SWOT related to Apple that you need to know and understand so that you can effectively include it in your Apple Harvard case study. In case of any difficulty writing it, you have the option to avail the best Apple case study help from the industry experts, i.e., Global Assignment Help. Our writers not only have knowledge of SWOT, but they also carry in-depth knowledge of PESTLE analysis. Thus, seeking help from us is worth every penny you spend. If you lack knowledge about PESTLE analysis, consider going through the following section.
PESTLE Analysis of Apple (Case Study of Macro-Environment Factors)
A PESTLE is a marketing tool that is often used by the company's marketers for evaluating macro-environment. There are many factors related to the environment that affect the business operations of the company. While seeking Apple case study writing service, students often ask our professional writers to include PESTLE analysis in their case study writing. It helps provide overall content a strength that results in getting an A+ grade and appreciation from the professor.
Political
You will be amazed to know that the company receives a significant portion of its revenue from outside the United States of America. While writing the Apple Inc Harvard case study, it becomes essential to know various political factors that impact the business based on several countries where the company is operating. If we talk about the last decade, the company has not only adapted to the political situations of different countries but also gained enormous profits.
Economical
Since the company is operating in many different countries, it is quite evident that economic conditions create an impact on the business. While drafting Harvard Business School Apple case study, you can not afford missing economic factors that impact the business. According to the Apple case study writing help providers, these factors significantly impact aggregate supply, aggregate investment, and the business climate. It has the potential to make a company highly profitable, or extremely likely to incur a loss.
Social
The social factors affect or create an impact, either positive or negative, on the business. In the case of Apple, people tend to have a premium feel when they buy their products. Most of the upper-class people across the world use Apple's product. At the time of writing the Apple branding case study, you need to consider the taste and preferences of people based on social and personal aspects.
Technological
Writing the Apple innovation case study requires you to know that Apple Inc. believes in innovation and creativity in relation to technology. According to the Apple case study help Harvard Business Review, you get to know that the company is immensely working hard to bring like technological up-gradation like cloud computing and artificial intelligence. The primary aim of the company is to create a life that possesses specific up-gradation, which eases every human work at the snap of their fingers using robotics.
Legal
As per the Apple SWOT & PESTEL analysis, the company has its operations in several countries, and the laws of those countries differ from one another. To cater to these laws' changes, the company appoints several legal advisers who can handle all the problems/issues accordingly. It helps Apple Inc to drive their business operations without any hassle.
Environmental
Through Apple case study helper geography, you can understand that there are many environmental factors out there that severely affect the business and its operations. These factors involve weather conditions, climate change, natural calamities (Earthquake, Cyclone, Flood, etc.). No company can effectively deal with this sort of difficulties that are occurred by the act of god.
These are the six crucial elements of PESTLE analysis, which is an integral part of the Apple company strategy case study.It helps in analyzing every factor that can impact the business, within the business and outside the business. You should know that it is essential to go through customer quality feedback at Apple computer case study because it helps understand the tastes and preferences of people to provide the best of the company's ability and sustain in the market.
After knowing and understanding the SWOT and PESTLE analysis, you are now more likely to present the right solution to every asked question in the case study. In case you get stuck anywhere writing the Apple supply chain case study, you have an option to avail the apple case study writing service from our qualified and professional writers at the lowest price. If you have any doubts about our service or want to know the reasons why seeking Apple case study help from us is the best option, consider going through the succeeding section.
Reasons Why Should You Seek Apple Case Study Writing Service from Our Professionals
You should know that Global Assignment Help is the number one destination to seek Apple case study help. It is not just because we charge the lowest price, but we have a pool of professional Ph.D. certified writers who carry years of experience and knowledge to draft the best case study. When a student visits our website and requests for Apple case study writing help, we provide the best case study writing services that cater to every requirement. Along with this, students get several features on buying Apple store case study from us, which are as follows:
Originality
For the past decade, Global Assignment Help writers have assessed thousands of Apple store design case study, and understand the importance of delivering the original draft every time students seek Apple case study help. Whenever they receive a case study writing request, they work hard on it and start the draft from scratch and provide a 100% guarantee of originality. To get an insight into the work of writers, you can check out the following:
What Is a Case Study
Organizational Behaviour Case Study Help
Case Study Examples
Delivery on Time
Another essential reason that makes us stand apart from other Apple case study help providers is the timely delivery of sought documents. Once you place the Apple case study writing service request on our website and make the payment, our writers start conducting research and writing the draft. It is because we believe in delivering the draft before the submission date so that you get the perfect grades.
Well-Trained Writers
You should know that asking for Apple case study writing help from us is worth every penny because we assign the task to well-trained case study help experts and writers. While hiring the writers, we train them with the best of our ability to perform well and deliver quality content without any hassle.
Refund Policy
We know and understand the struggle of students saving every single buck to seek Apple case study writing service from Global Assignment Help. Due to this reason, we have a refund policy under which students can avail their 100% money-back. (Terms and conditions applied)
These are some of the many features that make us the best choice for students to seek help with Apple in Chine case study and overcome all their worries. So, what else are you looking for? Place your Apple case study help request now and avail all the on-going deals.
- LATEST BLOGS -
Read Our Latest Case Study Blogs
By High Quality Assignment experts on university, academics, assignment, writing skills & tips, and many more
View More
What Our Happy Customers Have to Say?
Case study writing was not easy for me, because I never wrote anything like this. My sister told me about this site. I received excellent marks on my paper. Keep helping us, you are doing good work.

Kenny Burke

Portland, USA

I do a job and have some responsibilities, so I was pretty sure that I can't complete my thesis. I researched, I found some good reviews about you and ordered from here. Your executive assisted me throughout the process. Thank you so much for providing me an amazing thesis.

I was worried because my professor assigned me with Apple case study writing task and asked me to submit the draft within a week. With the help of these writers, I submitted the draft on time and secured good grade. Thanks a ton.

David Redding

United States

Every writing company I approached in past few days have quoted very high prices, but when I visited global assignment help, I saw very affordable price. I immediately placed Apple case study order and they delivered it on time. I highly recommend their service.
View All Review

You're currently in a different region!
To access content tailored to your location, choose/select service from the below list
Get Help