Employee Motivation Analysis
Employee motivation case study aims at finding the impact of motivated employees on the overall performance of the organization. Motivation is essential for keeping the employees engaged as well as interested in their jobs with an aim of creating value for the organization.
A typical employee motivation case study
Tesco employee motivation case
Tesco is an organization owned by Jack Cohen who used to sell grocery through a stall. He went into a joint venture with tea seller T.E. Stockwell and started a super-speciality store in 1929. This group has expanded to more than 2200 stores and is rated biggest retailer in UK. It has a workforce of more than 4,60,000 employees working in various departments such as warehouse, retail floor, logistics, Human Resource, Accounts and many more.
Steps taken by Tesco to ensure employee motivation and retention
Employment of managers internally: It helps others to work towards reaching the benchmark set by achievers. Also, there is a sense of healthy competition
360 degree feedback: Every employee and his opinion matter. 360 degree feedback reflects this intention of the organization. Also, team leaders can keep check on their bossy or loud behaviour.
Pay rise meetings: Employees are involved in pay rise meetings. It helps in creating a transparent environment and also, employees are aware of how their performance is being ranked in the eyes of the organization.
Training and development programs: Each employee has opportunity to get groomed and enhance his skill-set.
Value awards: Employees can award each other. They can thank each other for guidance and support they receive from one another. It helps in creating a sense of camaraderie, recognition of good work and team spirit.
1-to-1 discussions: Manager and his team members sit for one-to-one discussions and find out what is needed to achieve improvement in work and also to celebrate achievements.
Lifestyle breaks: Company allows employees to go on lifestyle breaks of 2 to four weeks with a right to return to the work.
Various theories that explain the motivated employee environment at Tesco
Mayo Effect: Repetitive and monotonous work can lead to demotivation and employee may lose interest eventually. Thus, with the help of creating socially viable environment, work life can be made interesting. Meetings, celebrations and discussion sessions can help employee in having interesting mix of activities at work.
Maslow's need hierarchy: Meeting of basic necessities alone cannot keep the employee motivated for long. There has to be added values of love, self-esteem, belonging and recognition in the environment so that a person can have a feeling of being more than a machine.
How Maslow's model fits to Tesco environment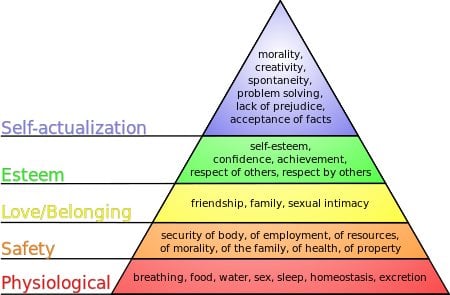 Blue: talent planning programs, development and training programs
Green: self-assessment, 360 degree appraisal, pay rise meetings
Yellow: Steering Wheel - assessment of team work and individual performance
Orange: formal contracts and pension plan
Red: regular monthly pay, Lockers and restaurant
Stepwise procedure to do employee motivation case study analysis
Our case study helpers suggest that analysing cases related to employee motivation involves following steps:
Define the problem: Read the problem and outline the situation mentioned in the case in your own words. Our case study experts can help you in defining the purpose of the case clearly.
Mention and explain theories: Define and explain theories which you think is applicable to the situation mentioned in the case.
Make recommendations: If the case study does not explain how problem can be solved, you can make recommendations using the theories as a background.
Prepare a report: Prepare a report that explains how you assess the situation, what research methodology you choose, how recommendations have changed or would change the situation,etc.
Mention references: Prepare a list of references you have used for writing the case study.
Before making the final submission, prepare cover/title page and give due acknowledgments to the mentors who helped you in writing the case study.
Know more about case studies here:
What is a case study
How to write a case study
Contact Global Assignment Help experts for analysing employee motivation case studies
Analysing case studies requires you to have extensive knowledge of theories and you must be able to find out what is working behind the scene. All this requires years of experience and lot of reading. Students may not get the requisite time to devote to writing case studies. Our team of case study experts can provide you complete information as well as support for solving cases related to management issues such as HR, motivation, finance and many more.
Our service guarantees that offer you quality case study writing help
Plagiarism-free work: Use of in-house sources of informatio and practice of writing from the scratch guarantees plagiarism-free case studies
24-hr availability: We are available 24 hours to address your case study queries and to take orders.
Punctilious writing: We assure you error-free case studies, perfect in grammar as well as punctuation, edited smartly for better engagement
Timeliness: We assure you timely delivery of assignments as we work in a dedicated manner towards meeting the deadlines without any exception
Thorough research: We guarantee carrying out of thorough research for making case studies superior in quality
Compliance with instructions and guidelines: We write exactly as you want us to. Our thoroughness with university guidelines and citation styles helps us in delivering excellent quality case studies.
So, kick away your worries when you find shortage of time for writing case studies. Call us today and find out the best possible solution for all your case study needs!
- LATEST BLOGS -
Read Our Latest Case Study Blogs
By High Quality Assignment experts on university, academics, assignment, writing skills & tips, and many more
View More

You're currently in a different region!
To access content tailored to your location, choose/select service from the below list
Get Help