Introduction
The leadership is a process where a leader use to inspire followers and unite them to work for a common goal. The leadership is a skill that is necessary at all levels so that any work can be done with more effectiveness. This can be done by a good and efficient leader who has skills that are necessary for leading a team and unify them in a single unit so that tasks can be done in proper manner. Further, a leader has the power to bring great changes in ways of doing any task which makes hi/ her different from others (Malenfant, 2010).
The present report is based on leading change where Gary Yukl's taxonomy of leadership skills have been discussed. In addition, the report has given special emphasis on Apollo 13 movie in which various kinds of skills that are necessary for a leader has been focussed.
Task 1
Yukl's taxonomy of leadership skills
Gary Yukl is a renowned scholar who has done complete research on leadership skills and propounded effective leadership skills into three categories. He has given the name to categories as meta categories in which he identified different behaviours of a leader. These meta categories involve behaviours like task-oriented, relation oriented and change-oriented behaviour. These behaviours by a leader are applied as per the prevailing situations. Each behaviour of a leader as divided by Gary describes that some of the criteria like commitment towards tasks, flexibility, innovation etc. Must be present in a leader (Harding, 2010).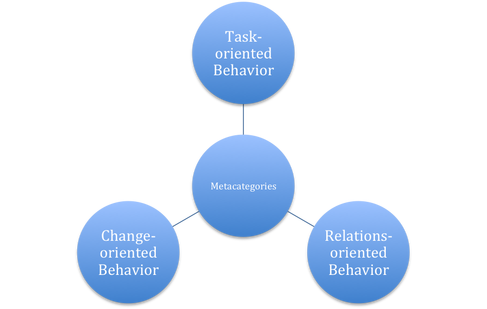 Illustration 1: Meta categories
Task-oriented behaviour (Technical skills)
Planning: Here, the leader is expected to plan and determine the objectives so that resources can be collected as per the strategy. The leader has to make allocation of these resources as well on a priority basis. So, a leader has to do all kinds of managerial work while planning.
Clarifying responsibility: The goals and objectives set by a leader has to be accomplished by achieving proper coordination among team members. For this, a leader has to make all teammates their roles and responsibilities so that everyone can put their efforts for completing tasks (Fullan, 2014).
Monitoring: The leader will supervise the work of all group members, collect various information on working of team members and then he will also check for quality of work. Apart from this, it is also necessary that different internal conditions are also monitored by leader so that any adverse impacts on working of team can be minimised.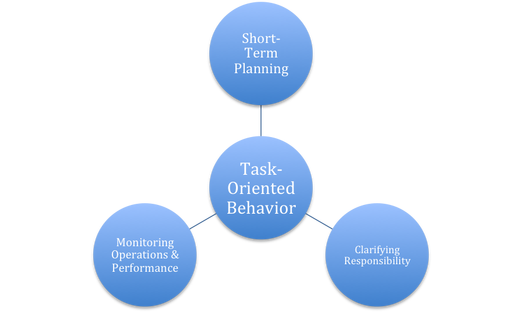 Illustration 2: Task-oriented behaviour
Relation oriented Behaviour (Interpersonal skills)
Supporting: The leader has to act in a patient and relaxed manner so that his followers can feel free to share their ideas and feelings with leader. Further, friendly behaviour should be there between leader and followers with support so that team members can see the concern of leader for them.
Development: The leader has to act like a teacher as well where he is responsible to develop the skills and talent of group. This will help in the proper and overall development of follower's personality and their confidence with professional advancement.
Recognition: Every man needs a proper recognition and credit for their hard work as it develops a satisfaction in him. So, a leader should monitor work of team and give a proper appreciation to deserved ones. This helps in developing satisfaction and also motivates them to work hard.
Consulting: The leader should always make the decision by taking viewpoints of its team as well (Alkahtani and et.al., 2011). He should encourage members to come up new ideas and suggestions so that an effective decision can be made.
Empowerment: The leader should also attempt to develop decision-making skills among group members. This can be done by delegating authority to deserving teammates to make decisions on various occasions. Thus, a confidence and decision-making ability cab be developed.