Question :
For this assessment, various questions need to answer which are given below:
Analyse various types, size and scope of the company.
Describe the relationship among the various business functions and the structure of the company.
Critically analyse the impact of external factors on the macro environment on business operations with the help of contemporary examples.
Illustrate internal strengths weaknesses for particular businesses and its relationship with the macro factors.
Answer :
Organization Selected :
Burberry Group PLC
INTRODUCTION
Business is an activity of an organization or economic system where goods and services are exchanged for one another with an aim of making profit. Business environment consists of the factors, forces, individuals and entities which influence an organization where it operates. Report on business and business environment is prepared with the purpose of understanding these internal and external environmental factors which affect the business operations and organizational structure of Burberry Group PLC. The report on business and business environment will investigate internal and external environment of Burberry to understand the micro and macro factors which affect its operations, and organizational structure. It will explain these factors by conducting PESTLE and SWOT analysis. Also, its positive and negative impacts will be discussed. Strategies needed to be developed by business for coping up with uncertain and turbulent business environment after UK's referendum decision to leave European Union are also explained in the report.
A+ Grades @Affordable Prices!
We deliver all academic papers from dissertations & assignments to thesis, & case studies. 5000+ satisfied students, you could be next! Place Your Order Now!
Order Now
LO 1
P1. Types and purposes of public, private and voluntary organizations and legal structures of Burberry Group PLC
Overview
Business environment is the collection of several conditions i.e. institutional, political, social, legal and economic factors that are uncontrollable has and have impact on functions of Burberry Group PLC with affecting its organizational structure and business (Boons and Lüdeke-Freund, 2013). Business environment includes internal factors comprising employees, objectives, culture, vision and mission that are under its control. External factors include economy, market, government, stakeholders and media which are beyond business control which might cause a threat to the organization. It is the collection of internal and external factors that affect a business in its operations, performance, functions, growth and survival.
Background
Burberry is a public limited company listed on the London Stock Exchange and is a constituent of Financial Times Stock Exchange 100 index. It was founded by Thomas Burberry in 1856 with the concept of developing fashion garments which later on shifted to a high fashion market after development of Gabardine fabric which is breathable and waterproof (HISTORY, 2018). The brand has multiple stores and franchises all over the world which began selling online in US and UK in 2006 October.
Different types, size and scope of organizations
Private Sector
Private sector is run by private individuals, groups and companies with the motive of earning or generating profit by employing workers. It is the part of national economy that is owned, managed and controlled by forming new enterprise or privatizing a public sector organization. Sole proprietorships, Partnerships, SME's, Trade unions etc are some private sector businesses which are diverse area and has a huge role on economy of a country. Virgin Group is a leading investment company with a global identity and brand image which renders various products and services including mobile telephony, travel, holidays, music, health and financial services. It has operations around 50 countries with more than 50000 employees. Their purpose is to serve society through delivering quality products and services with a profit making motive.
Public Sector
State sector or Public sector is the part of a country's economy which is controlled by national, state or provincial and local governments that comprises of public services and enterprises (Bughin, Chui and Manyika, 2010). These part of national economy offers goods and services to the public which cannot be delivered by private sector and is composed of all levels of government and government controlled enterprises. London North Eastern railway is a British train operating company that operates long distance inter city services and is owned by department of transport. It manages 11 stations and intend to render services until a new public-private partnership is established.
Voluntary Sector
Community or voluntary sector are the organizations whose primary motive is to create social impact rather than generating profits. These are independent organizations which are called as civil society, tertiary or not for profit sector in contrast to private and public sector. National Health services (NHS) England is the world's largest publically funded healthcare organization. Its purpose is to serve nation and people for the betterment of society and communities.
Legal structure of Burberry Group PLC
Burberry Group PLC is larger than a joint stock company is an incorporated business run by Board of directors on shareholder's behalf where they can vote on certain issue and problems related to the organization (Cantwell, Dunning, and Lundan, 2010). They are listed company in the London Stock Exchange where it sells it shares to the general public and raises finance to meet the capital requirements of the business. It is a legally registered company and to meet the interests of shareholders issues certificate of incorporation and trading that allows it to sell shares on the London stock exchange. The licensing segment engaged in royalty's receipts from firm's partners in Japan and global licenses of eyewear, watches and European children wear. The board of directors are collectively responsible for promotion of Burberry's long term success to set strategic aims and ensure agenda of discreet and effective controls.
Analyzing how structure, size and scope of different organizations link to business objectives and products and services offered by Burberry Group PLC
Structure, size and scope of an organization connects with goals of business organization which sets a huge target as their aim when having an effective organizational structure. An organization's people or employees in organizational structure with fair knowledge regarding subordinates and roles helps in achieving goals with great clarity. If the size of the organization is huge enormous and huge capital investments can be made as companies sets their objectives based on their scope (Carroll and Shabana, 2010). Main aim of every organization is to serve customers and earn profit which differs according to firm's size. Burberry Group PLC evolves products that offers change and attracts attention of luxury consumers. They focus on delivering and creating full outfits for customers adding innovation at every price to add new customer base. The brand delivers luxury items which includes fragrances, trench coats, sunglasses, cosmetics, fashion accessories and ready to wear outwear.
Growth of international business environment
Due to liberalization of trade and investment, globalization and support of advanced technologies, international business grew over 20th century. It has led business organizations to take several transformations and implement strategies to cope with the changing business patterns and trends.
P2. Size and scope of a range of different types of organizations
VIRGIN GROUP
Background details of Virgin group
Virgin Group Ltd. is a private sector enterprise or company is technology focused venture investor and a UK based multinational venture capital conglomerate. It was founded in 1989 and has a portfolio of more than 35 companies spread over the internet.
Products and services offered
Investment team of Virgin is focused on core consumer sectors of Travel and tourism, music, Media, Telecommunication, Entertainment, Energy, Retail, Money, Beverages, Nonprofit care services, Earth challenges, Financial services and health and wellness.
Size and scope of organization
Virgin Group is an active technology focused venture capital investment firm which has a strong network of investors, management teams and alumni's with having a diversified group into 200 different businesses (Chesbrough, 2010). It has more than 50,000 employees in more than 50 countries with revenue of £15 billion in 2012.
Vision
"Changing business for good"
Think about long term impact of business decisions
Embedding principles, values in all existing and new business investments.
Mission
"To embrace the human spirit and let it fly"
To deliver long term capital appreciation through investment in its sectors and seek for new opportunities to partner with likeminded potential investors and stakeholders.
Business objectives
Have clear articulated, embedded and measurable purpose in every business which drives decisions and enhance success resulting I positive impacts on customers, people, communities and environment.
To become a global business leader by pioneering systemic change and rising to challenges.
To serve customers as per their expectations with high standard innovative services in a cost efficient manner.
Organizational structure
Virgin Group follows a decentralized decision making process with a focus on independent responsibility for each business's development. It follows a structure based on the product areas and separated with specialized goals. The strategy is common in its all businesses with a strong dynamic corporate culture, transformational and charismatic leadership. It has a flat and multi hierarchical teams with a flexible structure that is people oriented innovative, creative, future and customer oriented approach.

Figure 1: Organizational structure of Virgin Group
Stakeholder's information
Virgin Group's enthusiastic employees are the excellent brand ambassadors who place the brand at top position in market that help them in achieving growth and success. The organization prioritizes their employees more as well motivated staff can help in gaining happy customers.
BURBERRY GROUP PLC
Background details of Burberry Group PLC
Burberry Group PLC is a public limited company headquartered in London which is a luxury fashion house and has branded stores and franchises around the world (Commander and Svejnar, 2011). It is listed on the London stock exchange and is famous for its trench coats.
Products and services offered
Burberry is a luxury brand which offers high quality products to consumers delivered through a combination of superior organic profit growth and continued generation of cash with a commitment to capital allocation framework. The brand delivers luxury items which includes fragrances, trench coats, sunglasses, cosmetics, fashion accessories and ready to wear outwear.
Size and scope of organization
Burberry Group PLC has 10,000 employees globally and operates around the world through franchises and stores. It supports business and society diversity
Vision
Establish position in luxury fashion by sharpening positioning in most rewarding and enduring segment of market.
Attain sustainable growth and higher margins over time and gain attractive returns.
Operate responsibly and uphold labor standards throughout operations and activities.
Attain cross functional connections with a range of team building opportunities and unique culture
Mission
"Six pillars of strategy- Product, Communication, Distribution and Digital, Operational Excellence and Inspired People"
Business objectives
Burberry Group PLC's business model is structured by channel, region and product division that is supported by corporate functions (Laumer, Eckhardt and Weitzel, 2010). The luxury brand is aimed at creating authentic and distinctive products to by bringing new fashion to create good customer engagement, brand value, inspiration and goodwill. The brand also aims at shareholder value generation, employee's rewards and recognition for retention, support other businesses and partners to improve resource efficiency and wellbeing of employees and serve community by addressing key needs.
Organizational structure
Chief people of strategy and corporate affairs are responsible for all internal people and health and safety matters of the Burberry Group PLC. The luxury brand also consists executive team to progress against responsibility goals by reviewing regularly. External advisory Committee group of leading stakeholders independently with expertise advices on drafting strategies. Foundation board upholds vision and ensures delivery of charitable purposes.
Stakeholder's information
Burberry Group PLC is aimed at creating good and long lasting relation with their customers, Partners, supporters and stakeholders to create a distinctive business identity.
You can also read: Understanding Business Environment of M&S
NATIONAL HEALTH SERVICES (NHS)
Background Details of National Health Services
NHS is the public health services in UK which is a collective organization established in 1948 as one of the major social reforms after Second World War. It is a public funded healthcare system for England and is the largest single payer healthcare in world.
Products and services offered
Main services offered by NHS includes; urgent and emergency care, mental, sexual health services, hospitals, pharmacies, opticians and dentists.
Size and scope of organization
NHS provide majority of healthcare in England that consists of primary care, in patient, long term patient car, ophthalmology and dentistry. It employees more than 1.4 million individuals and is operating since 70 years.
Vision
Enable people to live healthier and more independent lives through a high quality, effective harmonized care.
Mission
"To provide services and care that families and society would want to use".
Business objectives
NHS is planning to improve the health and wellbeing of local communities, capitalize and build a strong base to develop local integrated systems and innovative ways of working, test new ideas while considering risks and explore new opportunities and markets.
Organizational structure
Secretary of state is responsible for the overall work of Department of Health and Social care which provides a strategic leadership for public health and funding for both in in England. It is supported by 23 agencies and public bodies. NHS has an independent body and is the commissioner of primary care services.
Stakeholder's information
NHS involves people in decisions about health care and consult and include them while planning or changing commissioned health services. Contributors, commissioners, customers, collaborators, channels etc are some of their main stakeholders who is hugely depended on NHS's interest concern and activities.
LO 2
P3. Relationship between different organizational functions and the way they are linked to organizational objectives and structure
Interrelationships between organizational functions and impact on Burberry Group PLC's organizational structure
Organizational structures re dependent on business functions of Burberry Group PLC as it makes their structure and objectives to serve customers. They generate objectives to increase productivity and create an effective organizational assembly and deliver customers with distinctive products (Prajogo, 2016). There are various aspects related to various types of organization that needs to be analyzed effectively which make an impact on business. Some of the organizational functions that varies indifferent manner in organizations are:
Management: It is the effective execution of Burberry's activities by effective communication of organizational objectives which impact overall performance and decision making of business. It is done by effective management team involved in managing organizational activities that affects productivity and profitability of Burberry.
Finance: This department or functional unit of Burberry controls and manages the flow of capital, cash and resources in and out of the organization. It prepares, allocates and sanctions fund or capital for investment, advertising, purchase etc of Burberry Group. Every department of Burberry is interrelated with this functional unit as it manages all the cash inflows and outflows of the organization.
Human Resource /Administration: It is necessary to effectively execute activities in Burberry which are related to hierarchy that lead to taking flow and delegation of responsibilities and roles that affects overall performances. It also includes delegating authorities and tasks, providing training and development to employees to make organization's productivity better.
Advantages:
Inter employee relationship among various organizational functions assists business to maintain cooperation that will lead to increased productivity and profitability.
It increases effectiveness in business through association of employees
Rises profitability level of organization and business as every employee of different functional department shares information
Disadvantages:
Employees knows and understands job responsibilities and operations of other departments and functional units that might be used to manipulate and harm organization or its operations.
Competition is increased among departments that might lead to rivalries and conflicts.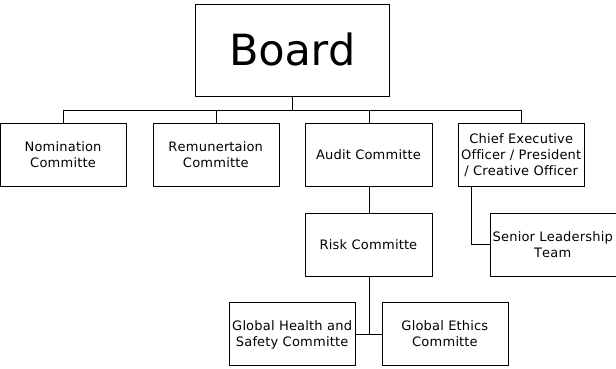 Figure 2: Organizational Structure of Burberry Group PLC
LO 3
P4. Positive and negative impact of macro environment upon business operations of Burberry Group PLC
PESTLE MODEL to analyze macro environment of Burberry Group PLC
Political

Burberry operates indifferent countries so it needs to abide domestic rules, laws for favorable activities of business (Savrul, Incekara and Sener, 2014).

Economic

Downturns in economy affects spending of individuals and as UK decided to leave European union the financial market is experiencing a fall that might affect Burberry.

Social

Shared beliefs and attitudes of UK's population impacts Burberry in product design, marketing and organizational objectives.

Technological

Use of latest technologies helps Burberry Group PLC in advertising to reach out to targeted customers and markets of UK (Teece, 2010). It also assists them in promotional activities and online shopping creates efficiency and recognition among people of all ages.

Legal

Burberry must follow rules and regulations set by government of countries within which it operates. Also labor and employment laws must be abided to avoid issues and problems that might hinder their business.

Environmental

Burberry focusses on organic cotton wool which does not harm environment and also follows several corporate social responsibilities.
Also check out: McDonald's Case Study Help
LO 4
P5. Internal and external analysis to identify strengths and weaknesses of Burberry Group PLC
SWOT analysis to understand influence on decision making of Burberry Group PLC
Strengths

Weaknesses

Iconic fashion brand: Being the luxury brand with 156 years of history Burberry remains important with British fashion that assists them in delivering unique products and take decisions regarding products and services.
Global presence: Burberry has around 500 stores in 50 countries and sells its products and services through retail and wholesale channels (Zott, Amit and Massa, 2011). This adds an advantage to Burberry in launching new and innovative products to people around the world.
Distinctive and recognizable pattern: Burberry's unique design is the most copied trademark in the world and is famous for their trench coat that became popular after the First World War. This makes Burberry a unique brand which the brand can utilize for generating brand awareness decisions and promotional activities.

Limited product line: Burberry manufactures apparels, fragrances, beauty products and accessories which is limited in luxury and fashion. Brand follows this product line to maintain the status of the goods and organization. Burberry need to focus on their product lines by taking decisions to introduce new products and services.
Price range: Being a luxury brand and products manufactured with high quality and uniqueness makes Burberry's products and services expensive that cannot be afforded by young age population who aspire to lead lifestyle. Burberry must fix price and take decisions regarding cost included and price fixation of goods.

Opportunities

Threats

Changing lifestyle: Due to development of economies, taste and preference changes results in downfall of demand of premium luxury goods and services of Burberry. Therefore, it needs to implement changes in product as per the demands of customers.
Expansion of product line: Burberry can expand their product line to meet the demands of people in UK who are conscious about fashion and trends.

Competition: Intense or high competition in UK market from other brands like Gucci, Prada, Louis Vuitton etc. possess serious peril to Burberry (Gecevska and et.al., 2010). To cope up with competition Burberry need to introduce new and improved products that are unique from rivals to gain competitive advantage.
Fake products: Burberry faces a major issue of imitation that affects brand equity.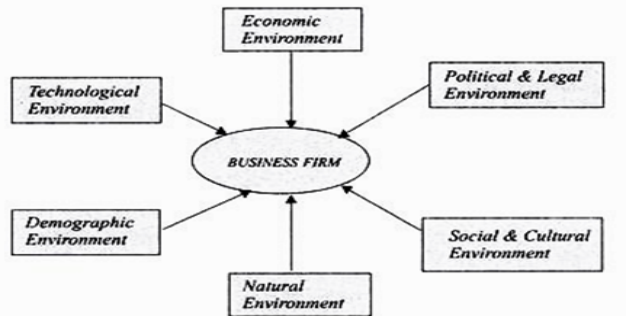 Figure 3: Macro environmental factors
(Source: Business Environment Types (External Micro and External Macro), 2018)
P6. Interrelation of strengths and weaknesses with external macro factors of Burberry Group PLC
Burberry Group PLC's micro and macro environment are interrelated to each other in many ways. Changes in any of these factors affect company's operational performances and profitability. For instance, a change in taste and preference of consumers will provide the brand to develop new products and services according to their demand. The luxury brand also operates in personal and household goods in several countries and faces instability due to changes in policies of nations. Also decrease in tourists has also led to reduced sales and revenues (Boons and Lüdeke-Freund, 2013). The will have to adjust their product pattern and make it according to styles and preferences of communities. Global presence is an opportunity for Burberry to get an entry into any market as the brand has attained awareness and goo image that would benefit organization. Burberry is a luxury brand that offers distinctive and unique products and services to fashion minded people that can have an experience and history of 156 years. Entry to new markets like Turkey, Thailand, Egypt and several countries is a way to succeed in future as developed economies are having high competition. Burberry's major proportion of sales is from Asian markets and due to changes in taste and preference, economic, regulatory and political environment affects the brand adversely. Burberry should change their organizational structure, activities, operations according to these factors to meet their objectives and goals. PESTLE and SWOT analysis on Burberry explained various positive and negative impacts of the firm and its business. Burberry being a globally present brand has a high brand awareness and customer base. It is the largest luxury brand with distinctive patter which can be utilized by the company to reach out to new markets without much promotional activities. The firm's high price range and limited product line may cause customers to choose from rivals who are also offering similar products in same price range.
Experts Are Listening!
Have doubts about academic writing? Clear all of them in a minute! Call the experts and get your answers immediately! Dial Now!Contact Us
CONCLUSION
Report on Business and business environment discussed internal and external factors affecting Burberry Group PLC's organizational structure and profitability. PESTLE Analysis were conducted to identify the macro environmental factors which has a positive and negative effects on productivity and operations of Burberry. SWOT analysis was conducted to analyze the strengths, weaknesses, opportunities and threats that are the internal capabilities and limitations of Burberry that assists firm in developing organizational objectives and control outcomes that may hinder business. This report also analyzed various interrelations of Burberry's strengths and weaknesses with macro environmental factors which may help company in attaining a market position and competitive advantage.
REFERENCES
Boons, F. and Lüdeke-Freund, F., 2013. Business models for sustainable innovation: state-of-the-art and steps towards a research agenda. Journal of Cleaner production. 45. pp.9-19.
Bughin, J., Chui, M. and Manyika, J., 2010. Clouds, big data, and smart assets: Ten tech-enabled business trends to watch. McKinsey quarterly. 56(1). pp.75-86.
Cantwell, J., Dunning, J.H. and Lundan, S.M., 2010. An evolutionary approach to understanding international business activity: The co-evolution of MNEs and the institutional environment. Journal of International Business Studies. 41(4). pp.567-586.
Carroll, A.B. and Shabana, K.M., 2010. The business case for corporate social responsibility: A review of concepts, research and practice. International journal of management reviews. 12(1). pp.85-105
Chesbrough, H., 2010. Business model innovation: opportunities and barriers. Long range planning. 43(2-3). pp.354-363.
Commander, S. and Svejnar, J., 2011. Business environment, exports, ownership, and firm performance. The Review of Economics and Statistics. 93(1). pp.309-337.
Gecevska and et.al., 2010. Product lifecycle management through innovative and competitive business environment. Journal of Industrial Engineering and Management. 3(2). pp.323-336.
Laumer, S., Eckhardt, A. and Weitzel, T., 2010. Electronic human resources management in an e-business environment. Journal of Electronic Commerce Research. 11(4). p.240.
Prajogo, D.I., 2016. The strategic fit between innovation strategies and business environment in delivering business performance. International Journal of Production Economics. 171. pp.241-249.
Savrul, M., Incekara, A. and Sener, S., 2014. The potential of e-commerce for SMEs in a globalizing business environment. Procedia-Social and Behavioral Sciences. 150. pp.35-45.
Teece, D.J., 2010. Business models, business strategy and innovation. Long range planning. 43(2-3). pp.172-194.
Zott, C., Amit, R. and Massa, L., 2011. The business model: recent developments and future research. Journal of management. 37(4). pp.1019-1042.