History of Tesco
It's all started when the Jack Cohen started to sell war-surplus groceries items from a small stall to the people. Jack Cohen was a son of a polish immigrant who works as tailor. Initially he works as an apprentice tailor with his father then he joined Royal Flying Corps where he works as a canvas maker but in 1919 he started selling groceries in a small stall and that's how Tesco invented. Tesco was founded in 1919 by Jack Cohen. It started when Jack Cohen started to sell groceries items from small stall in East London. The name Tesco first appeared in 1924 when Jack Cohen purchases a batch of tea from T.E. Stockwell. He created this name by using first 3 letters of supplier's name which is TES and the first 2 alphabets of his surname which is CO. The first store of Tesco was operated in 1929 in Burnt Oak, Edgware, north London. The store started selling dry goods of great value and its first ever branded product is Tea.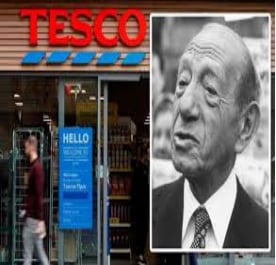 In 1934 Jack Cohen purchased a plot of land at North London in order to build a new warehouse and headquarter of the company. By observing the growth of the company Jack Cohen started buying stores in order to provide growth to the business in 1937. The owner of Tesco expanded their business in London and in neighbouring countries also. In 1947 Tesco has also made its position in the stock exchange market with its share price of 25 pence. Until 1950 Tesco has grown largely and had over 800 stores all over the world. With the each passing year Tesco has purchased many stores and establish their position in many other corners of the world.
History from 1950 to 1990 (Expanded their business)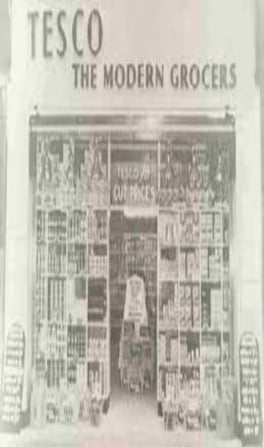 During the period of 1950 to 1965 Tesco purchased many stores such as in 1957, they purchased 70 Williamson's stores, in 1959 Tesco purchased 200 Harrow Stores outlets, in 1960 they acquired 212 Irwin stores and in 1964 they have acquired 97 Charles Phillips stores.
In 1968 the term "superstore"was used when Tesco opened their store in Crawley, West Sussex, it was a huge store deals in selling of food and non-food goods. In the same year they opened victor value chain which is a rebranded name of Tesco in some smaller towns stores.
In 1973 Jack Cohen resigned from his position and replaced by Leslie Porter who is his son-in-law. With that they also introduced multiple petrol stations at different sites.
Back in 1991 to 2000 (Tesco Enhances their operations)
The year 1994 was a great and successful year for Tesco as they have started to offer wide range of product and services apart from the food that too at great price. The company has become first retailer in UK who offer customer servicecommitment at the checkouts.
In 1995 Tesco have started their services on internet also which is still active and generating good amount of profit for the company. With the internet shoppingTesco also introduced loyalty card and branded "Clubcard" for its regular customers and attracted approximate 5 million customers in the very first year. Through the introduction of various services and offers Tesco overtook its competitor Sainsbury in market share.
In 1997 Tesco made partnership agreement with Esso, by the alliance they have opened several petrol filling stations on lease. Tesco operated their attached stores under the Express format and in return Esso started selling their fuel via stores of Tesco.
In 2001 to 2010 (Established operations in other parts of world)
In the year 2001 Tesco has establish their company in all over Britain and initiate to buying out small ventures which is imperative for the success of the company. The company was part of bomb campaign which last only for 5 months.
In the year 2002 Tesco have hired 13 HIT hypermarketsin the Poland. They have also take a major leap in order to move into UK convenience stores with the acquirement of T&S Stores.
In respect to enhancing its operations and profit Tesco in 2003 introduce its telecom division in its stores which comprises mobile and home phone services. In the same year they have acquired a C Two-Network in Japan. Apart from Japan Tesco purchases majority of the stake in Turkish supermarket chain named Kiap.
In the year 2006, Tesco announced to establish their chain in the market of United States as well through opening small grocery stores in the country's western states. In order to generate growth Tesco hired 200 plus stores in the western states in United States. In the year 2007 company was placed under investigation by UK fair trading for conducting their operations as a part of cartel of five supermarkets.
Past in 2011 to present (A healthy and sustainable journey)
The year 2011 was the sustainable year for the Tesco as they have opened their first zero-carbon store in Bang Pura, Asia. And their next target to commit zero carbon emissionis Thailand.
2012 was the achievement year for Tesco as they include some more range of products which comprises frozen foods and non-food items with that they have launched online service in various parts of the world. In the same year Tesco gave awarded Green retailer of the year at Annual Grocer Gold Awards.
In year 2013, Tesco has announced charity partnership alliance with diabetes UK.
In 2014 they have launched brand named healthy living in order to establish healthy lifestyle.
In 2016, they initiate to offer free fruits to children in order to promote values of healthy eating.
In the year 2018 Tesco merges its operations with wholesaler Booker Group in respect to create UK's best food business. This merger generates pool of opportunities for the suppliers and shareholders.
Most student like to opt for our Case Study Help service from our expert, as we have one of the best team of UK writers. If any student looking for assistance with their case study feel free to reach us at any time.
Experts Are Listening!
Have doubts about academic writing? Clear all of them in a minute! Call the experts and get your answers immediately! Dial Now!Contact Us
Popular FAQ's asked by students:
1. Which type of company is Tesco?
Ans. Tesco is a multinational retailer deals in general merchandise. They carry out their business operations through stores and on the online basis. Tesco have operated their stores in different formats which is differ in the range of products, size that includes large and small and dot-com only.
2. How the name TESCO was formed?
Ans. The name TESCO comes from the first 3 initial letters of T.E. Stockwell who is a partner of Jack Cohen in tea supplies and CO comes from the surname of Jack Cohen.
3. When Tesco was founded and by whom?
Ans. Tesco was founded in year 1919 by Jack Cohen as a grocery stall in hackney, London.

You may also like to read about - Case Study on Vodafone