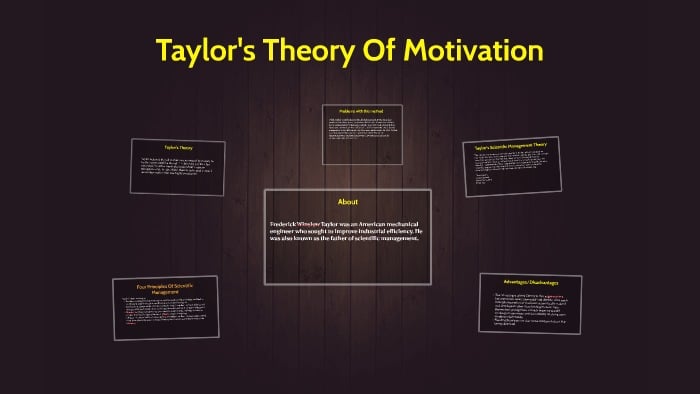 Taylor's motivational theory is a scientific management theory that synthesizes and analyze the workflow.This theory was introduced by the Frederick Winslow Taylor. In 1909, Taylor had published "Principles of the scientific management" This motivational theory is undertaken with the purpose to improve the labor productivity and economic efficiency.
Primary objectives
Major objectives of this scientific management theory is to maximize employee's improvement as this improvement show on effectiveness and efficiency performance. Such development is a revolution in the management process and worker's actual performance. If the principles and procedures of the scientific management theory Taylor apply, then it can big change on the various things. For instance:-
Bring down the production cost
Prevent wastage of time
Enhance employee's efficiency.
Secure the labor in industry
Develop a relationship between managers and workers.
Assumptions of Principles of the scientific management theory
Science, not a rule of thumb- This principle of scientific management theory is mainly focuses on enhancing the organizational efficiency through a scientific analysis of the work and not with the "Rule of Thumb" method. According tothe Taylor, even the small activities can be planned in a scientific manner. His will save human energy and also time. This decision should be on the basis of scientific analysis and cause and effect relationship rather than the 'Rule of Thumb' in which decision are taken based on the manager's personal judgment.
Mental revolution -This technique include a shift of the workers and management's attitude towards each other. Both parties should understand the value of each other so that wok can be done with a cooperation and fully participation. Purpose of the both should be to bring improvement and boost the organizational profit. Mental revolution require a complete change in the outlook of both the management and workers; both should have a sense of togetherness.
Harmony, not discord - Taylor believed that a cordial and harmonious relationship between the management and workers. Difference between them will never be beneficial to either side. Employees and management should acknowledge and understand importance of each other. According to Taylor, mental revolution for both the employees and management to accomplish total harmony.
Cooperation, not individualism - It is same as "Harmony, not discord" and consider a mutual collaboration between the management and workers. Both should have a mutual cooperation and sense of goodwill. Its main motive is to substitute an internal competition with the cooperation.
Development of every person to his or her greatest efficiency -The organizational effectiveness also relies on the skills and abilities of the employee. Hence, learning best technology and practices, implementation training, is an effective scientific approach that brush up the worker's skill. In order to assure that training is given to a right employees, an appropriate step must be take during selecting and recruiting the candidates on the basis of a scientific selection.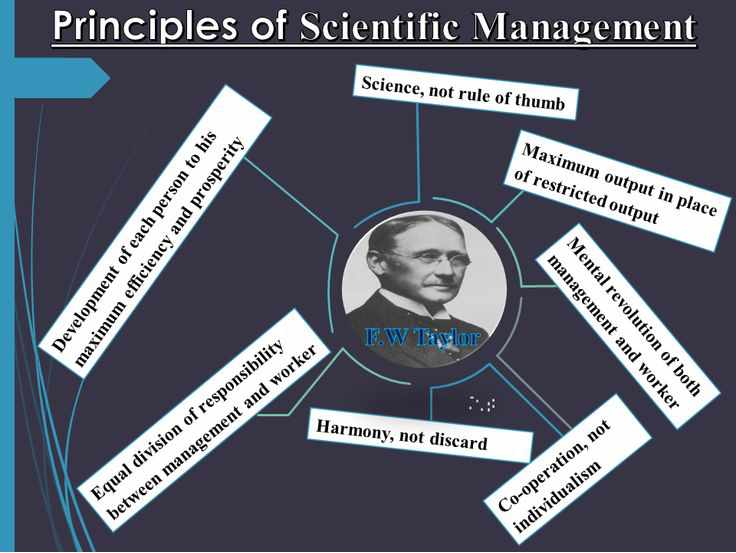 Main Symptomatic
It is considered as a systematic approach , used by the organization to handle the management problems.
It implies the scientific techniques in the method of work, selection, recruitment and training of employees.
It include a complete change in the management and employee's mental attitude.
It attempt with the purpose to develop all the employees to their greatest efficiency.
It attempts with the motive to discover a best method of doing any work at a lowest cost.
Criticism of the Taylor's scientific management theory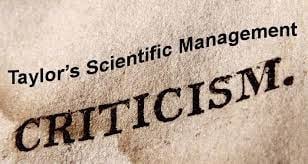 Although, this theory appreciates within
organizational procedure, yet it has not spared of severe criticism. Few of these criticism are mentioned below:
Biggest complaint against this scientific theory was related to its approaches towards the workforce as it treated the workers like a machine. They were supposed to complete their task in a most efficient manner within limited time period. In this, the work environment and worker's condition were not considered at all.
Another shortcoming of this theory was that it believed that money is only and primary source of motivation for the employees. It assumed that various rate system, that asks for paying more to the highly productive employees, would motivate the other workers too to put in their more efforts.
Another criticism against Taylor's motivational theory was that most of the time it was in the favor of the organizational management rather than the employees as they had little say in any thing. As management's mainly emphasized on increasing the productivity, therefore, Taylor's scientific theory was worked for them very perfectly.
Quickly opt for our case study writing service and score A+ grades in your finals.
Application of the Taylor's theory in business's
By applying this theory into the business, students will be enable to learn that how organizations utilize this theory within workplace. In context to the business, this theory is used by the large organizations which generally implement a bureaucratic structure. Example of these kind of the organization are car industries, fast food chains, manufacturing plants and many more.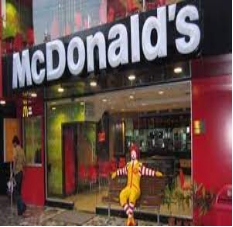 Application with the example
McDonald's has divided its every employees into the separate tasks. Such s the individual's group are divided into burger making process, that include grilling meat, adding the salads, condiments and many more. Whereas other workers are specialized to perform the another task like taking order. Another employee's group are responsible for the customer service and handling payments.
A+ Grades @Affordable Prices!
We deliver all academic papers from dissertations & assignments to thesis, & case studies. 5000+ satisfied students, you could be next! Place Your Order Now!
Order Now
Mostly asked FAQ's Questions by Students
1). Define main aim of the Taylor's theory
To improve the employee's productivity and eliminate all kind of the wastage through a standardization of the work and tools. Its main purpose is to develop all the employees to their greatest efficiency and prosperity.
2). What are four principles of the Taylor's scientific management theory
Science, not a rule of thumb
Mental revolution
Harmony, not discord
Cooperation, not individualism
Development of every person to his or her greatest efficiency
3). Why is the Taylor's scientific theory criticized?
This theory was criticized due to an overly mechanised way of treating employees, that led to the employee's exploitation. As resulting, workers joined different trade unions that lead to a mistrust between the employees and management. You may also like to read - Case Study of Lego Plc