Question :
This Assessment covers following questions:
John Lewis company is a retailer which operates in departmental stores, home stores and supermarkets. Discuss the different types, size and scope of organisations.
Provide the interrelationship of different functions within John Lewis company and how they link to organisational structure.
Use contemporary examples to generate both the positive and negative impact the macro environment has on business operations.
Generate the internal strengths and weaknesses of specific businesses and explain their interrelationship with external macro factors.
Answer :
Organization Selected :
John Lewis
INTRODUCTION
Business environment is the combination of the internal and external factors that influences the operation and functions of the company. There are various elements that are included in the business environment which are customers and suppliers, improvement in technology, laws and government activities, and market, social as well as economic trends (Calabrese et.al., 2018). The entire performance, growth, profitability, as well as entire survival of the company, is affected by these factors. This present report is context to John Lewis company will be chosen for assessment. It is a private partnership company in the UK that operates in clothing, watching, jewelry, cosmetics, food, audio-visual computing etc. Its headquarters are located in London England UK. It was founded in 1929 by John Spedan Lewis. This present report will cover, different types as well as the purpose of the organization, Furthermore, this will also explain the size as well as scope of different types of organisations. In addition to this, Pestle analysis tool will also use to identify external factors affecting operations of the business.
MAIN BODY
1. Different types of organisations as well as there purpose and the growth of the international business environment.
In the business environment there are different types of organisation exist as well as these are very essential factors in the growth of international business environment. Thus, it is very significant to understand the actual concept of public, private and voluntary organisation that present in the business environment.
Private Sector Organisations- The companies which are owned and controlled by individual or groups of individual are known as private sector organisation. These organisations are nit the part of government or state authorities. These companies are also a very important part of the economy. The main purpose or intention of private companies are to earn high amount of profit by increasing sales and market share. In order to start a private company the maximum limit of members are restricted to 50 and minimum 2. The subscription of shares of private company is not allowed for public. John Lewis company is a private sector organisation which is operating with the intention of earning huge amount of profit by increasing sales as well as market share (Schaltegger and Wagner, 2017). Some examples of private sector companies are Developers, Designers, Repairmen, Accounting Tax, Dentistry, Apple, Morrison. Tesla etc. and many other private sector companies.
There are some benefits and drawbacks of private sector organisation which are-
Benefits
All the members in the private organisation are known to each others.
Owner has all the power of control of entire organisation.
Statutory meeting are not necessary in the private organisation.
There are two directors to run the company.
Liability of all the members are limited.
Drawbacks
The share of private limited company is not transferable it is restricted.
The maximum limits of all the members are restricted which is not more than 50.
Private organisations are nit allowed to issue any prospectus.
A+ Grades @Affordable Prices!
We deliver all academic papers from dissertations & assignments to thesis, & case studies. 5000+ satisfied students, you could be next! Place Your Order Now!
Order Now
Public Sector Organisations- The companies which are owned as well as control by government of country. Government includes federal, state, municipal or provincial government. The while control of company is remained in the hands of government legal authorities. The membership are always open to the general public. In order to start a public limited organisation, there are totally 7 minimum number of members are requires and there is no maximum limit of person. Prospectus is the main source of issuing shares to public. Organisations have greater supervision as well as control in this type of organisation. All the members have limited liability public limited company. The main purpose or intention of public limited companies are the betterment or welfare of the communities. They generate employment in the economy. The stock or inventory of public limited company can be acquired by any person. The formation of these organisations are lawful (Moroni, Arruda and Araujo, 2015). Some examples of public limited company are British Petroleum (BP), Burberry Group PLC etc.
There are some benefits and drawbacks of public sector organisation which are-
Benefits
The liability of all the members are limited. The shareholders are free of any risk and damages.
Because of large number of shareholders the risk is dissolved.
Retirement and death of any shareholder does not affect the life of organisation.
Drawbacks
In these companies because of huge number of shareholders it is not easy to preserve privacy as well as secrecy.
In order to start public limited organisation, it required huge amount of legal formalities.
In public limited companies there is lack of public interest.
All the members in the company are unknown to each other.
Voluntary Organisations- The organisations which are owned as well as control by individual or group of individual who voluntary enter into an agreement to form a company to achieve the goals and objectives. These are organisations which are formed with the intention of doing welfare of the society, this is the primary motive of the company. They also earn profit but the entire profit they earned are used for the welfare of the society. These companies have there legal status or structure by being a voluntary organisation limited by guarantee (Schaltegger, Hansen and Lüdeke-Freund, 2016). Some examples of voluntary organisations are Welcome Trust, Oxfam, Age UK etc.
There are some benefits and drawbacks of voluntary organisation which are-
Benefits
These organisations are operating for the welfare and betterment of the communities.
These organisations are not liable to pay ant tax as they are fully exempted.
They are also called as cost-effective organisation.
Drawbacks
Voluntary organisation faces lack of resources.
They also posses less reliability due to lack of fund.
2. Explanations of private, public and voluntary organisation.
Private Company
Background- John Lewis is a private limited company. It is also called as John Lewis partnership (JLP). It is an employee owned UK company which operates John Lewis and partners. It was founded in 1929 by John Spedan Lewis. This group is the third largest private company in UK in terms of sales (John Spedan Lewis (JLP) Organisation Structure, 2017). The revenue of JLP is £11 billion and thee are 88,900 employees are employed in this company. The main products of company is Clothing, watches, jewellery, gift-wares, cosmetics. Housewares, furniture, beds, mattress, food, financial services etc.
Mission- "We make what matters better, together."
Vision- "To be the most highly valued business by customers, communities and our loyal and committed colleagues.
Business Objectives - "The main objectives of John Spedan Lewis is to supply better customer satisfaction by maximising sales and profit of company."
Organisational Structure of John Spedan Lewis- The JLP company is legally formed by the structure which is owned and controlled by two people and they had come in the agreement to share profit and loss equally.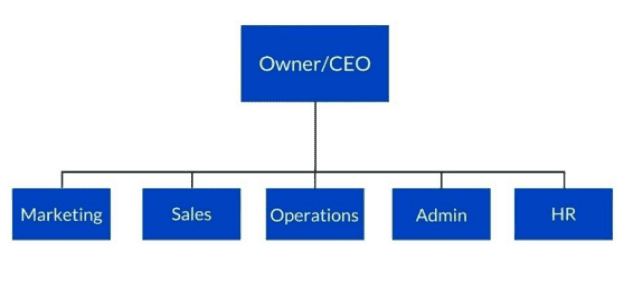 Public Company
Background- British Petroleum (BP) is public limited company. It is multinational gas and oil company of United Kingdom which was founded in 1909 (British Petroleum (BP) Organizational Structure, 2017). Its headquarters are located in London and England. It is sixth largest oil and gas company in the world. BP is vertically integrated company operating in all the areas of gas and oil industry that includes exploration, production of refining, distribution and marketing petrochemicals, generation of power as well as trading. In biofuels and wind power BP has renewable interest (Alles and et.al., 2018). The revenue of the company is $244.58 billion in 2017 and it employed 74000 employees in last 2017.
Mission- "To improve all the areas and stay as the leading multinational energy organisation in the world and want to become a global energy producer across the world.
Vision- " To deliver quality products and better services to the entire world."
Business Objectives- The main objectives of British petroleum to keep the stakeholders of company.
Organisational Structure-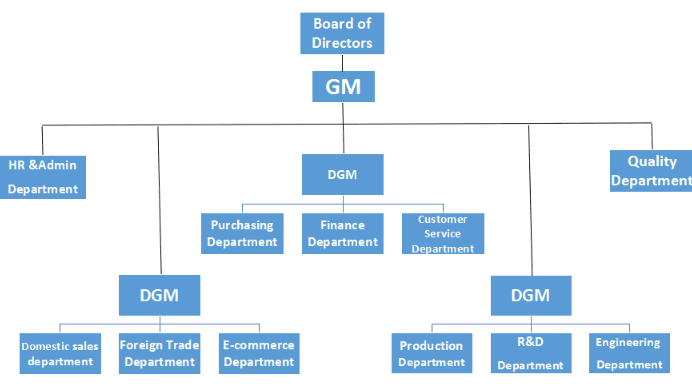 Voluntary Organisation-
Background- Welcome Trust is a voluntary organisation which has main focus on biomedical research which was founded in 1936 by Sir Henry Welcome. It is the second largest voluntary organisation in the world. Its headquarters are located in London, NW1, United Kingdom (Welcome Trust Organizational Structure, 2017). The aim of this tryst is to get the extraordinary improvements in health by supporting the brightest minds. Welcome trust has the endowment about £23.2 billion in 2017.
Mission- "To deliver high quality of research and health promotion."
Vision- " To make the Cambridge Centre for Global Heath Research promotes excellence research in order to meet challenges of global health, by supporting researchers and research institutions in low as well as middle-income countries by equitable collaborations and partnership."
Business Objectives- To make the stakeholders of company satisfied with the research and health promotion activities.
Organisational Structure-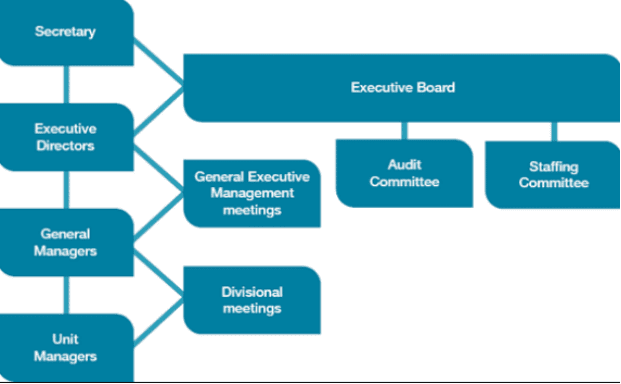 3. Explain the function of organisation and its interrelations of the functions and how they are link to organisational objectives and structure.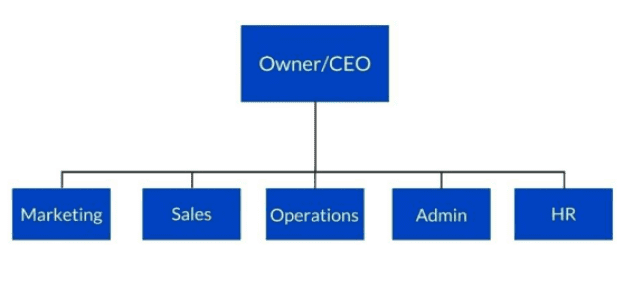 In an organisation there are various departments and there function they have to work according to there roles and responsibilities within organisation (Cohen and Kietzmann, 2014). There functions are closely interconnected with each other and they are directly linked with the companies objectives as well as structure. In John Spedan Lewis company there are many departments which perform there roles and they are directly attached towards the achievement of organisational goals and objectives. Here are the description of function and there interrelationships-
Operations Department- This is one of the most important department of company. The entire activities are start by the instruction of operation department. The main function of this department is to set goals and objectives as well as establish policies of various departments. Sales forecasting, planning of sales advertisement and promotions. They make cooperation with other manages and start the work as soon as possible. They are responsible for the smooth and profitable production of the entire organisation as without the functions of operations it is not possible to achieve the gaols and objective of company. They also ensure the quality of products of John Spedan Lewis company.
Marketing Department- This is the most important department of company as entire sales and profit of company is open-ended on the marketing functions. The marketing department of JLP company is very efficient as the customers are largely aware of the products of company (Langfield-Smith and et.al., 2017). If company marketing department does not work properly than it is not possible that company can achieve its desire goals and objectives.
Sales Department- This is another the most important department where the entire sales and profit of company id depended. Having a strong and powerful department of sales is the crucial asserts of company. It is also fact that in the absence of sales department it is not possible to make profit from the business. The sales department at JLP company is also very efficient as they are gaining high profit only because of sales department.
Human Resource Department- This department is the key to achieve the desire goals and objectives. None of the work within company is accomplished without skilled and knowledgable employees in the organisation. It is the duty and responsibility of HR manager to hire or select the most skilled employees in the company so that company can achieve its desire goals and objectives. The employees at JLP company are highly skilled and knowledgable because HR manager used many techniques to select the best and suitable candidate for the job.
Admin- The function or roles played by admin is to manage the entire equipments, machines and tools of company. They are also responsible for maintaining the hygiene at the workplace. In addition to this, all the external and internal communication are handle by th admin of the company. This is also an important function to achieve the desire goals and objectives of company.
Students can also read about: Business Environment
4. Identifying and discussing the macro environmental factors that influence the retention of business
In order to track the impact of external environment on the business, the best tool that is used is PESTLE analysis tool. With the help of this tool, company can identify both positive and negative factors influencing the operations and functions of organisation (Wheelen and et.al., 2017). There are six factors in PESTLE analysis which are Political, Economic, Social, Technological, Environmental and legal factors.
Political Factors- This factor includes all the policies, legislations, tax rates and some other government intervention. It affects the entire business of JLP company but the political stability is very good in United Kingdom. IT is also one of the famous destination for the foreign direct investment. JLP company has also taken advantages of political stability and invested more in the business. The present rate of corporation for company is 19%. In 2016 the government of UK has announced to reduce the rate by 17% which is great opportunity for JLP company to expand its business in more cities.
Economical Factor- This is an essential factor in the Pestle analysis of UK. In terms of GDP, UK is fifth largest economy in the world which is the wonderful, opportunity for the companies to grow and develop more. In 2008, the period of recession that put the country in trouble but the government of UK had taken required steps in order to improve the economy. JLP company is very attentive towards these period because it influences the buying behaviour of customer which directly affect the company's profit ((Cai and Yang, 2014).
Social Factor- The consumer market of United Kingdom is very big and huge. The current population of UK is 65.6 million in 2017. Social changes, trends, attitude, belief of customers are included in this factor. UK is developed country and the fashion changes very fast and it also comes very fast in UK. Thu, it affects the decisions of JLP company as they have to deal in advance in order to satisfy the needs of customers. JLP company has open up many stores in UK to increase the sales and to catch the fashion as soon as possible.
Technological Factors- In terms of technological advancement UK is one of the largest company across the world. London is known as the hub in technological and financial institution. In order to provide the best product and services to customers, JLP is adopting advance technologies. There are unlimited opportunities available in UK to transfers the technology such as JLP has started to sell there products through online media which is the great opportunity for company to raise the sales of company. JLP has also now using digital payment system to make the customers satisfied and happy.
Environmental Factors- In UK, this is one the most emerging factors as now in this period, government has high concern about the environmental issues. Government has increases the pressure of company reducing wastage and damage of environment. UK government has taken initiatives to minimise the negative impact of economic growth of the environment. Thus, this factor also pressuring the JLP company. JLP has decided to reduce there carbon foot print in coming days. They are also stopped cutting trees for constructing there stores. Now they are opening there stores in complexes and malls.
Legal Factors- This is the last and the most important factor in terms of businesses. It is somewhat close to the political factors. It included al the laws, legislation, rules, acts which is formulated by the government to save the rights of the person. These factors also affect the companies profit and sales. Government has make Employment laws which affects the business in both positive and negative way (Shenkar, Luo and Chi, 2014). JLP company should have to aware of employment law as well as al the rights of employees should be fulfiller. In addition to this, consumer protection law, it also affects the company as they have to very convenient about the quality and price of the products.
5. External and Internal analysis for JLP company to identify strength and weaknesses and there impact on decision-making process.
SWOT analysis is also the most important tool in order to track both internal and external factors. JLP company is using this tool to indemnify its strength & Weaknesses, Opportunities & threats.
STRENGTH

JLPis the third largest private company in UK in terms of sales.
JLP's customer service is brilliant.
Recognised names of brands.
JLP is dealing in diversified products which in turn get diversified income.
JLP has powerful portfolio of property.
Employees are highly skilled and knowledgable at JLP (Simoes, Singh and Perin, 2015).

WEAKNESSES

Day stock is very high as compare to other brands like Waste Side, Pantaloons.
In 2008, the period of recession, company has face high fall in the profit and sales margin.
Lack of resources.
Rental cost is very high.
Fashions are come late as compare to other brand.

THREAT

High competition in the market.
Fluctuation in currency is also very high.
Laws and policies are frequently changes.
Customers are highly innovative and creative.





OPPORTUNITIES

There are wide-cut of opportunities for JLP company to develop and grow its brand or businesses all over the world by pursuing international expansion strategy and opening more stores in India, South Africa, Brazil, Australia (Cai and Yang, 2014).
Stability in political conditions.
Offering of products are also increasing.
Co-branding location.
Services students look for : Assignment Writers
6. Explain how strengths and weaknesses interrelate with external macro factors for Tesco.
The relationship between the factors of external environment and internal environment is very high as effective as well as positive impact of external factors on businesses become the strength and opportunity for company while negative impact of external factors disturb the entire internal condition of business badly and it becomes the threat and weaknesses of the business (Huang-Horowitz, 2015). For example, UK has stable political condition which is the biggest strength of company as well as it is the greatest opportunity for the company to expand there business without any fear. In addition to this, UK is fifth largest economy in the world which is the wonderful, opportunity for the JLP to grow and develop more. Moreover, in terms of technological factors, UK is leading across the world in terms of technological advancement and JLP is also using advance technology and gaining high profit and customer satisfaction. On the other hand, technological advancement also leads to raise the competition among the companies which is the biggest weakness and become the major threat of the company (Tukker, and Tischner, 2017). Moreover, government has increases the pressure of company reducing wastage and damage of environment which is also a threat for company and same as laws and legislation also affects the JLP operation and functions very-badly.
CONCLUSION
The above report concluded that business environment is the combination of the internal and external factors that influences the operation and functions of company. There are many factors that affects the company is both positive and negative manner was also discussed in this report. Furthermore, this report also included Different types of organisations and the growth of the international business environment various types of organisations and the growth of the international business environment. In addition to this, function of organisation and its interrelations of the functions and how they are link to organisational objectives and structure was also understood in this assignment. This study also identifying as well as discuss the macro environmental factors that influence the retention of