INTRODUCTION
Development is considered as the continuous process which helps business to enhance their productivity. Every organisation starts with the common objective of generating highest revenue (Amabile, 2012). Present assignment is based on Whirlpool which is a renowned company in consumer electronics sector. This company is availing its products and services to customers at global level. Present report is going to discuss about different skills, knowledge and behaviour which is required by a HR professional of the company. It further elaborates about personal skill audit and professional development plan. Along with this, it will provide brief description about the training and development, individual learning and organisational learning. It also elaborates need of continuous learning in the company, role of HPW practices in employee work engagement and different approaches of performance management.
P1 Knowledge, Skills and Behaviour of HR professional
It is required by an organisation to develop their current working practices in the company in order to achieve their targeted goals and objectives in the quick manner. In relation to the profession of HR department, it is important for them to have an appropriate skill, knowledge and behaviour of their profession which helps them in satisfying roles and responsibility of their profession. In relation to HR professional of Whirlpool desired skill, knowledge and behaviour of its manager is described as below:
Knowledge:
Legal law: Knowledge of legal law is a very broad concept. It is not possible for professional to have legal knowledge of every field but it will be very worthy if the individual has knowledge about his own field. In relation to HR professional to adequate knowledge of their employment laws (Berry, 2011). This will help them in the working life along with this it will also help HR in taking preventive decisions that will not break any kind of law.
Business knowledge: Adequate knowledge of business is very important for every professional as it helps them in performing their job responsibilities effectively. In relation to HR professional of Whirlpool, it is required by them to have a basic knowledge of business of whirlpool. As it will help managers in setting goals of business and operations required to carry out in an efficient manner.
Skills:
Communication: Effective communication helps in minimising various unnecessary issues at workplace. It can be said that by having effective communication HR professional can easily influence its employees to their job responsibility effectively. Along with this, it also contributes in creating positive working environment at work place (Ford, 2014). In relation to the HR professional of Whirlpool, it is required by them to use polite and soft speaking skills in order to make them feel comfortable at workplace.
Leadership and management: It is required by the HR professional of Whirlpool to own leadership skill as it will help them in monitoring employee's performance and according to it only directing them toward the same organisational goal. Along with this, it is the responsibility of HR professional only to assign job related task to employees on appropriate time which will help them in accomplishing it with the given time frame.
Behaviour:
Conflict management: It is required by an HR professional to manage conflicts at workplace. As it is necessarily important for employees to perform business related task in effective manner (Gibbs, 2013). This is only possible in peaceful working environment. For this, it is important for HR professional to analyse overall conflict situation first and then take an appropriate decision which is effectively equal for all.
Adaptive: Adaptive kind of behaviour helps HR professional in acquiring changes which might took place in the company. It can be said that if an professional is having adaptive behaviour then he will definitely be able to perform its business activities in any kind of business environment.
P2 Analyse a completed personal skills audit to identify appropriate knowledge, skills and behaviours, and develop professional
Personal skill audit refers to personal analysis of a individual which helps organisation in understanding own strengths and weaknesses in appropriate manner. As per my personal skill audit plan I have analysed that my strengths and weakness as described as below: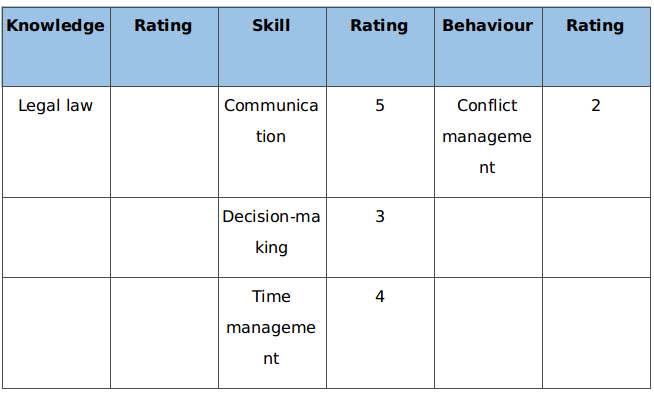 Strength: As being a HR professional of Human resource manager of Whirlpool, I have observed that my communication is skill is very strong which helps me maintaining positive relationship with the employees.
weakness: As per skill audit, I have observed that I am weak in time management skill, conflict management and decision making skill. Due to lack of command on these areas I am facing problem in executing my job responsibility in effective manner.
BENEFITS AND DISADVANTAGES OF SKILL AUDIT:
Benefits of skill audit are valid and important workplace skills, analysis of employee's own skills. Disadvantages of skill audit are that employees can be over confident or lack confidence at times.
P3 Differences between organisational and individual learning, training and development
Every business organisation aims to grow faster by developing themselves at regular basis in order to achieve its targeted goals and objectives. Learning and development sessions are conducted in every organisation for the purpose of enhancing skills and knowledge of employees as per the requirement of competitive market (Goetsch and Davis, 2014). In relation to Whirlpool, the company is conducting learning session for its individual employees as well as overall team in order to upgrade them according to changing business scenario.
Individual learning: It is the learning process in which management team of company provides training session to single employee. This session is specially conducted for the individual who has been promoted or doing something special which will help them in performing their job responsibility effectively.
Organisational learning: In this learning, training session are conducted for whole organisation in order to develop their knowledge together on the same thing. This kind of learning sessions are specially conducted in the organisation at the time introducing any new technology at workplace which will going to be used by overall organisation.
Difference between Individual learning and organisational learning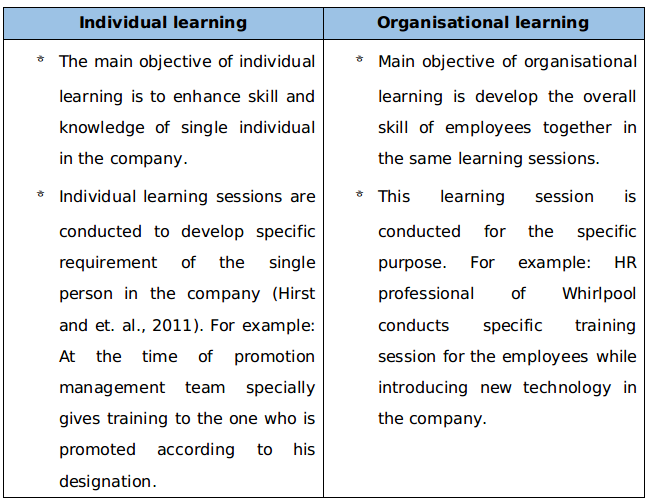 Training:
Training is a group activity which aims at providing knowledge, improving skills, increasing efficiency of employees working in an organisation. Training is usually done for a specified period of time.
Development:
Development is a team effort which uses scientific and technical know how for improving employees skills and efficiency. It is an ongoing continuous process which stresses on overall growth.
Difference between Training and development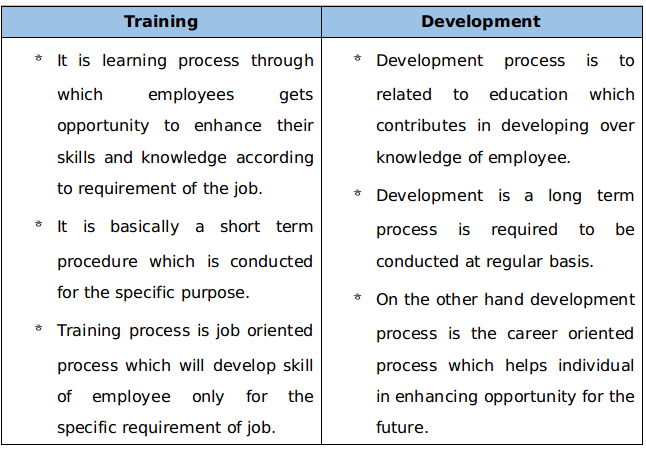 P4 Analyse the need for continuous learning
Continuous learning is considered as the ongoing process which helps individual to upgrade themselves at regular basis so that they can perform their job related activities in effective manner with less period of time. It is important for every organisation to analyse overall organisation in order to understand actual need for the continuous learning (Levi, 2015). After analysing these specific needs, organisation can easily find out some alternative options which will help in minimising its impact. It can be said that need of continuous learning arises in the organisation for the specific purpose such decline in productivity, increasing competition, changing technology etc. Some of these needs which might be arising in Whirlpool is described as below:
Decline in productivity: Reducing productivity rate of the manufacturing department arises need for continuous learning. As this department is getting training and learning session from company then they will be easily able to manufacture good quality product with minimal rejection ratio. In relation to Whirlpool, it can be said that by providing continuous learning session will be helpful for production team in understanding certain kind of techniques which will guide them while performing their job responsibility as a result they will manufacture good quality product.
Increasing competition: Increasing rate of competition also develops demand for continuous learning as if rival company is offering better products to the customers in similar or less price then it will direct influence the need of continuous learning. In relation to Whirlpool, there are numerous of competitor who offers similar kind of electronic products to the customers in fewer prices (McCormack, Manley and Titchen, 2013.). So, it is necessary for the manager of the company to conduct training and learning session for its employees so that they can produce good quality products for the company. This will also minimise the chances of scrap and as a result it will enhance profitability of the company as well.
A+ Grades @Affordable Prices!
We deliver all academic papers from dissertations & assignments to thesis, & case studies. 5000+ satisfied students, you could be next! Place Your Order Now!
Order Now
Honey and Mumford theory
It is a continuous learning theory developed by Peter Honey and Alan Mumford in 1986. According to this style theory there are four learning styles i.e. Activist, theorists, pragmatists and reflectors. This theory mainly stats that learning styles differ from individual to individual
Advantage and disadvantage of CPD
The main advantage of CPD is that it makes an employee more productive in achieving its set goals and objectives and the main disadvantage of CPD is that it is more expensive and time consuming process.
P5 HPW contributes to employee engagement
High performance working is defined as a procedure of managing and developing activities that happen at workplace. It provides managers with right and skilful employees who can perform complex business task and attain goals in limited period of time. High performance management includes workers who belong to different culture and this provides them with diversified employees from various backgrounds. As a result, it assists them in developing a strong relationship between one another and this enables them in sharing their thoughts and views (O'leary, Mortensen and Woolley, 2011). Whirlpool is one of the leading companies and has large working environment with big workforce, so, there might be a possibility that conflict and different issues arises. Henceforth, in solving this HPW assist management in maintaining a better relationship with each other.
Whirlpool wants to establish themselves into a new market area so it will be required that company develops products that are new and innovative in nature. Thus, High Performance Workers will assist them in attaining all its targets by maintaining a better relation with each other, so that workers can agree to work together in order to achieve a common. Other than this it is crucial that resources which are available are used in an effective manner so that it can provide benefits to the organisation. Students can easily contact us and get the best teaching assistant level 2 coursework help from our experts at affordable prices.
HPW includes various processes so as to get success and all its goals and objectives are achieved. Some of the points are mentioned below:
Team Building: For attaining set targets it is crucial that company develops a team who efficient enough in performing their task. Thus, team building is one of the important processes of HPW in order to achieve goals and objectives (Pinjani and Palvia, 2013). If an effective team is developed than roles and responsibilities can be assigned according to the skills and knowledge acquired.
Shared duties: While working in a team employees need to share their duties so that stress level can be minimise and work can be in progress and all set targets are achieved inn speculated time frame.
P6 Different approaches to performance management
Performance management refers to a procedure form which employees develop its skills and knowledge so that productivity can be increased. This is an activity which is performed by HR managers as they have a proper record of the performance of every individual who is working within the organisation. Therefore, it will aid company in maintain a positive environment at workplace. In relation with performance management some of the points are mentioned below:
By providing clear job description formulating a proper recruitment plan.
Selecting eligible candidates who are skilful enough in doing their roles in order to provide maximum benefits.
Showing right path and providing better guidance so as to achieve set objectives.
Monitor the performance of employees on a regular basis so that better training can be provided.
Some approaches of performance management are:-
Comparative approach: In this approach employees are given ranks according to the performance and this can be from high to low margins according to the abilities (Approaches for measuring performance of employees. 2018). Therefore, it assists managers in determining who workers are doing well in company.
Attribute approach: In this ranks are provided on the basis of parameters which are set by superiors of the firm. Rating can be given considering factors like problem solving techniques, communicating with others etc.,
Behavioural approach: This is determined as one of the oldest approach and generally managers use BARS techniques so as to scale the performance (Schaubroeck, Lam and Peng, 2011). Rating can be varying from 1 to 10. Thus, in order to do the same it is required that superiors have appropriate data and information of an individual.
As per the above mentioned approaches of performance management, it can be said that collaborative approach is beneficial for whirlpool as it evaluate performance of employees on the basis of their working capability in the team.
Related Services to the sample: Homework Help Online
CONCLUSION
As per the above mentioned report, it has been concluded that development is a basic requirement of every organisation which helps to sustain longer at market place. It has been observed that by having appropriate knowledge, skills and behaviour an HR professional can easily access perform their job responsibility effectively. This have been analysed that by conducting regular based training session organisation can easily enhance skills of employees which will helps them in achieving their goals and objective of the organisation in less period of time. It has been realised that continuous learning is the only option by organisation access sustain longer in industry. Collaborative working is the best approach of performance management which contributes in evaluating performance of employees in effective manner.
REFERENCES
Books and journals
Amabile, T., 2012. Componential theory of creativity (pp. 3-4). Boston, MA: Harvard Business School.
Berry, G. R., 2011. Enhancing effectiveness on virtual teams: Understanding why traditional team skills are insufficient. The Journal of Business Communication (1973). 48(2). pp.186-206.
Ford, J. K., 2014. Improving training effectiveness in work organizations. Psychology Press.
Gibbs, G., 2013. Reflections on the changing nature of educational development. International Journal for Academic Development. 18(1). pp.4-14.
Goetsch, D. L. and Davis, S. B., 2014. Quality management for organizational excellence. Upper Saddle River, NJ: pearson.
Hirst, G. and et. al., 2011. How does bureaucracy impact individual creativity? A cross-level investigation of team contextual influences on goal orientation–creativity relationships. Academy of Management Journal. 54(3). pp.624-641.
Levi, D., 2015. Group dynamics for teams. Sage Publications.
McCormack, B., Manley, K. and Titchen, A. eds., 2013. Practice development in nursing and healthcare. John Wiley & Sons.
O'leary, M. B., Mortensen, M. and Woolley, A. W., 2011. Multiple team membership: A theoretical model of its effects on productivity and learning for individuals and teams. Academy of Management Review. 36(3). pp.461-478.
Pinjani, P. and Palvia, P., 2013. Trust and knowledge sharing in diverse global virtual teams. Information & Management. 50(4). pp.144-153.
Schaubroeck, J., Lam, S. S. and Peng, A. C., 2011. Cognition-based and affect-based trust as mediators of leader behavior influences on team performance. Journal of Applied Psychology. 96(4). p.863.
Seibert, S. E., Wang, G. and Courtright, S. H., 2011. Antecedents and consequences of psychological and team empowerment in organizations: a meta-analytic review. Journal of Applied Psychology. 96(5). p.981.
Werner, J. M. and DeSimone, R. L., 2011. Human resource development. Cengage Learning.
Williams, C. L., Muller, C. and Kilanski, K., 2012. Gendered organizations in the new economy. Gender & Society. 26(4). pp.549-573.
Online
Approaches for measuring performance of employees. 2018. [Online]. Available through: <https://www.projectguru.in/publications/approaches-measuring-performance-employees/>.
Knowledge and skills required by HR professional. 2016. [Online].Available through:< https://workology.com/top-5-work-hr/ >.