Organization Selected :
ALDI
INTRODUCTION
Management in business includes various activities of planning strategies for the organization and coordinating the efforts of its employees or workers who work there to accomplish its objectives and goals through available resources, such as, financial, natural, technological, and human resources. It is very important to have good management skills in the organization to work effectively.
TASK
LO 1 Key Principles related to the Management and Development
For the organization it very important to follow a proper management system to improve their overall productivity. These principles of management serve as a guideline for decision-making and management actions. There are various key principles which help in improving the management and development of their employees working in the organization. These key principles are as follows,
Authority and responsibility: This is the process in which the managers of the organization has right to give commands to their employees. This will help them to get a proper environment for workstation which will eventually increase their productivity.
Direction: In this method, all the employees are given some direction to follow while performing their work in the organization. All activities must be carried out by a team. Working in a team will help them to increase their communication skills. The manager is ultimately responsible for all the work and monitors the progress of the activities (Bolden, 2016).
Discipline: This management principle is essential. It plays an important role to maintain the standards of the organization. Working in discipline will help the organization to work effectively which eventually increases the production rate for the company.
Division of work: This function is based on different skills in which their employees are specialized to do the work in the organization. Levels of expertise of their staff members can be distinguished within the knowledge areas. The specialization of the workforce increases their accuracy and speed. Specialization promotes the efficiency of the workforce and increases productivity.
Motivation: This is the most important principles of the management skill which has to be done follow by the organization. Motivating their employees will help them to increase their self confidence and work effectively in the workstation. This will also ensure increase in productivity of company (Delaney and et.al., 2017).
You may like these samples
Equity and Trust
Strategic Management PPT
Good Indicators - Wikipedia
Contemporary Hospitality
Developing and Implementing Business Plan- BizOps Enterprises
LO 2 Importance of effective management skills in Organization
Having an effective management skill in organization helps them a lot in improving their products and services. There is great importance of this skill as it helps to lead the team and encourage their employees. It also builds an effective and responsive interpersonal relationships with the staff members in order to make them work hard for the company to increase their productivity and profitability rate. It also helps to communicate with each other more effectively and builds a healthy environment in the company. There is a great importance of management skills to increase their productivity, such as,
It can help in developing management skills for the future,
It motivates people's creativity in the organization,
Most importantly it helps in planning and organizing company's work which can improve the working ability of their employees.
A proper management skill helps to control the budget of the firm (Hoffman and Tadelis, 2018).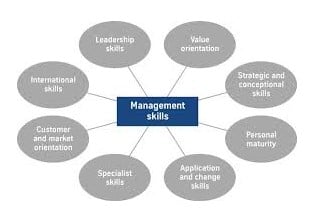 Illustration 1: Management Skills
Source : (Project Management Skills, 2017)
LO 3 Impact of different methods of Communication in Organization
Communication is the key tool to run any business in industry as without communicating with the employees or to their customers, it is impossible to grow their business. For the organization, having an effective communication is very crucial to stay in competition, for maximizing their profit, to keep employees engaged and happy, and making sure that every member is focused on their goals and objectives for the company. Many methods of communication take place in both large and small businesses (Thakur, 2015). Communication can be categorized into three basic types, such as, verbal communication, written communication and non verbal communication which is explained below,
| | |
| --- | --- |
| Verbal Communication | Verbal communication is the mostly used type of method in business. It is the easiest way to communicate with people working in the firm. These communications can be done through face to face talk, on telephone, etc. |
| Written Communication | In contrast to verbal communications, written business communications are printed messages. It can be in the form of e-mails, letters, proposals, manuals, reports, etc. |
| Non Verbal Communication | Non verbal communication is the sending or receiving of wordless messages in the firm. It can be concluded that communication other than oral and written, such as gesture, body language, posture, tone of voice or facial expressions, is called non verbal communication. It is all about body language of speaker (Waheed, 2016). |
Importance of Effective Communication : An effective communication is a vital tool for any business. It helps to understand the perspective of the employees working there. It ensures to develop a good relationship between organization and its staff members, which can in return improves their morale and efficiency. The importance of communication in an organization can be summarized, as follows,
Communication helps to promote motivation by informing and clarifying their employees about their work.
It is a source of information to the organizational members for decision-making process in the company.
Communication also plays a crucial role in altering individual's attitudes and behavior.
It also helps in socializing with other employees in the organization which ensure ti build a strong team.
It helps to control organizational member's behavior in various ways (Importance of Communication in an Organization, 2018).
Also Check: Assignment Writing Help
CONCLUSION
From the above report it can be concluded that a proper management skill is very important for the organization to stay in the market. It helps to work effectively and increase their productivity in the target industry. It also builds a strong personality of their employees by motivating and encouraging them to work hard for the organization. It also discussed about the advantages of communication skills and how it is important to improve their employees morale which helps to increase the overall productivity of the organization.
Students also like to read:
Objectives, Effectiveness and Business Plans of Marriott
REFERENCES
Books and Journals
Bolden, R., 2016. Leadership, management and organisational development. In Gower handbook of leadership and management development .pp. 143-158. Routledge.
Delaney, Y. and et.al., 2017. Transitioning from traditional to problem-based learning in management education: the case of a frontline manager skills development programme. Innovations in Education and Teaching International. 54(3). pp.214-222.
Hoffman, M. and Tadelis, S., 2018. People Management Skills, Employee Attrition, and Manager Rewards: An Empirical Analysis (No. w24360). National Bureau of Economic Research.
Thakur, M., 2015. Role of communication skills in developing sustainable resource management skills. Role of Public Administration in Developing Human Resource and Management Skills. p.47.
Waheed, Z., 2016. Understanding Project Management: Skills and Insights for Successful Project Delivery. Facilities. 34(7/8). pp.493-494.