Question :
Questions- This assessment will cover the following questions:
Explain the types of innovation.
Evaluate the process which is required for commercialize innovation in Marks and Spencer (M&S).
M&S is a luxury brand makes clothes and accessories.  Generate difference between innovation and invention.
Answer :
Organization Selected :
Marks and Spencer
INTRODUCTION
Management and operations refer to the responsibility which makes organisation ensure that all its processes and functions are efficient enough to meet the requirements of customers. Also, it makes sure that available resources are being used in the most optimum manner. In present report, as per the given scenario, firm chosen is Marks and Spencer (M&S) which is a British multinational retailer based in the UK. There will be study on difference between the roles of a leader and functions of a manager and the way their roles are applied in different organisational situations. Further, an appreciation of the role that leaders and managers play in operations management of M&S will be discussed along with demonstrating an understanding of the relationship between leadership and management in a contemporary business environment.
TASK 1
1. Introducing the organisation and its management structure
Marks and Spencer is having a vast range of products and specialized in clothing, luxury food as well as home products. The firm is currently having 979 stores across United Kingdom among which 615 are only for selling the food items. Management or organisational structure of M&S is flat which has limited levels in between administration and front-line employees. With the help of this structure, firm is gaining advantage to employees its employees to participate in decision making process. Through this, the level of bureaucracy is reduced and employees become confident enough to make their decisions (Aloysius and et.al., 2018). Also, with less management levels, there is effective and easy communication between higher authorities and base line employees which help in bringing rapid change and in resolving any issue.
2. Comparing the roles and characteristics of manager and leader in M&S
Manager: Managers are the people who are responsible for designing work in such a manner that pre-determined goals and objectives of company can be effectually achieved by getting desired work done from the employees. They make relevant strategies and policies which staff is supposed to follow.
Leader: Leaders are the people who first perform their work and then influence, direct, guide and supervise others to do the same concerning the goals of company. They are responsible for increasing the motivation of employees through their effective leadership to attain the vision of organization (Panigrahi and et.al., 2018).
A+ Grades @Affordable Prices!
We deliver all academic papers from dissertations & assignments to thesis, & case studies. 5000+ satisfied students, you could be next! Place Your Order Now!
Order Now
Comparing roles of a leader and manager in M&S
| | |
| --- | --- |
| Leader | Manager |
| Leader's in M&S is to lead towards the future to attain objective of overall plan | While, manager's role is to manage the tasks at hand and he is only focused on the current job done. |
| They are the individual contributors and just look for guidance and direction. | However, on the other hand, manager in M&S supervises the people as well as their tasks. |
| Leader in this organisation guides people with an aim to attain success. | Whereas, manager tells the people regarding way of performing tasks. |
Comparing characteristics of a leader and manager in M&S
| | |
| --- | --- |
| Leader | Manager |
| Leader's most common trait is to get the best out of employees to get efficient work done. | On the contrary, manager always focuses on getting the most out of them. |
| Leader in M&S is responsible for encouraging employees to get their effectual performance in the long run (Teller and et.al., 2018). | On the other hand, in M&S, managers are responsible for day-to-day efforts of employees. |
| Communication of leaders in M&S is effective enough to inform their team about any obstacles and convince them to deal with same effectually. | Whereas, they do not much focus on the communication as their main emphasis is on establishing the work rules, processes and standards. |
3. Application of management theories and concepts to show difference between managerial functions and leadership roles
Difference between functions of manager and roles of a leader can be understood with the help of applying different management theories and concepts like:
Planning (management concept)– Planning in organisation is all about determining the objectives to be achieved and formulating suitable plans, strategies, standards, policies, etc. to achieve set goals. In M&S, planning is done by the manager where he does forecasting regarding the need of customers and accordingly, makes plan for which a team is developed. Main role of leader here is to have quality check of plan at each step. He is assigned with the responsibility to get the tasks performed by employees in a manner that main objective of plan will be achieved (Garrette, Phelps and Sibony, 2018).
Theory X and Y– This theory is basically based on the attitudes of people working in organisation. When this theory is applied in M&S, it is assumed by manager that people are demotivated because they require incentives for their performance that comes under theory X management style. Here, leader follows authoritarian style of leadership. While, on the other hand, as per theory Y, it is believed by manager that people will naturally get motivated and take the responsibility where leader's role is to make workers participate in organisational activities like decision making to motivate them (Fosso Wamba and et.al., 2018).
Chaos theory– This theory states that except everything, change is constant which business needs to face. Though, there are many events and situations that can be controlled by management but, others cannot. As per this theory, at the time when Marks and Spencer grows, its chances of complexity increases as well. In this situation, manager is responsible for making organisation able to maintain new level of complexity and enhance structure so that stability in operations can be maintained (Kroes and Manikas, 2018). On the other hand, leader's role is to make system continue to evolve and deal effectually with changes with positive and active efforts of employees.
4. Applying roles of a leader and functions of a manager in different workplace situations
Like any other organisation, at the workplace of M&S also, numerous situations occur which require leaders to play their role and managers to perform their functions. Some of these situations are given as below:
Conflict handling– Many a times, situations arise in M&S when conflicts take place among employees or in between employer-employee. In this case, manager's function is to use his skills like negotiation and take decision after listening to both the parties. While, on the other hand, leader's role is to analyse the whole situation, go in-depth of the issue and understand the reason behind same so that both the parties can be satisfied accordingly (Chen, 2018).
Controlling expenses– Being a large organisation, Marks and Spencer has a lot of expenses as it deals in number of products. Thus, sometimes it becomes necessary to control the expenses of organisation to maintain its profits. In this situation, manager's function is to eliminate waste and inefficiency from tasks. On the other hand, leader's role is to coordinate the tasks of all departments of organisation along with their resources (Hugos, 2018). Also, he needs to improve the workflow and schedule of operations to remove the disorganisation in employees and control costs of company.
Want to Hire Expert Writers?
Writing different academic papers can get puzzling at times. Reach out to the best writers of Global Assignment Help and ask for assistance with all types of essays, assignments, reports & more!
Order Now
5. Supporting growth and sustainable performance with applying different management and leadership theories
There are different management and leadership theories that play a crucial role in supporting the growth of Marks and Spencer and to make it sustainably perform. Some of these are explained as below: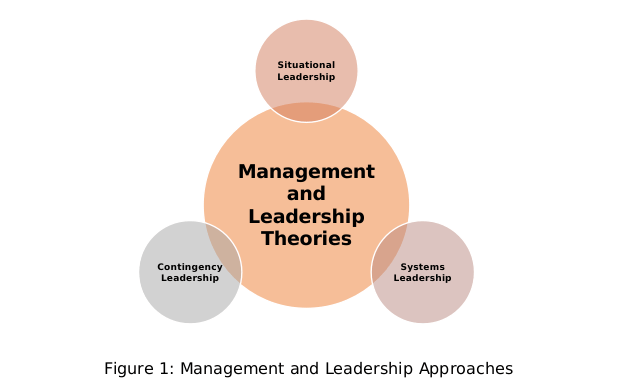 Situational leadership– As per this theory, there is no single leadership style that is suitable for all situations in an organisation. Instead, it depends on the type of situation that which style of leadership will be used for resolving the same. It says that the most effective leaders are those that can change their style of leading people as per the need of task and people to get the job done (Cherry, 2018). If this leadership style will be used by M&S, firm will become able to handle all kinds of situations effectually and thus, it will contribute to the smooth functioning of operations and so as in supporting the growth and sustainable performance of business.
Systems leadership– This management theory refers to the collaborative leadership of a group of people that are working at different places and at distinct levels in a firm with an aim to create a shared endeavour and bring an important change at workplace (Atkinson, 2018). If manager of M&S will adopt this theory in firm, a systematic working will be gained that will lead to reduce the chances of chaos and therefore, business will grow at a rapid pace by performing in a sustainable manner.
Contingency leadership– This leadership theory states that effectiveness of a leader is contingent in nature as mainly depends on the way in which his style of leading matches to the situation (Bisk, 2018). Thus, if this theory will be used by the leader in Marks and Spencer, it is crucial for him to first identify the kind of leadership style which is best suitable for a specific situation so that workers can be influenced easily and thus, their efforts will lead organisation to growth and perform sustainably.
6. Assessing the strengths and weaknesses of different theories and approaches
Situational Leadership
Strengths
This theory is very simple to understand as well as for managers, it proves to be intuitive.
If M&S will use this style, this will help in establishing a healthy relationship in between manager and employee.
With the help of this theory, need for flexibility at the end of leaders is recognized and accordingly, steps are taken so that employees can be prevented from dissuaded.
Weaknesses
Other than this style of leadership, there are many theories present that are comparatively more flexible and focused on getting effective work performance (Petljak and et.al., 2018).
This leadership theory ignores the factors like relationship in between co-workers and work groups or teams. Thus, it can be critically assessed that in case if M&S will adopt this leadership theory, workplace environment can get negatively affected.
Systems Leadership
Strengths
This approach of management has complete focus on the individual as well as on organisational goals.
At the time of bringing changes in M&S, this approach will help in adapting the same as per requirement.
Weaknesses
However, it can be critically evaluated that this approach is not practical in all situation and may lead to delay the important decisions to be made.
Also, it is not suitable in contingencies as well as complex in nature (Abbey and Guide Jr, 2018).
Contingency Leadership
Strengths
This theory can be used by Marks and Spencer for creating suitable leadership profiles.
It focuses on the combination of styles possessed by leaders as well as the situation which matches the best with it.
It is predictive in nature and possess a well-defined method to make evaluation of situations.
Weaknesses
Main weakness of this theory is that it does not explain the reason behind more effectiveness of leaders in some situations.
There is no specific way of leading people as per this approach and so, it creates confusion (Paras, Pal and Ekwall, 2018).
7. Conclusion and recommendations
It can be concluded from the above tasks that M&S is using many leadership and management theories that is leading it to have a healthy culture at workplace. But, it can be said that if Marks and Spencer will use situational leadership theory, this would prove to be the best for organisation as due to operating in a highly competitive industry, it keeps on bringing changes at workplace as per the alterations in business en