Question :
This assessment will cover the following questions:
Evaluate the impact of culture, politics and power on the behaviour of others in an organisation
Analyse how to motivate the individuals and teams to achieve a goal.
Present an understanding of how to co-operate with others effectively.
Demonstrate the concepts and philosophies of behaviour of organisation in a given business situation.
Answer :
Organization Selected :
Morrisons
INTRODUCTION
Organizational behaviour is that field of study which evaluates the way people have interaction within the groups. The main philosophy behind the study of organizational behaviour is that scientific approach can be used for the management of workers. Theories related to it can be utilized for maximize the output of individual within the firm (Robbins and Judge, 2008). Consequently, the main aim of the current research report is to study the impact of organizational culture and motivation on the behaviour as well as performance of the employees. For this purpose, Morrisons is being taken under consideration for the study. It is the fourth largest super market in UK and has around 498 stores all across the nation (Company History, 2018). Factors that makes effective team within the company will be discussed and concepts as well as viewpoints of OB within the context of Morrisons will be analysed.
A+ Grades @Affordable Prices!
We deliver all academic papers from dissertations & assignments to thesis, & case studies. 5000+ satisfied students, you could be next! Place Your Order Now!
Order Now
TASK – 1
P1 Analysing how individual, team behaviour and performance is influenced by culture, power and politics
Far back in history, the mankind has struggled a lot balancing power, culture and politics. Numerous wars have been fought in order to stand up for what they believe. The combination of power, politics and culture has also spilled over into the workplace. Individual within the firm has to much more to worry than just finishing their tasks. The culture, power and politics also influence the day to day operations of Morrisons. The impact of power and politics reflects the culture of the organization formally and informally (Javed, 2016). Power refers to the capacity of an individual to influence the behaviour of others. Power and conflicts of interest are inter-linked and exist in the culture of the firm. According to Morgan, Power sometimes act as a medium to resolve the conflicts. There are mainly five sources of power i.e. reward, expert, coercive, legitimate and referent power. Morgan further suggested that if the role of power is eliminated from the company than conflicts cannot be resolved. All these power can impact the behaviour of employees.
Politics on the other hand is being defined as a process of negotiation and bargaining being utilized in order to overcome difference in opinion and conflicts. Politics can affect Morrisons both positively and negatively. If it is being used for good cause to forge change in the firm, it will help in improving the morale and values in the employees (Robbins and Judge, 2008). As per Draft, there are four main domains of political activity such as management succession, structural change, resource allocation and inter-departmental coordination. In many situations, politics is generally involved in the strategic decision making process of Morrisons and sometimes these decisions have unknown results and opinions. Further, the culture of the organization cab also foster and hinder the performance and behaviour of the individual. Aspects such as belief, values, attitude, food and artefacts.
Numerous studies have been carried out for explaining the culture of politics and power in the organisations. The need for power is for sensible decision makers and efficiency enhancers. It is a legitimate regulation in the firm which is based on general norms. Thus, both politics as well as power are viewed as inhibiting shadow of firms which takes place when rationality fails. Inappropriate use of power and politics can create disintegration within the culture of Morrisons (BY, and Burnes, 2013).
People may also like to read about - Function of Operation Management-Karl David Construction Ltd
TASK – 2
P2 Evaluating the ways content and process theories of motivation and its techniques leads to achievement of goals in Morrisons
Motivation is nothing but a drive that pushes an individual to work hard. In simple words, it is an energy that offers strength to people to keep going and remain activated. Morrisons make significant efforts regarding motivation of their employees with a view to increase the productivity and performance of the workers (Northouse, 2013). Motivational studies have divided the theories related to motivation into two major kinds i.e. content and process theories of motivation.
Content theories
These theories pays attention towards the aspects being present within an individual and those who have ability to sustain, energize and direct the behaviour. Considering content theories, Morrisons identifies the needs of their employees and then focus on the areas that require motivation. There are many content theories like Maslow's need hierarchy theory, Herzberg Two factor theory, McGregor's theory X and theory Y, McClelland's achievement motivation theory.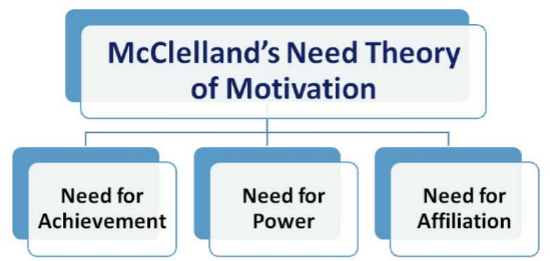 Morrisons follows McClelland's achievement motivation theory. According to this theory, there are three needs of the employees i.e. affiliation, power and achievement. Every worker in the company have several different needs. Some employee needs more achievement, for some relationship is of prime importance and some may desire to control the others. Pertaining to this, the company offers recognition, gifts, coupons, bonus, benefits, and holiday packages to lower and middle level management (Bharadwaj and Menon, 2000). On the other side, the top level management of Morrisons is offered power and higher accountabilities, as the need of power is quite stronger at this level. With this, they achieves their pre-determined goals.
Process theories
Throwing light in relation with the process theories, it generally focuses on providing description and analyse the process which need to be taken under consideration for sustaining, directing, energizing and stopping the behaviour within the firm. There are two most prominent process theories i.e. goal and equity theory. Morrisons takes into consideration goal theory for the purpose of motivating their staff members and achieving the determined objectives effectively.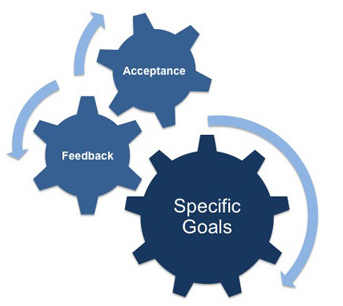 The goal theory is being developed by Latham and Locke and they were of the view that employees within an organization are more motivated and carry out their operations well when the supervisors assign them some challenging goals and offers them feedback on their performance on a regular basis. According to the theory, the behaviour as well as performance of the employees is directly impacted by the type of goals being provided. The managers of Morrisons provide goals and direction to achieve those goals to each and every employee. For getting positive feedback from the supervisors, workers employ their best efforts and enhances their performance and overall productivity of the company. Further, they are also offered suitable deadlines and rewards linked to their performance so that tasks are completed timely and effectively (Mullins, 2007).
Related Service - Management assignment help
TASK – 3
P3 Demonstrating the factors that makes an effective team in opposing to an ineffective team
Focusing in relation with effective team, it is a key element in in the success of any organization. There are many building blocks through which effective team can be developed within Morrisons such as clear objectives, effective processes, suitable leadership, appropriate roles, openness, mutual cooperation, support and trust. All these factors can successfully makes an ineffective team of the organization effective as well as productive. Further, numerous theories are being present in the business market by which the effective team can be developed and described within Morrisons. The most important team and group development theory is presented by Bruce Tuckman. According to the Tuckman's theory, there are four stages being involved in the development of group and team such as Forming, storming, norming and performing. Explanation of these stages are being done underneath:
Forming – In Morrisons, this theory is quite prevalent, where different teams are being developed for the purpose of carrying out a particular task. Here the staff members of the store search their place and making efforts to set their individual roles and accountabilities. Further, position is also decided at this level (Tuckman and Mary-Ann, 2007).
Storming – The next stage is storming where staff members of Morrisons initiate conversation with the fellow members of the group or team and share their ideas and lookouts. At this stage, disagreements might take place and can leads to conflict within a group.
Norming – The third stage is norming and at this level all the team members have established certain guidelines, standards and rules. According to the agreed procedures, information is being collected by the members and they also have their definite roles to perform. At Morrison people are encouraged to work in group with harmony and thus, at this stage team members try to listen to each other.
Performing – This is second last stage, where teams and groups of Morrisons is now considered as effective. They initiate their work activities and relationship amid the members is also good that helps in better coordination (Archer and Cameron, 2013).
Morrisons adopts this theory of team and group development and with its application, the overall performance and productivity of the workers is affected a lot. Staff members work better in group and there is also effective communication within the team. Each and every employee supports its fellow team members to develop more and improves the overall teamwork at Morrisons and leads the firm towards the growth direction.
TASK – 4
P4 Application of the concepts and philosophies of Organizational Behaviour within Morrisons and in a given business situation
Morrison adopts path goal theory in the business situation where there is high level of work pressure within the firm due to festive season. This theory was first introduced by Martin Evans in the year 1970. This theory is based on specifying the style or behaviour of leaders that fits the employee and work behaviour so that the goals are achieved effectively. The main aim of Morrisons considering this theory is to increase the motivation, satisfaction and empowerment of the employees so that they can become the productive members of the company and overcome this high rush of festive season effectively (House and Mitchell, 2004). This theory entails that a worker will act in a particular manner on the basis of the expectation that the act will be tailored with given outcome. The leaders and managers of Morrisons selects the behaviour that best suits the needs of the workers and working environment with a view to offer good direction to the workers through their path of achieving daily work activities or goals. Thus, three basic step is being followed in Morrisons i.e. identifying the features of workers, selecting a leadership style and finally, focusing on motivational factors that helps the employees to succeed. Further, the company has also adopted situational leadership so as to understand the nature of the goal complexity and maturity of the group. For understanding this, situational leadership theory needs to be evaluated. It consists of four main styles i.e. directive (Guide the employees), supportive (offer and evaluate ideas), participating (employees give ideas and opinions) and delegating (employees take the decisions) (Evans, 2010).
Therefore, it can be said that the use of participative style of leadership will help Morrisons in this business situation of high work pressure due to festive season. The leaders will be able to understand the complexity of the employees and teams. Further, the management of Morrisons will also help their staff members and recognize their efforts and commitment shown towards the company in this business situation. The employees of Morrisons will feel encouraged, motivated and empowered and with the high vision of the leaders, high level of performance can be seen within the firm. Teams will perform their tasks effectively, as the leaders are providing guidance at each and every stage. Consequently, it can be said that when the teams and groups within the company is motivated and encouraged than high level of productivity and performance level can be seen in Morrisons (Obisi, 2003).
You may also like to read about - operations management techniques
Experts Are Listening!
Have doubts about academic writing? Clear all of them in a minute! Call the experts and get your answers immediately! Dial Now!Contact Us
CONCLUSION
Therefore, from the above report it can be concluded that organizational behaviour is nothing but the manner workers impacts each other at the workplace and how working environment influence their behaviour and performance. It was found from the study that satisfaction level of the employees of Morrisons is directly impacted by the culture, leadership and motivational factors. Furthermore, it was originated that the leaders within the firm affects and influence the behaviour of employees positively so that they can work effectively in this work pressure situation due to festive season of Morrisons. Thus, there is a positive change within the Morrisons because of application of such concepts and philosophies of organisational behaviour.
REFERENCES
Archer, D. and Cameron, A., 2013. Collaborative Leadership; Building Relationships, Handling Conflict and Sharing Control. 2nded. London: Routledge.
Bharadwaj, S. and Menon, A., 2000. Making innovation happen in organizations: Individual creativity mechanisms, organizational creativity mechanisms or both? Journal of Product Innovation Management, 17(6), pp.424-434.
BY, R.T. and Burnes, B., 2013. Organizational Change, Leadership and Ethics: Leading Organisations towards Sustainability. London: Routledge.
Evans, M.G., 2010. The effects of supervisory behaviour on the path-goal relationship. Organizational Behaviour and Human Performance, 5, pp.277–298.
House, R.J. and Mitchell, T.R., 2004. Path-goal theory of leadership. Journal of Contemporary Business, 3, pp.1–97.