Question :
This assessment will cover certain questions which are like:
Evaluate organisational culture, politics and power of AM Holding.
Give the motivational theories through AM Holdings.
Give effective philosophies and eventual concepts of organisational behaviour.
Answer :
Organization Selected :
A M Holdings Limited
INTRODUCTION
Organisation behaviour is primarily concerned with the study of attitude and behaviour of an individual at workplace along with the identification of its impact on the performance level of individuals as well as overall organisation. The growth and success of an organisation is very much depend on the performance level of their employees that requires management to put their efforts in identifying and fulfilling their needs and requirements which in results maximising their working behaviour. The present assignment is based on A M (Holdings) Limited which is operated as a holding company engaging in manufacturing and supplying confectionery foil and polyester film based packaging products across worldwide. The project discusses the culture, politics and power that can influences the behavioural attitude of employees of an organisation. The project also describes the motivational theories which requires to adopt in order to bring motivation among employees while working as an individual and as a team member. Various concepts and philosophies of OB are also briefly mentioned under this report which are used to apply by an organisation.
A+ Grades @Affordable Prices!
We deliver all academic papers from dissertations & assignments to thesis, & case studies. 5000+ satisfied students, you could be next! Place Your Order Now!
Order Now
TASK 1
P1: Influence of organisation's politics, culture and power on team and individual performance
In this modern world, politics, culture and power are very effective and crucial factors which may affect the performance of the company in both negative or positive way. Power refers to an role assigned to an individual to exert and influence working behaviour of worker and get the work done in an effective and efficient manner (Robbins and et. al., 2013).
Here the some influences of power on individual and group:
Positive power exerted by managers which is favourable to employees for providing them suitable training programs to enhance their skills and motivate to perform well so that they are more capable to perform task in different field which indirectly support them in achieving their own and organisational goal's. Such power holding by manager performs several functions such as assigning duty and responsibilities, giving rewards and appreciation of work, recognition of efforts etc. to employees. Powers given by managers to every individuals working in a team ensures maximum outcome from them which in results increasing their performance level and better relations among team mates. These functions are done for the betterment and growth of employees which leads to reducing staff costs, absenteeism and retention.
Negative power exerted by managers to influences adversely to the working behaviour of workers as exercising this type of power in form of putting stress on employees to work better and achieve the assigned task in given time and punishment will be given if failed. In the present scenario, it is clear that A W Holding Company Ltd. Have skilful and knowledgeable high authority who knows the ways to get the work done from their employees through exerting their power so that their working behaviour should not be influenced in negative manner (Chiboiwa, Chipunza and Samuel, 2011). There are various theories which may be required to adopt by A W Holding Company Ltd. for influencing the workforce behaviour which are described as under:
Legitimate power: It involves power which is provided to an individual on the basis of their assigned designation in an organisation. For an instance, power exercised by Philip Froom, CEO of A W Holding Company Ltd. is legitimate power for controlling the work of its employees.
Reward power: This power is provided to an individual to appreciate the work of their employees by giving rewards, promotions, training and development programs etc. In A W Holding Company Ltd. Such power is exerted by Directors who are providing the list of employees eligible for getting rewards.
Coercive power: It defined as the power which is assigned to an individual to eliminate conflicts among workers by giving punishment, threatening, terminating conflicted employees in an organisation. In A W Holding Company Ltd. Such power is exercised by CEO and managers (Farndale, Hope-Hailey and Kelliher, 2011).
Expert power: It defined as the power assigned to an individual who is highly knowledgeable and specialised in their work-areas. In A W Holding Company Ltd., such power is exerted by skilled managers who are experts in dealing with complexities and take proper judgements to bring out maximum results for an organisation.
Referent power: It defined as the power which is assigned to an individual to influence working style of others. In A W Holding Company Ltd., such power is exerted by leaders who have skilled and capabilities to get work done from others in more effective and efficient way.
Informational power: It defined as the power assigned to an individual who have adequate knowledge about maintaining confidential financial data which will be useful for administration in taking an effective decisions. In A W Holding Company Ltd., such power is exercised by financial manager who is accountable to prepare various kinds of reports such as Profit & Loss , Balanced sheet, Cash Flows statement etc.
Chanlat's characteristics related to political behaviour:
Chanlat describes political behaviour into three parts such as decisional, personal and structural. It is connected during hiring procedure of a worker's where the directors consider characteristics of an individual for helping in evaluating the utilization of power and political conduct by that worker in near future. Machiavellian is characteristics of individuals which are hold by employees which allows them to engage in politics and use power. The last characteristic is structure which states that managers of A W Holding Company Ltd. Needs to take corrective actions in structures and planned manner (Gerras and Clark, 2011).
Organisational politics might be depicted as the utilization of informal efforts or persuasive strategies that can effect the business activities, attain power and so forth.
Influence of politics on group and person:
Helpful in developing social astuteness, interpersonal influence, network ability and sincerity: Office politics assist company to acquire adequate knowledge about the activities at workplace and working behaviour of their workforce. It enables management to prepare tactics and implement theories to maximise their performance level for getting their maximum efforts towards organisational goals and objectives. In addition with this, it also facilitates management to maintain good relations with employees through bringing transparency in communication. It help company to get communicate with its workforce which in results increase the retention and lowering employee turnover (Kaur, 2013).
Reduce the productivity of employees: It has been identified that the employees who participate in politics of organisation are focuses more on other activities instead of assigned work which brings negative impact on the performance of an organisation. They shows more interest in pointing out others flaws and criticize them which leads to decrease in their performance and productivity
Organisational culture is third crucial factor which describes beliefs, norms, values which requires management to implement at workplace so as to establish a healthy working environment. In A W Holding Company Ltd., culture should be implemented mutually by employees and companies. To maintain suitable work culture, the management needs to form a framework with feeling and behaviour of the workers.
Influence of work culture in A W Holding Company Ltd. Can be described through Handy's cultural typology model:
Handy's cultural typology model: This is the theory indicating a specific culture with different feeling, belief and standard etc. that need to be opted by the administration of A W Holding Company Ltd. According to the market dynamics. It is categorised into four parts which includes:
Power culture: It defined as the power assigned to the superiors to control over the employees. In the context with A W Holding Company Ltd., there are top authorities including CEO, Board of Directors etc. For example giving promotion to employees maximises the satisfaction level of employees as am indiviudal as well as a team member.
Role culture: It includes the roles and responsibilities that are assigned to the employees according to their skills and capabilities. In A W Holding Company Ltd., managers plays an important role in identifying the skills and knowledge of employees and accordingly assign them duties which in results maximising productivity level of employees as well as an organisation (Laforet, 2011). For example, setting target towards team encourages team mates to perform well which in results maximises the performance level of an organisation as well.
Task culture: It includes task activities that to be performed by the workforce within given time frame allotted by the management. For this, management of A W Holding Company Ltd. should bring motivation among employees to work hard and maximising their working behaviour through providing training and development, appreciating their work etc. Along with this, division of work and employees in a team will ensure in getting maximum possible outcome for company.
Person culture: It mainly focuses on appreciating the employees on the basis of their performance and provide them further competitive opportunities to show their talent and capabilities. It makes easy for the managers of A W Holding Company Ltd. to motivate their employees to share their new ideas, suggestions etc. so that it will be undertaken in decision-making process. For example, allotting same task to different team mates with a deadline provides an opportunity to team mates to show their skills and capabilities by completing allotted work on time.
Read Also: Business Assignment Help
TASK 2
P2: Motivational theories for achieving organisational goals
Motivation is an effective technique which always brings better possible results from the employees. Therefore, it is more important for the management of A W Holding Company Ltd. To implement various motivational theories at workplace so that maximal efforts can be gained by them for achieving organisational goals and aims. Such motivational theories includes:
Content theory: It is considered as a reliable theory which determines the influencing elements that leads to change in needs, demands and wants of employees as an individual at workplace (Lawrence and Lee, 2013). It facilitates management of A W Holding Company Ltd. to identify such influencing factors and make them easy to analyse it more carefully so that working behaviour of employees cannot be adversely affected. It describes motivational theory which are mentioned as under: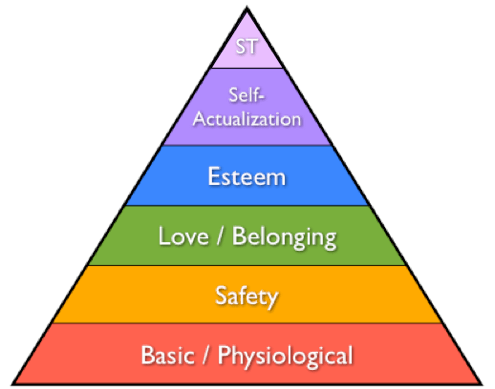 Maslow theory of Motivation: This theory identifies the needs and wants of workers at workplace. It is categorised into five needs which are explained as under:
Physiological needs: It incorporates fundamental desires of human without which their survival is difficult. Such needs comprise of foods, water, shelter and clothing needs. These needs specifically influences the execution and working style of employees due to which it is crucial for A W Holding Company Ltd. to determine and satisfy in order to get high input from them for the desired goals and objectives of an organisation (The Hierarchy of Human Needs: Maslow's Model of Motivation, 2018).
Safety and security needs: It incorporates needs related with job stability, safety and security and so on which each employee expected from their firm. Each employee expect from company to have hazard free workplace in order to eliminate the chances of Miss-happenings. For this, the managers of A W Holding Company Ltd. should require to execute security measures, for example, life and accidental policies to their employees. Application of employment law at workplace is additionally augmenting the fulfilment of employees.
Social needs: It incorporates needs associated with emotion and fondness which each individual anticipate from each other in return. It can be met by the managers by preparing better communication channels, giving chances to workers to share their thoughts, organising training and learning programs, conducting recreational activities and so forth which increases the working style of employees.
Esteem needs: It incorporates needs associated with acknowledgement, regard and apprehension from others. It can be met by the management of A W Holding Company Ltd. through giving them rewards, remuneration and so forth to expand their work responsibility with organization for longer time frame (Schunk and Zimmerman, 2012).
Self-completion: It incorporates needs which are acknowledged by person when every single above need gets satisfied. It incorporates end needs of individual through recognizing its own strength which enables them to enhance through taking part in difficult programs provided by the managers.
Process theory: This theory is more applicable to analyse mental and behaviour processes. Furthermore, it also analysis the individual needs that can affect their performance level. For this, managers of A W Holding Company Ltd. Should required to apply such theory in order to bring motivation among employees and make them more capable to work in different field and environment which indirectly help them in achieving professional as well as personal growth. Under this, company should conduct six workshops for its employees with an aim of developing competitiveness of employees and motivate them to work in a team to achieve maximum positive result. It involves following theory:
Vroom's expectancy theory: It is the theory which expresses that behaviour is the consequence of self choices and the intention is to expand joy and diminish pain (Seck and Helton, 2014). Vroom understood that the entire performance of workers is particularly depend upon the various factors, for example, personality, skills, experience and capacities. Commitment and motivation the two variables are interconnected with one another. For this, the managers of A W Holding Company Ltd. Should utilise certain factors, for example, anticipation, instrumentation and power. With the assistance of such theory, individual targets and necessities of workers can be effectively determined and motivates their workers in order in order to help them in accomplishing their personal and professional goals.
TASK 3
P3: State what makes a team more effective as opposed to an ineffective team
The performance level of an organisation is very much depend upon the efforts and contribution made through utilising their specialised skills and knowledge. To bring maximum possible outcomes, the managers of A W Holding Company Ltd. are required to motivate them to work in a team after analysing their skills and capabilities (Smith, Edwards and Siassakos, 2012). To form an effective team is much beneficial for company as compared to ineffective team. Here are the some differences between effective and ineffective team:
| | |
| --- | --- |
| Effective team | Non-effective team |
| An effective team having specialised skilful and devoted people who are more capable to contribute maximum efforts towards organisational goals. | These fails to contribute in desired efforts due to poor support and lack of motivation by managers and leaders. |
| Effective team support its team members to share their opinions and thought that can be further taken in the process of decision-making. | Ineffective team direct its members to vote for their plans thus their feedbacks are not considered which in turn bring dissatisfaction among them. |
| Effective team motivates its members to accomplish their personal goals and team goals as well. | Ineffective team are focused on attaining team goals only. |
Therefore, effective team are bring more profitable outcome to both employees and organisation. Thus, the management of A W Holding Company Ltd. Should focus on establishing an effective team which are having some qualities some of which are given as under:
Mutual cooperation: The main quality an effective team is possess is having good communication between the team mates due to having transparency in communication channels. It helps in reducing communication gap among team members and work with mutual cooperation. It motivates team mates to focus on their allotted work and restrict them to engage in meaningless conversation and conflicts which is possible in ineffective team. Therefore, joint efforts of team members improves quality of assigned work as well as increasing productiveness which in results maximising the chances of achieving organisational goals within limited time period.
Balance roles: It is another effective aspect which directs leaders or managers to communicate roles and responsibilities to each team mates so that they can follow systematic way to execute activities and provide maximum output to company. It assist managers to examine the performance level of each employee and comparing actual with desired performance level (Wood and et. al., 2016).
Transparency: It is more important for manager or leader to bring transparency in communication which allows members to contact with leaders directly without any hesitations. It promotes to develop ideas and thoughts of employees through encouraging them to share with each others in order to bring maximum profitable outcome.
Effective leadership: It is also one of the effective ability that can successfully influence the working behaviour of team members. Leader is appointed attaining skills and capabilities to get work done from others in more effective and efficient way. Giving proper guidance and motivation to team members assist them to perform in right direction which in results increasing the possibilities of achieving team as well as organisational goals within allotted time period.
Tuckman and Jensen's model of team:
This model is mainly focused on evildoing team and its members. A W Holding Company Ltd. Can use such model in order to form an effective and skilled team from its initializing phase through monitoring team work, building trust and commitment etc. It is classified into four stages which are mentioned as under:
Forming: It is the principal stage which includes gathering of employees to frame a group, work distribution, communication mediums among members and their group leaders. In A W Holding Company Ltd., the managers allotted jobs and duties alongside the chances to develop with the goal that desired result can be obtained easily.
Storming: In the second stage, leaders of A W Holding Company Ltd. encourages its team members to push their limits and contribute greatest efforts to accomplish pre-determined target within assigned time frame (Models of Organisational Culture - Handy, 2015).
Norming: In this stage, group begins participating and motivate each other in playing out their assigned work. In this stage, A W Holding Company Ltd. goes into an agreeable working environment.
Performing: This is the last stage where the team mates builds up a closely bonds. Employees turn out to be more committed and energetic towards its work and support each other to accomplish individual goals and professional goals too.
TASK 4
P4: Philosophies and concepts of organisational behaviour
Path goal theory of Leadership: This is the theory which is proposed by House Mitchell in 1974 with an aim of facilitating company to achieve desired goals within limited time period. With the help of such theory, it makes easy for management to identify the various styles of leadership which bring maximum outcome from workers. It is connected with Victor's Vroom theory which indicates that the performance of workers is based upon the expectations that to be fulfilled by management to maximise their contribution towards organisational goals and objectives.
Through application of this theory, A W Holding Company Ltd. basically centres around their employees attributes and in addition with their operations and environment characteristics. For instance, firm examinations the capacities that are required by the workforce to manage rising environmental difficulties and changes which are required to look during relocation of the company. To make employees more efficient and capable, the organization conducted six workshops for its staff individuals in order to incite them with essential abilities, learning and capacities. Moreover with this, while making decisions in regards to an organisation work culture A W Holding Company Ltd. adopts participative authority style which guides the leaders to consider about perspectives and inputs of their workers before making decisions for the betterment of an organisation (Owoyemi and Ekwoaba, 2014).
Classification of this model are briefly describes as under:
Employee characteristics: Through application of such theory, employees should have necessary skills and abilities to perform different roles and responsibilities according to the desired objectives. For example, if leader of A W Holding Company Ltd. Provides the structure is not according to the outcomes actually needed then in that case workers feels demotivated. Therefore, it is essential for leader to examine the interest and working behaviour of employees and accordingly guide them to reach desired outcomes.
Task and environmental characteristics: According to such theory, leaders need to identify their way of working along with their shortcomings. This will help in identifying issues faced by workers at workplace so that proper training will be provided on timely basis. If the problems are too difficult to resolve then it adversely impact the future results. It requires proper guidance and motivation from leaders to their workers in order to adjust the work with the goal so as to work in accurate way. Some characteristics of task are briefly mentioned below:
Design of task: It is the responsibility of a leader to allot duty and responsibilities along with proper guidance and direction so that desired result can be achieved.
Formal authority system: Leaders or managers are liable to allot desired target towards their workers on the basis of task authority which makes easy for company to deal with contingent situations.
Work group: Leaders or managers needs to take initiatives for bringing employees together and work in a group so as to maintain healthy relations among workforce and achieve better possible result.
Leadership styles: It includes different leadership styles which are required to be adopt by leaders to motivate employees to work in right direction so that desired result can be achieved within limited period of time.
Directive: Under this style, leaders or manager took decisions on their own without considering views and ideas from their employees which in results creates dissatisfaction among workforce.
Participative: Under this style, suggestions and views of all employees are considered while making business decisions which in results increasing motivation level as well as retention of employees for longer period of time (Gold and et. al., 2013).
Read Also: Elaborating Purpose, Type & Scope of Aldi, McDonald's, British Heart
Experts Are Listening!
Have doubts about academic writing? Clear all of them in a minute! Call the experts and get your answers immediately! Dial Now!Contact Us
CONCLUSION
It is concluded from the completed project report that organisational behaviour plays a vital role in maximising the performance level of both employees and organisation as it directs company to improve ability and capacity of its workers. It is also important for management to form an effective team that will bring profitable result for company. There are various motivational theories such as Content theory, Vroom expectancy theory etc. which is essential to implement in order to bring motivation among employees and provide maximum support in achievement of organisational goals and objectives.
REFERENCES
Chiboiwa, M. W., Chipunza, C. and Samuel, M. O., 2011. Evaluation of job satisfaction and organisational citizenship behaviour: Case study of selected organisations in Zimbabwe. African Journal of Business Management. 5(7). p. 2910.
Farndale, E., Hope-Hailey, V. and Kelliher, C., 2011. High commitment performance management: The roles of justice and trust. Personnel Review. 40(1). pp.5-23.
Gold, J. and et. al., 2013. Human resource development: Theory and practice. Palgrave Macmillan.
Gerras, S. J. and Clark, M., 2011. Effective Team Leadership: A Competitive Advantage. ARMY WAR COLLEGE CARLISLE BARRACKS PA.
Kaur, A., 2013. Maslow's need hierarchy theory: Applications and criticisms. Global Journal of Management and Business Studies. 3(10). pp.1061-1064.
Laforet, S., 2011. A framework of organisational innovation and outcomes in SMEs. International Journal of Entrepreneurial Behavior & Research. 17(4). pp.380-408.
Lawrence, P. and Lee, R., 2013. Organizational Behaviour (RLE: Organizations): Politics at Work. Routledge.
Owoyemi, O. and Ekwoaba, J. O., 2014. Organisational Culture: A Tool for Management to Control, Motivate and Enhance Employees' Performance.
Robbins, S., and et. al., 2013. Organisational behaviour. Pearson Higher Education AU.
Schunk, D. H. and Zimmerman, B. J. Eds., 2012. Motivation and self-regulated learning: Theory, research, and applications. Routledge.
Seck, M. M. and Helton, L., 2014. Faculty development of a joint MSW program utilizing Tuckman's model of stages of group development. Social Work with Groups. 37(2). pp.158-168.
Smith, A., Edwards, S. and Siassakos, D., 2012. Effective team training to improve outcomes in maternal collapse and perimortem caesarean section. Resuscitation. 83(10). pp.1183-1184.Wood, J. M. and et. al., 2016. Organisational behaviour: Core concepts and applications. John Wiley & Sons Australia, Ltd.