What Is an Essay Format? | 4 Different Styles You Need to Try!
Every student knows about essays. This is a task every student has to do at one or another point in their academic life. But still, many students fail to give their best, and there are many reasons behind this. One main reason is, they do not know what is an essay format and how to use the right format for their document.
If you are also facing a similar struggle, then this blog is just for you. Here, you can find everything about essay formatting and styles included in it. So, let's get started!
What Is an Essay Format? | What Are the 5 Parts of an Essay?
Before we dive deep into this topic, we shall look into the basics- "What Is a Standard Essay Format?"
Whenever you are about to write an essay, the first thing you worry about is, of course, the structure of that essay. But what if your guidelines do not specify any? What if you forget to ask your professor? Don't worry; you can follow a standard essay format at such times, which will surely save you from getting into any deep trouble. Want to know more about it? Here it is- The standard essay format includes:
1. Introduction
The first part of this structure is the introduction. This is where you provide a brief on the topic and explain why it is important for this course. Here, you should also provide a clear aim and objectives of the essay, which you will meet in the same content. Also, add an interesting hook, fact, or stat that can catch the reader's attention.
2. Paragraph 1
This is the second section of the essay format where the actual body of the document begins. Here you have to explain the basics of the topic and what made you pick that particular topic for your essay writing.
3. Paragraph 2
The second paragraph is where you will explain the reasoning and analysis of the topic. This also includes any information that you gather when you research it. This can also include the methods used and other such details which are important for the topic.
4. Paragraph 3
The last paragraph provides the outcome of the result and includes additional content such as supporting evidence and other such details. In this section, you should add anything that makes your information strong and evident to the reader.
5. Conclusion
The final section of any usual essay format is the conclusion. This is the last part of the document and thus the final chance for the writer to leave an impression on the reader. Make the best of this opportunity and restate the topic, aim, and outcome along with an interesting hook to maintain the reader's attention.
Now that you know what are the 5 parts of an essay let's move to the next section to know different essay levels.
How Do You Write an Essay Format with Examples?
Now that you have got an idea of the standard essay format, you might be wondering, "How do you write an essay format," right? If yes, then read this section.
And when you have to write the essay format, you must include three main sections in it- Introduction, Body and Conclusion. But when the same has to be applied by students of different academic levels, the format changes slightly as explained below:
Essay writing service starts for students since they are in high school. So, at that phase of academics, they are usually expected to use a simple format and focus on the writing style and the topic. This high school essay format includes an introduction, conclusion, and a single body where including multiple paragraphs is not mandatory.
The next level style is college essay format. This is an upgraded level of essay writing where the document includes 5-sections which is also the standard essay format- one for introduction, one for the conclusion, one to introduce the topic, one to state the points, and the last one to provide supporting evidence to those points.
Essay Format for University
This is the most upgraded level of essay writing. Unlike school and college-level, here, you do not have any standard format. Yes, based on the type of essay and your professor's requirement, the essay format for university is modified- it can be a 3-paragraph, 5-paragraph, or any other as well.
We can understand this better with the help of a proper essay format example: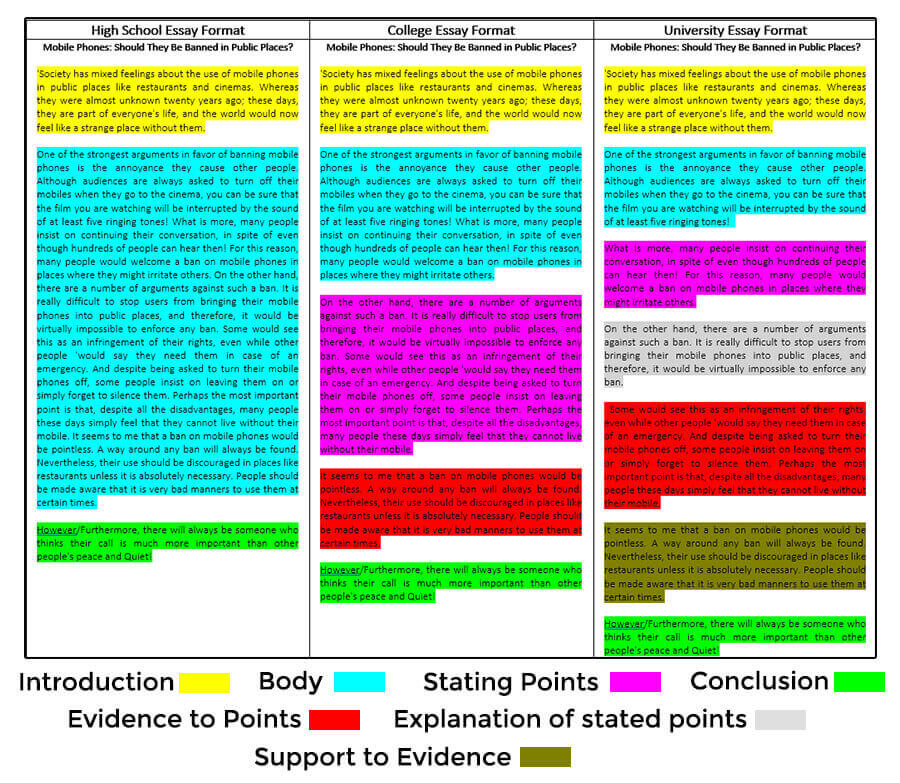 How to Write an Essay Using the Right Format?
You might now be wondering how to find and use the right format for essays or who can write my essay, right? So, here are the four most popularly used essay format styles that can be helpful for you:
1. OSCOLA
Oscola, the oxford university standard for the citation of legal authorities, is a footnote referencing style used by students studying law for academics.
2. APA
APA, the standard American Psychological Association, is another popular referencing style used for citing sources. This is a commonly used style for subjects like psychology, education, and social sciences.
3. Vancouver
This is known as the numbered referencing style. It is usually used for citing sources of information in subjects like medicine and science.
4. Harvard
This is another popular referencing style known as the author-date style. This is a type that focuses on the information creator's name and publication date.
These are the four famous essay format types that students should use when drafting a document. These are quite helpful for students who want to make an impression on the reader. No matter if the essay type is narrative, descriptive, exploratory or argumentative, we can always help you!
Also Check: How Do You Explain Motivation in an Essay? 6 Tips to Achieve Success
What to Do If I Can't Pick an Essay Format? We Can Help You!
If you face any problem picking up the right format for essay writing, you can always count on us. Our professional writers have worked in this sector for years and know exactly how to draft a document that easily catches your professor's attention. Here are a few more perks you can get when you seek assistance from our experts:
Top-Notch Quality Content
Best & Experienced Professionals
In-Depth Subject Knowledge
Affordable Prices & Discounts
Unlimited Free Revisions
Hassle-Free Money-Back
Amazing Freebies
These are just a few of the many amazing perks you can avail when you seek assistance from us. If you need more assistance or want to know what are the 4 types of essays, then you can always turn to us; we will be there to assist you!
This is not it; we can also aid you if you get stuck with the drafting process, you can always ask us for essay writing help.
Lowest price
USD 7.13
Get A+ Within Your Budget!
24/7 Customer Support
100% Customer Satisfaction
No Privacy Infringement
Quick Services
Subject Experts
Innovative Documents
FREE Tools
To Make Your Work Original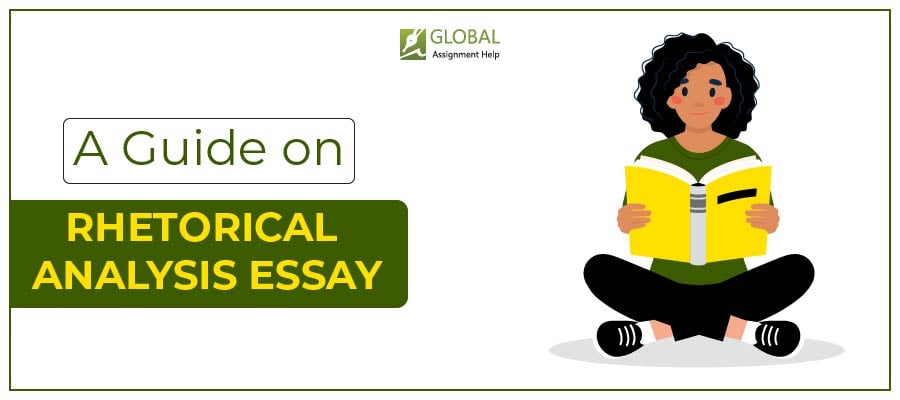 Your 2023 Guide on How to Write a Rhetorical Analysis Essay
14-09-2023
342
20 minutes