All About Explanatory Essay from Expert
Oh, wait a minute? Are you looking for a guidebook on how to write an explanatory essay? Then you are in the right place! This blog will serve as your ultimate mentor. It will clarify all your doubts and queries by explaining the aspects of the expository essay, such as its types, outline, and structure. All you need to do is read every step carefully and seek assistance if you need clarification. So, this blog is here to unfold the question, How to write an explanatory essay? But first, let us understand the concept behind this type of academic writing.
What Is an Explanatory Essay and Its Purpose?
Before you learn how to start an explanatory essay, it is vital to understand its concept. So, this academic writing, also known as an expository essays, aims to describe a single topic in detail using extensive research methods. It emphasizes questions like What, why, how, and where? While writing it, the author usually describes opinions from several sources on a particular event, situation, person, or subject.
If you are writing an expository essay, then as a writer, your motive should be to offer complete information on a good explanatory topic. Do not take sides or try to persuade or sway the readers with a single point of view. You need to consider both sides of the coin and put away the criticism.
Also, after reading your explanatory essay, the readers should have a clear and complete understanding of the topic. Moreover, they should have an overview of why something happened and other aspects like the causes and whereabouts.
Moving further, the motive of the paper for students is to test their analytical, interpretive, writing, and research skills. For readers, the document aims to describe explanatory essay topics in depth without arguing on a single opinion. Thus, the writer must provide his thoughts, statements, and insights along with a literature review inclusive of facts and findings. Now that we know what an explanatory essay is, let us move ahead and discuss its types.
What Are the Types of Explanatory Essays?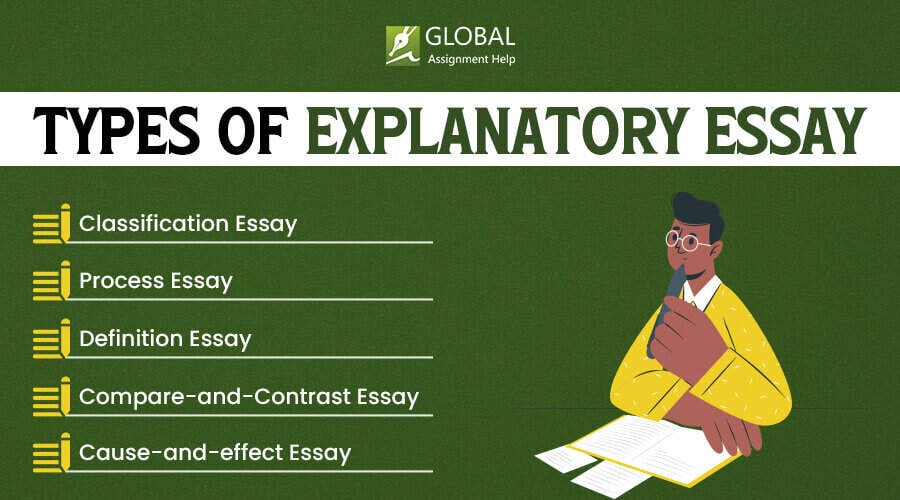 An explanatory essay is sub classified into five types. Each form serves a unique purpose, so read below to get a clear overview on each of them.
Classification Essay
This essay type focuses on classifying things into different categories. It further explains this classification with examples and their relevance to the initial topic. For example, if you are a food critic who is drafting an essay on cuisines and then sorting them into various categories like Mexican, Italian, Indian, etc., this divides each of them further, for instance, by sorting Italian into pasta, pizza, lasagna, and more.
Definition Essay
Every word has different meanings in the English language. Thus, a definition essay is used to explain a term and its intended sense in different statements. It also describes the origins of the word for its readers. This essay type is mostly used to explain scientific terms.
Process Essay
Here, the writer offers a step-by-step explanation of "how something is done" or "how something works". The process essay does not offer any description of a topic but offers a short overview. The document resembles a recipe book; just like the latter, it includes a list of ingredients, steps, and cautions.
Compare and Contrast Essay
In this essay, the writer examines two or more topics simultaneously. So, using this evaluation draws attention to its differences and similarities. It analyses the data and then classifies the information into block style and point-by-point style.
Cause and Effect Essay
The cause and effect essay examines the origins of a particular topic and also studies its effects. In some cases, the paper also offers some future predictions. The prime explanatory essay example of this sub-type is studying the reasons and impacts of World Wars I and II.
Now that you know the types of academic writing, We will move ahead by offering some trending explanatory essay topics this year. Use these interesting prompts to practice and sharpen your skills.
Interesting Explanatory Essay Topics in 2023
Let's look at some of the latest explanatory essay topics for 2023 to practice.
Are public schools better than private schools?
What are the consequences of the internet for education?
How does our human brain forget easy things?
What is the meaning of life?
What are the effects of social media on children?
Discuss the causes and impacts of the Cold War.
Are IT skills mandatory for every job?
How can teachers manage bullying and harassment?
What was the impact of COVID-19 on education?
Does music boost mental health and heal people?
How would life feel without mobiles and computers?
Can animals aid in relieving people's stress?
How can you earn money using social media?
Does listening to music affect productivity while working?
How have virtual meetings replaced personal interactions?
Do the internet and online exams boost cheating?
What are the advantages and disadvantages of being vegan?
What are the causes and effects of the Civil War in America?
Do movies impact the personalities of teenagers?
How can the government improve public schools in America?
What are the ways to prevent cyberbullying?
Describe the process of grooming animals.
What was the contribution of ancient Greece towards astronomy?
What are the negative impacts of depression on students?
Major benefits of guidance counselors in schools
So, these are some interesting explanatory essay topics that everyone should practice to ace their skills. But if you are still confused about how to format the paper, then read below for an easy explanation.
What Is an Explanatory Essay Outline?
The explanatory essay outline is a plan of action for your paper. It will guide you on what and how to write. Defining a framework for the document will help you organize the content into paragraphs, sub-headings, and pointers. It assists in systematically representing the content. Defining the outline is not a difficult task. All you need to do is create a plan of action, so divide the paper into five paragraphs. After this, write the idea, summary sentences, and keywords for each section. Later, in drafting, you just need to elaborate on these pointers. Read the explanatory essay example to get an overview of how to outline. But if you are still confused, resolve your doubts by learning about the structure. So, continue reading!
What Is the Structure of an Explanatory Essay?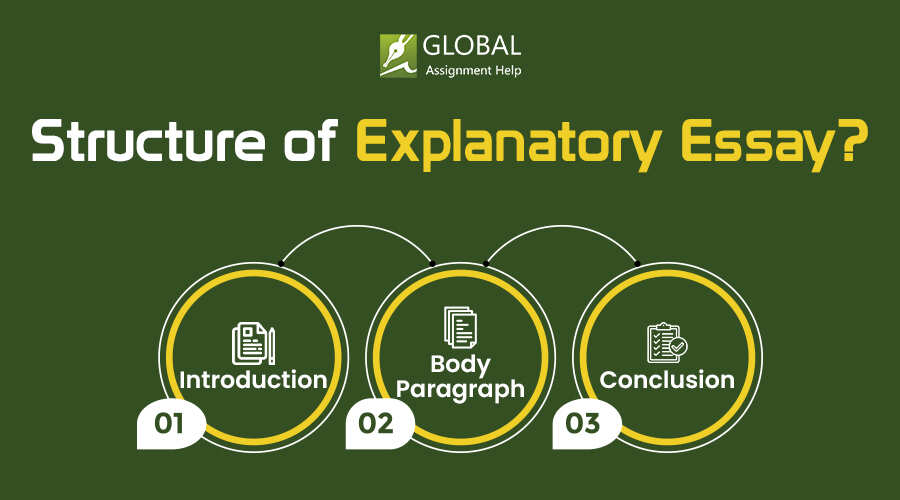 The explanatory essay follows the typical structure of five paragraphs. Let's unfold them in the sub-sections given below.
Introduction
The first section of this essay will be the introduction. It will comprise a hook statement, background information, and a thesis on the topic. This segment of the paper aims to build the reader's understanding of the theme. It elaborates on the general issues and theories. Moreover, it states why it is necessary to study the topic. Thus, your explanatory essay introduction should also justify the validity and need of the central idea.
Body Paragraph
The body of this essay consists of three paragraphs that explain and prove the initial thesis. The reader should describe the topic in detail and answer all possible queries. You can use multiple resources to explain your ideas. But make sure that you don't choose a side and never misguide the readers. The best way to offer evidence is to use a separate paragraph for each opinion.
Conclusion
The last section of the explanatory essay delivers a summary of the whole content. It draws attention to the key points and evidence. Also, you should make a quick revision for the paper. End the explanatory essay conclusion by resolving all doubts of the reader. Lastly, justify your argument, but do not take sides.
Now that we know the outline and structure of the expository essay, let's unravel the steps to writing one. So, read further and keep taking notes!
How to Write an Explanatory Essay?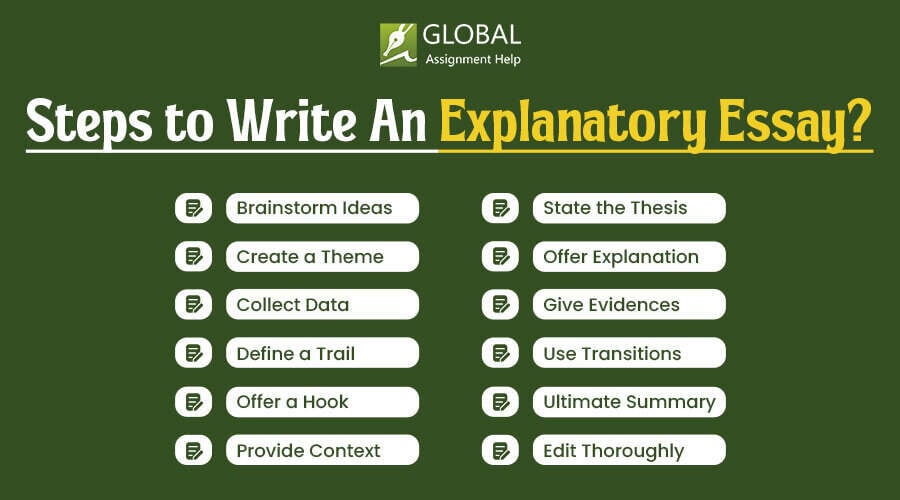 Now that we know how to format this essay, let's discuss some tips on how to write and submit a remarkable document. So, follow these tips given below and also read an explanatory essay example to better understand the requirements.
Brainstorm Ideas
Now, before starting any academic essay, students should first brainstorm ideas. Draw on your creativity and plan out your expalnatory paper. Think about how to make the content unique and what aspects to highlight in the content. You can also hold a discussion with your friends or professor for a detailed overview.
Create a Theme
Moving further, you need to decide on a theme for the paper. So, first, read the professor's instructions and understand the requirements. Also, make sure to choose a unique theme that has the potential to mesmerize the readers.
Collect Data
After deciding on a unique theme, students need to buckle up for the most crucial task: the research work. To gather credible information, use university sources such as books and dictionaries. Moreover, cross-check the content if you are using the internet as a mode of data collection. Lastly, gather ample information and do not miss out on a single aspect of the theme.
Define a Trail
The fourth step in writing an explanatory essay is to define an in-depth road map. The explanatory essay outline will guide you in smoothly drafting the paper. All you need to do is organize the research data by creating headings and subheadings for the document. Classify what comes first and last in a way that best delivers your message.
Offer a Hook
To write an excellent explanatory essay, the writer must include relevant hook statements in the document. The sentence should behold your reader's attention and catch their attention by generating interest. Hook statements can be anything: a famous quote, statistics, anecdotes, or a question.
Provide Context
So, the explanatory essay starts with a hook, and then it offers background information to its readers. Here, the writer builds a general understanding of the topic. So, explain the trending issues, some concepts, and relevant issues.
State the Thesis
After defining the hook and background information, the writer needs to state the thesis statement. It should explain the main idea or the central problem of the paper. It will give your readers an idea of what issue is explained in the main body of the document. Take essay help if it is confusing how to decide and define the explanatory thesis.
Offer Explanation
After offering the thesis in the explanatory essay, start explaining it. Describe and list the pieces of evidence one by one. Define the topic in detail, and do not miss out on even a single aspect or detail. The readers should have a clear understanding of the theme, so keep your language simple and write concisely.
Give Evidence
You cannot justify your thesis statement without offering credible information. The researched data acts as evidence for your paper. It will help you justify the central idea. Moreover, it will also offer a brief overview for the readers.
Use Transitions
One of the common challenges faced by students when writing an expository essay is maintaining relevancy and connectivity. Thus, to overcome this problem, you should include transition words in the content. Use terms like moreover, also, whereas, lastly, finally, etc.
Ultimate Summary
Now, at the end of your explanatory essay, summarise the key points. Highlight your evidence and justify the initial argument for the readers. Make sure that you do not offer new insights, as it will mislead your readers.
Edit Thoroughly
Do not submit a draft full of errors; instead, invest ample time in editing. Resolve typos, spelling mistakes, grammar issues, connectivity issues, and formatting errors. Lastly, before the submission, re-read the whole document and finalize things.
So, this was your excellent 12-step checklist to complete an explanatory essay. But, while finishing the paper, you may encounter some tough challenges in researching, writing, and editing. Make sure to strive to resolve these problems, and if you cannot, then you can seek assistance froman essay helpers. But if you are confused about how professionals can aid you in completing an explanatory essay, then read below for a clear explanation.

How Can Our Experts Assist in Writing an Explanatory Essay?
If you are searching the web for how to write an explanatory essay? The experts at Global Assignment Help have the ultimate answers to all your problems. We aid students in every academic writing task, whether it is an expository or a comparative essay. So, read further to learn about our services.
Title-Page Creation
Creating a catchy and unique title is difficult for students. But you need not worry, as our experts will help you in every way possible. By understanding the requirements and reading the instructions, we will create the perfect title page for you.
Theme Selection
If you cannot decide on a theme for the paper and don't know what aspects to highlight in the document, then contact us. Our professionals will offer you unique and informative explanatory essay topics and themes that will assist you in scoring the highest marks in class.
Outline and Structuring
Students are often confused while formatting their papers. This is why the experts at Global Assignment Help assist students in outlining and structuring the explanatory essay. Our layouts will smooth the writing process and aid in overcoming writer's block.
Help with Research
We understand that collecting reliable and accurate information is a difficult task. This is why our team of professionals helps students with data collection. Our writers hold Ph.D. and master's degrees in their respective fields. So, through their qualitative methods, they will offer ample information on even complicated topics.
Editing the Document
Are you a student who is struggling with proofreading the explanatory essay? Don't worry, our experts will edit the document properly and resolve all possible errors. Such as typos, grammar, sentence structure, formatting issues, and more.
So, at Global Assignment Help, scholars can get assistance at every step of their academic writing, whether it is an expository or a narrative essay. We also help students with referencing and drafting. Apart from this, from our experts, you will receive plagiarism-free papers and unlimited revisions too!
But first, let us understand the concept behind this type of academic writing.
Stuck in Outlining the Explanatory Essay? Get Assistance Now!
Get Essay Help
Final Thoughts
An explanatory essay is a type of academic writing that describes a particular topic in detail. It unfolds all aspects of the subject in an unbiased way. Moreover, the paper follows the typical structure, which comprises an introduction, body, and conclusion. Also, make sure to outline the document and follow the tips given above. So, that's all from our side, and now you can buckle up and start writing your expository essay!
Lowest price
INR 594.27
Get A+ Within Your Budget!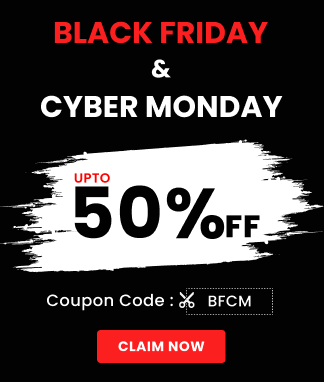 24/7 Customer Support
100% Customer Satisfaction
No Privacy Infringement
Quick Services
Subject Experts
Innovative Documents
FREE Tools
To Make Your Work Original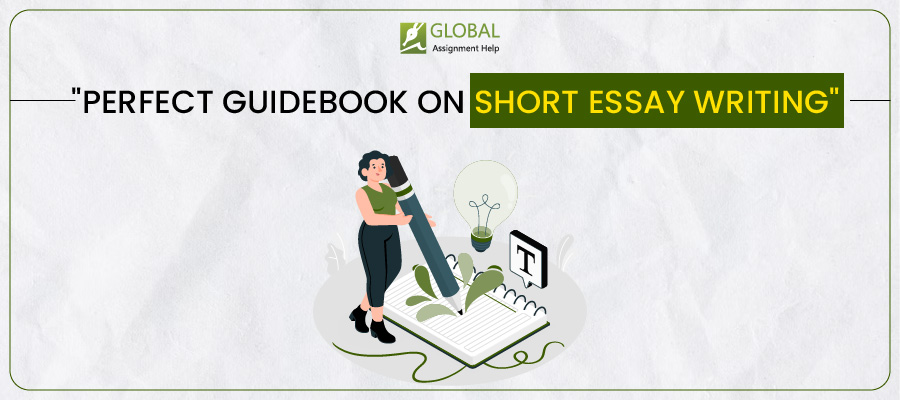 The Ultimate Guide to Writing Outstanding Short Essays
25-10-2023
340
18 minutes