Are you wondering how to write a short essay? Is it because you were asked to submit it by the professor? Well! Do not worry, as you are present at the best place! This blog, written by experts at Global Assignment Help, serves as the perfect guidebook. It will not only explain the short essay definition, but also its structure, writing tips, and practice topics. So, what are we waiting for? It is time to dive ahead and learn it!
What Is a Short Essay and Its Length?
A simple short essay definition is any write-up that presents its ideas and argument within a limited word limit. This academic document focuses on providing primary information to its readers. Thus, it never emphasizes extravagant details. Instead, it includes a direct answer and justification of the argument in clear words.
The short essay length can comprise up to 200–750 words. The word limit depends on the topic and the requirements of the professor. But, in most cases, students are asked to write a 500-word short essay. Whatever the range is, the document must be intriguing and convey a simple and direct message.
Well, now that we know what is a short essay, we can move ahead and learn about its structure from our experts. So, check out the next section, which offers an easy explanation of its layout.
How to Structure a Short Essay?
Every academic piece of writing, whether it is a narrative, short, or rhetorical analysis essay follows a specific structure. The format of these documents helps a writer convey their message clearly and coherently. Not only this, it assists the readers in grasping all the information without getting confused. So, your short essay should also follow the structure given below!
Introduction
The introduction of a short essay is a small section that introduces the topics to the readers. This section enables an understanding in the reader's mind. It helps the audience to know what the paper is about and how useful it is for them.
Thesis Statement
The thesis statement of the short essay is a crisp central argument that the writer justifies in the main body. It explains the idea in one or two sentences. Moreover, this statement should be relevant and helpful for the audience. To understand the thesis, read a short essay examples.
Main Body
The main body is the longest section of the short essay and should comprise 70–80% of the entire content. It explains and justifies the thesis statement with valid evidence and facts. Not only this, but this section should only highlight essential information and leave out extra details.
Conclusion
The last section of a short essay is the conclusion. It is a summary of the document and informs the readers about the thesis and facts. This section does not include any new information. Students should draft a conclusion that leaves a long-lasting impression on the readers.
Even if it is a short informal or formal essay, the document should comprise the above components and follow an accurate format. If your write-up includes an incorrect layout, it can be rejected by the professor. After explaining the structure, our experts will now guide you on how to write a short essay.

How to Write a Short Essay? Know 7 Steps
After understanding the short essay definition and its structure, we will now move ahead and learn how to write one. For this, our experts have curated a list of seven easy steps. So, read and follow these pointers if you want to submit a flawless document and impress your professor.
Understand the Instructions
The first step of our "how to write a short essay" journey is reading the requirements. Without knowing the instructions, students cannot write a perfect submission. So, understand all the regulations from your teacher and make a note of all the essential rules.
Select a Strong Topic
If you want to deliver a remarkable short essay to impress your teachers, then select a strong topic. The central theme of the document should be trending, engaging, and useful for the audience. The perfect way to choose a good topic is to read short essay examples.
Conduct Your Research
After selecting a good topic for the paper, you need to conduct preliminary research. Know that your data collection should only focus on primary and major details. So, exclude all extra information and gather data that fits the given short essay length.
Outline the Document
Writing down a short essay can be easy if students appropriately structure and outline their documents. So, refer to your research work and organize the ideas into a road map. This trail will also assist you in overcoming writer's block.
Create a First Draft
The challenging part is composing a short essay. So, make sure to avoid any distractions and present all your ideas clearly and logically. Provide the minimum information, but explain everything in detail and never leave the readers clueless about the theme.
Minimize All Errors
After you write a short essay, the next thing you need to do is revise the entire document. First, read the raw draft line by line. After this, check and resolve grammatical errors such as punctuation, spelling mistakes, misplaced homophones, and more.
Check for Plagiarism
The last step to write a short essay is to run multiple plagiarism checks. Duplicate content can have severe consequences, so make sure to submit a 100% unique write-up. If you cannot make the document original, then seek assistance from an essay writing service USA.
We hope that the above 7 steps have resolved your query about how to write a short essay. But if you still have any queries and doubts, do not worry! This blog post provides interesting and effective tips that can make your short essay writing excellent. So, let us have a sneak peek at the pointers below!
Interesting Tips to Write the Perfect Short Essay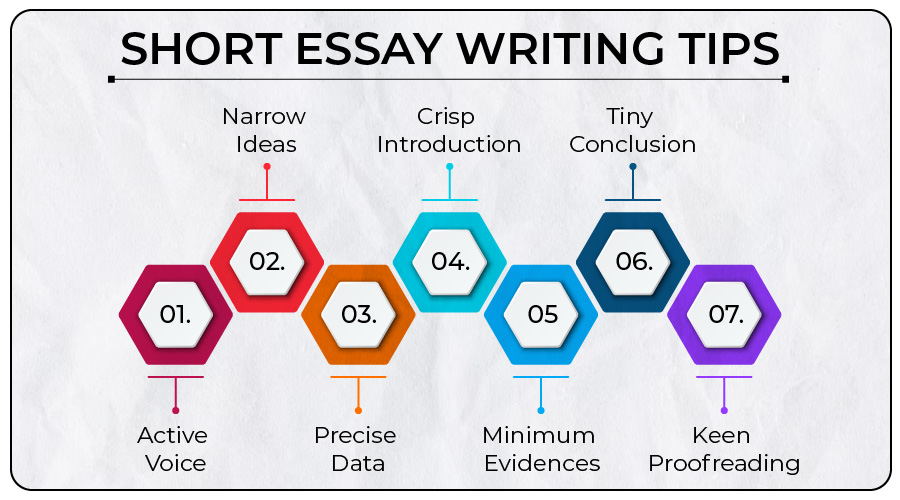 If you want to score the highest marks in class, then you have to deliver a top-notch short essay. This is only possible if you follow the easy-to-follow tips given by our professional essay writer. So, what are we waiting for? Let us check out the seven interesting points.
Prefer Active Voice
To make your essay clear and coherent, prefer active voice to passive voice. It will also help you build engagement by directly explaining the message. If you don't know how to maintain an active voice throughout the paper, read short essay examples before you start writing.
Choose Narrow Ideas
As discussed earlier, a short essay writing focuses on answering a small and direct question. So, you should always select a narrow topic for the paper. It should not comprise broad research capabilities but must be trending and relevant. So, pick a theme that is easy to explain in short paragraphs.
Collect Precise Data
Whether it is a formal or informal essay, data collection is an essential step. But, for your short writing, you must always focus on gathering precise data. Do not focus on the details; rather, find facts and findings that directly emphasize the key message.
Craft a Crisp Introduction
Now, you need to always write a short essay introduction that is crisp and catchy. Moreover, the first paragraph of this document should comprise 10–15% of the content. It should introduce and explain the topic and its relevancy to the readers.
Provide Minimum Evidences
The best essay is not the one that provides ample evidence. Instead, a perfect short essay should include a minimum but clear proof. So, in the main body of the paper, describe the most important information and explain it in detail with logic to the audience.
Frame a Tiny Conclusion
The last section of the paper is the conclusion, which consists of 10–15% of the entire content. It should provide a quick summary of the document and highlight the key takeaways. Drafting the conclusion can be difficult, so you can seek assistance from a custom essay writing service.
Perform Keen Proofreading
Every academic document, whether it is a research paper, summary, short essay, or college application essay should be flawless. This perfection can be achieved if you conduct thorough proofreading. So, check for grammatical, drafting, and formatting errors before final submission.
If you write a short essay using the above tips, you can score the highest marks in class. But all this is possible if you choose a good topic. Selecting a vague and irrelevant idea can even get your papers rejected. So, make sure to be 100% sure about the theme before you start writing. However, if you find yourself in confusion, then do not worry! You can still pick out the best topic from the list given below. Yes, our experts have brought you the perfect short essay examples, so check out the ideas in the next section!

15+ Easy Short Essay Topics for an A+ Submission
Our experts can provide you with a list of the best ideas for all your academic writing. We are here for you, even if you are looking for 100+ higher English discursive essay topics or short essay ideas. Do not believe us! Well, why don't you check out the 15+ interesting and unique examples given below?
My aim and goal in life
An eventful Christmas Day celebration
What is internet addiction in teenagers?
What are the disadvantages of using mobile phones?
Explain the effects of global warming.
Explain the greenhouse effect.
Describe your most frightening dream.
Impacts of COVID-19 on the education system
Is physical education an essential subject in school?
Why is private education considered better than public education?
Are teenagers reliant on technology for studying?
What is the concept of personal companionship?
How does social media promote fake friendships?
Why is grammar essential in academic writing?
What are the advantages of green infrastructure?
How can you prevent deforestation?
The above topics focus on specific and narrow aspects of a broad idea. So, yes, they are perfect for you to write a short essay. Make sure to conduct precise research and focus on the primary elements instead of the details. Still, if you face any issues while framing the ideas, our experts can help you. To learn more about our online essay assistance, read the next section.

How Can We Help You with Short Essay Writing?
Global Assignment Help has assisted thousands of students in all types of academic writing. Scholars can reach out to us if they are looking for the best essay, research paper, thesis, or admission essay writing service. Our experts will offer them instant help at every step. Check out the pointers below to learn more about our best features.
Topic Selection: Our team can offer you a list of the best topics, and all we need is for you to list out your concerns and requirements.
Research Aid: Students struggle with collecting data. But not anymore, as we can guide them in collecting ample and accurate information for their essays.
Drafting Assistance: Writing a short essay can be difficult for students with poor language proficiency. Do not worry, as our experts can create the perfect documents for you.
Proofreading Help: Can you edit and proofread your short essay? Well, we have a team of professional proofreaders who can resolve all mistakes and make your papers flawless.
Reference Guidance: Including accurate citations in every document is a challenging task for students. But not for us! We can provide credible references as per the rules and requirements.
Other Features: Apart from the above steps, Global Assignment Help provides many freebies and tools. So, just list your concerns, and we are here to assist.
Writing a short essay can be challenging because students have a limited word range to express their thoughts and ideas. But, with the guidebook given above, any student can frame their perfect write-up. The pointers teach students everything from topic selection and how to write a short essay until the final proofreading. Not only this, but even our team is available to assist these scholars with any queries they have. So, go frame a remarkable short essay now!
Lowest price
USD 7.13
Get A+ Within Your Budget!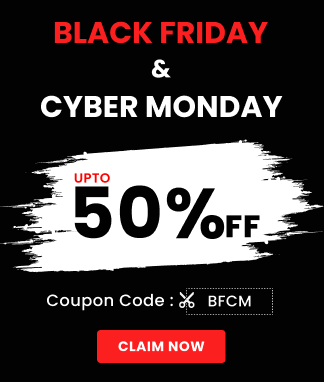 24/7 Customer Support
100% Customer Satisfaction
No Privacy Infringement
Quick Services
Subject Experts
Innovative Documents
FREE Tools
To Make Your Work Original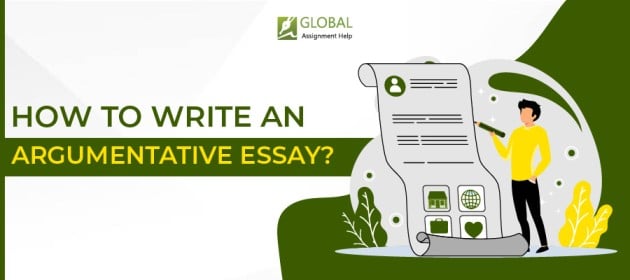 How to Write an Argumentative Essay Effectively?
21-10-2023
237
13 minutes
Frequently Asked Questions
We have an answer to your every query!
How Do You Begin a Short Essay?

To begin a short essay, you first need to select a topic as per the given requirements. After this, conduct sufficient research and structure the write-up in detail. Lastly, start with crafting the introduction, which should include a short context for the topic.

What Are the Steps to Writing a Short Essay?

There are five steps to writing a short essay. First, you need to select a narrow topic, and second, you need to collect credible information through research. Third, you must structure and outline the essay. Fourth, you need to create a raw draft. Finally, the fifth step suggests that you proofread, check for plagiarism, and submit.
How Many Paragraphs Is a Short Essay?

A short essay usually comprises three to four paragraphs. It depends on the word limit, topic, and requirements of the professor. Generally, it must include an introduction, two main body sections, and a conclusion.

Is 300 Words Good for a Short Essay?

300 words are good for a short essay if you can fulfill all the given requirements. You should abide by all the instructions given by the professor. Not only this but the topic should be clearly explained and justified with sufficient supporting evidence.