Question :
The professional writing is the formal written communication tool used in business organisations to communicate effectively. The professional writing differs in writing tone and style from the informal ones. The formal written documents in the corporate world act as a representation of the legal document and allows taking better decisions in organisations.
What is Professional Writing?
What is the importance and advantages of professional writing in the corporate world?
What are the ways in which professional writing can be improved?
How professional writing can help an individual in career?
Answer :
Organization Selected :
Woolworths Holding Limited
The professional writing is the formal style of writing which is used in workplaces to effectively communicate and exchange the ideas. The written document in the business organisation acts as legal evidence. The professional writing differs in the style and tone largely. The effectiveness of writing is directly related to the efficiency of the decisions. The main aim of professional writing is to inform, persuade, instruct and educate the members of an organisation.
The examples of the professional writing includes newsletter, business plan, researches, emails, minutes, etc. The professional writing has the internal and external audiences in workplaces. The internal communication is used to interact with the employees and employers whereas the external is taken to address the external stakeholders. The examples of internal writings are reports, mails, minutes etc. and external includes newsletter, job letter, advertisements etc. The professional writing is more formal with the intended target audience and having specific subject line and main body is also concise and clear.
The writing is intended according to the target audience and based on that its purpose. If the aim to is give in house training to an employee the presentations will be styled in such a way that it results in due increase in knowledge. To write effectively always the audience should be known in prior. If the aim is to inform the management about the targets been achieved so far based on that tool of communication is identified and then messages is being draft. The outline is being structured about what information has to be incorporated then the main body is crafted with proper salutations, subject line. The keywords are being included and the message is draft in such a way that it addresses the communication objective. The written document is always clear to the point and in concise form. The professionalism is maintained throughout crafting the message. The necessary documents are being enclosed and information is being checked twice in order to maintain its credibility. The professional written document should be proof read twice to check its quality and make it grammar free. The Seven C model is used while writing professional documents.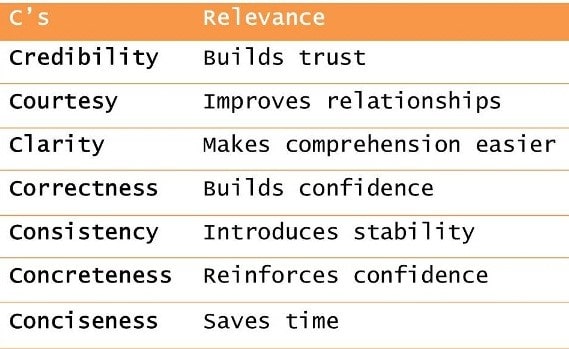 (Illustration 1: 7C's of Business Communication,2021)
The professional written documents adds to the brand image of organisation, the effective writing adds to the positive image of org