How to Write a Discursive Essay? [Tips & Examples Included]
For college or high school students, the most challenging task is to draft an essay, especially a discursive essay. Students struggle &feel frustrated with this writing type, as it requires collecting a lot of information regarding the given topic and planning a discussion on it. The academic tasks require a lot of writing for different subjects & task types. The higher educational courses demand lengthy-lengthy projects, which require a lot of research & discussion.
You may have searched many times, 'how to write a discursive essay: tips to succeed & examples, ' but what result have you found? Just some tricks & steps that are now enough for completing this task, right? That's why as soon as students get essays or any other academic projects, they reach Global Assignment Help. We are one of the best service providers with outstanding reviews & features.
Our experts have a vast knowledge of various writing styles & types. Hence, here is a complete overview of a discursive essay that will help you understand it better & write for your school project. Let's start with an introduction to discursive writing.
What Is a Discursive Essay?
The writing where you choose a topic and write only the pros, or only the cons, or both the side of the aspect is called the discursive essay. You need to share your perspectives, ideas, or opinions towards the assigned title. It helps convey your thoughts & views to the readers and persuade them with at least one of your views.
You can use your personal anecdote in this type of essay, maintaining a normal conversational tone. Both the first & third forms of person are more preferred to use in it. You need to be factual using figurative language in your writing. Using engaging imagery & language features will be more beneficial in your essay.
These points are helpful to remember while drafting an essay of discursive type. Make sure you insert these as it will help to impress more people. Now, let's take some tips for discursive writing from our essay writing help experts as they have Ph.D. degrees & years of experience.
8 Tips to Write a Successful Discursive Essay
Some expert tips always work when it's about maintaining professionalism in your work. The powerful tips to change your writing style in the discursive essay are as follows:
Understand the Primary Question
You need to understand the main topic of your essay as it will help you search for relevant information that can answer the various demands of discursive writing.
Break Your Essay into Small Chunks
Students have lots of tasks to complete in a small period of time for which they require to maintain a proper time distribution. If you don't want to skip any of your daily tasks, break your writing task into numerous small activities and complete it daily with others tasks.
Plan Every Part of Your Task
You need to assign a time slot for every part of your essay. Make that time your aim & finish the allotted task in that period.
Read & Attain Knowledge Towards the Topic
You have to research & read as much as you can to collect the arguments & facts that you can use in your discursive essay.
Show Some Leverage Critical Reasoning
You should mention the limitations of the topic research & more discoveries that are possible with it.
Content Should Be Structured & in a Flow
You should maintain a proper format throughout the paper by managing the flow & transitions between the sentences & paragraphs.
Beware While Quoting& Paraphrasing
You need to make sure that you use your own words and language to describe or argue on any point. Plagiarism can result in a severe impact on teachers & grades.
Use Formal Tone of Language While Drafting Your Essay
You should maintain a formal tone in your discursive essay writing as it will make your paper more impressive.
These are the various tips from our experts of custom essay writing service, which can help you attain an engaging & attractive document. Now, when you have all the powerful tips for writing your essay, let's move on to the steps that can help you reach the finishing line.
How to Write a Discursive Essay? [With Example]
Practice Makes a Man Perfect- That is why you must practice writing. To lead you with a step-by-step guide, below are the 7 steps that will help you to achieve a well-structured & outlined essay.
Choose a Topic
You should start by searching & selecting a topic for your discursive essay if your mentor hasn't provided you one. Choose the one that interests you the most and urges you to do some research and write on your own. The title should be top trending from the 2021 and attractive to grab the audience's attention.
Collect the Data & Prepare an Outline
Gather the various information around your topic & create an outline. You need to insert the multiple headlines & sub-points that you want to add to your document. Provide a proper place & paragraph for every important fact & argument.
Draft an Exceptional Quality Thesis Statement
You need to summarize the main focus of your writing in 3-4 lines in which you need to mention the primary points.
Draft the Descriptive Body Paragraph
Now, start with the 3 paragraph body section. Under every section, you should provide both your positive & negative thoughts towards the primary topic. You can extend it as per your professor's demand.
Summarize the Whole Discussion in a Conclusion
At last, comes the conclusion section under which you need to tell the various facts, arguements, and views already discussed. Do not mention any new concept or element in this part of the discursive essay.
Write a Compelling Introduction Section
As of now, you have completed the entire writing part. Now, draft an attractive & appealing section of the introduction. You can start with some quotes, idioms, or other literature lines that reflect a meaningful connection with your discursive essay topic.
Give a Final Touch to Your Document
In the end, re-read the entire essay and make sure there are no mistakes left in your paper. Read it in front of your friends, family members, or other supervisors,& ask them if they found any sentence unclear or complex. Many students come to our essay editing writers & proofreaders as they have excellent skills to remove various errors from the document & make it flawless.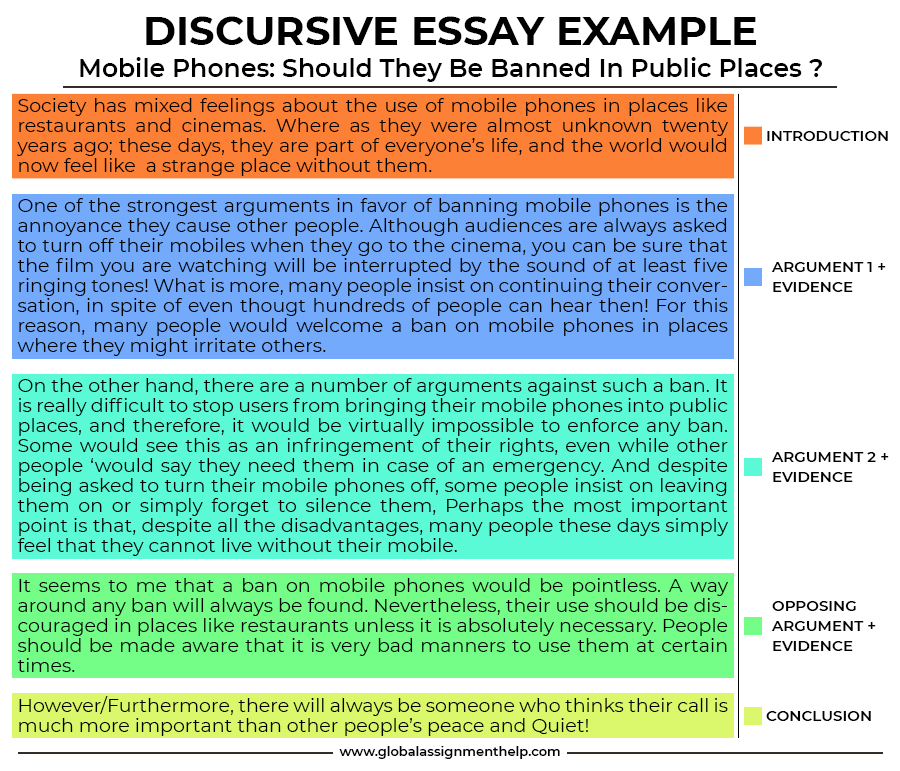 Now, you have attained complete knowledge about how to write a discursive essay: tips to succeed & examples Let's move forward to the 3 main types of discursive essay writing.
3 Main Style of Writing in Discursive Essay
Opinion Essay: In this style of writing, the writer needs to share his opinion & views towards the topic next to the introduction section. Heis not required to share any evidence or proof but should clear it with reasons why they think so & some relevant examples.
For & Against Essay: It is a thorough debate from the writers on a specific topic. In this writing, they oppose the main topic with the point of view. You need to provide consideration in the introductory paragraph, examples, justification, reasons, and arguments in the body paragraph, and then summarize the paragraph in conclusion.
Solution Suggesting Essay: This style of writing requires problem discussion & findings as the solution. This essay starts with an introduction determining the problem & analysis of consequences and causes. Then in the body paragraph, you need to provide some suggestions & potential or expected results. In the end, summarize your opinion in conclusion distinctly.
Now, you have complete knowledge of the style of writing in a discursive essay. So, let's focus on some do's & don'ts suggested by the literature essay help experts. Follow the below points perfectly in your essay.
9 Basic Do's and Don'ts of Discursive Essay
Essential Do's Discursive Essay
Provide a citation for the used sources.
Use proper sequence in your writing.
Use a formal & impersonal tone in your writing.
Insert the linking words & phrases wherever required.
Provide a separate paragraph to introduce each point.
Develop proper paragraphing & bullets in the content.
Use headings & sub-headings before starting the next point.
Provide valid reasons and valuable examples for every claim.
In the end, provide a referencing list following proper citation style.
Essential Don'ts of Discursive Essay
Avoid the use of short forms for verbs such as I'll, won't, etc.
Avoid using informal or colloquial language in your writing.
Avoid using very emotional language to save it from looking prejudiced.
Avoid using too many explanations for some elements as it can extravagate your writing from an accurate conclusion.
Avoid expressing your personal views too persistently.
Avoid referring to statistics without proper citing.
Avoid sharing your personal examples in this writing. It will be more relevant for a personal experience essay.
Above are the basic do's and don'ts of discursive essay that can help you to draft the best essay avoiding the useless points & adding the beneficial ones. Now, you have complete knowledge regarding discursive essay writing. Hope, you will prepare an A+ scoring paper for submission. Moreover, if you are still confused, you can get help from our latest essay typer free tool or you can come to our experts of Global Assignment Help. They will support you with your various academic tasks.
Where to Seek the Best Essay Writing Help?
The experts of our custom essay writing service are the best & most approached to ask for help with discursive essays. They provide top-notch writing quality in various types of academic tasks. Our writers have a vast knowledge of the various style of writing. You will receive your document on time without delay, as we promise to complete & send the paper on the promised date.
So, don't wait for long!!!
Reach our services now!
You may also like -
PEEL Paragraph Technique: Structure and Its Usage
Wondering 'How to Start a Conclusion?' Here's an Ultimate Guide for You
A Fool-Proof Plan for the Top Rank in the Compare and Contrast Essay