CHCECE017 Foster the Holistic Development and Wellbeing of the Child in Early Childhood Assessment Answer
Childhood is the favorite stage of life for everyone. You can see people saying they want to relive their childhood. The gullible and innocent faces of the kids attract many people, but when they are left with these young children, they get frustrated, but there are some professionals who can help in taking care of children. Due to the lack of time, parents have to go for these professionals' help for child care when they can't look after their children all the time. You can also become a child care educator by writing amazing CHCECE017 assessment answers while pursuing this course.
A lot of students like to become child care professionals. If you are also planning to pursue this course, read more about it in the below section.
CHCECE017: An Overview of the Course
Chcece017 course is about foster the holistic development and wellbeing of the child in early childhood. This is a type of community service where you have to provide kids of age zero to eight years with daily practices and necessities. Those who take care of children are addressed with different names like child care workers, educators, professionals, etc.
These professionals work in nurseries, child care centers, after-school programs, creches, early learning centers, and many others. While working in these centers, the professional has to work on developing the kids with good ethics.
You may also read this:
assignment help
The child care worker has to do many other things besides just playing with children. If you are already a student of this program, then you can understand this. If you are planning to become an educator, you need to understand the responsibilities to take care of young children other than playing with them.
So, let's read below and know the responsibilities.
Students also like to read: CHCLEG001 Assessment Answers: Everything to Know About!
What Are the Roles & Responsibilities of Child Care Professional?
Provide Educational, Social, Physical, & Intellectual Support: For the proper growth of a child, social, physical, intellectual, and educational supports are crucial. This is why a professional has to analyze each child's behavior to provide accurate assistance. The support varies according to the caliber of the child.
Teach them the Basic Code of Ethics: Decision-making responsibilities are taught by child care educators so that children can make fair decisions. Many problems in the assignment come when students have to write chcece017 assessment answers from this area of child care. This is because the majority of questions are situational so answering them is not at all easy.
Supervise and Monitor Safety of Children: The child care professional ensures appropriate supervision practices to mitigate the risk of harm. They sometimes have to conduct a small quiz to know the problems bothering the children, because sometimes they can't express what is bothering them, but that can be observed through their actions.
Make them Aware of Hygiene: To foster the child's holistic development and wellbeing in early childhood, the educator also has to take care of healthy food for kids. He has to teach them about hygiene in different ways in which they can understand.
You may also like to read: Chcece004 Assessment Answers: Promote & Provide Healthy Food & Drinks
Keep Record of Kids'Performance and Development: Along with the above responsibilities, child care professional has to keep a record of the development of children, so that a comprehensive understanding can be developed for future actions to provide better assistance. They organize tasks for the children after observing them for the entire month. The assessment can take place in months or weeks also.
So, this is all about the responsibilities of child care professionals. If you are a student, you will be taught about all the above responsibilities in training sessions by the professor to write excellent CHCECE017 assessment answers and get a degree as a professional child care worker.
During the course, you will also have to learn about the factors that affect children's growth. Often assignments are given from this area, and students feel unable to write them impeccably due to writing mistakes. That is why many students seek assignment help from expert writers.
If you are also given the assignment on growth factors of children, then know what the important factors in the below write-up are.
5 Factors that Affect the Growth of Child
Nutrition: This is the most important factor for early childhood growth and development. The other factors can affect the child when this one exists. From the first week, the expecting mother has to take care of the nutrition of the child and after birth. Professional child care workers also have to understand the child's nutritional growth by knowing little about before-birth nutrition.
Parent Behaviour: A child gets introduced to his parents first, after birth. Parents' behavior affects them widely. Inadequate behavior can affect them adversely, and they may get annoying. The child care workers sometimes have to deal with children who witness domestic violence. In this case, they have to create a special plan to take care of them.
Social Culture: This factor of children's growth is widely stimulative because what the child sees, he or she tries to imitate the same. How various individuals interact with children differently also has to be considered by professional child care workers for proper development. Various factual and conceptual questions are asked to the students who want to serve in community service. They sometimes seek help from homework writing services to get well-written papers.
Environment: This factor mostly affects the physical growth of the children. Their health gets affected by the environment. A bad or polluted environment can leave a bad impact on the growth of the child. Sometimes the basic development also gets hampered due to poor atmosphere.
Heredity: A child gets physical characteristics transmission from the genes of parents. Physical appearance like height, weight, and body structure get affected by heredity. Professional educators have to consider this factor while treating the child. Sometimes they have to develop physically challenged children also.
These five factors are very crucial for proper development. If child care workers have studied about them properly while pursuing the CHCECE017 course, then they can deal with the children extensively.
It is very important to consider all the factors properly to answer the CHCECE017 assessment question effectively. Many times students can't write the answers impressively because they don't have proper guidance.
In the below section, you will come to know how to write impressive answers.
Students also like to read: Emotive Language and Persuasive Writing | Uses and Its Impact
How to Better Up the CHCECE017 Assessment Answers?
The CHCECE017 exam can be taken in the form of essays, assignments, projects, and homework. You have to write excellent answers to get the highest marks in the class. If you don't knowhow to write the CHCECE017 assessment answers impressively, this blog can help you. Below are the ways through which you can write amazing answers.
So, let's have a look at them.
Analyze the Question: Read all the questions first, then try to pick only which you find easy. On this type of question, you can write effectively and include some interesting facts regarding the development of children.
Structure Your Answer: If you prepare the structure of the answers before starting to write, then you can present them impressively without missing any important information. Many assignment writers Australia also focus on making proper structures.
Keep Your Tone Formal: Although you have to write about children, keep your tone formal so that the reader does not find the paper's quality low. You can get excellent marks in the CHCECE017 assessment answers by writing in a formal language.
Proofread Simultaneously: Check whether the answers are written properly or not. You can proofread one answer at the same time while writing it or after you complete writing all the answers. But don't skip proofreading because this better ups the answers.
For amazing marks, the improvement in answer writing is quite necessary. Otherwise, you may lose top rank or be stuck on average marks. If you can't write them properly or don't have time, you can go for professional writing help.
Many websites offer this help. If you are confused about where to get the best assistance from, then read below.
Also Check: Assignment Help Perth
Where to Get the CHCECE017 Assessment Answer Writing Help?
Global Assignment Help is one of the prestigious websites offering writing assistance to students for several years. We have subject-oriented university PhD writers who have many years of experience in answer writing. Students not only get assistance in the assignment but also in papers like an essay, thesis, research paper, dissertation, and others by our professional writers. They also offer homework writing services to students.
So, you will not have to worry about any type of writing assistance. Besides, you can also enjoy the lower price if your order is above £ 1000 within a month. Now, ready to get the best CHCECE017 assessment answer under our experts' assistance.
Lowest price
USD 7.13
Get A+ Within Your Budget!
24/7 Customer Support
100% Customer Satisfaction
No Privacy Infringement
Quick Services
Subject Experts
Innovative Documents
FREE Tools
To Make Your Work Original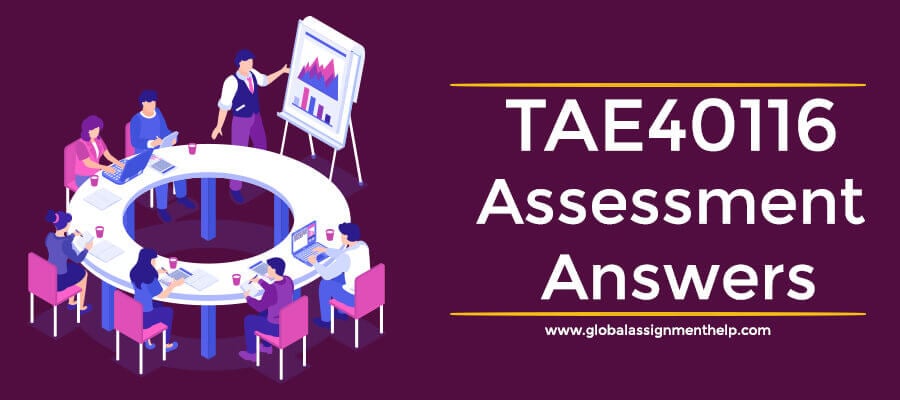 TAE40116 Assessment Answers- Principles | Competency Dimensions | Questions
03-11-2021
2199
11 minutes