CHCPRT001 Assessment Answers | Identify & Respond to Children & People at Risk
Table Of Contents
Do you like to work for children or young people?
What do you mean by child protection?
What to do if a child or anyone around you is at risk?
How to protect children or young people facing abuse? 
To get answers to all these questions, you can pursue community services and children's health-related courses. This training includes a task that requires the student to think critically & provide CHCPRT001 assessment answers. Under these courses, students get training as per the National Quality Standard (NQS) Quality Area 2 - promoting children's health and safety-related learning to nurture practices in childcare.
It can be difficult for students to write such lengthy tasks along with training. That's why the academic writers at Global Assignment Help provide assistance with such writing tasks to ease the students' problems.
To complete the chcprt001 unit successfully, you need to know everything about in brief to provide better CHCPRT001 assessment answers. So, let's know about chcprt001 briefly in this blog, starting with a short introduction.
What Is CHCPRT001?
The Chcprt001 is a unit of child care course that helps in nurturing practices in childcare and young people. Students who are keen to keep children & young people secure from harmful risks pursue a career in such courses & show their abilities with various academic tasks. The Commonwealth and State or Territory legislation, Australian or New Zealand standards, and industry codes of practice are the basis of this unit. 
This course requires to take proper training that makes students know:
How to report indications of the possible risk of harm?
How to apply ethical and nurturing practices in work with children and young people?
How to implement child-focused work practices to support the protection of children and young people?
If you are pursuing the early childhood course, you should be aware of the chcprt001 assessment tasks. Most Aussie students reach the Global Assignment Help website to get the easy chcprt001 assessment answers for all the complex questions & case study scenarios. We have offered various sample papers for the students to ease their studies & help them get an A+ grade without any difficulties. 
Today, as well, our nursing assignment writing help experts are here with a complete list of questions that will help you to practice writing better chcprt001 assessment answers.
15+ Sample Questions for Nurturing Practices in Childcare
You may need some guidance to know what kind of questions will be asked in your chcprt001 assessment. Here are some queries from our experts who possess vast knowledge of the various question types & scenarios to help you with chcprt001 assessment answers.
What are the causes of child abuse? List any five.
How will you characterize people who abuse children? List any five. 
List the community attitudes that you think may encourage child abuse. Explain every point. 
How to identify the risk factors that can contribute to poor outcomes for children, including abuse or neglect?
What will you do if a child discloses abuse? Keep the responsibilities of Early Childhood professionals in your mind while answering. 
List some of the common concerns around notification or reporting. 
If you get a case directly disclosed for sexual abuse, how will you respond?
What are the leading & non-leading questions? Provide five-five examples for each. 
How does the child protection legislation applicable in your state or territory impact the work that you do? Provide a brief explanation. 
What are the non-invasive questions explain with examples? How can you use these types of questions when communicating with children and young people?
"Child or young person-focused work practices should be employed" elaborate the meaning of this sentence. How can this sentence be considered while assessing the current situation of a child or young person? How to determine the actions that should be taken to remove the child or person from harmful conditions or prevent the risk of harm?
What are the open & closed questions? Give five-five examples for both. 
Why should you keep your knowledge and skills up-to-date while nurturing practices in childcare?
Where can you get the complete information related to your job as a childcarer?
Why should you not underperform in your job role or act outside of your job description? 
What is the procedure that one should follow while submitting a notification of harm to the correct authorities?
How would you nurture a child? What practices could you focus on to communicate and interact with them?
What organizations can you contact for information 7 support? List at least 10 of them with the state or territory they belong to. Explain the department's role with a brief description. 
Above are the various chcprt001 identify and respond to children and young people at risk assessment questions shared by our expert writers for better practice. 
Now, let us move on to the case study samples that will give you an idea about the scenarios asked in your chcprt001 assessment. Let's have a look!
Many students prefers Best Essay Writing Service from our essay writers at affordable price.
3 Case Studies Samples for Better Child Focused Work Practices
It is mandatory to provide Chcprt001 answers for all the questions asked related to the case study provided in the paper. For students, it can be difficult to think critically & solve the problem; that's why our professionals give a complete solution to students by using their problem-solving skills and critical thinking skills. 
Some examples of the case studies that you will need to practice better chcprt001 assessment answers are as follows:
CASE STUDY 1

CASE STUDY 2
CASE STUDY 3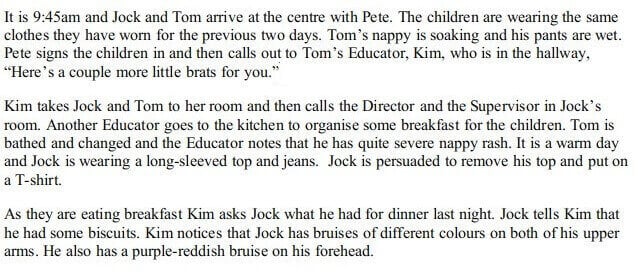 Above are the various case studies that you can practice to solve in your chcprt001 assessment.
Still, if you face struggle or any writing trouble in solving your chcprt001 assessment questions, you can come to our nursing assignment writing help as our experts are always keen to provide ease & convenience to students. 
How to Avail Online Assessment Writing Help for CHCPRT001?
With our online assignment help experts, you will get high-quality writing as they have years of experience & the right qualification required. Their professional writing will impress your professionals & appeal to provide an A+ grade in the final result. They write every paper following various rules provided in your university guidelines & instructed by your professors. 
Other than getting assistance for CHCPRT001 assessment answers, you can also get term paper help from our experts as they are masters in solving various complex questions; no matter what subject, you will get solutions for all.
You may also like:
Lowest price
USD 7.13
Get A+ Within Your Budget!
24/7 Customer Support
100% Customer Satisfaction
No Privacy Infringement
Quick Services
Subject Experts
Innovative Documents
FREE Tools
To Make Your Work Original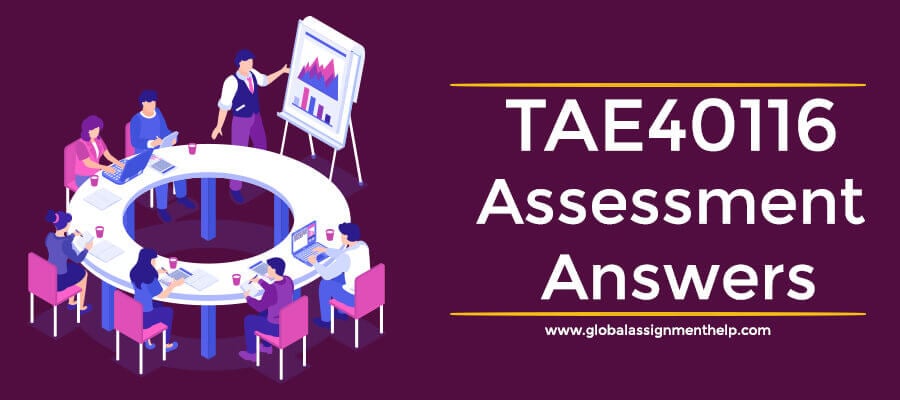 TAE40116 Assessment Answers- Principles | Competency Dimensions | Questions
03-11-2021
2213
11 minutes