Chcece002 Assessment Answers - Ensure the Health and Safety of Children
Table Of Contents
Being a student, it can be hard to take all the study pressure, whether it is an exam or assessment; that's why you must find a mate that can help you when required, and the Global Assignment Help is the mate for all the students. We have excellent writers who provide perfect chcece002 assessment answers to the students, with which you can get higher grades in your finals. 
Chcece002 is a nursing unit under which many students complete their higher studies and obtain a diploma to work for children's safety. Students subscribe to CHC Community Services Training Package and get training enhancing their performance & knowledge abilities. It is also a part of Certificate III in Early Childhood Education and Care that trains students to become nurses and helps in the development & growth of the students. This training is all about the CHCECE002 unit. 
Now, let us discuss the course and questions asked in CHCECE002 assessment answers like:
What is it? 
What does it include? 
What do you need to do in it?
What Is CHCECE002 Assessment?
When nursing students take training & knowledge around the childcare sector, they need to present their capabilities to the college. That's why universities ask students write better quality CHCECE002 assessment answers. It includes 7 tasks under which students show their qualities & learning to the professors.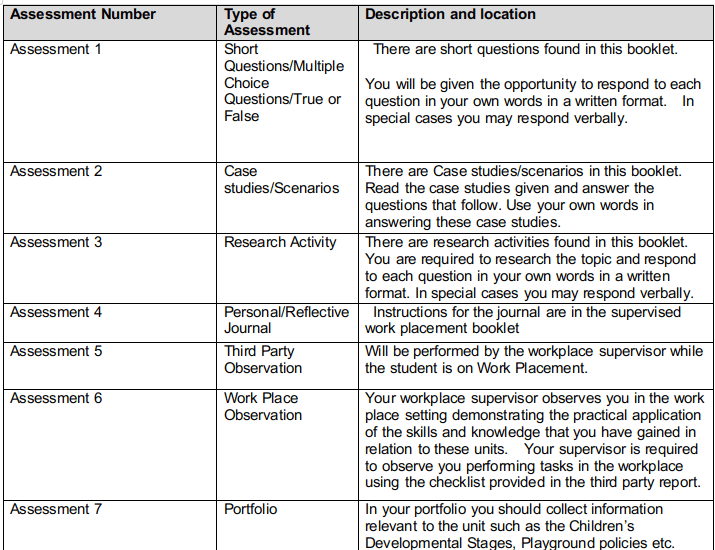 But under these 7 assessments, students only require to write answers for 3 tasks- short questions, case study, and research activities. These are the written tasks you need to draft solutions for and complete by the submission time. 
Let's look at some examples shared by our assignment help Adelaide experts that can lead you to success in assessment answer writing.
3 Assessment Writing Tasks Included in CHCECE002!
High-Quality CHCECE002 assessment answers require students to: 
Read & understand every question to provide relevant answers 
Show their critical analysis skills by solving the case studies & questions
Display your quick responses for the research activity task
For a better understanding, let us know about all of these tasks in brief. 
Assessment 1: Short Questions
27 short questions that can be helpful in the better practice of chcece002 assessment answers are as follows:
List & explain all the key factors concerning Quality Area 2 that promote children's health, safety, and well-being.
What is the approved service required under the "˜Education and Care Services National Regulations 2011' if there is an infectious disease outbreak?
What are the four RACE procedures recommended by the fire service for the staff to use in the event of a fire?
What are the four educators' responsibilities stated in the policy concerning Fire Prevention and Fire Drills?
What is the range of cleaning equipment recommended to use in a children's service?
When should gloves be worn? State with at least three examples. 
What is the correct procedure to be undertaken while cleaning a cot soiled by a child? Write the list into the correct sequence of steps.
List the hand wash routine recommendations for educators & children in both situations after & before?
Why are children in group care, like Children's Services, are vulnerable to infection? Give at least 4 reasons.
With the help of the photographs series, demonstrate the correct order of the nappy change procedure. 
What do the National Quality Standard Element 2.3.2 mean? State the name of injury that comes under this standard. 
Demonstrate element 2.3.2 with two examples of practices in the outdoor area.
What is the minimum height requirement for a perimeter fence in Children's Services?
What is the minimum height for fences that divide a play area or surround a Verandah?
What distance will you recommend from the fence for the equipment placement that prevents unintended access at the top by children?
What is the recommended climbing height for non-fixed and mobile equipment for children under 3 years?
What are the recommended climbing height for non-fixed and mobile equipment for children between 3 - 5 years?
What are the four basic principles of accident prevention to be applied to an early childhood setting?
How should the medications and other potentially poisonous products be stored within Children's Services to safeguard children's health and safety?
List the common hazards for children under 3 years.
What are the three ways that can help educators to assist children with simple safety rules learning?
List the four major principles of supervision.
When can a child leave the premises of the Education and Care service as per the regulations?
List the practices that can be helpful for educators to use in order to promote oral hygiene and prevent tooth decay.
What are the three strategies educators can use to teach children about good hygiene practices?
Explain Asthma. What are the key symptoms and their action plan?
How should a child with symptoms of an asthma attack be treated?
So, these are some questions that you can practice to provide a better quality of chcece002 answers. Furthermore, our experts have covered each of these questions, which clearly explains their sound knowledge of the course. Moving further, let us move on to the case study that you need to analyze & answer, especially when your professor has provided you with a worksheet that requires CHCECE002 assessment answers while overviewing the case study scenario. 
You may also like: CHCDIV001 Work with Diverse People | 50+ Questions + Answer Writing Techniques
Assessment 2: Case Study 
It can be difficult for many students to read & understand the case study provided in the paper and analyze the answer for the situation-based questions. You can get an idea by reading the below case study samples that what circumstances will be underlined in your CHCECE002 to ensure the health and safety of children assessment.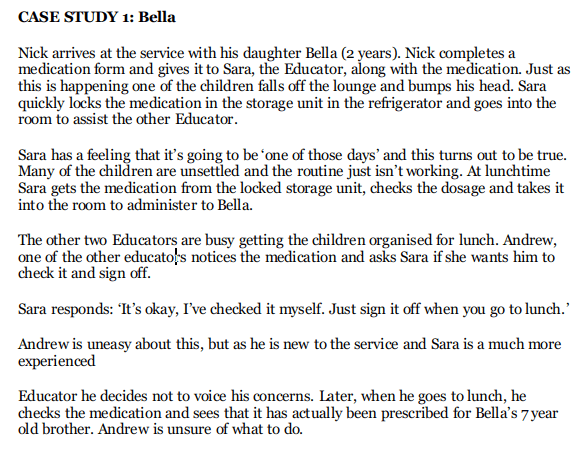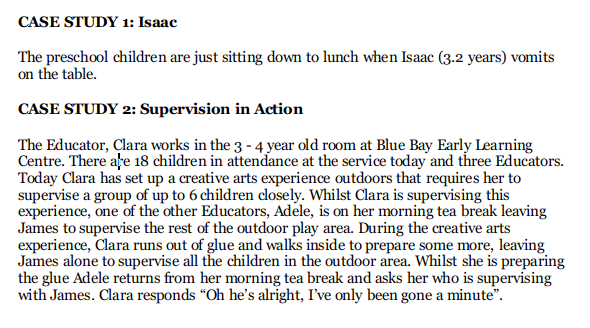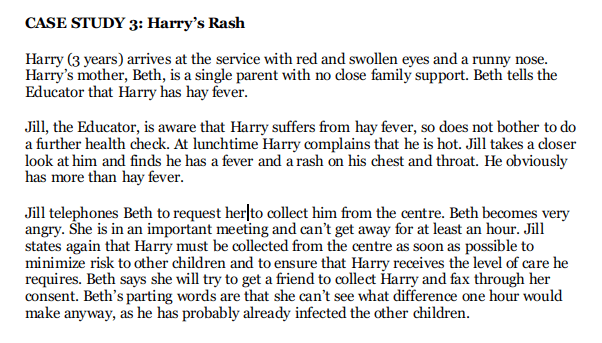 You will be asked some questions related to these case studies for which you need to provide chcece002 answers. Use your critical analysis, problem-solving skills, intellectual skills & knowledge of the unit to answer these questions. It helps the examiner to know how much do you understand the regulations & standards of child care. 
Now, let's look at the research activity and how you need to provide better CHCECE002 assessment answers for this section.
You May Also Like: CHCPRT001 Assessment Answers | Identify & Respond to Children & People at Risk
Assessment 3: Research Activity 1
In this task, you need to answer the questions asked based on the given pictures. You need to observe the image & various actions happening in it to understand the asked questions better and writer high quality chcece002 assessment answers.
You need to look at the images shown and choose the one level of required supervision from the options taking the safety factors into account.
You need to enhance your knowledge & writing skills to answer better. Many students reach our experts as soon as they get academic tasks and asks the experts, "˜Can you do my assignment for me,' & professional writers complete their work by the time. That's why every year, thousands of students seek online help and reach Global Assignment Help for the best assistance. 
Let's elaborate on the features & benefits you can get with our services.
Experts Are Listening! Have doubts about academic writing? Clear all of them in a minute! Call the experts and get your answers immediately! Dial Now!
Contact Us
Searching for Assessment Help? Here's the One-Stop Solution!
We have highly qualified experts who write chcece002 assessment answers for the students' convenience for many years.
You will get high-quality writing with valuable information as our professionals search and find credible resources to collect information. 
You will never face plagiarism or any other kind of penalties, as our experts create every document from scratch to make it unique and 100% original. 
You will get a free Plagiarism report that assures you that our nursing assignment help experts have provided original content. 
Your professor will be impressed by your assessment as the experts will follow the proper format, outline, university guidelines, & other necessary instructions to make it more presentable. 
You will never find better prices than ours as we provide the best assignment help with free unlimited revisions, editing, and proofreading at a cheaper cost. 
So, Why to Wait? Grab the Best Deal Today & Get Higher Grades for your chcece002 assessment answers Sure!
You May Also Like: How to Improve Grammar? [Tips, Ways, & Rules Included]
Lowest price
INR 594.27
Get A+ Within Your Budget!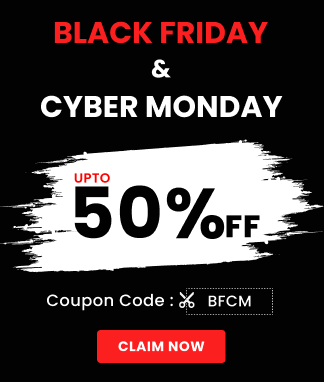 24/7 Customer Support
100% Customer Satisfaction
No Privacy Infringement
Quick Services
Subject Experts
Innovative Documents
FREE Tools
To Make Your Work Original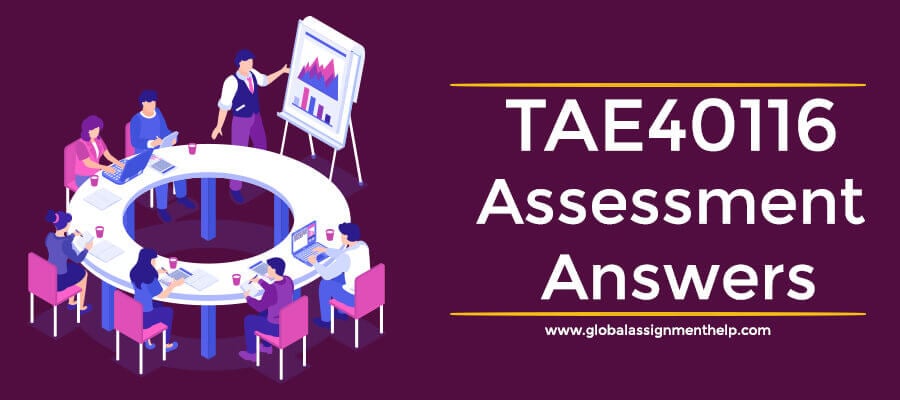 TAE40116 Assessment Answers- Principles | Competency Dimensions | Questions
03-11-2021
2375
10 minutes