INTRODUCTION
Project management is important aspect which is carried by the manager for the purpose of completion of project within given framework of time. It is refers as the activity which includes planning, executing, controlling and closing of the work of teams which are engaged in organisation and performs different functions for the purpose of achieving specific goals within the time period to maintain attractiveness and effectiveness of project. To complete the project successfully required to have an adequate amount of resources such as sufficient number of employees, funds etc. There are many risks are arise while carrying the activities of any project such as lack of support of team, frequent changes in management etc. This project is divided into two parts TASK 1 and TASK 2 (Cleden, 2017).
In the present report, Task 1 includes key characteristics of project, scope statement and role of WBS is such statement, formulation of Gantt chart and critical path, approaches helps in generation of budget and risks which are associated with project along with responses to overcome. In Task 2 explains about different activities which contributes in effective management of project such as time, budget and skills required by project manager.
A+ Grades @Affordable Prices!
We deliver all academic papers from dissertations & assignments to thesis, & case studies. 5000+ satisfied students, you could be next! Place Your Order Now!
Order Now
TASK 1
1. Key characteristics of project of acquisition
The project is related to the acquisition of one company by another. The characteristics of every project is different and depends upon their nature and type. The different characteristics which are associated with performance of this project is defined below:
Clear objectives, goals and scope of project
Client consultation and acceptance
project manager's competence and commitment
project team members competence and commitment
communication and sharing of information with exchange
project plan development
Resource planning
Time management and tight secrecy
Price evaluation and financing scheme
Risk management
2. Scope statement for a project and role of WBS
Scope statement: It is a tool which provides the information about the major aspects which are involved in the process of accomplishing a project. Here, define about key project objectives, key deliverables,key milestones, high level requirements, assumptions and exclusions, known issues and risk and stakeholders review and approval (Kendrick, 2015).
Scope statement for the project of acquisition
Project scope objectives: This will defines about the objectives for which project is designed. It is important for the teams to understand project objectives as it is helps in rationale decision making related to future actions. This will enables the team about compare the current status with original objectives.
The main objective of project is to acquire DEF Ltd. For expanding their business operations in market to earn large number of profits.
Project scope deliverables: It helps to understand about expected outputs gain from the performance of project. Such deliverables are designed in such way that it helps in accomplishment of the desired objectives (Jerbrant and Karrbom Gustavsson, 2013).
The deliverables related to the project of acquisition includes identification of acquisition candidates, analysis of growth in market, assessment of the strategic financial position, valuation, performance of due diligence activities etc.
Project scope milestones: The main milestones of project includes key aspects which are important to achieve in process of acquisition. It helps in effective management of financial costs and project schedules. The key milestones includes attainment of synergy effect through acquisition with other company.
High level requirements: This will includes the description about functions which are performed by project team and manager for completion of specific project.
The functions performed by project manager includes seeking out acquisition is preferable to company, maintain close contacts with top executives, holding of board meeting for their approval, arrangement to conduct general meeting for approval of shareholders etc.
Assumptions and exclusions: These are known as specific disclaimers which are useful in clarify project scope to stakeholders.
Issues and risks: This includes determination of project challenges. The basic challenges which are arise in all projects includes diffuse decision making, no accountability, resource conflicts etc.
Stakeholder review and approval: It is the process where authorisation is taken from all of the stakeholders regarding continuance of project (Patanakul, 2015).
Work break down structure: It is referred to as a key project deliverable which helps to coordinate the work which is performed by the members of team in relation to project. It is also known as segmentation of work according to the objectives of the project which are followed by project team in performance of their functions. This will also provides the information about cost and total period of time to perform different functions of a project. So, its main role is in performance of work with more coordination and its completion within given frame of time.
3. Preparation of Gantt chart and identification of critical path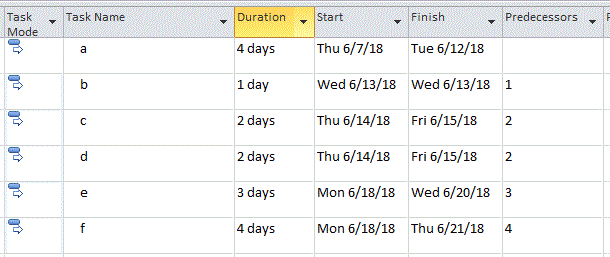 4. Approaches to generate budget for project of acquisition
As per the present project one of the effective budget which helps to determine the actual financial position of organisation is Cash flow budget. This will provides the opportunity regarding assessment of inflow and outflows of cash which are happen in organisation over the period of time. Through this they are able to understand their power of income generation from operational, investing and financial activities. It is effective budget to predicts about the future financial position of organisation to make accurate decisions about acquisition of organisation and their actual valuation.
5. Risk associated with project of acquisition and responses taken to overcome
There are many risks are associated with the process of carrying on project activities. It is the duty of the manager of to oversee the impact of such risks to attain success in procedure of project completion (Zhang, 2013). In the present report, project is related to acquisition of other company. The process of acquisition is friendly where information is provided to other company about their interest of acquisition and offer is provided to the board of DEF. The different types of risks having the possibility to arise in future period of time while conducting the activities related to acquisition are defined below:
Overpaying for deals: One of the basic risk is about actual valuation of company going to acquire n future. If it is not done on effective basis then it it results in loss for organisation turns the impact of acquisition into negative perspectives.
Insufficient operational diligence: This function in process of acquisition is performed by operational team. It is related to such functions which are performed by operation department in process of acquisition.
IT infrastructure capability and transition costs: The costs which are incurred in the process of acquisition is challenge in front of organisation. Also, lack of IT infrastructure makes processes lengthy and time consuming.
Responses to Risk
Risk response planning includes the procedure about assessment of ways which contributes in reduction and elimination of threats and risks which are related with project. It is responsibility upon manager is to remove them before their occurrence (Basu, 2017).
Strategies
Avoid: It includes about elimination of causes to remove threats. For. ex., appointment of valuation expert to remove threat of overvaluation.
Mitigate: Some risks are of such nature which cannot be avoided but through some efforts their negative impact is reduced. For ex., application of approaches to reduce cultural issues and higher involvement of employees.
6. Introduction of quality methods to complete project successfully
There are two methods which helps in improvement of overall quality of project through removal of risks and completion on time. Both these methods are known as project evaluation and monitoring and controlling.
Project evaluation: It is the process which is performed by manager after completion of whole project activities. This includes the process about collection, recording and organising information regarding project results, short term and long term outputs. Through such interpretation of project issues are identified at the end ad corrective measures are taken to recover from them (Motoyama and Fong, A., Ricoh Co Ltd, 2012).
Monitoring and controlling: It is the process which performs continuously parallel to the activities of project. The main importance of this method is that it helps in determination of issues at the time of arrival and performance of functions and its removal at that time helps to attain desired end results.
In the present report, Monitoring and controlling is best method to apply while carrying acquisition process as there are lots of possible chances of mistakes and threats regarding valuation and lack of operational diligence which impacts whole process and increases cost and time attached with project.
TASK 2
1. Overview
John is senior employee of food and drinks retailer company. The company is recognised as ABC plc which provides their function in UK. The management of organisation is decided to acquire DEF Ltd. Which is high street frozen food retailer and having their outlets in many towns of UK. The present acquisition is friendly in nature because proper is provided to to the board of DEF Ltd.
Mainly ABC Ltd. Takes the support of external advisors in the process of merger and acquisition which are successful in nature also. But now the management of organisation is having the aim about taking of in house expertise for reduction of cost involved in merger and acquisition. In this regard, senior project management of organisation approached to John for the post of project manager of acquisition (.Turkulainen, Ruuska Brady and et. al., 2015). John is responsible for the performance of all functions regarding planning, execution and implementation of the project aspects in real scenario.
2. Activities required to successfully manage a project
The project is related to the acquisition of DEF Ltd. By the ABC plc through providence of friendly offer to their board of directors. But the activities related to the project management are common where more emphasis is provide on functioning that should be on time and cost which are assigned for completion of particular purpose. It is an obligation upon project manager of company is to perform these activities effectively for achievement of desired targets. The different form of activities related to the management of project are defined below:
Project management procedures
Evaluation of project management procedures up front: This will includes about outlining of resources which are helpful in management of whole project in sufficient manner. Here, emphasis is provided on on the aspect that how team members manage issues, changes in scope, quality, communication etc. Having the knowledge regarding all these aspects helps in management of project rigorously and proactively.
Manage the work-plan and and monitoring the schedule and budget: After planning of project sufficiently time has come up regarding execution of work in most appropriate manner. The work plan and management procedures are in place the challenges which are faced are related to effective execution of plans and processes correctly. To make it successful and performed as per planned guidelines need to apply skills (van Offenbeek and Vos, 2016).
Firstly, includes review of work plan on continuous basis to ensure that every activity of project is completed within the time which is scheduled in budget and within the costs which are fixed.
Determination of activities which are completed in past period of time and regular updation on work-plan to depicts as they are finished. This will also includes about the determination of the activities which needed to be completed but not completed yet. After updation it is easy to determine that project is completed or not within original decided period of time, cost and efforts.
Monitor the budget: It includes determination of the amount which is actually spend or consumed. This will provides the opportunity to the manager is to assess that amount which is spend is within the limit of standards or not. It helps in preparation of strategies which contributes in completion of remaining work within original budget.
Look for warning signs: There are many signs which helps the project manager to understand about situations of trouble. Such different signs are defined below:
Small difference in timings and cost gets bigger in future if not appropriate actions are taken at early stage.
Need to prepare about the fact that working on overtime is also required to finish the deadlines on time.
Need to oversee quality control steps, testing activities to identify any issues persist in such procedures and remove them for completion of work correctly (Browning, 2014).
Managing Risk: Determination of risks up front: At the time of planning work, project team identifies the risks which are associated with the performance of project. In this regard, manager has the responsibility is to determine probability of occurrence of each risk and their impact upon process of carrying project. The events which are attached with high risks required to adopt specific approaches to mitigate them. Medium risks are managed by the project manager proactively and low risks are identified as assumption that there is much more possibility of occurrence of positive outcome rather than risk.
Continue to assess potential risks throughout the project: It is important to perform risk assessment activities at regular intervals to evaluate the risks and removal of their negative impacts to attain positive outcome.
Resolve issues quickly: It is refers as the process where many steps are taken by the project manager to address all the challenges which are identified above and resolve it as fast as they can to get the optimum results. Otherwise, this will delays the whole process of project (Cavaleri, Firestone and Reed, 2012).
3. Skills and Competencies required by Project manager
There is huge role is played by the skills and competencies of project manager to complete the project successfully. In the present report, project is related to the acquisition of DEF Ltd. In this regard, ABC plc is appoints John as project managers and under his supervision project team is working to accomplish their goals and targets. There are many aspects which should be completed effectively with the help of skills and competencies of project manager. Such different types of skills and competencies are defined below:
Communication: This skill is important regarding defining of the goals and responsibilities to each member of the project team. It is observed that 90% of the time of project manager is spent on communicating with each other to effectively convey their vision, ideas, goals and issues (Polonsky and Waller, 2014). This will helps in directing the team members in right direction towards the accomplishment of the objectives of particular project. It helps the project manager of ABC plc is effectively provide the information about procedures which are required to follow while acquiring other organisation.
Leadership: It is effective skill which provides that if manager has leadership skills than able to deliver the positive outcomes. To develop leadership skills project manager is required to have adequate information and knowledge related to project. This will provides helps is to guide the team members from front and handle the issues and mistakes which arise in process of working. In this report, John project manager of acquisition required to handle the typical procedures and issues from themselves to direct their team members about how to handle situation in future (Motoyama and Fong, A., Ricoh Co Ltd, 2014).
Team management: It is important skill need to have by every project manager. Leading of team members from strategic point of view is not sufficient but also need to provide emphasis on their management from operational point of view. In this regard, team manager is required to have the skills about coordinating group of members through promoting teamwork, effective delegation of task, resolving conflicts, setting goals and evaluation of performance. This skill helps John to manage their team effectively to acquire the organisation within stipulated period of time.
Risk management: Any project which is started in the organisation is associated with many challenges and risks. It is an obligation upon project manager is to effectively adopt the strategies which helps in elimination of risks. Here, includes prediction and creation of solutions before arrival of issue which contributes in improvement of the chances of delivering of project with high success rate. In the present report, there are many risks are arise in process of acquisition which are known as overvaluation, lack of operational diligence etc. This can be overcomes effectively through applying the skill of risk management.
4. Project management process
Project management is a functional procedure that is used to build effective connection between all project activities. For this manager of a firm needs to analyse different types of elements to manage all procedure in proper way.
Project initiation – In this process manager of ABC Ltd requires to analyse proper acquiring procedure, its advantages as well as disadvantages.
Project planning – In this step, manager make a effective plan to implement their ideas properly in a project management procedure.
Project execution – In this process, manager apply their planning and strategies in management process to getting desired outcomes easily.
Control and validation -This step uses for monitoring and controlling inappropriate activities of planning process.
Evaluation – It is the last step in which manager of ABC limited requires to evaluate effectiveness of their project management and acquiring procedure.
Experts Are Listening!
Have doubts about academic writing? Clear all of them in a minute! Call the experts and get your answers immediately! Dial Now!Contact Us
You May Like This: The Idea of Global Citizenship
5. Project life cycle stages
Project life cycle stages – For successfully implement a project in business, it is requires to going through proper methods and stages as well. These can be -
The Conceptualization Phase – This is a initial stage of a project planning in which management of organisation requires to make effective strategy to getting desirable success easily.
The Planning Phase – In this process, manager of firm analyse their target goals and objectives to accomplish them through effective manner.
The Execution Phase – In this phase, manager and management of firm execute their planning and strategies to getting higher success (Hass, 2017.).
The Termination Phase – This is last stage in which manager get last report of their project and its management procedure.
CONCLUSION
As per the above report it has been summarised that an organisation requires to implement successful management process through different type of activities. For this they needs to manage all the things properly as time, budget, employee's skill and resources. Through this they can easily getting higher competitive advantages. Some other approaches can be Skill and competencies, Project management and risk management approaches.