Question :
The assessment will cover following questions:
Explain the processes involved in new product or service development in Tesco.
Evaluate the life-cycle stage of the products or services in a company's portfolio and explain whether innovation, adaptation or renovation are needed for the individual products or services.
Design and develop and pitch a new/renovated product or service in the Tesco company.
Generate an ability to critically reflect on the skills of team working, creative development and presentation.
Answer :
Organization Selected :
Tesco
INTRODUCTION
Careful market planning is essential to create successful product strategy. The main goal of service design is to build a holistic comprehension about the perspective of various stakeholders (Charter and Tischner, 2017). Thus, product development can be termed out as bringing modification in existing product or entirely come up with new a commodity. With help of developing innovative products and services firm is able to gain higher position in market.
The present report is based on business activities of Tesco, UK, it is global leading brand and engaged in retail sector. Thus, quoted firm is planning to come up with dietary food product in market by targetting the health conscious customers. In addition to it, assignment has to look over topics as process involved in development of product and service, life cycle stage of comStudents Also like to Read:modity, appropriate product line management choice etc.
TASK 1
P1 Description on process involved in development of product and service and levels of customer integration.
The creation of product with new and different characteristics to offer the new and additional benefits to customers, It is process that works as to bring modification in existing commodities and services.
Level of customer integration in product and service development marketing
Customer integration approaches is one of the most typical function. Therefore, lack of critical assessment of the use of individual customers roles by industry. In addition to it, well recognised customer integration has positive impact over success of the enterprise. It is one of essential component that relates to their relation with management (Bustinza and et.al., 2017). It also allows the customer to process their own transaction and to have direct contract with the organization. It is one of effective technique that helps to business enterprise in substantial saving on human resources. In this way, effective customer integration will be consist of following factors as are-
To bring improvement in communication with customers.
It supports to enhance tracking of customer and prospective customers.
The effective process as it assist to bring improvement in communication with customers.
This is effective process as it helps to increase focus of business.
It provides more improved and target marketing process.
Hence, it is crucial process as when the entities uses to practising customer integration it helps to communicated the customer centric mind set. In addition to it, customer centric approach helps the enterprise with obtaining and maintaining positive image in the marketplace. The Tesco is global leading brand and it works as to bring number of modification in the product and services, with help of it they can able to build strong relation and they timely notify about the new commodities.
Product service systems works as to represent the business with potential to wide range of economic, environmental and social benefits (MIZANBEKOVA and et.al., 2017). The innovation helps to grab the attention of customers and it also supports to enhance profitability and productivity to the firm. In addition to it, the effective product and services works as to bring long term sustainability to firm operation. Thus, process of new product development as are-
Idea generation- It is initial stage, at this individual has to come up with the brainstorming and innovative ideas. This can be done with help of accessing the needs and wants of customers. For example- Tesco uses to listening the suggestion from the target audience in regard to current product strength and weaknesses. This are must be done in order to identify the needs and wants of customers.
Idea evaluation- under it, this is essential to filtering out with any idea that is not worth taking forward. Thus, Teco is planning to introduce diet commodity in market The each idea must be carefully evaluated that is worth pursuing. It is stage at which one idea is need to be selected among the several. For example- Tesco focuses over few questions as is it essential to introduce new product or existing market network sell the new commodity or at what time new product break even. This all things are needed to be considered else the idea of new product development can be rejected.
Market evaluation- It is stage in which feedback from customer is need to obtain in terms of things as via email, phones calls. For instance- Tesco done it with help of selecting the small group of customers and they provided the whole information about the product. They will ask several questions as whether the consumer understand the product idea or not, is customers need the new commodity or not ? This is need to get done in order to find out the reactions of customer towards the new product in market.
Marketing strategy development- At these stages, it is essential to focus over things as target market, product positioning, sales and market share. Thus, planning is need to be done effective manner so it possible to get the success (Tukker and Tischner, 2017). It helps to forecast the demand, cost and profit margin. For example- Tesco done business analysis in order to find out the commercial profitability of new commodity in market. Thus, several questions will be focused as what will be the cost of product, any competitors for new commodity and total sales of new product etc.
Product development- It is one of crucial stage in new product and service development. This term supports to identify the key perception, user needs and wants with regard to particular product in the market. For example- At this step, Tecso directs its marketing department for making plan to produce product in market and finance department arrange funds to introduce the product and advertisement department make plan to advertise new product in market.
Market testing- In this, modifications are needed to bring in terms of product and services after having effective evaluation on the part of customers. In addition to it, this can be said that small launch will be beneficial to be done before official launch of product and services. For example- At this, if Tesco finds out that product gets fail at test marketing they they also come to know the reason of failure. With the help of making the changes the product again use to introduce in small market.
Application of product in market- In this, it is essential to evaluate that how many products are based on market testing and demand of commodity in market. At this stage, Tesco can also face the high cost of manufacturing, advertising and promotion. It also depends over the ability of the enterprise to bear the risk and reach of its distribution network in the market. Lastly, it can be said that new product develop is essential for having long term sustainability in market. For example- Tesco takes initiatives to advertise the new commodity on the mass media like TV, radio, newspaper and Magazines etc. This kind of things are helpful in order to introduce the new product in market.
Experts Are Listening!
Have doubts about academic writing? Clear all of them in a minute! Call the experts and get your answers immediately! Dial Now!Contact Us
Concept development stages:
Convenience: The development of the product line which are required to be base on analysing the market as well as desires of consumers.
Usability: It must emphasis on the value or usability of the product with reference to bring adequate satisfaction among them.
Quality: For mitigating the operating losses firm used to reduce the costs implied in the production. Therefore, with reciprocally reduces the quality of the product. It must be considered by producer to manage quality.
Performance: There is necessity of meeting the appropriate operational level of the business. Therefore, overcoming with the loopholes and issues will be effective with respect to design products as per the requirements as well as enhance performance of Tesco
price: To develop the product in market which is required to be initiate the operation on the convening prices for the consumers.
Experience: On the basis of market survey and analysis the producer will become able to analyse consumer requirements and make effective strategies.
Concept testing stages:
Conducting a cognitive interview
Presenting a small pretest questionnaires
Estimation of the measurement quality of questionnaires
Prediction of measurement quality of questions
P2 Application to development of specific organisational product and service.
The Tesco takes various initiatives in terms to design, manager and improve process in terms to products so it is possible to increasing the value for the customer and other stakeholders. It is key framework that helps to maintain, develop and improve performance of the enterprise within the periodical manner. Thus, key stages to application of product and services development-
In this, the Tesco has generated the idea to come up with the innovative product line as Healthy diet to customers. The Tesco will apply the process of new product development at the time of introducing the healthy organic product in market and it is basically for the health conscious customers. IN the fisrt stage they will work as to identify the needs and wants of customer and will make the changes accordingly. This will be helpful in order build and enhance competitive advantage in market. It will work as to identify the products and services of competitors and it will help to firm to expand their business function in the best possible manner. The Tesco brings innovative products line as healthy food products in order to build the competitive advantage from other in producer in market. This kind of the activities will lead to enhance customer satisfaction as number of customer in market are health sensitive these days. In this, the managers of Tesco will work as to take the feedback from customers about making evaluation in innovative product line so that if there is any deviation then it can be sorted. In this, the Tesco has to adopt the innovative marketing strategy by selecting the adults and middle age person by aware the health benefits of the healthy products. In the present scenario, the adults are facing the obesity issues and this all affecting the health of the individuals in better mode.
After taking evaluation by the Tesco managers they can able to bring changes in the products and to introduce healthy and innovative product in market This kind of activities will help to build satisfactory image in eyes of person. In this, Tesco will work as to bring modification so with help of it they can able to satisfy the customer. The tasteful healthy products will help to bring competitive advantage in market. Thus, in order to have better product development in market Tesco needs to take advertisement of their commodities in market so that process of marketing can be done in better mode.
Minimising the risk of new product failure-
Under this, there are five product characteristics that influence how attitudes is need to be carried out for new product and development in following manner as are-
Relative advantage- Under it, consumer sees the certain attributes towards new product and service to be better than the attributes of similar existing products. Thus, features of product is based on perception of consumer (Laso and et.al., 2017). In addition to it, the potential customers are curious to know that how innovation helps to improvise the current situation.
Compatibility- In this, potential customers analyse that innovation made in products are compatible or not in their life style. Thus, innovative approaches lead to bring greater advantage when consumer adopts the product in seamlessly manner.
Thus, Tesco is taking various initiatives to bring innovation in products design so it helps to maintain high level of compatibility with potential users.
Complexity VS. Simplicity- The operation team of Tesco should design the commodities with simplicity in mind. In addition to it, the complex innovation act negatively towards getting success in market. Furthermore, intuitive innovation will be adopted by the number of potential customers.
Trial-ability- It is critical step although it helps to facilitate the adoption of an innovation. The manager of Tesco need to provide test drive of innovative commodities to the customers that must be of maximum 30 days. During this period user will get to know about the durability of the products.
Observability- It is initial step and uses at time top launch product and service in market for the first time for word to see. At this stage, potential customers can observe the beneficial aspect of product. If innovative commodity is highly visible than it drives more to share it and enhance the likelihood of mass adoption. The positive impact over potential adopters towards product can be termed out as observability.
Product mix
Branding: To attract the large number of consumers as well as creating the unique identity in the market there will be requirement of introducing the brand name along with this. Thus, Tesco must introduce the new product as per giving it a unique identity.
Packaging: There must be proper packing of the product which must be protected from the damages, external environmental affects as well as resistance with the climate change.
Labelling: There must be proper presentation of information behind the product. Which must be consist of used ingredients, price, date of manufacturing as well as details regarding the manufacture of the product.
M1 Demonstrating the justified application of processes of products or service development
There has been implication of various stages which are required to be considered by professionals of Tesco which context of developing commodities in market. Therefore, it comprised of proper market research and analysis based on consumer wants, needs and demands from a retail organisation. On the basis of using such techniques implicated by researchers in developing product is reliable and relevant with creating a unique identity in the market. Along with this, it can be sad that, they must implicate proper promotional methods which will bring profitable returns from market.
D1 Articulating the pitch defines decision making methods throughout development process, market launch and distribution of Product
Developing process is consisted of various stages and activities that are required to be followed by the professionals of Tesco. Thus, in relation with this, it is necessary that each of the stages must have proper decision-making techniques. Along with this, there will be appropriate increment in the decision-making work practices which will assist and governs the business in making qualitative analysis over implicated practices.
Students Also like to Read: Innovation and Commercialization - Amazon Go
TASK 2
P3 Define life cycle stage of products and services as per company portfolio.
At times, when firm introduce new product in market it processes through a sequence of stages from introduction to growth, maturity and decline. It is plays vital role in terms to marketing strategy. Thus, life stage of product can be defined in following manner as are-
Introduction- The profits are low at this stage because the things as research and development, production and marketing cost are high (Charter and Tischner, 2017.). The main goal of Tesco at this stage is to enhance the awareness of products in the mind of customers.
Growth stage- The next phase of product and service life cycle is growth stage, at this product starts to sell at a faster rate. Thus, sales of the commodities increase the demand of the products. At this level, potential buyers increasingly aware about the product through word of mouth. The capabilities of the products are recognizable to the public and has matured enough to sell in the market.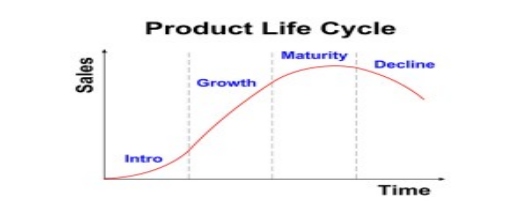 Maturity- sales of the products may continuous to increase or level off. Generally, at this stage demand tends to increase and commodities can be sold so it is possible to build great advantage. In this stage, product become popular and ready to compete with existing product in the market. Thus,Tesco also becomes capable to gain the market share and firm is able to get the competitive advantage.
Decline- It is phase at time which the commodities' comes to the saturation period. After becoming the popular in the market, the price of such commodity tends to increase. Therefore, the number of sales towards the commodities tends to be decline (Bustinza and et.al., 2017). At this stage, a specific decision is needed to be taken that whether to continue grow with the product in terms to the significant changes or to move other products in altogether manner.
However, in accordance with the four products of Tesco which have been examined as per considering the life cycle stages such as:
| | | | | |
| --- | --- | --- | --- | --- |
| Basis | Household Products | Clothing | Financial services | Telecom |
| Sales | Sales are low | Sales to commodities are continually increasing. | Sales are at peak | Sales are falling |
| Cost per customer | High | Profit is high due to there is Growth stage | Cost per customer is lowest | Decline |
| Financial losses | Rate of investment is not has been covered yet. | Profitability is rising. | Profit is high | Falling |
| Customer base | Innovators are buying and using the commodity. | Customer number are increasing. | Decline | Customer based is reducing. |
| Competitors | Large competitors exist within market | Decline | Growth stage | Maturity |
| Market growth | Maturity | Growth stage | Introduction | Decline |
| Product strategies | Needs to bring more offers relevant with discounting the products which will be attractive to consumers in improving the revenue to the firm. | There is need of introducing various clothing brands, current trend and fashion as per analysing the consumer requirements. Therefore, it will result in improving the sales revenue to Tesco. | There must be consideration reducing the interest rates on the borrowings that will help Tesco Banking services in terms of attracting the large numbers of investors. | Requirement of forming strategies which will be effective in terms of mitigating the competition as well as improving number of consumers. |
The marketing mix of innovative healthy food products by Tesco as-
Product- in this, the Tesco has decided to bring health product line to the customer so that they can have better nutrition in their daily diet. They have taken the initiatives with help of which they can being modification in the product and services.
Price- In this, the price decision can affect the each and every process. Thus, Tesco is taking various steps in order to develop product line as health diet and to provide product in affordable price with quality in commodities.
Promotion- In this, the Tesco will work as to promote the new product line with help of things as social media tool, online articles, marketing approaches etc. This is need to be done in order to target the audience so that there can be possibilities in terms to enhance customer demands.
Place- In the Morden scenario, the customers are engaged and they all are converted on the internet. The Tesco will take the online approach so tat they can easily attract the customers with the new product line.
People also like to read - New Product or Service Development Process in Tesco
P4 Evaluation on appropriate product line management choices for individual product and service.
Product line management has been successfully designed for manufacturing industries. The main purpose of product line management is to focussing on the programmatic scope of operations in order to achieve particular objectives (Cai and Chen, 2017). This management structured the proper format in order to ensure the appropriate operation management task. Test of time is important to be evaluate the product line management to increasing product line management efficiency. This helps to make individual product or services more productive and efficient management. It helps to gain clarity on your & marketing strategy, it is imperative for sales and marketing to articulate an integrated strategy that clearly identifies the product portfolio. Besides, it also helps to gain understanding level that how sales and marketing strategy is converted to units.
It also helps to determine the strategies to offer substitution alternatives to customers. Identify the opportunities to reprise products that do not have alternatives to lower produced unit costs. Basically, product line management is the overall structure and leading goals and major objective goal (Nagle and Müller, 2017). Product line management is the process of contribution the better advancement goals. Customer always selects the product that will be given satisfaction level as per the cost or quality. It helps to define the better-quality services and goals in order to meet the goals and better target processes goals. Right product choices for an individual basically based on effective requirements. Every customer take decision of purchasing on the basis of company image, quality or risk performance task. In order to attract the customer attraction, Tesco offers some product or services in order to develop the customer attraction and effective goals. Along with that, it helps to recover the better advancing goals and effective matter of fact. Such as Tesco enhance the services or goods of their outlets to make the better transformation goals (Nagle and Müller, 2017).
In order to build up the long-term goals and makes the best possible action plan. Apart from that, product specification and required better transformation goals. In order to develop product line management. It helps to develop the better goals and give the longest performing goals to the company. Overall, effective product task is more productive and effective marketing activity to attract customer integration process goals. Apart from that, it also helps to compete with competitive market.
In order to take decision into their best product line management. It helps to take the better growth in order to meet the client satisfaction and long lasting effects. Product line extensions is the best opportunity for Tesco to develop new effective growth in order to meet out the customer needs and growth. Product line extension will help Tesco to develop market or customer reach towards the growth opportunity.
Product line expansion: This is the first product line management choice, In which company add new item within the same product line category. This helps to stretch the down market or to give some new taste to the customers in better way. Such as Tesco can add some new flavours of ice creams instead of Neapolitan ice cream. In order to enhance the sales of Household products, the firm needs to undergo with innovation process so that commodities can be manufactured effectively. By adding taste to household commodities, entity can able to undertake the operations in better mode.
Product line Reposition: Product repositioning is the long-term process where company also make changes in their target customers. This situation has been occurred due to failure of existing product in the market. For example: Tesco needs to change their mobile phones services and introduce some new product line to maintained the market stability growth. To enhance the selling of clothing in Tesco, they need to target the customers as child, adulthood and adults. By making changes in products varieties the entity can able to enhance its operations.
Product line contraction: Due to many choices company should make changes accordingly to retain the customer interest. For that, Tesco also need to make product alive in the market. For this company can use product line contraction product management choice in which they required to make some productive change in the existing products. For example: in clothing segment Tesco needs to introduce some new latest style. Therefore, Tesco can undertake the commodities that aids to have expansion in commodities. By having productive changes in product the firm can undertake its operation effectively.
Cost reductions: in this product management choice company enhance their profit by reducing cost of the product. In this situation company only focused on the profit rather than quality of the product. Mainly this situation occurs when the demand of the product is high in the market. In this, the price of the Telecom services needs to be reduced as there is wide range of competition avail in market. It will aid to enhance the growth of the enterprise.
Discontinuous innovations: This choice of product line management refers to stop making those products which not been given profit to the company from long time. If Tesco wants to stop any of their product they can adopt this choice of product management. If the clothing of Tesco do not have demand in market then the firm needs to discontinue the innovation process.
As per the above described line management choices company needs to adopt product line expansion to grab the customer attraction or increase faith on the company image. It might be enhance the company market share and best opportunity for the company growth as well. It helps to build loyal customer base and better new developing goals and idea. It upgrade existing expertise and maintained retailer relationship as well.
M2 Evaluating the material synthesised from a range of validated sources
To develop a product and creating the unique identity in the market, Tesco have been suggested to improve the supplying chain as well as distributional channels. Along with this, launching a product will require adequate determination of reliable sources for gathering proper raw material and relevant resources. Along with this, this project will require proper amount of funds applicable to business which in turn will be useful and appropriate in managing business goals. Thus, the entity must undergo with the product expansion strategy so that they have enhancement in the services and it will lead to enhance profitability and productivity