Introduction
Personality is important for all individuals because it assists in the formation of distinct identity from entire crowd. In present competitive era, different skills and aptitudes are required by organization which are tied to the personality (Block, 2010). With these skills individual are able to provide effective performance in both corporate and sport field. Present study is based on the description of 5 major personality traits which are predictors of sporting performance. Further, description will be provided regarding ideas of published psychologists for better understanding of this concept.
Part one
In accordance with the various contemporary personality psychologists, mainly there are 5 basic dimensions of the personality which are considered as "Big 5" personality traits. These traits are neuroticism, openness, conscientiousness, extravension and agreeableness. This theory is growing over past fifty years. The initiative of this theory was taken by D. W. Fiske (1949) and later it expanded by Noman and Smith (1967), Golberg (1981) and McCrae & Costa (1987). Further, there is significant body of literature supporting this model of five factors. However, all researchers are not agreed at exact labels but generally these five categories are described as follows-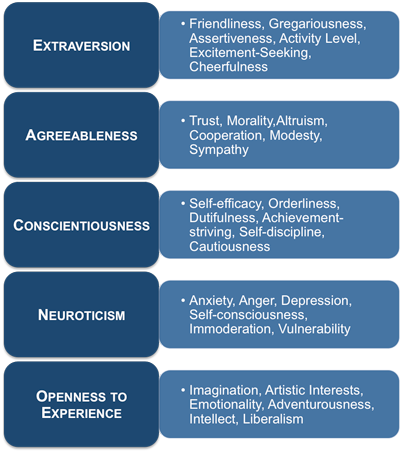 Extraversion- This trait is generally comprised of features such as high amounts of emotional expressiveness, sociability, talkativeness, excitability and assertiveness. By making use of these skills sports person are able to develop good teamwork and understanding among them.
Agreeableness- In this personality trait, attributes are covered such as kindness, affection, trust, affection and other personal behaviors. This trait affects the behavior of sportsperson towards their team, competitive team, and mentors.
Conscientiousness- General characteristics of this dimension is high thinking, effective control of impulse behavior and attitude to achieve goals and objectives (Piekkola, 2011). Sportsperson who have a trait of conscientiousness are considered to be mindful and are tended to be organized.
Neuroticism- This trait is applicable to the individuals who have instability in their emotions, sadness, fussiness, anxiety and moodiness. These characteristics adversely affect sporting performance of the individual because they are not able to make right decision.
Openness- Characteristics of this trait is insight and imagination. This trait provide ability to promote innovative aspects to the traditional and rigid practices for better productivity and profitability in their performance
Part two
Link between Theory of Big 5 and the role of personality in determining behavior
The behavior of employee is highly influenced by personality traits. This statement can be supported by the theory of Big 5. In accordance with this approach, interaction is involved by the behavior of a sports person by considering their underlying personality and situational variables. For example, a person with the extravension trait will be more interactive in comparison to individuals having characteristics of neuroticism (Fairweather, 2012). They will be able to provide good performance because they are able to express. This aspect will provide positive change in their attitude and personality. In this aspect, David Buss has stated that personality dimensions are universal and they also have biological origins. In addition to this, stated personality traits in this model represent the valuable qualities that shape the social landscape.
Limitations of this research
In accordance with the viewpoint of Jack Block, propose model of Big 5 is subjected to the considerable scrutiny. It is because, it has limited scope in context of predictive theory. In addition to this, it has also argued these traits only cover 56% of the normal personality. As per the study of Piekkola (2011), this approach is not supported by any theoretical concept as it is merely data driven. Furthermore, there are certain descriptors that create cluster in analytical procedures (Piekkola, 2011).
Want to Hire Expert Writers?
Writing different academic papers can get puzzling at times. Reach out to the best writers of Global Assignment Help and ask for assistance with all types of essays, assignments, reports & more!
Order Now
Measures of this model are seems to be consistent in self descriptions, interviews and observations. Along with this, formed structure by this model can be noticed at different ages and cultures. However, trait of genotypic temperament might not be appeared across different cultures. It is because of the expression of phenotypic in personality traits (Big Five Personality Dimensions 2015). This expression differs profoundly crosswise in social and cultural norms in form of function of the different experiential learning and socio-cultural conditioning which takes place inside the different cultural settings.
Arguments for and against the Big 5 as predictors of present research
Big 5 model can be defined as set of clinical practices and theoretical assumptions which is mainly emphasized on the five core areas of human personality i.e. agreeableness, extraversion, openness, conscientiousness and neuroticism. For this aspect, approach of Big 5 is comprises of scheme for diagnosis and assessment in order to assist individuals in their personal development. In order to achieve their objective, this model is based on the numerous personality profile questionnaires and career aptitude assessments.
Various psychologists are in favor of applicability of this model for the personality development. It is because, this model can provide accurate prediction of human behavior over a period of time. From period of 1940 to 1980, various researchers were able make independent verification of predictive accuracy of this model. Along with this, Big 5 model is also able to make accurate identification of correlated personality traits (Fairweather, 2012). This aspect can be noticed by considering viewpoint of U.S. Air Force psychologists. By using this model they made strong correlation among the factors of dependability, emotional stability and agreeableness in 1961.
Despite of above described advantages this model is still criticized by various psychologists. They had provided arguments against of this model because human behavior is affected by various aspects. It cannot be developed solely by considering personality factors. Along with this, major limitation of this model is its wide universalism. This model does not provide assistance to the particular personality expression such as gender, age, culture and race (Block, 2010). In this aspect, argument is also provided by Feminist psychologist such as Carol Gilligan. According to her viewpoint, personality traits of women are different to the men is aspect of extraventsion, openness and other similar personality traits. Due to this aspect, she had criticized this model as normalizing experience of men with women while simulation of marginalizing.
Quality of evidence
By considering above described aspect, it can be noticed that there are various strengths and weaknesses of Big 5 model. This model describes human behavior by considering major personality traits. On the basis of model judgment can be provided regarding personality of individuals. In accordance with the study of McCrae, Big 5 traits are remarkably universal. It is because, study was conducted y considering individuals from more than 50 different cultures. From the outcome of the study it was concluded that five dimensions could be accurately used for description of personality (McCrae, Terracciano and Members of the Personality Profiles of Cultures Project, 2005). However, this model is not effective in certain situation such as comparison of male and female personality. In addition to this, this model does not support specific factors such as age and gender.
Conceptual arguments
In respect of this model, it can be said that Big 5 can provide accurate outcome in all circumstances. It is because of factors such as situationism and interactionism. With the change in situation, individual does not act with their normal attitude and as a consequence their personality traits may variate. In addition to this, as per sociology of interactionism, perspective of individual may differ in social processes such as cooperation, identity formation and conflicts. Situations interact and traits influence behavior of the individual due to difference in interpretation of event occurring in the world around them.
Also Read:
Reflection of Study Skill Which Dazzles Personality of a Person
Essay Writing Services Uncovered: Separating Fact from Fiction
Conclusion
In accordance with the present study, conclusion can be drawn that personality plays important role in determination of human behavior. Although it is not sole factor that affect the behavior of person as other factor such as situations, ethnic aspects etc also contribute in this aspect. Further, Big 5 model is a good predictor of the sporting performance of individual. It is because, it covers major personality traits which defines behavior of person. However, this model is not conclusive due to its several limitations.
References
Block, J., 2010. The Five-Factor framing of personality and beyond: Some ruminations. Psychological Inquiry.
Buss, D. M., 1995. Evolutionary psychology: A new paradigm for psychological science. Psychological Inquiry.
Fairweather, J., 2012. Personality, nations, and innovation: Relationships between personality traits and national innovation scores. Cross-Cultural Research: The Journal of Comparative Social Science.
McCrae, R. R., Terracciano, A. and Members of the Personality Profiles of Cultures Project, 2005. Universal features of personality traits from the observer's perspective: Data from 50 different cultures. Journal of Personality and Social Psychology.
Piekkola, B., 2011. Traits across cultures: A neo-Allportian perspective. Journal of Theoretical and Philosophical Psychology.