Question :
This assessment will cover following questions:
Explain to what extent the operations of Starbucks are shaped and influenced by management of its supply chain, and its contribution to organisational performance
Discuss the global operations strategy adopted by Starbucks.
What is required for the effective functioning of that are of Starbucks' operations.
Answer :
Organization Selected :
Starbucks
Part A
Four Vs analysis
Four Vs of Starbucks
The four Vs is basically the framework which helps the organizations to have a consistent operations within their organization and thus consist of four Vs which are
Volume
Volume is basically the quantity of products in which they are being produced. In short, it defines that how much quantity of a product would be required in order to satisfy the needs as well as demands of the customers. The volume of the products is generally key to the business of Starbucks and is essential for their business. Starbucks is generally known for high volume and low cost coffee as well as fast food production (Wirtz and Zeithaml, 2018).
Variety
Variety is generally the variety and types of goods as well as services which are being produced by the organizations and sold in market. Starbucks generally provides a range of products to their customers ranging from simple coffee and tea to different types of fast foods. Besides this, their services also varies from customer to customer (Dharamdass and Fernando, 2018).
Variations
Variation is basically the extent to which the demands and needs of different stakeholders changes with time because of external factors. For example- due to change in the weather conditions demands of customers for food items fluctuates like in high temperature and summers, customers generally prefer cold coffee thus Starbucks have a variety of items in its menu as per these changing demands.
Visibility
It is predominately the ability of customers to track the experience and conveniently order via well-through operation process (Campbell, Jardine and McGlynn, 2016). Starbucks have incorporated a high degree of visibility in its operation process where the customers can easily track the purchased product through their tracking application. Besides this, Starbucks have a separate tracking system where they track the raw material and different suppliers for smooth delivery.
Greggs four Vs
Volume
Greggs remain cautious and consistent when it comes to the volume of products. The volume of the products which Greggs produces in its bakery mainly depends on the needs and demands of the customers. Greggs remain concerned of its inventory level where it avoids producing a bulk quantity of bakery products. Instead it precisely analyse the demands of the customers and hence produces a moderate volume (Thürer and et.al.,2018).
Variety
As variety is defined in terms of the kinds of product and services thus Greggs offers a variety of items to its customers ranging from sausage rolls to soup. Although it offers a range of bakery products to its customers but all of them relates to a single product line which is the bread based items and hence have not changed its product line from ages.
Variations
Variation mainly relates to the change in demand with time thus Greggs is highly recognized for its high adaptivity to the changing environment. Since its establishment, Greggs has been adapting to the changing demands of the customers due to external factors and thus provides them entice them through this (Martyn and Anderson, 2018). Like for the autumn season, customers mainly wants hot soups thus Greggs in 2015, started serving chicken curry soup for autumn.
Visibility
Greggs have developed its own application where the customers can easily track their order and see the live status in order to ensure smooth and convenient delivery. Besides this, the employees employed at the outlet are highly employed to make the experience of customers memorable and unforgettable (Wirtz and Lovelock, 2016).
Difference in profiles
The major difference between the profile of Starbucks and Greggs is the varieties which they are offering to the customers. While on one hand, Starbucks has extended its product line from coffee and beverages to coffee creamer market on the other hand, Greggs have lack behind in this aspect where they are much slow at innovating their product line (Padma and Wagenseil, 2018). In comparison to Starbucks, Greggs remain cautious of its inventory level and hence prevent bulk production which saves its production cost while Starbucks is well recognized for bulk volume due to which their production cot remains somewhat high.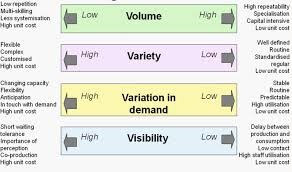 Illustration 1: 4 VS Analysis
(Source: The 4V's of operation management, 2013)
Performance Objective Analysis
Performance objectives is basically the targets which the organizations sets for achieving their long-term as well as short-term objectives.
Starbucks
Quality
Quality is primarily how high value does the organizations deliver to their customers and comply to various standards. Starbucks is well-known for its high quality products and services and thus provides a world-class quality to their customers. The Arabica beans which are being used in their coffee are generally purchased from the farms which are present in developing countries and later on these beans goes through a well-through process and then delivered (Yerpude, Singhal and Rathod, 2019).
Speed
Speed mainly refers to the pace at which the services and products are being offered to the customers. Starbucks is highly recognized for its great and easy process where the products are efficiently delivered to the customers. For making this process effective, Starbucks has a well-defined supply chain where the products which are being ordered by customers are tracked time to time through RFID for ensuring rapid delivery.
Dependability
It is basically the most important part of the performance objective which addresses that how much dependable the organization is while ensuring the timely delivery of services and products to customers. Starbucks have wide chain of suppliers across the countries and thus are highly efficient to deliver the ordered products in time (Sun and Zhu, 2018).
Students Also Likes To Read About : Concepts and Philosophies Of Organisational Behaviour - BBC
Flexibility
Flexibility is predominately the extent to which organizations are able to change their operations in order to match with the requirements and needs of customers. This performance objective is highly essential for the organizations to adapt to the changing needs of customers. Starbucks every year comes up with something new to adapt to customer's requirements. For example- more than half of the population likes to drink coffee or other beverages along with some snacks that would make their taste more mesmerizing thus to fulfil this demand, Starbucks opened a Kiosk in their outlets where customers can read newspapers along with their food (Duggan, 2017).
Cost
Cost is basically the extent to which organisations keep their production low and thus offers the products at low prices to their customers. Starbucks have an extensive production process where each and every product undergoes a though testing. Due to the production in bulk volume, Starbucks generally incurs high production cost and this is the reason behind high price of its products.
Greggs
Quality
Greggs is highly concerned with the quality of the products ans services which they serve to their customers. The wheat which this bakery uses for its bakery products goes through a high refinement process and are taken directly from the farmers after its cultivation. Thus, the wheat goes through a well-through process where it is reduced to granular pieces and then delivered to the customers in form of bread related products (Ferdowsian, 2016).
Speed
Greggs have a well-structured supply chain through which the products ans services are being delivered to the customers efficiently. The mobile application of Greggs has enabled customers to order their food more efficiently and conveniently. Greggs through the use of advanced technology tracks the order of customers and hence measures its timely delivery.
Dependability
Greggs has made its website highly customized where the customers can conveniently order their food and hence search for the different aspect easily. This has helped Greggs to enlarge its customer base as due to high consistency in delivery and more convenience, customer are more likely to visit Greggs frequently (Movahedi, Miri-Lavassani and Kumar, 2016).
Flexibility
As flexibility mainly relates to how organizations changes their operation for meeting the customer needs thus Greggs is widely known to mould their services and products as per the changing demands. For example- when Greggs analysed that customers are constantly looking for the online food application where they apart from ordering food can also see ordering time and processing time, customized its website and designed in an innovative way for fulfilling customer expectations.
Cost
As Greggs remain cautious of its inventory level and thus does not produces its products in bulk quantity thus their production cost remains low. Instead of ordering in bulk volume, Greggs orders its raw material in frequent periods which lowers their production cost. Due to low production cost, company normally keeps the prices of its products low and offers at low price without compromising quality (Fernandes and et.al.,2017).
Difference in Markets
Starbucks mainly targets the urban people having high income and thus keeps their focus on the white-collar professionals who wants coffee to relax from busy schedule. While on the other hand, Greggs targets rural as well as urban markets and thus concentrate their focus on both high income group as well as low income group (Kerzner, 2018). This eventually affects the operations objectives. For example- Starbucks targeting high income professionals will have different objective like high price while Greggs targeting high income as well as lower groups will have different objective like price ranging from low to high.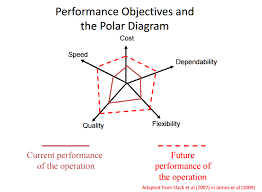 Illustration 2: Polar diagram
(Source: Polar Diagram, 2018)
Design Analysis
Design of customer service process
The four Vs and performance objectives of both Starbucks and Greggs highly influences their customer services process. For example- The various dimensions of four Vs and performance objectives shows that Starbucks have a a separate online enquiry portal where the customers can easily enquire for any aspect of the outlet. Besides this, theses four vs and performance objectives have also influenced the customer services process of Greggs and has enabled them to develop an EMEA queue and divided it into tier 1 queue and tier 2 queue. In this, customers does not have to stand in a long queue for their order and thus can easily see the processing time (Lee and BAKER, 2017).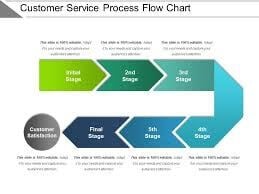 Illustration 3: Customer service process
(Source: Customer service process, 2012)
Store layout
The four Vs and the performance analysis have also influenced the typical store layout of Starbucks and have helped them to attract customers. The outlet of Starbucks consist of the round table with the cutting edge along with chairs and sofas and each and every table has a space of around 18 inches in between them. Besides this, the store has a straight floor plan where the shelves as well as racks of the kitchen are arranged in straight line for avoiding traffic and ensuring organized flow. On the other hand, Greggs store have angular floor plan for giving the sophisticated vibe to the customers and to increase the visibility. It store have a dining area which are of varying size along with the front counter presentation window. In front of this presentation window, there is a separate cafe built having tables and bean bags (Gloet and Samson, 2017).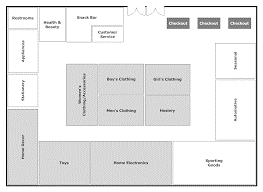 Illustration 4: Store layout
(Source: Store Layout Design: 9 Tips for Arranging Your Retail Shop, 2018)
The major characteristics of the core operations generally consist of volume, variety, variation and visibility which helps the organizations to conduct their operations in an efficient manner. The customers services and layout design plays an important role in these operations and thus helps to provide quality services to customers. Having the right process and layout enables the outlets to ensure organized flow of the products and thus helps to manage the core operations efficiently (Suarez, Calvo-Mora and Roldán, 2016).
The layout design and process are highly affected by performance trade-offs. When the performance of any aspect is highly enhanced then it eventually decreases the performance of another aspect and this is performance trade-offs. Like if the outlet have a great customers service process but the layout decision is not up to the mark and is causing a heavy traffic at the workplace then this will eventually reduce the market position and performance of the company. Thus, it is essential to have a proper balance of each and every aspect whether customer service or design layout.
Part B
Overview
Supply Chain Management
Supply chain management is basically the overall administration of flow of products and services and thus involves converting raw material into finished products. The supply chain of Starbucks is highly imperative and thus helps the company to effectively manage their operations. The management of the supply chain of Starbucks basically streamline the activities from supply side and consist of the functions ranging from procurement of raw material to final transportation (Dinu, 2017). Due to highly structured supply chain, Starbucks have a wide range of suppliers spread across different countries whoo are involved in proper delivery of raw material to the company and efficient delivery of products to customers and clients. This supply chain not only helps in efficient operations but also assist to increase the performance of Starbucks. Due to the efficient and timely delivery of products to the customers, company is able to go beyond the expectations of customers and this eventually increases their consumer base.
Key Requirements & Challenges
Requirements
In order to effectively streamline the supply chain process, there are huge day to day requirements which Starbucks considers
Input
This is basically the raw material which is being used for manufacturing the process. Starbucks is regularly involved in ordering a great amount of raw materiel to manufacture different products. Each production division daily produces units of products and for this they want raw material. Thus, the management of company daily takes the advice from production division on the how much raw material will be required and then order the required amount for production (Wirtz and Zeitha