Question :

This assessment will cover the following questions:

1.Determine the range of venture types that considered by entrepreneurial.

2.Evaluate impact of small businesses on the economy.

3.Explain the key aspects of an entrepreneurial mind-set.

4. Provide different that enhances or hinder entrepreneurship.

Answer :

Organization Selected :

N/A
INTRODUCTION
Entrepreneurship implies for the capacity as well as willingness in relation to developing, organizing and managing business venture. With the motive to attain profit margin and create effectual image at marketplace entrepreneurs laid emphasis on taking risk. In the recent times, individuals make focus on starting their own venture for getting the desired level of profit margin. In this, report will provide deeper insight about differentent entrepreneurial ventures. Further, it will also highlight the extent to which different types of entrepreneurial ventures differ from each other. Report also shed light on the level to which small business units contribute in the economic growth and development. Besides this, impact of Brexit will also be discussed in the context of small businesses and new start-up. It also entails the skills and characterises possessed by successful entrepreneurs. Such report also defines way in which educational background and experience level fosters entrepreneurial activities.
A+ Grades @Affordable Prices!
We deliver all academic papers from dissertations & assignments to thesis, & case studies. 5000+ satisfied students, you could be next! Place Your Order Now!
Order Now
1. Examining different types of entrepreneurial ventures and relates the same with the typology of entrepreneurship
Entrepreneur may be defined as a entity who organizes, manages and identifyrisks associated with the business. Entrepreneurial ventures can be described and presented in the following manner:
Small businesses: Such category includes privately owned corporation, sole proprietorship and partnership firm. Small businesses are characterized with less number of employees and less revenue (Bruton, Ahlstrom and Li, 2010). Examples of small businessperson stores, consultants, travel agents etc. In UK, small businesses prefer to hire local personnel and family members. Small business entities run their operations with an objective to attain high profit margin. However, such kind of firms does not lay focus on industry take over or making £100 million business.
Large businesses: Big size entrepreneurship firms are characterized with finite life cycles. Large business units having more personnel and make focus on both profit as well as sales revenue. As per laws, large sized companies must have at least 5000 employees and sales revenue higher than 1.5 billion Euros. Such kind of business units lays emphasis on growth through sustaining innovation and offering new products or services (The Four Types of Entrepreneurship, 2018). Technological variants, changes in customer preference etc. offers opportunity in front of large sized businesses to come up with innovative products
Scalable start-ups: It refers to the start-up which is initiated by the individuals who look for repeatable and scalable model. Scalable start-up includes viable business model which in turn helps in responding marketplace need as well as problem prominently. Thus, individuals with innovative ideas and concepts can start scalable start-ups.
Social entrepreneurship: Firms which make efforts and create new products or services for solving needs as well as problems of society recognized social business entrepreneurship (Dacin, Dacin and Matear, 2010). Social firms can be distinguished as a profit making, non-profit or hybrid.
Thus, according to the aim and objectives one can start new venture and thereby would become able to carry out operations more effectually. From assessment, it has identified that entrepreneurs are distinguished or presented in the basis of their characteristics. Types of entrepreneur are enumerated below:
Innovator: Such kind of entrepreneurs lay focus on building competitive edge over others by offering innovative products or services. This kind of typology is also highly associated with scalable start-ups which emphasizes on introducing innovative ideas and concepts.
Small business owner or manager: Business entity who starts with small amount for maximizing productivity and profitability fall into this category. It is closely linked with small business units which makes efforts for getting high level of sales and profit margin.
Risk –oriented: Entrepreneurs who fall into this category prefer to take more risk for attaining success. Hence, business entities who are characterized with such behaviour offer or introduced completely new product in the market.
2. Explaining the similarities and differences between entrepreneurial ventures
By doing assessment following similarities and differences have found in the entrepreneurial ventures such as:
Differences: Large, small, scalable start-ups and social business entrepreneurship varies on the basis of following aspects:
Overview
| | | | | |
| --- | --- | --- | --- | --- |
| Basis of difference | Large Businesses | Small Businesses | Social Firms | Scalable Start-ups |
| | Established units which have employed at least 500 individuals termed as large business organization. | Independently owned and operated firm which works for profit generation named as small units. Usually, such firms are not dominant in their field. | Social businesses are the one which come with an innovative solution for making world a better place. | Innovation centred firms which focus on the creation of dramatically change considered as scalable start-ups. |
| Goal | Generation of high sales and profit for the firm as well as entrepreneurs is the main objectives of large business enterprises. | Entrepreneurs who are included in this criterion make focus on growing into a long term business. Enhancement of sales revenue through performing operations in a sustainable way is the main objectives of small units (Entrepreneurial ventures, 2018). | They work for the well-being of others in a sustainable way. | Motive of the individuals behind such venture is to generate more wealth or profit margin for founders and investors. They usually take resort of acquisition and IPO. |
| Kind of business | Includes large number of corporations which include more sales and personnel. | Retail stores, construction firms, agriculturists etc fall into this category. | Unlike large and small, social firms are involved in solving global health issues and specific problems facing by the community. | IT, pharmaceutical companies are the main examples of scalable start-ups which in turn fall under the category of scalable start-ups. |
| Capital providers | In the context of large business units, capital providers or sources include revenue, tax credits & subsidiaries. | Business entities belonging from small businesses generate funds through the means of micro & bank loan, personal funds, revenue and friends and family. | Unlike others, in social firms capital provides differs according to the size of company. | Entrepreneurs who are involved in scalable start-ups gets finance from venture capitalists, angel investors, friends, family and personal funds. |
| Outcomes or results | They become a large employer and makes vital contribution in the economic growth & development. Further, large sized businesses also build their unique presence at marketplace (Defourny and Nyssens, 2010). | Small businesses offer products and services which are in line with city's infrastructure, leisure goods etc. | Such entrepreneurs emphasize on improving lives of community and creating social impact | Entrepreneurs with scalable start-ups have potential tocreate significant revenue, employment opportunities and economic impact. |
Similarities: Along with the differences, there are several aspects which in turn recognized as similar among large, small, social and scalable start-up entrepreneurship. All such kind of business units develops budget for exerting control on expenses and thereby achieve financial goals. Optimum utilization of financial resources is one of the main objectives of firm (Drucker, 2014). Further, above mentioned all such four firms develop strategies for achieving success in the competitive business arena. Further, concerned all the four entrepreneurship firms develop plans for growth, innovation, employee development and motivation. Creation of distinct identity at marketplace is also recognized as the main objectives of all kind of entrepreneurship firms or ventures. They all look forward in terms of growth and innovation for getting desired level of outcome or success.
3. Assessing the impact of micro and small business on economy
By doing assessment, it has identified that micro and small businesses make vital contribution in the economic growth & development. Statistical results present that micro and small businesses have made remarkable contribution in the economic growth by offering employment opportunities to the large number of people. Hence, statistics reveal that micro businesses in UK accounted for 33% employment. In UK, total employment ofSME's implying for 161.1 millions (Business statistics, 2018). This in turn accounted for 60% of all the private sector businesses. Further, turnover of micro & small businesses are also very high in every sector from manufacturing to retail. Along with this, data introduced by recognized institution clearly shows that annual turnover of small business units was around 51% of private business entities working in UK.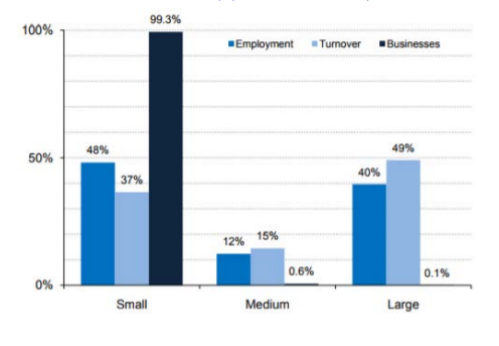 (Source: Business statistics, 2018)
On the basis of statistics, sales revenue of SME's accounted for 1.9 GBP trillion significantly. Below depicted graph clearly shows that in the context of employment and businesses small business units have attained leading position over others. On the other side, under the category of turnover micro and small business has secured second position. By doing evaluation, it has found that, in 2014, combined turnover of small and medium h sized business accounted for £1.6 trillion. Further, in UK, small and medium sized enterprises employed more than 24.3 million people. Such statistics clearly exhibit that contribution of small and medium sized enterprises in UK's employment in 60%. Along with this, as per the statistics, around 37% of SME's are involved in innovative business activities or practices. It clearly exhibits that SME's contribution in UK's infrastructure as well as economic growth & development is highly significant (The importance of small businesses in the economy, 2018). Referring all such aspects it can be presented that contribution of micro and small businesses in the economic growth is highly significant. Moreover, employment opportunities help in reducing poverty and enhance per capita income to a great extent. In addition to this, micro and small businesses place emphasis on providing customers with an innovative products or services. This in turn increases both individual's living standard as well as export. Thus, all such aspects clearly reflect that micro and small businesses place positive impact on economic growth.
4. Presenting the manner in which small business and new start-up will contribute in economic growth after brexit
In UK, 5.7 million small business units are working which in turn accounted for 99% of private sector firms. As per the current statistical results contribution of UK's small business units in employment implied for 60% which is recognized as good. Through assessment, it has found that brexit will place direct and negative influences on the business activities UK's small businesses. Moreover, brexit will create several obstacles for micro and small businesses pertaining to the business activities. Moreover, brexit will place direct impact on the level of SME's activities pertaining to import and export (Abreu, and Grinevich, 2013). Brexit will place material impact or influence on the behavioural expectations of entrepreneurs working in UK. Along with this, it has assessed from the evaluation that SME's recognized as the backbone of UK economy.
Moreover, UK SME's contribute in the economic growth and development from several perspectives such as employment opportunities, sales, employment opportunities, innovation, import, export etc. However, brexit will highly impact the growth and success of UK SME's in a negative manner. Moreover, after brexit rules and regulations will be influenced negatively. This in turn place impact on the aspects in relation to accessing funds, innovation, growth and capital expenditure. In the case of brexit, SME's will face issues in getting funds from external sources (What Happens if the Rules Change? The Impact of Brexit on the Future Strategic Intentions of UK SMEs, 2018). Such changes or modifications may result into weaker growth potential of micro & small businesses. Moreover, brexit will decrease the level of innovation within UK SME's. Further, innovative and export oriented firms will also face high level of challenges after brexit. Hence, by taking into account such aspects it can be mentioned that brexit will weaken the growth of SME's and their ability to prosper. This in turn also negatively impact economic growth and development significantly.
5. Defining skills, traits and characteristics of two successful entrepreneur
Each and every entrepreneur possesses some specific skills, characteristics and traits which make successful in the competitive business environment. In UK, there are several entrepreneurs who created their effectual image by offering innovative products or services. Every entrepreneur possesses some specific skills and traits which in turn presents their entrepreneurial motivation as well as mind-set. Business managers usually develop strategies and implement the same. However, on the other side, entrepreneurs look out of the box and provide with innovative ideas as well as product & services. Entrepreneurial motivation and mind-set is highly needed for achieving success in the competitive business arena. Traits, characteristics and skills of two leading entrepreneurs can be presented in the following manner:
J. K. Rowling
She is one of the most successful entrepreneurs of UK who known for Harry Potter book series. J. K. Rowling comes under the category of wealthiest private citizen in UK. Net worth gained by such lady through her innovative work accounts for 1 billion. Later, she also became more popular in Harry Potter movies. Skills, characteristics and traits that J. K. Rowling possesses, being an entrepreneur, are enumerated below:
Confident: She is highly confident and prefers to take risks without any afraid of failure. In the dynamic business environment, confidence is the key to success which helps in facing challenges in an effectual way. Moreover, confidence level enhances risk-taking behaviour and thereby helps in generating high returns.
Focused: J. K. Rowling is highly focused and goal oriented in nature. From idea generation to now she is highly focused on producing interesting series of novels. Through the means of highly-focused behaviour she has transformed the reading habits of British as well as American Kids and adults.
Passionate: She is highly passionate in nature and aligned goals with the dreams or passion. It is recognized as the most important trait of a successful entrepreneur. Passionate individuals usually make extraordinary efforts for making their business successful.
Problem solving skills: An entrepreneur must have ability to deal with criticism whenever it arises. Effectual problems solving skills are highly required for dealing with the undesirable situation (10 successful lessons from JK Rowling, 2018). For instance: some groups have targeted Harry Potter series introduced by J. K. Rowling on the basis of its themes pertaining to witchcraft and wizadry. In this, she has handled such critical situation in the best possible way using her problem solving skills.
Trustworthiness: This is also one of the main elements which need to become a successful entrepreneur. She has enough faith pertaining to her creation or publishing regarding harry potter series.
Peter Jones
Under the category of UK's leading entrepreneurs Peter Jones has secured 10th position (The Top 10 UK Entrepreneurs, 2018). Currently, net worth of him accounts for 367 million significantly. He is recognized as leading business tycoon and star of popular series of BBC2 television such as Dragon Den. Peter has gained and developed his interest in numerous areas such as television, telecommunication, travel and real estate. Peter Jones laid high level of emphasis on creating an academy for upcoming UK entrepreneurs. Several skills which make and present Peter Jones as successful entrepreneur are enumerated below:
Leadership qualities: In the context of business unit, leaders play a vital role in motivating personnel and achievement of goals. Peter Jones has ability to guide others and persuading them about organizational strategic framework. He also has effectual communication skills which in turn enables him in leading mass team.
Highly motivated: Self-motivation is also recognized as the most important trait of successful entrepreneur (Peter's top 10 rules to build a successful business, 2018). Peter Jones believes that motivational aspects enhance creativity to a great extent.
Competitive spirit: Development of distinct image at marketplace is also the main trait which an entrepreneur possesses. Peter Jones also has spirit in relation to doing job better than others. Thus, such competitive spirit makes entrepreneur more successful.
Committed: As per Peter Jones, high level of commitment is required to become a successful entrepreneur. Moreover, high level of commitment ensures achievement of goals within the suitable time frame. He places more emphasis on the development of effectual communication and organizational skills. Moreover, it assists in developing competent plan and delivering good results.
Influencer: Peter Jones has ability in relation to influencing decision making of others. According to him, emphasis needs to be placed on the delegation of work and responsibilities. As, it helps in building relationship and developing business more effectually.
Visionary: An entrepreneur must be visionary in nature that has ability in relation to forecast future aspects. Peter Jones laid more focus on setting objectives or goals as well as developing strategies for achieving vision.
Determination: entrepreneur are not thwarted by their defeats. They treat their defeat as a lesson learned and took as a challenge and an opportunity to be successful. They are determined to make all of their endeavour succeed, which will help them to be a successful entrepreneur, s a successful entrepreneur do not believe that there are any work that can not be done.
Passionate: it is the most important characteristics that an entrepreneur possess which makes them successful. J.k.Rwling loves her passion of writing, every time she comes up with a innovative idea of her story-line that helps her to be a successful entrepreneur. The entrepreneur loves their job and ready to put all their efforts. A successful entrepreneur should always search and research to make his business better.
By doing assessment of two UK leading entrepreneurs it has identified that an individual must have effectual communication, leadership and problem solving skills. Along with this, an entrepreneur must be visionary, motivated, confident and passionate in nature (10 Characteristics of Successful Entrepreneurs, 2018). By developing and building all such characteristics an individual can become a successful entrepreneur.
You may also like to read: Influence of Small Businesses on UK Economy
6. Explaining how background and experience hinder or foster entrepreneurship
In the field of entrepreneurship, experience and educational background places direct impact on the growth or success. Moreover, past experience pertaining to good or bad has significant impact on entrepreneurial motivation. However, entrepreneurial motivation is highly depends on the traits, skills and characteristics of an entrepreneur. Irrespective of having several difficulties and failures J. K. Rowling has made efforts to come with innovative ideas. Hence, by presenting Harry Potter series in a different manner she has attained leading position in UK. It presents that past experiences foster entrepreneurship and enable individual to attain success.
Along with, educational background, support of friends and family members also fosters entrepreneurship to a great extent. Past experience can be their hobbies, the activity they were involved during their school and graduate times also helps to foster the entrepreneur to be successful.
Family background: the support of family has found to e a great influencer to foster the entrepreneurship. The family member qualification also helps to influence the entrepreneurial traits and help in motivating the entrepreneur in their new business ideas. The family value, their beliefs and principles helps to innovate new idea for the entrepreneur. Family background helps to improve and enhance the skills that an entrepreneur have. Father of Peter Jones had a small office and was a air condition engineer. Both his parents worked for 50 years, they have encouraged Peter to complete his education and support them in his starting period.
Educational background and qualification: An entrepreneur with high qualification knows about this plan of new business more effectively. An educational background also helps in motivating the entrepreneur. J.K. Rawling is an graduate of External University and also has experience of teaching in English (Höglund, Holmgren Caicedo and Mårtensson, 2018). It has encouraged her to write a book of her own. Peter Jones has completed his education from Middlesex university and Winchester School of Art. He has qualification of teaching from University of Southampton. His educational background has helped in increasing his skills of knowledge and traits of being a innovative and visionary person.
Friends and society: a person who lives in a society have a great impact on hiss personal life and way of thinking. The value, beliefs of the society also plays n important role to foster the entrepreneurial in a person. Friends of a person also plays an important role in motivating an entrepreneur to initiate his idea and works for it. Having a supportive friend circle will help the entrepreneur to motivate and encourage him to successfully implement their idea.
Past experience of the entrepreneur can also hinder their growth to be a successful entrepreneur. The family background, friend circle can also affect the growth off an entrepreneur.
Family: some times the family belief and lack of support from family can hinder the growth of entrepreneur to become successful. J.K. Rawling after getting divorced was worried about her daughter, it has demotivated her. But the skills and traits that she personal life and family. Family act as a great supporter to the entrepreneur to successfully start their business.
Friends group: An effective friend group is an important factor to be a successful entrepreneur. If a person is in wrong company it will lead to decrease their motivation and will hinder them to successfully implement their idea of new business. Low motivation or support from the friend can have a negative impact on entrepreneur skills and quality they possess has conquered her fear., and she implemented his innovative idea in a form of a book (Parker, 2018). An entrepreneurial career is very much influenced by what takes place in their personal life and family. Family act as a great supporter to the entrepreneur to successfully start their business.
Friends group: An effective friend group is an important factor to be a successful entrepreneur. If a person is in wrong company it will lead to decrease their motivation and will hinder them to successfully implement their idea of new business. Low motivation or support from the friend can have a negative impact on entrepreneur skills and quality they possess.
Experts Are Listening!
Have doubts about academic writing? Clear all of them in a minute! Call the experts and get your answers immediately! Dial Now!Contact Us
CONCLUSION
By summing up the above report it can be concluded that entrepreneurs initiate business and shape their ideas through opening large, small units etc. It can be seen in the report that profit maximization is one of the main motives of all kind of businesses from large to scalable start-ups except social firms. Besides this, it can be inferred that entrepreneurial ventures also differ on the basis of several aspects such as outcome generated, capital provider etc. Along with this, it has been articulated that micro and small businesses make significant contribution in the growth & development of UK economy. As, such firms create several employment opportunities for the large number of people and thereby increases their income. Further, it can be depicted that brexit will place negative impact on the growth of small firms to some extent as well as overall economy. It can be summarized from the report that family background and experience is one of the main factors which in turn influences entrepreneurship.
REFERENCES
Abreu, M. and Grinevich, V., 2013. The nature of academic entrepreneurship in the UK: Widening the focus on entrepreneurial activities. Research Policy. 42(2). pp.408-422.

Bruton, G. D., Ahlstrom, D. and Li, H. L., 2010. Institutional theory and entrepreneurship: where are we now and where do we need to move in the future?. Entrepreneurship theory and practice. 34(3). pp.421-440.

Dacin, P. A., Dacin, M. T. and Matear, M., 2010. Social entrepreneurship: Why we don't need a new theory and how we move forward from here. The academy of management perspectives. 24(3). pp.37-57.

Defourny, J. and Nyssens, M., 2010. Conceptions of social enterprise and social entrepreneurship in Europe and the United States: Convergences and divergences. Journal of social entrepreneurship. 1(1). pp.32-53.

Drucker, P., 2014. Innovation and entrepreneurship. Routledge.