Organization Selected :
David & Co limited
INTRODUCTION
Organizational behaviour is known as the study of approaches or methods in which people interact with each other in groups specifically in organizations. The study holds great importance because the behavioural analysis of a company helps a business to improve its performance. Organizational behaviour theory also enhances job satisfaction among employees and promotes innovations and leadership in business activities. It is directly associated with the production, understanding and controlling of human behaviour (Block and Block, 2014).
The report will analyse the impact of culture, politics and power on behavioural characteristics of organizational human resources. It will also discuss the significance of motivation for individuals and teams to achieve business objectives. The evidence explores the concepts of organizational behaviour by using the case study of A David & Co Limited. It belongs to food and beverage sector and operates in UK. The turnover of firm in 10-20 million Euros. The organization deals with distribution and production of fresh fruits and vegetables, bakery products, exotic and instant foods to different hotels, restaurants, caterers and nursing homes. The report will evaluate the role of cooperation for effective team work and business processes.
LO1
Impact of organisational culture, politics and power on team and individual behaviour
Organizational culture reflects the characteristic features of an organization and can be considered as the sum of its traditions, beliefs and attitudes. It also describes the mechanism of organizational procedures and how team interacts with each other. Thus, organizational behaviour has significant impact on the performance of its employees. It drives the skilled human resources and manages employee satisfaction. The attributes like culture, politics as well as power level affects the performance at both individual level and team level (The Significance of Organizational Culture, 2018).
Handy model contains four type of culture
Power – it refers to power culture where only certain people in organization is having power to take decisions. This affects highly on organizational culture as well as employee's
Task- in this culture is based on task. It is based on functions. Task are allotted by determining skills, abilities, etc. of employees.
Role – in this organizational culture is based on roles. They are highly controlled as it is assigned in according to skills and abilities. In this everyone knows what are their roles and responsibilities and perform task accordingly.
Person – An organization with a person culture is really just a collection of individuals who happen to be working for the same organization.
A+ Grades @Affordable Prices!
We deliver all academic papers from dissertations & assignments to thesis, & case studies. 5000+ satisfied students, you could be next! Place Your Order Now!
Order Now
Impact on individual performance and behaviour:
For achieving the business goals appropriate interaction and coordination is an essential aspect. The decisions can be made effectively by communicating with each other and by analysing the future consequences of the decisions. When A. David & Co limited will have coordination culture then all employees will focus on their individual performance, but they will keep their personal development goals in alignment with the business goals. On the other hand, if A. David & Co limited will have competitive or creative organizational culture then all individual resources of company will aim to give their best performance so that they can lead ahead of other competitive employees.
If company's culture will not appreciate innovations and hard work then employees may not feel encouraged to perform their job roles with dedication because they will not be able to connect with company emotionally (Miner, 2015). For example, if company's culture will neglect the choices of its employees then employees of A. David & Co limited will also think that they are not required to bring extra effort for improving customer services because it is not their organization. Along with the culture the power and politics also have influence on the performance of individuals. The individuals with higher power and authority are more focused and motivated for achieving business goals. The responsibilities which are given to them with power serve as the motivation or driving forces.
The politics within culture of A. David & Co limited can also affect the psychological status and the concentration ability of individuals. For example, if company allows the bullying of new joined employees and is extremely strict towards employees for its policies then it will surely create a fear and discomfort among individuals. They will always be afraid, and this will affect their work efficiency. Such type of organizational culture at A. David & Co limited will lead employees to directly quit from the job or deliver poor quality of services. If experienced authorities of A. David & Co limited will suppress and ignore the interests of other individuals and does not implement policies for the benefits of employees, then they will never consider the organization as their priority.
Impact on performance efficiency and behaviour of team:
Organizational functions of A. David & Co limited such as strategy formulations, decision making, and monitoring are not possible without effective team work. The company culture and power affect the effectiveness of these team efforts (Luthans, Luthans and Luthans, 2015). For bringing desired outputs the team leader must ensure the controlled culture within organization. If company culture will not be strict and controlled, then it is possible that teams may lack accountability and responsibility. Thus, it will not only reduce the team efficiency but will also prohibit the organization to achieve its long-term goals.
The team leaders have more power and authority as compare to other team members. It helps them to explore new opportunities which can be beneficial for the performance of company. On the other hand, if team leaders of A. David & Co limited are not supportive and are dominating then other team members may not cooperate with the leader and it will become difficult for the company to achieve its goals. The team work can deliver effective outputs only if all members have unity and work for the common objectives (Argyris, 2017). If the policies of A. David & Co limited do not give preference to the interest and opinions of other team members then it is possible that they may feel neglected and company may lose talented and skilled human resources.
The appreciation and rewards from the leaders can inspire the other team members to deliver more qualitative services. It will be beneficial for welfare of company as well as for the personal growth and development of teams. A. David & Co limited must make attempts to establish communication between team members so that members can know each other as well as the needs of company. The interaction is useful because it will make easy for the team members to execute their operational tasks with more efficiency and accuracy. It will also increase the problem solving skills among team members. The healthy communication culture in company will allow team members to discuss and debate with each other so that more innovative ideas and risks can be analysed (Pinder, 2014).
Thus, effective organizational culture is important for A. David & Co limited to retain talented skills for long term and to outperform its other competitors financially.
M 1
The culture of the organization can motivate and discourage its employees from performing their functional roles with more effectiveness and qualitative approach. The individuals in power can provide guidance to other team members so that overall performance can be improved. On the other hand if powerful authorities in organisation does not motivate or guide individuals then they might feel organisational culture dissatisfaction and ultimately organisation will fail to achieve its goals due to lack of team coordination.
Students also like to read: Planning for Expansion - Waitrose
LO 2
Motivational theories and techniques used by A. David & Co limited
Maslow's hierarchy and motivational theory:
According to Maslow the needs of human resources can be represented as a hierarchy of five levels. The lowest level must be satisfied at first so that further levels or needs can be satisfied. A. David & Co limited follows the below mentioned needs of Maslow's hierarchy to motivate their stakeholders.
Physiological needs: The basis survival needs such as stable employment, salary and recognition are the key needs which must be fulfilled. The company ensures that all its employees are given suitable financial benefits so that they can be retained and performs well.
Security needs: The organizational culture of A. David & Co limited provides emotional and physical support to its employees. The company ensures that all necessary services are present within company so that employees do not face any difficulty in achieving their business tasks (Pettigrew, 2014). The strict policies against discrimination, equal growth opportunities to all and fair work practices motivate employees to perform their job roles with honesty and efficiency.
Belonging needs: The emotional relations and factors also motivate employees to provide their best support to organization. For example, A. David & Co limited organizes corporate events so that its employees can know each other. The emotional attachment with fellow workers can reduce absentees from the organization. It will also increase the problem-solving skills and innovations in the work practices (Wagner III and Hollenbeck, 2014). The higher brand value and good social image of company also motivates customers and employees to retain their long-term professional relations with A. David & Co limited.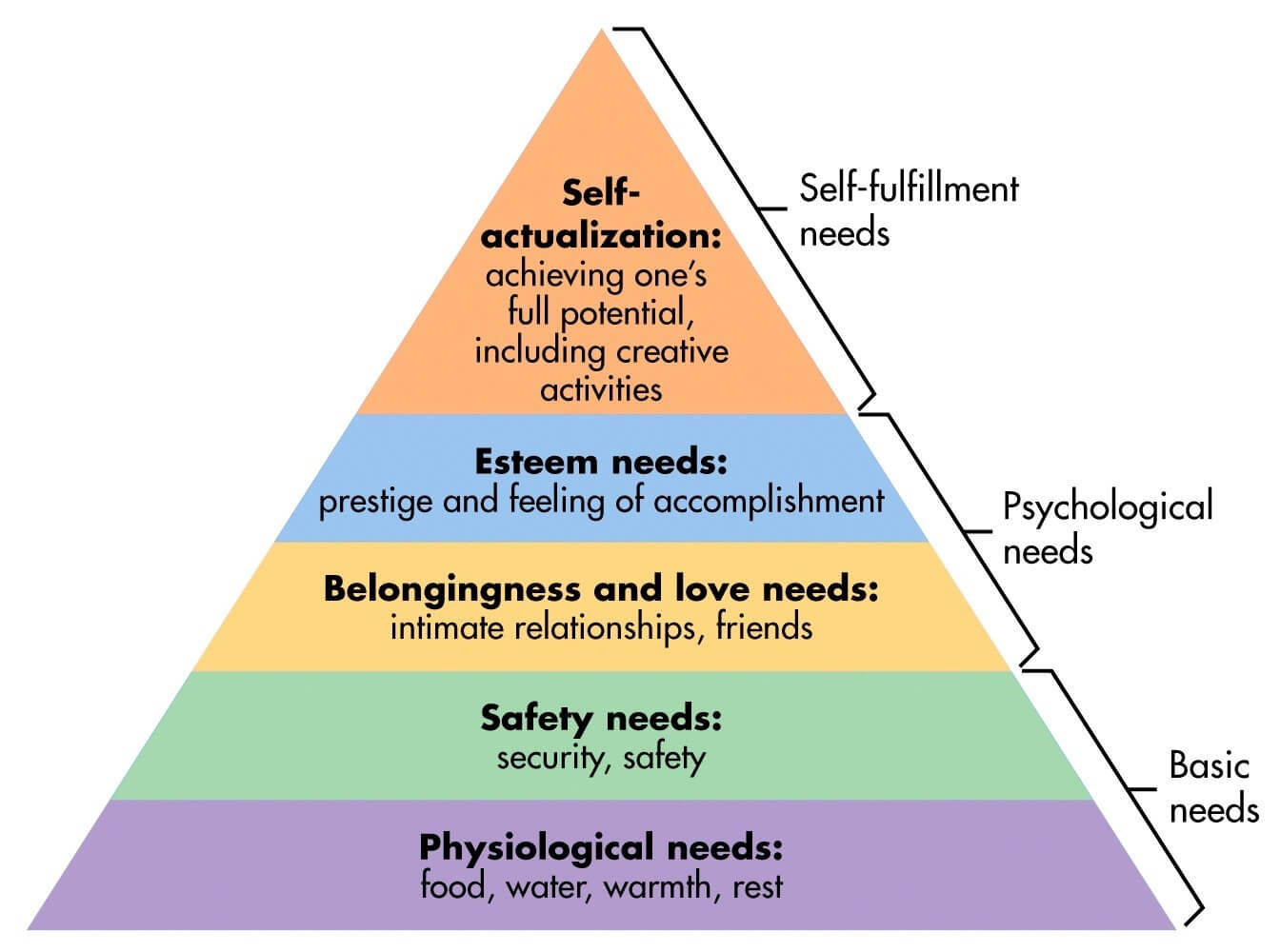 Figure 1: Maslow's hierarchy of motivation
(Maslow's Amazing Hierarchy of Needs, 2017)
Esteem needs: Recognition is one of the factors which create dissatisfaction among employees. When working in a team it is one of the common issues that individuals may feel that their efforts are not recognized and appreciated. This creates dissatisfaction and their performance is adversely affected. A. David & Co limited ensures that each team member can appraisal for his or her job role. The company tries to involve individuals into prestigious job tasks by fair means and equal opportunities so that individuals always maintain high level of performance in their practices.
Self-actualization needs: The challenging tasks or workplace autonomy can also affect the decisions and performance of the employees and team work.
The inexperienced employees usually focus on their security and psychological needs and will be motivated to work with productivity only if these needs are fulfilled (Greenberg, 2014). Once the low-level needs are satisfied the team members may seek that their higher level needs must be followed. A. David & Co limited uses approaches like cross training, special assignment and job enrichment to satisfy the higher-level needs of its employees.
Motivation can be defined as the driving force to persuade people to perform certain actions. The motivation can either be in the form of willingness, choices or it can be in the form of physical evidences like rewards or benefits. Highly skilled human resources are vital assets for the company. A. David & Co limited makes every attempt to retain such high skilled employees by the means of motivational techniques. The motivation from the recognized authorities also encourages individuals to continuously improve their performance. It also inspires others to explore innovative and more efficient approaches for improving their skills and work-related efficiency (Wilson, 2018). A. David & Co limited use different motivational techniques to provide motivation to its employees as well as other stakeholders.
The appreciation of employees in front of other members of company is one of the best ways to motivate them and to give a token of thanks to them for their valuable efforts in success of company. The appraisal in front of fellow team members gives confidence and inspiration to achieve more efficiency levels in the future. This is also beneficial for the growth of company. It gives another advantage to company by retaining skilled employees for long term and thus it can overcome its competitors with the help of skilled resources. The motivation and growth opportunities will also attract new investments and talented pool. A. David & Co limited also use financial benefits like salary increments or promotion to motivate their employees.
When employees observe the high perks and salary advantages to a certain designation, they always try to perform well so that they can be promoted to higher designation. Along with the employee's customers and investors are also key stakeholders of the company which needs to be motivated for sustaining growth of company. The organization uses various discount offers, attractive websites and brand value to attract the customers (Bolman and Deal, 2017). The attractive prices and offers regularly motivate the consumers to retain long term relation with A. David & Co limited. The higher brand value and market share also serve as the key motivational factor which can increase the profits and sales of organization. When investors and customers receive great appraisals and performance levels of company then they are highly inspired to connect with the company. The motivational model of A. David & Co limited is based on the need theory of Maslow's Hierarchy.
M 2
With the help of motivational theories the leaders can change the behaviour and perspective of the individuals. When employees are performing well then motivational concepts such as rewards and appreciation not only inspires them to sustain their excellence but also encourages others to follow the same path. On the other hand if these motivational aspects are not used by the organisation then its human resources will never be willing to give their full efforts in functional activities. They will always believe that organisation will not give them any reward so why they should give additional efforts.
Want to Hire Expert Writers?
Writing different academic papers can get puzzling at times. Reach out to the best writers of Global Assignment Help and ask for assistance with all types of essays, assignments, reports & more!
Order Now
LO 3
Cooperation and difference between effective and ineffective teams
Being a food and beverage industry, it is very essential for A. David & Co limited that its various teams are in coordination with each other so that no functional discrepancies occur. Team work can bring effective results only if its members work together as a single unit and keep their common goals prior to their personal differences or interests. The company can bring team effectiveness by establishing high standards of collaboration and cooperation between its team members. The company ensures that all team members have same goals and objectives so that each of the participants is focused on the shared goals instead of engaging in their own diverse goals (Carlton and Perloff, 2015).
The team leaders in A. David & Co limited ensures that regular meeting and training sessions are conducted so that team members can share their experiences and issues with the team leaders. It will also help them to have clear guidelines regarding their roles and responsibilities within teamwork. The communication with the team members will enhance the transparency and team conflicts will be reduced. The tendency of team members to keep their personal development goals above organizational objectives is the key reason which results in ineffective teams. In order to enhance the team effectiveness A. David & Co limited makes team work as the part of its organizational culture. The team leaders must share an emotional connectivity with the other team members so that they can put their ideas and issues clearly.
The teams with ineffective leaderships usually do not include a transparency between sharing and communication which is the main cause for the failure of their strategies. The company also ensures that all necessary resources are available to team members so that they can communicate with each other without any obstacles (Miner, 2015). For example, A. David & Co limited can assure effective teams only if they will cooperate with each other otherwise they will not meet their functional goals. The different teams at organization works different tasks for stakeholders like customers or distributors. If there will be no proper communication tools like mails or video conferences, then teams will not be able to communicate with others and thus it will cause delay in task execution or decision making.
Similarly, with advance technologies various online platforms are available which allows organization to communicate with various teams. A. David & Co limited also organizes training sessions to increase the effectiveness of teams. The teams can cooperate with each other only if they are able to communicate or to share their opinions. The company uses training sessions which teaches employees to develop communication, confidence and team work skills. The company also encouraged the events which develops the personal or emotional attachment between team members (Block and Block, 2014). The social and cultural events sponsored by organization provide an opportunity to team members to understand the personal likes and dislikes of other members. The teams can be known as effective only if each of the team members has clear goals and guidelines of each one's responsibility.
The key attribute used by A. David & Co limited to distinguish its team performance from ineffective teams is that its team leaders review the performance and talent of individuals as well. Though common goals are necessary for the success of organization but if individual team members are not appreciated for their effort then they may find it useless to work as a team and soon teams can be turned into ineffective teams. For dealing with such situation A. David & Co limited evaluate the performance of each team member. It encourages e every member to play their best part in the team.
Conflicts are the integral component of team work approach and must be resolved at initial levels only so that they do not affect the overall performance of business. Ineffective team leaders are always engaged in evaluating the final output without considering the internal team conflicts or personal evaluation of team members (Greenberg, 2014). It always creates barriers in achieving long term goals and is harmful for the organizational culture. The organizational culture of A. David & Co limited also ensures that all team members have equal participation in decision making and discussions.
The team results can be effective only if all members actively take part in the discussions and planning. If leaders will not communicate properly and will inform only final strategy to members without explaining the rationale or future impact, then it will not make team members to efficiently deliver their job roles. Feedback can be considered as the effective measure to evaluate the team performance. A. David & Co limited receives regular feedback from team members so that teams can be made more effective and more productive results can be delivered.
Tuckman Theory –
Forming – in this first stage team members met for first time. Some know about project while others are not aware. Also, roles and responsibilities assigned are not clear.
Storming – here, team members starts to introduce with each other. The roles and responsibilities are assigned to them and task are done. Sometimes, in this stage conflicts occur that impact on their performance
Norming – in this conflict occurred above are resolved. The leader takes initiative to resolve their queries. Moreover, members start respecting each other and help them to complete their task.
Performing – it is a stage where members put more efforts to attain team goals. They follow either structure or work in creative way to achieve target. The people who join or leave team does not affect performance of team.
Adjourning – This is last stage in which team formed splits. This is because some team only exist for fixed time period. The members who are having strong relations with other find it difficult to work with others.
M 3
The team development theories discussed above are highly suitable for developing dynamic cooperation within organisational practices. The application of Tuckman theory and cross culture team work will help team members to understand the significance of the team work and importance of each other's contribution. The dynamic cooperation is possible only if all individuals in organisation works for common goals by balancing their personal conflicts and choices. The various stages in the team development process will help organisation to reach their business goals.
Free Plagiarism Report For Assurance
The experts at Global Assignment Help ensure that you get 100% original content for submission. With every order, get a Plagiarism report for free!
Order Now
LO 4
Concepts and philosophies of organizational behaviour
David & Co limited d implements following concepts of organizational behaviour.
Nature of human resources:
There are number of factors which can affect the behavior of individuals within organization. Every individual has its own set of skills and personality. The managers must not be biased towards them. The biasing can cause extreme changes in behaviour of an individual in both positive and negative manner.
Each team members have own perspective and ideology. The team members must respect and accept these diversities. It will help them to work together as a team despite of cultural and behaviour differences (Miner, 2015).
Everyone has pros and cons. Thus, when A. David & Co limited recruits any individual the person is recruited. Along with the skills the emotional attributes are also carried by the person. Thus, it is important for the company to satisfy those emotional needs as well.
The motivation is also one of the most influencing factors which regulate the behaviour and culture within organization. The motivation though financial benefits and other motivational techniques used by A. David & Co limited as discussed above can change the behavioural aspects of the individuals. The motivation can also take negative infrastructure. For example, when company gives disciplinary warnings to any team members then it gives motivation to all other members of team as well so that they can change their behaviour according to organizational culture.
It is important for employees that their skills are appreciated by company. This gives them inspiration to discover new opportunities which leads to the development of both individual and organization (Thompson, 2017).
Nature of organization:
The key objective of A. David & Co limited is to establish itself as leading food supplier and to increase its turnover and market share. However, there are various factors which can affect the organization nature. The concepts of organizational behaviour analyses these factors.
David & Co limited has its interaction with different social groups. The company interacts with its customers from diverse groups such as restaurants, schools, nursing clinics and hotels. The company also has social system with its employees. The interaction with these social systems is affected by various components like formal and informal. For example, when any project of A. David & Co limited is succeeded then company and participating organizations can have an informal get together. Similarly, the birthday parties or festival celebrations within company can also increase the social connectivity among employees.
Organization and employees must have mutual understanding with each other. The success of company depends upon the hard work and skills of its human resources (De Board, 2014). The company can meet its objectives only if it will have highly talented human resources. On the other hand, the skilled employees will join A. David & Co limited only if company will provide an attractive organizational culture for work along with their expected financial and growth benefits. Thus, organization must communicate with its employees so that they both can understand the expectations and needs of each other.
The ethical behavioural practices are not only essential for success of company but also for ensuring that business goals and procedures of company are fulfilled with maximum efficiency. For example, the discrimination or bullying can affect the organizational culture adversely thus company can conduct training sessions or can make strict laws to avoid such situations.
Philosophy of A. David & Co limited: The philosophy concept in the organizational behavior of company is the attributes which reflects the character of company. It describes the working approach and distinctive source of organization. It ensures that company can achieve its objectives by sustaining and defining a suitable structure for working mechanism (Armstrong, 2018). The behaviour of leaders and team members strictly affect the growth of the organization and its performance evaluation in comparison to its other competitive organizations.
Path goal theory – there are four styles in this which is as follows :-
Directive path – here, leader knows what is expected from employee. They direct them to perform task. It is most effective theory applied by leader.
Achievement – in this leader sets challenging goals for employees. They motivate them to complete task. Also, leader help in meeting their expectation.
Participative- as name suggest leader allows employees to participate in decision making process. In this way they develop strong relation with them.
Supportive – the leader is highly concerned towards employee expectation. They support employees in critical situations.
In present case, A. David & Co limited is facing problem in their culture. They are having power culture that is creating poor impact on employee performance. Hence, productivity is reduced resulting in conflicts. Thus, for this Maslow theory can be followed. It will help in encouraging employees to put more efforts to fulfil their needs. Also, it will enable in improving culture within organization. The company can evaluate performance of employees and then fulfil their esteem needs.
M 4
The concepts of organisational behaviour can lead to both positive and negative impact on the performance and behaviour of human resources of organisation. These concepts helps business to understand the nature of human assets of company so that it can be transformed in alignment with the organisational culture. The people will be comfortable and can provide quality services only if they are comfortable and satisfied within organization. The philosophies of OB will help organisation to create a culture which can optimize the performance of its team members and individuals.
Related Services: Online Assignment Help
CONCLUSION
From the report it can be concluded that organizational culture significantly affects the performance of individuals. The leadership and motivational theories also influence the productivity of business outputs. It is difficult for the organizations to achieve their business goals without cooperation between team members. The report has explained the role of culture and power on the performance and efficiency criteria of human resources. It has also explained various motivational theories and techniques which are used by the business groups to encourage their team members for providing quality services.
The study has also described the importance of coordination in team work and organizations can improve it. The nature of organizational culture can cause organization to new levels of success or it can completely damage the brand value of performance of company if not managed and maintained properly. The document has also discussed various philosophies of organizational behaviour so that organizational and individual development goals can be achieved.
REFERENCES
Books and Journals
Argyris, C., 2017. Integrating the Individual and the Organization. Routledge.
Armstrong, D., 2018. Organization in the mind: Psychoanalysis, group relations and organizational consultancy. Routledge.
Block, J. and Block, J.H., 2014. The role of ego-control and ego-resiliency in the organization of behavior. In Development of cognition, affect, and social relations (pp. 49-112). Psychology Press.
Bolman, L.G. and Deal, T.E., 2017. Reframing organizations: Artistry, choice, and leadership. John Wiley & Sons.
Carlton, D.W. and Perloff, J.M., 2015. Modern industrial organization. Pearson Higher Ed.
De Board, R., 2014. The psychoanalysis of organizations: A psychoanalytic approach to behaviour in groups and organizations. Routledge.
Greenberg, J., 2014. Behavior in Organizations: Global Edition. Pearson Higher Ed.
Luthans, F., Luthans, B.C. and Luthans, K.W., 2015. Organizational Behavior: An EvidenceBased Approach. IAP.
Miner, J.B., 2015. Organizational behavior 1: Essential theories of motivation and leadership. Routledge.
Pettigrew, A.M., 2014. The politics of organizational decision-making. Routledge.
Pinder, C.C., 2014. Work motivation in organizational behavior. Psychology Press.
Thompson, J.D., 2017. Organizations in action: Social science bases of administrative theory. Routledge.
Wagner III, J.A. and Hollenbeck, J.R., 2014. Organizational behavior: Securing competitive advantage. Routledge.
Wilson, F.M., 2018. Organizational behaviour and work: a critical introduction. Oxford university press.