Tips to Make your Easter Vacations Remarkable
Celebrating Easter Day is filled with lots of fun, and you have a chance to make the day remarkable. You can look for Easter vacation to enjoy in a different way. Easter is a great time for foodies. If all the chocolate is not enough, it is the time to look for other options too. Here are a few ideas for you to relish Easter.
Try To Make Your Eggs: An egg-making idea is a lot of fun, and it brings you the possibility to enjoy Easter eggs. There's bound to be a lot of laughs along the way, and you might gain a new skill to take home. Even if everything goes wrong, you can still eat the chocolate no matter how it looks.
It Is Time For An Egg Hunt: Egg hunts don't just have to be for kids. There are some adult versions of egg hunts too. Or, if you have a young family, it is always fun to join the kiddie hunts too, and you can plan it with your friends as well just like a treasure hunt. The best part is filling chocolate eggs at the end of it. So don't wait for anything else, plan it today and adore to the fullest.
Have a Visit to Food Festival: Can you imagine anything better than going to a food festival? If you are a food lover, then the arrival of Easter means that there will be a lot of them to opt from. Don't be amazed if you are too full to eat the next day.
Decorate Your Cake: Cake decorating is always an art form exceptionally on Easter. Make your friends enjoy this with you and start decorating your Easter cake. You can make nice Easter scenes on top of your cake, such as bunnies, tiny chocolate eggs and carrots. You could even make the whole cake in the shape of carrot if you want. Give it a chance - it is a tough task but a lot of fun too.
Go for Picnic: As the weather begins to turn, this is the best time to take advantage of the sunny days. Seize a picnic hamper and fill it with your favourite sandwiches, snacks, and cakes. You can go to a local park or any place where you want to enjoy your picnic. Just make sure you are allowed to bring your food in before you arrive, and you are good to go.
Time For Easter Fair: Many schools, football clubs, heritage properties, and other organizations like to organize fairs on Easter. Entertainment, stalls, food and drink, and games, with all of these you will make a great day out.
Don't stay inside your home this Easter. There are a plethora of options available for you to choose from. With spring in the air, there is never a better time to try some foodie fun. So this time just think about how you are going to enjoy Easter, and we will handle your academic load. Global Assignment Help provides you with the best assignment help from the experienced academic writers, and the good news is right now we are offering upto 30% discount on all our services. Have fun on Easter!
Lowest price
USD 7.13
Get A+ Within Your Budget!
24/7 Customer Support
100% Customer Satisfaction
No Privacy Infringement
Quick Services
Subject Experts
Innovative Documents
FREE Tools
To Make Your Work Original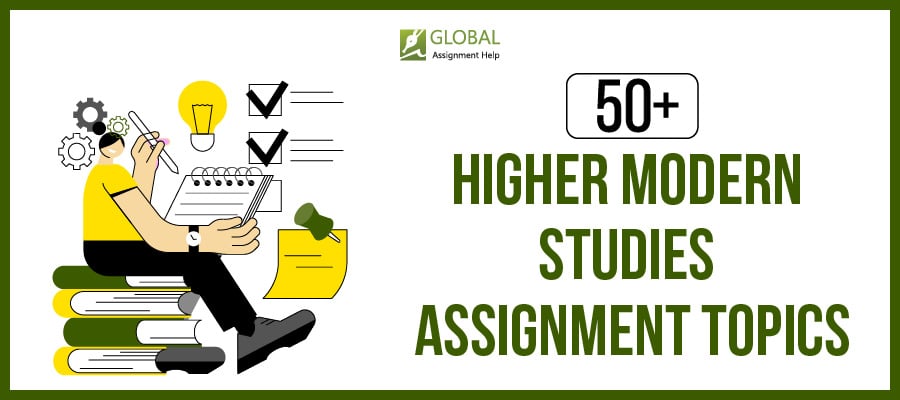 50+ Higher Modern Studies Assignment Topics to Ace Your Paper!
26-09-2023
117
13 minutes