7 Best Steps to Write Dissertation Papers in 2023
Table Of Contents
Richard is studying at the University of Oxford. His professor assigned him the writing assignment. He got furious because of its complex research process and lengthy word count. He went to his professors and asked how to write dissertation papers effectively. His professor showed him how to write and do research and also he will know how to write a dissertation introduction. He came home, researched the topic, and worked according to the teacher's instructions. Thus, the first thing he did was to know its meaning. He got various results, and from those, he selected the best option to resolve his query. He breathed a sigh of relief that his problem was resolved and completed his project. Though he has taken the assistance of dissertation writing help to get clarity.
What Do You Understand by Dissertation?
A dissertation is lengthy academic work given by professors to examine a student's academic performance for the final degree. It is usually written at the end of the programme to see how much knowledge and conceptual understanding you have gained over time. Thus, when it comes to dissertation writing, you must strengthen your research skills in a particular field. Therefore, it is a complex academic task because it takes a lot of time and effort. Though it is submitted before getting the PhD degree. Moreover in such academic tasks, you need to write the content with a proper dissertation structure.
If you are doing a master's or PhD in a specific field, you have to do immense research along with your findings. If you need assistance, you can even talk to dissertation writing help experts to make it easy for you. When you want to write a dissertation with the required elements, you must read the information given in this blog. Now that you have understood the meaning of a dissertation.Though if you want to enhance your dissertation writing skills, you need good knowledge of them. Let's jump into some major sections you can include in the academic task.
Now that you have understood what is dissertation, let's jump into the next section of how to write a dissertation step-by-step.
How to Write Dissertation Papers in Just 7 Steps?
The main component of getting the degree is writing a dissertation. You know it is a lengthy academic document that requires hard work and time. But have you ever thought that writing a dissertation in a step-by-step manner can fetch you good scores and uplift your academic performance? Also, if you are stuck with science dissertation papers, you can get nursing dissertation help from experts. So let's understand the essential steps are to write a good dissertation.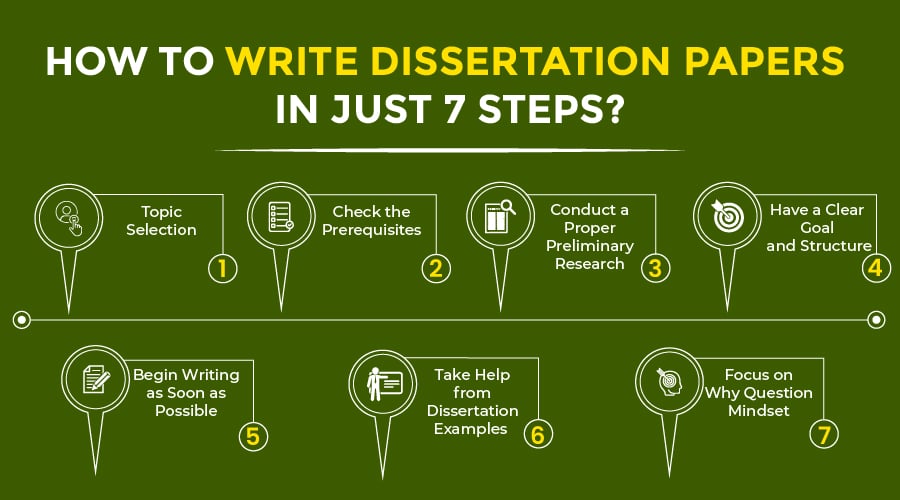 Topic Selection
The first step while writing a dissertation is to choose a topic carefully. It is a very significant element to start a lengthy document. You know that writing a dissertation with proper topic selection will help you in the best manner. It is a required element because, when you select a topic carefully, you can write inner content. Though it will also help you learn how to write a dissertation proposal effectively. It will be a main help in the topic selection process. By doing so, you will get an idea of the current trends happening in your field. Therefore, by taking dissertation writing help from an expert you can resolve query.
Check the Prerequisites
When you are writing an academic task, you must see its specifications. There are different requirements when it comes to writing a dissertation. Though it depends on the university and how they have made the particular guidelines. It contains certain things such as 
What type of content do you need to write?
Estimated word count
Where you should submit your dissertation
How long will be the dissertation
You may even ask the professors when you are writing a dissertation step-by-step.
What types of source material should be used?
How to give a proper dissertation structure
What are the different forms of analysis? 
Conduct a Proper Preliminary Research
research is an essential part of writing a dissertation paper. To perfectly write a dissertation you need to conduct preliminary research. To do the detailed research you can also talk to dissertation writer who can help you with it. It is one of the necessary steps that can help you. Sometimes, when you have a complex topic research becomes difficult, so you can either rely on articles or talk to the dissertation writing help experts to get guidance.
Have a Clear Goal and Structure
When you have chosen a topic, you can write a dissertation proposal too. It is where you demonstrate your research methods, dissertation introduction, literature review, etc. It portrays the purpose of the dissertation and on what basis you have done the research. Then you should be aware of every step. But you can also take the dissertation writing services option to get clarity. Therefore, you can consider the following points to ace the dissertation writing process:
Structuring and restructuringdissertation structure
Gathering and analysing data
Drafting and redrafting
Proofreading 
Reading and researching
By doing so, you will know what the dissertation layout will be if you work with the pointers mentioned above.
Begin Writing as Soon as Possible
When you have set goals and prior research, you can start writing content. You can check that you have addressed everything you want in a particular section. Even if you are writing a dissertation introduction, you still need to do preliminary research. When you begin the writing process, you can better understand the topic requirements and develop a narrative to understand and analyse it. If you have everything ready and prepared, you can write good dissertation papers. You can list sources and make research notes to make the content credible. 
Take Help from Dissertation Examples 
Writing a dissertation paper is complex. It becomes problematic for you to cover every element. That is why it is advisable to take help from references or relatable examples. While writing a dissertation, sometimes you cannot understand the complex terms or don't know how to proceed further with the overall process. In such cases, references help you a lot. Therefore, you can get dissertation help from experts to understand it even better.
Focus on Why Question Mindset
It is vital in dissertation writing that you develop a questionable mindset. If you want to write a dissertation paper in the best manner possible, then at each step you need to question whether you are satisfied with the explanation. When it is about dissertation structure, then you need to keep this step in mind. You have to explain to the reader why you have done the particular research. To your rescue, there are options available on the internet, such as dissertation writing help, dissertation help, etc. 
Now that you have understood how to write a dissertation step by step, it's time to understand the dissertation structure

What is the Structure to Write a Perfect Dissertation Paper?
While structuring the dissertation papers, they play a significant role in getting picture of a perfect dissertation. When you have understood the dissertation steps, let's get into the structure of it.
Title page
The first page of the dissertation paper contains the title, name, department, programme name, submission date, department, institution, etc. It also includes the student number, professor's name, university symbol, etc. To understand it better, you can get dissertation help from experts to get an exact idea.
Acknowledgement
It is usually an optional section written to say thank you to the people who have helped with your dissertation. Therefore, it is an essential part of the dissertation structure.
Abstract
It is a summary of the dissertation consists of 150–300 words. It can be written as advisable. You can include the aim of your research, the methods used, a summary of the main results, etc. To your rescue, there are dissertation help experts available to assist you.
Introduction
It is a vital part of dissertation writing. Introduction is an opening paragraph where you explain the information about the topic and give insights into the content. If you have issues with writing opening paragraphs you can refer to online websites also.
Literature Review
It is a specific section consisting of relevant sources. It is a thorough framework for the topic. Therefore, you can count it as one of the vital segments. Before, you know how to write a dissertation introduction, you need to cite the sources because it is an essential step that adds value.
Methodology
This section comprises the methods by which you have conducted the research. It briefly describes the method to collect and analyze data. Therefore, you can get dissertation help from experts to understand it even better.
Results
This section consists of the research outcomes. You can format this section around hypotheses, topics, questions, etc. Thus, it is a main part of the dissertation structure.
Discussion
This section comprises the meaning and implications of the results related to the research questions. There are several options available to assist you, such as dissertation writing help, dissertation writing services, etc as they will resolve every query of yours.
Conclusion
The dissertation conclusion should precisely answer the research question, making the reader understand your central argument. Though you have understood how to choose a good dissertation topic to write the inner content on, you have already won the battle.
Now that you have understood the dissertation writing structure, the next aspect is how our professionals can help. Therefore, you can understand it better by talking to dissertation writing help experts.
Need to Write Good Quality Dissertation Papers? Place the Order as it Starts from @$8
Order Now!
How Our Professionals Can Help?
As you know, dissertation writing is one of the most complex academic tasks. If you want to excel at writing a dissertation, then you should know every aspect that leads to success. Though you don't have to worry if you face any issues while writing a dissertation, Our profound experts will help you in every way possible. You can reach out to your dissertation writing help experts to get the best results.
Dissertation writing is a complex task, but it is not impossible. You need to brush up on your skills. But it is not possible to do so. In that case, you can talk to dissertation editors who can help you review and proofread your document.
Lowest price
USD 7.13
Get A+ Within Your Budget!
24/7 Customer Support
100% Customer Satisfaction
No Privacy Infringement
Quick Services
Subject Experts
Innovative Documents
FREE Tools
To Make Your Work Original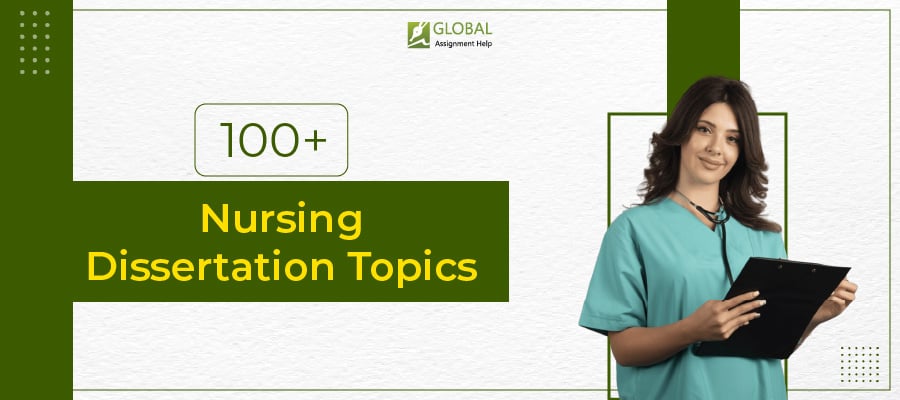 100+ Unique Nursing Dissertation Topics and Titles by Expert