Form the Best Dissertation Structure with Our Experts' Help
Dissertation writing is a long form of writing that is an indispensable part of your academic career. It is constructed to test your knowledge about a specific topic and your ability to research to prove a point. When working on this piece of writing, you need to follow a proper dissertation structure defined by your professor or the institution. If it is not, you can follow the basic one, which our experts use as well. These will be discussed ahead in this write-up.
So, until now, you have a clear understanding of what a dissertation is, and hopefully, your dissertation proposal has also been approved. Therefore, it is time to get your entire dissertation approved. Let us mark down all the essential elements to include in the structure of a dissertation and then discuss them in detail. A dissertation breakdown by our experts. So, these are the nuts and bolts without which the foundation of your dissertation structure will not stand still. Now let us dive deep into these.
Dissertation Structure: How to Format a Dissertation?
The requirements provided by your university might differ for how to structure a dissertation. So, you must cross-check them before you start working. But if there are no definite guidelines, you can follow the general structure addressed below by our experts: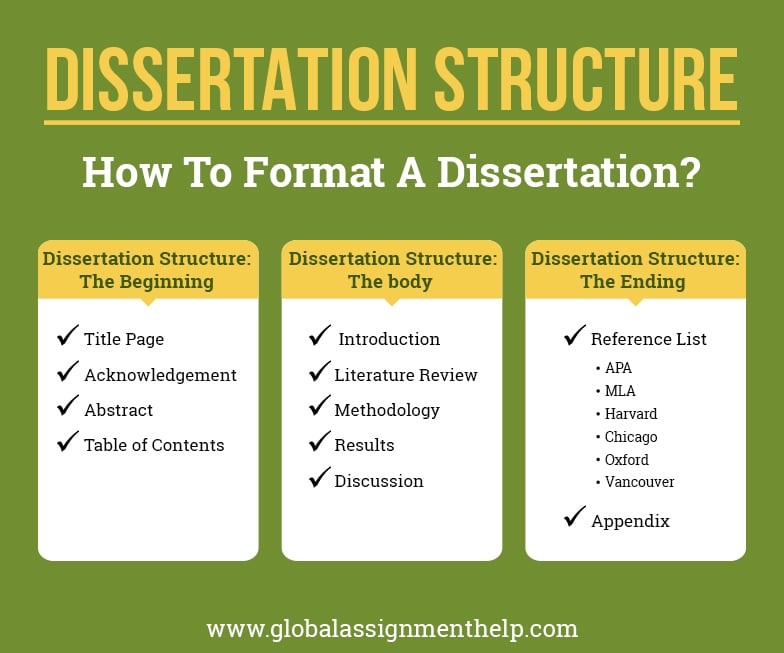 Dissertation Structure: The Beginning
It is the beginning or the starting point of the structure of a dissertation, where you mention all your personal and university details. This is the area where students struggles with dissertation structure UK. So, this section will clear this confusion and equip you with the four sub-divisions, which are as follows:
Title Page
It is the first-page reader will look at, so it must be created that way only, as the first impression must be appropriate. Therefore, this page contains a title or your dissertation topic on which you will be working.
So, an appropriate topic must be created according to the 3S, which are:
Short: Should be short but provide a gist about the dissertation.
Simple: It must be easy to understand and explain the purpose.
Sufficient: The title must be self-sufficient or self-explanatory. 
Our experts will help you create an appropriate topic to make your first impression the best. To do this, they check off all the points mentioned below:
It must give a hint of the broader research area.
It must focus on the specifications of the research.
It must indicate the research design to use.
But, these might differ from the requirements of your university. Moreover, you can use these guidelines if there are no instructions how to structure a dissertation.
Acknowledgement
In this section, you have to give credit to all the people who helped you in your journey of constructing a dissertation. In other words, it is an opportunity to thank those who have supported you during the dissertation process. Although there are no pre-defined guidelines for how to create this section, some of the people to include are:
The supervisor or the dissertation committee
Your family, friends, or spouse
Your mentors and advisors
Your academic professors, who guided you in the process
In this section, you do not need to give a detailed explanation of how they helped you.
Abstract
This section is also called an executive summary of the dissertation document which helps the reader understand the broader perspective of your dissertation. Although this section comes at the beginning of the dissertation structure, most of the students prefer to create it at the end. It is so because they find it easy to construct it in the end. Moreover, there are pointers to include while creating it to make it appropriate, as adopted by our professional writers:
It must include the research question and the motive to conduct the research.
The methodologies that you will use to conduct your research (qualitative or quantitative)
The findings or outputs that you have reached after the research
The conclusions you have drawn from the results
So, in short, this section can be looked at as the trailer for the complete movie that is the dissertation document. Although these pointers might vary according to the needs of a particular university, but, the essence will remain the same.
Table of Contents
The following section in the structure of a dissertation is the table of contents. In this section, you must include all the chapters of the dissertation structure. It will be followed by the two lists, which are the tables and figures. It will be the most straightforward part of the entire procedure. This section is created to help readers easily navigate the different sections of the document on their own. In addition, if you find this section lengthy, you can consult our dissertation help experts to cut it short and make it specific.
So, this was the beginning segment of the dissertation, which might vary according to the requirements of an institute. Any flaw in this section will not make you lose grades, but it can help you make an impression. Now, move ahead with the most crucial segment of the dissertation structure that can make or break your whole document. 
Are You Struggling with Structuring Your Dissertation and Worried About Your Grades? Get Help From Our Experts!
Hire Expert Now!
Dissertation Structure: The Body
As of now, you are aware of the admin sections of the dissertation format; it is time to understand its core chapters:
Introduction
You must be thinking that you have already given a brief description of your research in the abstract section, which is why this segment is created. So, in this section, you have to explain the topic and everything in more detail. Here, you have to provide the answers to some of the questions mentioned below:
What will you be studying?
Why is it worth investigating?
What is the scope of your research?
Does your research aim at?
What methodology you will use?
How will you structure your dissertation?
All the questions are crucial to answering in the introduction. But it might be challenging for you to do so. Therefore, our dissertation writing services can help you make it a smooth process.
Literature Review
After you have introduced your research topic, it is time to analyse the previously conducted research to gain an understanding of what has already been done in this area. To do this, you must consider the following questions:
What does the literature say about your topic?
Is the literature lacking somewhere?
Do you agree with the literature's conclusion?
How does the methodology used in the literature help you?
All the questions are looked into by our expert writers to make your dissertation authentic. It is so because this section of dissertation structure UK helps you understand the research gaps present and helps you bridge them with your research. Although, you have to consider the guidelines provided to you before you start working.
Methodology
As the name suggests, this section discusses the methods you have used to gather information about your topic. However, in the previous section, you considered the techniques used by other researchers. So, in this section, you will identify whether to use those or implement others to conduct your research. Therefore, in this segment, you have to answer:
How will you conduct your research?
Why this method is appropriate to gather data?
In addition, in this segment, you must describe the methodologies used in detail because they might be used by other researchers in the future. Along with the description of the technique you have implied, you also mention its limitations. It is so because future researchers must be aware of these to decide whether to use them for their work or not.
Results
Now, you have collected all the related information about your topic through qualitative, quantitative, or mixed methods. So, it is time to showcase them in your dissertation. But, in this section, you need not discuss, explain, or give justification for them; you have to present the raw results. Again, this segment might vary according to the needs of the university guidelines, so you have to consider them again before making this section. If you face trouble coping with the requirements, you can seek help from our dissertation writing experts, who are well-versed in all the necessities. So, if you are thinking you cannot make it through this lengthy process on your own, do not worry; we have a dissertation outline generator tool to ease things for you.
Discussion
It is the section where you will discuss and explain the results you have mentioned above. This section might need the guidance of our experts, as you have to interpret and analyse the results. It is one of the crucial sections of your dissertation structure where you have to justify the outcomes and their relation to the research question created at the beginning. In addition, this section will also help you answer the questions and hypotheses you created at the start. So, here you have to answer the following questions:
What do the outcomes tell us about the research question?
Do these results align with the questions?
Are you satisfied with the results?
Answering these will help you construct an effective discussion section for your dissertation paper.
Conclusion
This section, as the name suggests, will conclude the entire dissertation you are working on. In this, you have to summarise the document by including the topic question, methods used, reviews, and results you have come to. This section will let the readers know everything briefly and concisely. You need to construct this concisely and not explain anything in detail. In addition, you should not introduce anything new here to confuse your readers.
It is the end of the core chapters of the dissertation structure UK. Let us now get going with the end segment of the document. 
Are You Confused with Structuring Your Dissertation or Cannot Organize It Effectively? Get Help From Our Experts!
Order Your Dissertation
Dissertation Structure: The Ending
It is the last section of your dissertation structure, which will provide all the details of the reference materials you have used in your document. 
Reference List
The reference list, or bibliography, is the section that incorporates the citation of all the material that you have referred to while constructing your dissertation structure UK. It is a crucial section, without which your content can be flagged as plagiarised. To do this, you must follow a particular style that is either defined by your professor or the one you find most appropriate. There are several citation styles that our experts can work with; some of them are mentioned below:
APA
MLA
Harvard
Chicago
Oxford
Vancouver 
Sometimes universities do not find the reference list and the bibliography section to be the same. Therefore, you must cross-check the guidelines beforehand to be sure.
Appendix
It is the last section of the long dissertation structure, which deals with the extra or supporting details of the document that you cannot include anywhere else. This additional information includes graphs, charts, questionnaires, bar graphs, etc. These must be numbered or marked appropriately, as it will help the reader navigate and refer to them.
In addition, you must take care that you have mentioned these at least once in the entire document, which can be done by mentioning them in a bracket. So, this was the complete procedure for how to structure a dissertation to make it up to par. Move ahead to know the topics covered by our experts.
Master Dissertation Structure
Topics Covered by Global Assignment Help to Resolve Your Queries
A dissertation is an indispensable part of your academic journey in every field. It is why we provide our expert guidance on all the subjects or topics you are working on. Listed below are some of the common topics where students seek writing and dissertation editing services from us:
Composing a dissertation around these topics is the speciality of the experts at Global Assignment Help. They have the skills of how to structure a dissertation, which makes them stand out from the ordinary crowd.
How Experts of Global Assignment Help Build a Perfect Dissertation Structure?
Here are the elements considered by our experts while working on your documents:
Keep Track of Guidelines
Working according to the guidelines is the most crucial thing you must do while crafting a dissertation. It is what our experts are familiar with. In addition, they are so versatile that they can adjust to any requirements they are asked to work with. Therefore, when you seek assistance from us, you do not have to worry about any specifications getting missed.
Peculiar About the Research
As a dissertation is all about conducting in-depth research and gathering all the necessary information, our experts go out of their way to collect the data. It is what makes the dissertation paper crafted by them a top-notch one without any flaws. They also provide you with a dissertation structure example to make it a smooth process.
Forward-Looking Approach
If you are worried about your structure getting accepted, you can get our assistance, as our dissertation proposal help will reduce your burden of crafting an outline that is approved in one go. It is so because our team of professionals works with a result-oriented approach, which leads them to success.
Cross-Check the Quality 
The quality of the documents is something that our team is most concerned with. No matter how lengthy or challenging the work is, they will never compromise on quality. It is so because a single document goes through four stages: research, write, proofread, and cite to make it flawless.
Keep Up with the Strict Deadlines
Deadlines are another crucial aspect of the dissertation. Therefore, our team of experts is trained so well that they can work with even strict deadlines. Completing work on time does not mean decreasing the quality here; we work on time while keeping the quality intact. So, if you are still in two minds, look at other assurances we have for you.
Why You Must Choose Global Assignment Help for Assistance?
Although there are numerous dissertation help services available, they cannot manage to deliver what they promise. But we can only assure you of the parameters that our writers can meet. So, let us answer the query of why you choose Globalassignmenthelp for the service of dissertation structure.
Plagiarism-Free Content
Plagiarism is equal to a crime in academics, which is why we assure you to create your document from scratch to ensure it is 100% original and authentic. 
24/7 Support System
Sometimes you cannot wait for long hours to get your query resolved. But with us, you do not have to wait, as we are available 24/7 to help you.
PhD-Holder Writers
We understand that quality matters most in any academic task. It is why we have a team that is specialised in their respective fields.
Free Tools Available
In addition to all the services, we have several tools, like a plagiarism checker tool, a thesis statement generator and more to make your work easier.
So, what are you still thinking? Avail our services now to improve your grades and construct an outstanding and compelling dissertation.
Write My Dissertation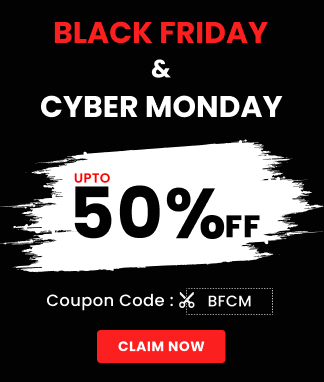 Frequent-Asked Questions to Help You Solve Common Queries
What Is a Dissertation Structure?

Students often wonder how to structure a dissertation. Don't worry, as it's like a thesis paper's structure. So, it includes an abstract, introduction, literature review, method, results, discussion and conclusion.

How Can Dissertation Help Services Assist with Writing a Dissertation?

Our Experts can aid in formatting the paper, they are the masters dissertation structure. Also, they guide in topic selection, research design, literature review, and editing while following the rules.

What Are the Elements of a Good Dissertation?

A good dissertation outline structure UK reflects originality, thorough research and clear organisation. It contains critical analysis, strong methods, and effective communication of findings.

Why Are Dissertation Editing Services Important?

Experts ensure that the document is free from grammatical errors and inconsistencies. Apart from this, experts of dissertation structure UK, check format of the paper and improve clarity.
How Do You Write a Dissertation Structure?

The dissertation format resembles the thesis structure UK. So, divide it into: abstract, introduction, literature review, methods, results, discussion and conclusion. Research each section and organise the content.

What Is the Importance of a Well-Structured Dissertation?

A well-structured dissertation is crucial for clarity, coherence, reader comprehension, and demonstrating adherence to academic conventions. So, research dissertation structure and know the purpose and objectives of each section.

Can I Refer to Dissertation Structure Examples for Formatting My Paper?

Certainly, you can refer to our samples if you are looking for a dissertation structure example. Our academic writers have formatted the document in the perfect manner and as per the standard guidelines.

What Is the Hardest Part of Writing a Dissertation?

The hardest part of writing this paper is the abstract and methods. To ease the process, first, define the dissertation methodology structure and the dissertation abstract structure. Then outline these sections, conduct thorough research, and then begin writing.
- LATEST BLOGS -
Read Our Latest Dissertation Blogs
By High Quality Assignment experts on university, academics, assignment, writing skills & tips, and many more
View More
What Our Happy Customers Have to Say?
I recommend you that if you face a problem writing the content with proper dissertation structure, then Global Assignment Help is here to help you!

Samuel Houghton

Manchester, UK

I had trouble writing the project with proper dissertation structure, and Global Assignment Help has made that easy and quick for me!

When I got to know about you guys, my anxiety about writing the content with proper dissertation structure went away! Thank you for the support!

When i got to know about global assignment help i immeditaley contacted them because they have the best team of experts who will help me in framing the best dissertation structure.

Phoebe Ferguson

United Kingdom
View All Review