How long is a Dissertation? Know the Average Length of Paper from Expert
Table Of Contents
When applying for PhD degrees, one question that pops into a student's mind is, "How long is a dissertation?" It is because this project is an essential step in achieving the doctorate program.
It highlights the research work conducted while pursuing graduation and aims to boost the analytical skills of a student. Everyone is afraid of writing a dissertation, as it brings many challenges along with its completion. Such as the never-ending length of the paper, inadequate information, and the issues of crafting a valid thesis statement. Some students find it impossible to complete and often search, "What is the average dissertation length?" In this blog, our experts will answer every query regarding the length of the paper, but before that, it is essential to know what a dissertation is.
What Is a Dissertation?
Before answering, how long is a dissertation? You must first understand its actual meaning. It is the lengthiest form of academic submission and focuses on the research conducted by students. A simple definition of the paper says, "One form of academic writing that elaborates what you have studied, practiced, and accomplished to achieve a PhD degree." The project often resembles a PhD thesis, as both aim to present solid facts and findings on a particular subject. The average dissertation length can be up to 200 pages and consists of multiple sections. Each of them contributes to justifying the thesis statement.
The dissertation structure consists of an Introduction, acknowledgment, abstract, table of contents, literature review, methodologies, results, discussion, appendices, and references. Students should read further to know how long is a PhD dissertation and what the length of each of the above sections is.
Let's Know How Long is a Dissertation?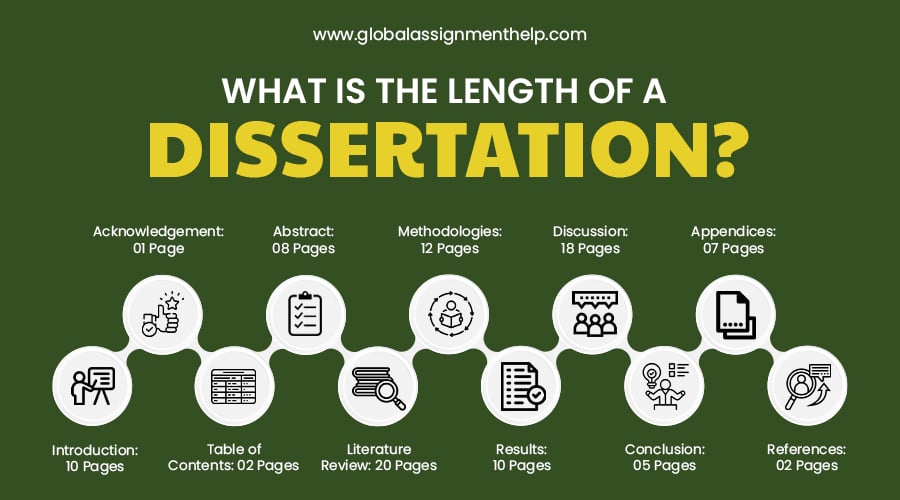 Generally, the dissertation length depends on the academic discipline and the topic you are writing on. Thus, there is no single answer to this question, as some professors will say the thesis and dissertation should consist of 146 pages. On the other hand, some experts will suggest it should comprise 300 pages. Also, another factor to remember is to frame your dissertation in Times New Roman. It is one of the finest fonts for dissertation and a preferred one. No matter what the length, the dissertation should fulfill each requirement and provide sufficient evidence.
Still, the overall length should range from 100 to 300 pages, and the dissertation word count should go from 20000 to 25000 words. Neither less, nor more If you are pursuing a degree in mechanical engineering, Information technology, economics, or math, then your paper will be short and comprise a maximum of 125 pages. On the other hand, subjects like history, political science, other sciences, health, and management include up to 300 pages in their dissertation. It all depends on the subdivisions that support the thesis argument. So, read further to conclude the hype regarding the average length of a dissertation and its chapters.
What Is the Length of Each Chapter of the Dissertation?
In this section, we will learn more about the length of the thesis and dissertation. So read each pointer and know how many pages dissertation and its chapters are.
Introduction
This section provides the gist of your research topic. It offers background information and defines the key terms that are repeatedly used in the paper. Moreover, it highlights the research gaps and trending issues related to the topic. Thus, the dissertation length of the introduction should be 10–12 pages. It will comprise 2700–3000 words on average.
Acknowledgement
The acknowledgment section of the dissertation is where you thank people who helped you in drafting a quality project. It can be anyone—friends, family, faculty members, classmates, professors, or instructors. Are you wondering how many pages dissertation acknowledgment should be? Then the right answer is 1-2 pages with a word count that ranges from 250–300.
Abstract
The abstract of the dissertation is written to generate the interest of potential readers. It offers hints about each section and supports your thesis. But make sure that you don't provide extra details and focus on providing a general overview. The length of this section is around 8–10 pages, which comprise 2000–2300 words.
Table of Contents
Usually, a thesis or dissertation includes an outline of the whole paper after the introduction. It is a list of headings and subheadings along with page numbers. The table of contents is short in length and ranges from one to two pages, which sum up to 200–250 words.
Literature Review
Students often search the web for "How long is a PhD dissertation?". Why? it is because of the tedious and lengthy literature review. This section explains past findings relevant to the topic. Thus, it offers a complete summary of previous studies and their results. It helps the reader understand the prime concepts. The length must be around 20–25 pages long and 6200–6500 words. 
Methodologies
This section highlights the process of the research, that is, the experiments and methods used to collect information. Each experiment should be defined individually, and then the process should be explained in a step-by-step manner. If you face issues elaborating on the methods, you can seek help from us. It is because we can offer complete guidance on how to write a good dissertation paper. The length of this methodology section is between 10 and 15 pages, and the word count is 2700–3000.
Results
The results chapter of your dissertation highlights the raw data derived by performing quantitative and qualitative experiments. Arrange the results in ascending order as per the hypothesis. It is one of the most important sections, yet it contains 8–12 pages at maximum and approx. 2500 words. 
Discussion
In the discussion section of a dissertation, a student elaborates on multiple points. It explains the results, common challenges, some predictions, and the limitations of the research. The discussion chapter should include 15–18 pages and comprise 5000–5500 words.
Conclusion
Moving further to the conclusion of your thesis, which summarises the entire research, The purpose of the conclusion is to explain to the readers how to utilize the newly acquired knowledge in their academic discipline, career, or daily life. The length is 4–8 pages. The word count ranges from 1400-2000 words.
Appendices 
Appendices is not a main section. How long a dissertation is depends on the first five chapters mentioned above. As the appendices and recurrences are just a smaller contribution to the thesis. Appendices consist of tables, raw calculations, and definitions. This section also contains graphs, pie charts, and diagrams. The length of the appendices depends upon your topic, but the average length is 6–8 pages with a 1400 word count. 
References
This section is crucial, just as the other sections are, as it helps students avoid plagiarism. Moreover, students should include reference links to prove the credibility of the data. It will also help your readers attain more information. The average length of this chapter is one to two pages, and it should comprise 300–400 words.
So now we know the length of PhD dissertation and how long each section must be. But if you still have any more queries, then read further to know the answers to commonly asked questions related to the paper.
Some Questions Related to the Length of the Dissertation
Up until now, you have learned what a dissertation is and the number of pages it contains. Moving further, our experts will discuss some questions related to the length of a dissertation.
Q.1: Why Is a Dissertation So Long?
The paper requires complete research on a single topic and aims to resolve relevant trending issues. It summarises past findings and offers evidence for the current thesis statement.
Q.2: How Much Time Does It Take to Write a Dissertation?
Based on the academic discipline and the thesis you choose, it can take 6 months to a year to write. Moreover, the length of a PhD dissertation related to science is 300 pages and can take 3–4 semesters to complete.
Q.3: How Long Should a Dissertation Be?
Your dissertation project must contain more than 100 pages. Wherein the literature review and discussion should be the longest. It will require thorough research, but with the right data, you can justify the argument smoothly.
Q.4: Is Writing a Dissertation Difficult and Impossible?
Writing a longer dissertation can bring multiple challenges in researching, drafting, and editing. But with proper time management and assistance, you can easily overcome these problems and make it possible.
Do you still think that writing a dissertation is tough? Don't worry, as the experts at Global Assignment Help are available to resolve your problems. Let's see how our team can assist you in writing the paper.
How Can Our Experts Assist with Dissertation?
Are you stuck writing your paper and need dissertation help? You should read below to learn how experts of Global Assignment Help can assist you!
Saves Time in Research: 
If you are unable to find data for your paper, just contact our experts, and we will offer sufficient information inclusive of facts and findings.
Crafting a Dissertation Proposal: 
Our experts will assist in submitting a quality dissertation proposal by crafting a strong thesis statement and objectives.
Outline and Structuring: 
We not only help students with theme selection but also offer complete guidance in formatting the dissertation paper. A good structure will help in presenting the evidence appropriately.
Assist in Drafting: 
Many students have poor language proficiency, and thus they struggle a lot while writing in English. But now you can seek assistance from us, and we'll help you craft a dissertation easily.
Expert Proofreading: 
It is difficult for students to proofread lengthy documents like research papers, theses, and dissertations. By seeking expert help, you can get your documents neatly edited in the shortest time possible.
Thus, taking help from experts will make the process hassle-free and you can adhere to every rule in an easy way. Moreover, try not to make the dissertation too long, as it will bring in many errors like repetition of thoughts and irrelevant information. Follow the page limit mentioned above for each section and exclude all possible errors. If you still have any doubts about how long is a dissertation then contact us and we will resolve your queries.
Lowest price
USD 7.13
Get A+ Within Your Budget!
24/7 Customer Support
100% Customer Satisfaction
No Privacy Infringement
Quick Services
Subject Experts
Innovative Documents
FREE Tools
To Make Your Work Original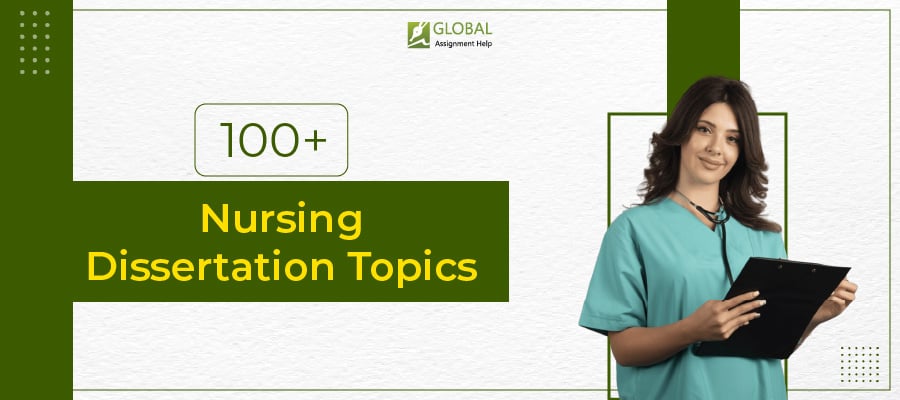 100+ Unique Nursing Dissertation Topics and Titles by Expert