INTRODUCTION
Management operations refers to the practices of business administration, in order to establish highest level of productivity in the organisation. It is related with converting raw materials into finished products with the optimum utilisation of labour to increase profits and growth of the organisation. Amazon which is a electronic commerce and cloud computing company, headquartered in Washington, has been taken in this report. It provides electronics, software, furniture, toys, food, etc. Role of leaders and managers and how they are important in an organisation is explained. Further, different approaches of leadership are also mentioned. Value and need of operations management in achieving business objectives is described in this report. Along with this, different external factors which affects the business environment and its activities are mentioned in this project.
TASK 1
P1 Role and characteristics of leader and manager
Leader:- A leader is a person who influence people or individuals in the organisation. They encourage individuals to attain desired objectives effectively, in order to maximise their efforts towards goal accomplishment. In context to Amazon a leader will motivate employees to achieve prescribed objectives and have a great impact in the overall organisation.
Manager:- Manager is a person who takes responsibility of certain tasks of company or whole organisation's duties. They performs managerial functions at primary level. In context to Amazon the manager perform organisational duties, managers its employees , departments, and execute different functions such as – planning, directing, controlling, organising, staffing, etc.
Role of leaders
Leaders have an important role in any organisation. They help in motivating teams and employees in Amazon. They perform different roles to encourage individuals for attaining business objectives. Few of them are described here.
Building morale:- It is one of the important responsibility of leader. The leader encourage individuals to work together, in order to accomplish common goals in the organisation. In context to Amazon the leader should build employees morale by involving them in organisational activities and decision making. A good leader should appreciate employees for their best performance. Appreciating them for well done job will increase their morale.
Motivating employees:- It is the vital responsibility of leader to motivate individuals in the organisation. The leader should identify employees needs and requirements before assigning obligations to them. In context to Amazon the leader should motivate individuals by removing obstacles and supporting them in goal accomplishment.
Managers functions
Planning:- Planning is the foremost function of managers in any organisation. Planning refers to the process of determining and preparing plans and strategies to achieve desired objectives. In context to Amazon the manager should execute planning by identifying objectives and formulating plans to accomplish them.
Organising:- It is also one of the vital functions of managers. Organising refers to the managerial process through which work and responsibilities are assigned to employees in the organisation. In context to Amazon the manager should divide work among employees according to their skills and capabilities.
Difference between leaders and managers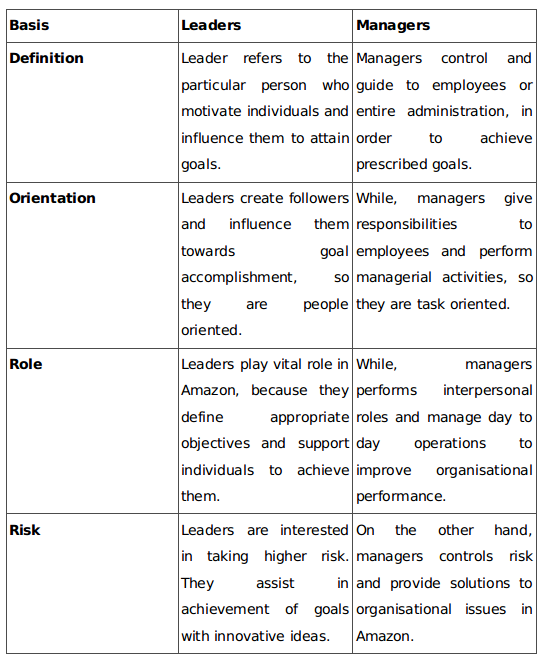 Leaders and managers characteristics
Positive attitude:- Leaders and managers both have positive attitude and they encourage individuals to obtain desired objectives effectively. In Amazon the leader and managers should have positive attitude to inspire employees.
Responsible:- Managers and leaders performs their roles and responsibilities in effective manner to attain prescribed objectives. In Amazon the leader and manager should be obligated towards their work.
TASK 2
P2 Role of leader and manager in situational contexts
Amazon is a multinational company and deals in different customer products. It operates in many countries all over the world. There are different situations which occurs in business environment and affects its activities. In context to Amazon the company has to face various problems due to changing situations in the market. It includes different changes such as – new technologies, market trends, customer preferences, government policies, etc. Different situations and role of leaders and managers in facing these problems is described below.
Fast situation:- Fast changes are those changes which occurs rapidly and are accepted or changed speedily in the organisation. In fast situations different changes arises which include – innovative technologies, changes in customer demands, etc. In context to Amazon, it is essential for employees to have knowledge about these situations and changes. They should be aware about new and changing techniques in the market. To overcome from these situation the leader and manager have different roles which are explained below.
Managers function:- In Amazon, the manager should coordinate with the employees to deal with these situations. They should guide individuals how to solve the problems and team should be formed to work together and attain desired goals.
Leader's role:- In context to Amazon the leader should provide proper training to individuals to overcome these situations. They should provide knowledge about new technologies and their uses. By this way they can improve employees productivity and attain desired growth and profitability.
Moderate situation:- Moderate situation is the situation between the fast and stable changes. These changes arises slowly in comparison to fast changes. It involves – changes in customers preferences and requirements. In context to Amazon, the company should identify the consumer changes and modify them according to their requirements. For example electronics items, software, etc. The managers and leaders should consider these changes and prepare employees to deal with the situations. The should perform different roles like:
Managers function:- In context to Amazon the manager should perform managerial functions by determining customers demands and prepare plans and strategies. They should conduct research and development activities, in order to identify customer's demands.
Leader's role:- Leaders assist the organisation in solving problems related to these situations. In context to Amazon the leader should analyse the market to identify customer demand and latest trends. It will help in maintaining better relations with customers and increase business sustainability.
Stable situation:- Stable situations refers to those which remains same almost, and changes in rare cases. These changes occurs at steady level in the organisation. These situations involves companies rules, regulations, policies, performance of employees, etc. In context to Amazon employees performance must be evaluated and leaders and managers should perform different functions and role which are:
Managers function:- In Amazon the manager should prepare appropriate plans and strategies to evaluate employees performance. Further, they should make appropriate policies to deal with stable situation.
Leader's role:- In context to Amazon the leader should motivate employees and improve their productivity by providing effective training to them. They should provide opportunities to individuals to perform challenging tasks, so that their performance can be improved.
P3 Different approaches of leadership
Leadership is very vital element in any organisation. A good leader requires different qualities such as – talent, higher skills, charisma, knowledge, etc. Different leadership theories focus on successful leaders, their qualities and actions. In context to Amazon leadership theories defines leaders and individuals requirements at workplace. It also determines how various leadership behaviours affects individuals and leader's attitude, competence, skills, etc. In Amazon, the leader can use different leadership theories according to their requirements which are descri