Question :
This Assessment covers following questions:
Evaluate the role of marketing and how it interrelates with other functional units of Cadbury company.
Make comparison in a way in which organisations use elements of the marketing mix (7Ps) to achieve overall business objectives.
Cadbury is a multinational confectionery organisation.  Develop and evaluate a basic marketing plan in the context of Cadbury.
Answer :
Organization Selected :
Cadbury
INTRODUCTION
Marketing is defined as the management approach which helps organisations to identify, anticipate and satisfy the requirements of their customers in alignment with their profitability goals. The current marketing trends are based upon directly interacting with customers through digital technologies and by providing them services at their doors. The organisations are focusing on strategies which allows them to deliver their services to consumers within quick instant of time and without need to going outside their homes (Lusch and Vargo, 2014). These trends are rapidly improving and are focusing to provide more personalized services in the future. The future trends of marketing will also aim at ensuring product availability at every place irrespective of geographical boundaries.
The report will analyse the impact of marketing on performance of organisation and its interdependency on other functional units of organisation. It will provide a marketing plan for Cadbury which is the second largest confectionery brand after Mars incorporated. The study will also provide comparative analysis of organisation on the basis of marketing mix elements.
LO 1
Marketing processes and its elements
In order to meet the needs of customers and to deliver the required services Cadbury follows the sequential process of marketing. At first the organisation analyses the market and opportunities in which Cadbury can deliver its services with profits. For analysis purpose the organisation evaluate both macro and micro environment factors and tools like SWOT analysis, PESTLE and 5C analysis. When organisation successfully identify the opportunity it creates a strategic plan by segmentation, targeting and positioning concepts so that marketing mix related decisions can be implemented (The Role of Marketing in Organizations, 2014).
The promotional and implementation strategies used by Cadbury are based upon above mentioned analysis. In the final stage of marketing process the organisation control and monitor its strategies and bring improvements or changes as per the changing demand of target audience. The various elements of marketing involves the elements like price, product specification and parameters related to distribution and supply of services.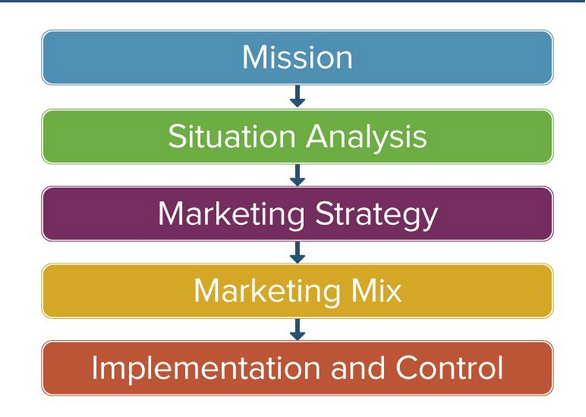 (Source: What is the definition of strategic marketing?, 2018)
You may also like to Visit - Assignment Helper
Want to Hire Expert Writers?
Writing different academic papers can get puzzling at times. Reach out to the best writers of Global Assignment Help and ask for assistance with all types of essays, assignments, reports & more!
Order Now
Roles and responsibilities of marketing manager of Cadbury
Marketing managers of Cadbury plays a key role of implementing marketing functions of organisation. For effectively applying marketing strategies into practice the managers ensure that analytical and communication skills are extensively used (Why marketing is so important, 2016). Marketing manager organises market research so that organisation can discover the opportunities. It is the responsibility of manager to coordinate and guide other team members so that appropriate strategies can be developed and implemented for achieving the profit goals of organisation. In Cadbury marketing managers also performs the role of employee and customer management. They identify the skills and abilities of team members and assign duties so that business activities can be accomplished.
The managers also conduct surveys for analysing the customer satisfaction for services and how organisation can retain consumers for long term. During the situation of risk management the marketing managers cooperate with other functional departments to evaluate the solution for dealing with the crisis (Dinnie, 2015). The marketing manager of organisation also ensures that promotional strategies used by the organisation are highly efficient and influences the buying nature of its consumers.
One of the significant duty of Cadbury marketing manager is that these executives regularly monitors the market trends and strategies of competitive organisation. From their observation they provide potent recommendations which can help organisation to overcome the performance of their competitors and to build new customer segments. If marketing managers are not efficient enough then organisation will not be able to achieve its marketing goals and it will be almost impossible for organisation to change the business practices according to demand of market trends and consumer requirements (Babin and Zikmund, 2015).
Impact and interrelation of marketing with other departments of organisation
The marketing functions greatly affects the performance and operational activities of other functional units of Cadbury. The impact on key departments is as follows:
Accounts and finance department: The promotional strategies of marketing team must be in alignment of budget sanctioned for the department. The finance department also keep track of the records or purchase in response to a particular marketing strategy. The interrelation helps organisation to have a control over its operational cost as well as to analyse the benefits or sales analysis due to implemented marketing strategy.
Operational department: The operational activities of Cadbury must be in alignment with the marketing team. The product specifications and distribution must be in accordance with marketing plan of company (Helm and Gritsch, 2014). It requires coordination between both divisions so that organisation can accomplish its business activities with maximum efficiency and accuracy.
Information technology (IT) department: The current marketing strategies of Cadbury are highly dependent on digital technologies such as social media marketing and online system for bookings and order management. It requires cooperation and support from IT department otherwise company will not be able to use technology as success tool and will lag behind others.
Customer management department: Marketing functions are aimed at retaining and creating customers. Thus, for identifying the needs, issues and expectations of customers marketing teams interacts regularly with customer management team so that marketing plans can be applied in correct direction. This interaction helps organisation to understand the behaviour of consumers and to meet their expectation without compromising their profits (Barrett and Weinstein, 2015).
Significance of marketing within organisation
Marketing plays an important role in success of Cadbury. Without efficiency marketing plan organisations are unable to achieve their sales target.
Marketing informs consumers about the products and policies of organisation. Thus, if Cadbury is well known name among customers then its credit can be given to its marketing strategies and functions.
Marketing approaches helps organisation to sustain its position among competitors. With globalisation and digital tools companies are getting vast opportunities for growth (Phan and Vu, 2015). If Cadbury will not focus on its marketing approaches then it may vanish completely from the market and will be soon replaced by other organisations.
The marketing role also defines operational ways which can reduce the cost and can make business process more beneficial. For example marketing team of Cadbury create awareness among people by using social media which is more effective than directly approaching people in different countries.
Marketing provides an opportunity to organisation to discover new markets and customers. In the absence of marketing Cadbury will only limit to a small region and will not be able to retain its dominant position in confectionery sector.
Experts Are Listening!
Have doubts about academic writing? Clear all of them in a minute! Call the experts and get your answers immediately! Dial Now!Contact Us
LO 2
Marketing mix elements
It can be defined as the set of factors which are controllable by the organisation and can affect the purchase decision or marketing strategies of organisation. The improvements and changes in these elements can force customers to change their buying decision (Khan, 2014). These elements include factors such as products, price, promotional methods, place, target audience and processes involved in marketing. It helps Cadbury to achieve its marketing goals with accurate projection of planning.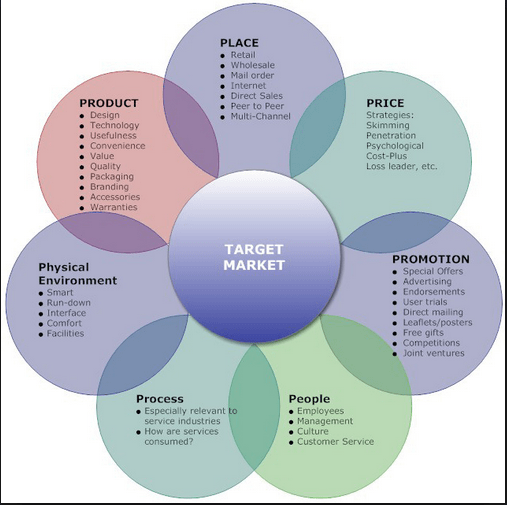 Source: (Elements of Retail Marketing Mix (7Ps), 2016)
Marketing mix comparison between Cadbury and Mars
Mars incorporate and Cadbury are the leading giants in confectionery industry. The marketing mix analysis of both the organisations is given below:
| | | |
| --- | --- | --- |
| Marketing mix element | Cadbury | Mars |
| Product | The organisation offers a wide range of products like chocolates, biscuits and beverages. The products are based on demographic locations as well as season. For instance some chocolates are introduced during Christmas or New year only. To increase market share the company is also expanding business to ice cream and desserts. For targeting more buyers Cadbury provides products for each age group and diversified choices. | The leading confectionery Mars also offers variety of products similar to Cadbury but has great variety in its products. Along with this the organisation also have diversified service range of pet care. The brand value of organisation helps company to lead in all of its service sectors (Huang and Sarigöllü, 2014). The organisation also conduct research program 'Symbioscience' for bringing innovations in food and preservation of cocoa. Cadbury can also conduct such research to increase its products range. |
| Price | Cadbury adopts different pricing strategies for achieving its marketing objectives. For example for products like Cadbury silk and oreo biscuit the prices are higher and skimming pricing is followed with aim that people will pay high for new design. On the other hand to address the public the organisation offers economic and bundle pricing methods which attracts customers to buy products due to cost related benefits. | Contrary to Cadbury, Mars follows mid-premium method for pricing. The product range of company is highly diversified thus prices are also determined by production, distribution and marketing environment. With this pricing strategy organisation is able to lead Cadbury with quality services at reasonable cost. |
| Promotion | The organisation use effective ways to promote its products. Along with online marketing it uses attractive tag lines which are based on the culture of festivals of its operating country. It helps Cadbury to create emotional bond with customers for increasing its sales. Along with this organisation also uses brand ambassadors which promotes its products and encourages customers to buy its products. Another popular method used by Cadbury for promotion is its active involvement in sponsorship of cultural and sports events. For instance the beverage product of organisation Bournvita can be easily observed as a sponsor in cricket tournaments. It helps organisation to present its product among viewers who are followers of cricket. Similarly, the emotional bond development by customizing products according to the culture of nation is also one of the significant method of promotion (Helm and Gritsch, 2014). | Organisation presents its products as healthy and full of energy so that more buyers show interest in products. For online promotion Mars use social media and website which describe the principles and actions of organisation (Phan and Vu, 2015). On the other hand for offline modes it uses TV, newspapers and advertisements. |
| Place | The organisation has robust channel for distribution and its product can be found easily at every location. The easy access to products of Cadbury has made it possible that organisation is well known brand and has huge customer support. For expanding business organisation can also collaborate with retailers as done by Mars. | Mars also have effective distribution channel but one of the key attracting feature of its place element is that it does not have headquartered in any single country. Thus headquarters in different countries help organisation to understand the cultural and demographic differences and thus to provide more efficient services. Along with the distributors the organisation also has collaboration with leading retailers in each country. |
| People | Cadbury put great efforts to identify the needs of its people or customers. For instance organisation uses attractive packaging on festivals for its products so that people can use them for giving each other (Lusch and Vargo, 2014). The regular innovation as per the needs of its target audience help Cadbury to sustain its position in the market. Organisation also works seriously on feedbacks and its human resources for improving the quality of services. | Mars incorporate provides regular training sessions and research facilities so that they can bring innovations in the services. Marketing professionals in organisation are trained to develop strategies which targets the choice of customers and must be in line with brand value of Mars. |
| Process | Cadbury has well managed process flow for assuring the availability of its products to its customers. Organisation pay attention to packaging, modes of distribution and customers relations to achieve its business objectives (Datta, Ailawadi and van Heerde, 2017). | The information technology and R&D department both are actively involved to make the marketing and business process highly efficient. The online services provide easy user interface to consumers. Mars also focus specific attention to the design of its products so that they can influence and impress the consumers. |
| Physical evidence | To increase the physical evidence in market Cadbury leaves no stone unturned to attract customers. The attractive discounts, tag lines, packagings and quality of service make it possible for organisation that brand has become a popular and common name for chocolates and other products. | The organisation is known as the leading brand especially for chocolates. Its physical evidences can be analysed by its higher brand value, collaboration with giant retailers in different countries and higher market share. |
LO 3
Marketing plan for Cadbury
Objective: The aim of Cadbury marketing plan is to enhance the market share of organisation in food and confectionery product range. The organisation also want to increase product diversity so that it can increase its sales and can build customers in every corner of world.
Situational analysis: This analysis will help Cadbury to explore the development opportunities in market by market evaluation. It includes following elements:
A. SWOT Analysis :
| | |
| --- | --- |
| Strength | Strong brand name, Innovations in products and services, efficient promotional strategies |
| Weakness | Product quality issues are highlighted at grand level which affects the entire brand name. |
| Opportunities | Cadbury can bring diverse product range for exploring new market segments which are still not under dominance regions of organisation. |
| Threats | Inflation, increasing operational cost, emergence of new competitors which provides more nutritional products than Cadbury. |
B. Competitive analysis:
Cadbury faces tough competition from Mars, Nestle and Hershey. The other organisations give tough competition to Cadbury on the basis of innovation and wider product range. The nutritional value in products also make Cadbury to lag behind some brands and inability to reach audience which is health conscious.
C. Consumer behaviour:
The organisation is one of the most popular and favourite brand in chocolates and food products. The product quality, price and easy availability are the main factor for such popularity (Jackson and Ahuja, 2016). However still certain consumer groups avoid the products of organisation from health perspective thinking that products have low nutritional value.
Market segmentation: The market segmentation of Cadbury has been divided into different criteria. For promotional basis the organisation uses geographical classification. The promotions and advertisements are different in each country. The organisation ensures that products are available in every locality (Yang and Gabrielsson, 2017). The products of Cadbury are used by all age groups and gender. The reasonable prices also motivates the people with low income to buy products of Cadbury.
Targeting: Cadbury can targets its markets within groups which consumers its products more. For instance women, children and teenagers can buy these products. Similarly, if organisation introduce some high energy and nutritional chocolates then health centric groups can also be targeted for increasing the benefits and sales of organisation.
Product positioning: The organisation has effectively positioned its products in market and among various customer groups. The teenagers and young people use its products for love, taste and for exchanging it as gifts. On the other hand children used to eat its products for fun and small gifts in the packet. Currently the organisation is planning to position its product among nutrition oriented groups.
Marketing strategy: The key marketing strategies of Cadbury are its distribution network and promotional events. The organisation provides its products at high as well as economic budget range (Barrett and Weinstein, 2015). Cadbury manages that its brand is visible and available at every state and store. This will automatically help organisation to become the first choice of its customers. Along with the effective distribution channel organisation also use highly impressive promotional strategies (Todorova, 2015). For instance for attracting customers it uses videos of alien creatures but at the same time for influencing adults it develops promotional videos with emotional appealing. Cadbury consider every event as an opportunity to gain the benefits and sales target. Like during festival sesaons instead of going normal it gives attractive discounts and gift packagings so that people can use it as gift as well.
Marketing mix: The 4 P's of marketing mix can be used as follows:
Product: To increase the sales Cadbury requires bringing some innovations in its products. Though current products are performing well but for long term success and leading other organisations Cadbury must introduce new nutritional and innovative products.
Price: The price strategy of organisation is effective. However, the products which are kept in higher price range can show higher sale records by price reduction. To compensate the change organisation can make changes to packaging or distribution which can reduce operational cost.
Promotion: As per the current trends digital marketing is the most popular and effective promotional method. The adoption of these strategies will also lower the promotional costs (Lusch and Vargo, 2014). Along with this Cadbury can increase its participation in social events so that people can relate emotionally with organisation. It will help organisation to create brand awareness easily in regions where company is facing low sales records and profits.
Place: Still there are regions in which Cadbury gets tough competition from other organisations. Cadbury must identify those regions and special marketing strategies must be developed for those segments. It will help company to explore more opportunities in areas which are still not covered by the organisation (Bahadir, Bharadwaj and Srivastava, 2015).
Return of investment: With the effective marketing strategies and plan the organisation will be able to increase its market share. The organisation will increase its market share by 25% within 2 years. It will also increase the total number of sales in distinct regions.
The marketing plan will help Cadbury to achieve its long term success goals and to become the leading industry.
Students also like to read - Marketing Essentials For Consumer Behaviour - Cadbury
CONCLUSION
From the report it can be concluded that marketing strategies are vital for organisations to achieve their profitability and success goals. The report has explained the various elements of marketing mix and impact of marketing strategies on other functional activities of organisation. It is also observed from the analysis that the interrelationships between marketing and other departments enable organisation to achieve its business activities with the most efficient and cost friendly ways.
The organisations can improve the quality of services by interrelationship discussed in report as it will minimize the operational cost along with elimination of functional errors. It can also be concluded from the report that marketing plan cannot be accomplished without the support from other functional departments of organisation. Thus marketing team must have coordination with other departments of company.
REFERENCES
Babin, B.J. and Zikmund, W.G., 2015. Essentials of marketing research. Nelson Education.
Bahadir, S.C., Bharadwaj, S.G. and Srivastava, R.K., 2015. Marketing mix and brand sales in global markets: Examining the contingent role of country-market characteristics. Journal of International Business Studies. 46(5). pp.596-619.

Online

Elements of Retail Marketing Mix (7Ps), 2016 [online] Accessed through <

http://retailmanagementunikl.blogspot.com/2016/12/elements-of-retail-marketing-mix-7ps.html

>
The Role of Marketing in Organizations, 2014 [online] Accessed through <

https://www.linkedin.com/pulse/20140915080650-84228363-the-role-of-marketing-in-organizations-by-timothy-mahea

>