Introduction
Good health and social care facilities are the need of the hour. Every country needs to develop advance health and social care system. To make an better health and social care system the first thing which is required is efficient human resource (Abdelhak, Grostick and Hanken, 2014). It should be the priority of the organisation to choose individuals who excel in the field of healthcare. Employment of individuals in health and social care is a very challenging task. As the nature of goals is very complex and it requires efficient individuals who can manage variety of people at the same time.
A+ Grades @Affordable Prices!
We deliver all academic papers from dissertations & assignments to thesis, & case studies. 5000+ satisfied students, you could be next! Place Your Order Now!
Order Now
Proper human resource strategies, leadership and management style can help the hospitals and nursing organisations in addressing these issues. This report is about the management of human resource at St Margaret's Nursing home which is located near London. This report is focused on recruitment and selection, its planning, legislative policy, its application on the recruitment and selection process and various theories of training and leadership required in the health and social care.
TASK 1
1.1 Various factors to be considered while planning and recruitment of individuals in health and social care:
There are many factors which are needed to be considered by the human resource department. These factors have major impact on the organisation capabilities. The main factor which have the biggest impact on the organisation capabilities is the human resource (Almalki, FitzGerald and Clark, 2011). A proper path needs to be followed while recruitment and selection of employees. The factors which are considered while planning for recruitment and selection are:
Structured recruitment policy: St Margaret nursing home needs to develop a stable recruitment policy. This will help it in setting various standards for applying for a specific job.
Overall recruitment aim: It needs to define the reason behind the recruitment. There are two reason usually. First is nursing home is replacing a retiring employee. Second reason is that, a nursing home is in the process of expansion and hence have vacant post for which it needs to recruit.
A core objective of organizations: The nursing home need to clearly state the objectives of the organisation. This will help the nursing home in proper fixing of roles and responsibilities.
Organizations personnel policies: Nursing home needs to have a standard employee policy which are aligned with the government polices for employee's.
Government policies: Government polices are made as to promote workforce welfare in a sector.
Legislation for the selected post: There are certain legislation which are made for the recruitment for selected post.
Cost of recruitment: Every process and activity have a cost for company. The total cost of recruitment and selection needs to be analysed. This can be done by making a schedule for the process.
Other financial implications: There are certain other financial implication for the organisation (Andersen, Rice and Kominski, 2011). Such as new employee remuneration and compensation, extra expenditure for facility development, training and development facility enhancement.
1.2 Legislative and policy framework of home country and its influence on selection, recruitment and employment of individuals:
Legislation and policy framework differs from country to country. These legislation are necessary as they fix the responsibilities of employer and employee. Legislation and laws form a basis for the organisation on which it operates. However, not all the actions and operations of nursing worker can be controlled by the legislation (Bakker, Albrecht and Leiter, 2011). But these legislation act as a core value on which all decisions are based on. Some major act followed by St Margaret Nursing home:
Equality Act 2010: This act was made as to ensure that each and every candidate is treated equally and there is no bias-ness or discrimination while selecting any one of them. This law replaced all the anti discrimination law which were imposed by the government earlier. As per the law it is illegal to discriminate anyone on the basis of following mentioned factors:
Gender
Age
Religion
Disability
Race
Sexuality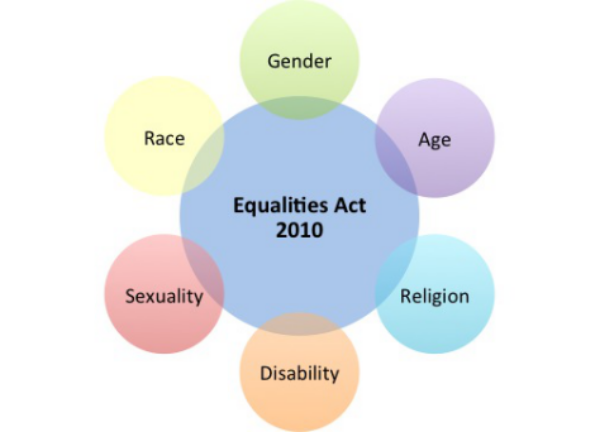 Code of practices and policies: The General Social Care Council in 2010 issues a guideline for code of practices which are needed to be conducted by the employees of the nursing homes (Balarajan, Selvaraj and Subramanian, 2011). Also organisation has its own code and policies which it follows in recruiting and selecting as well as the employee's follows the same policies to perform their duties.
Employment Act 2008: This is the act which has led to reformation of many policies and procedure in UK labour laws (Becker, 2017). It covers various issues which can impact the organisation, such as- strengthening of implementation of the minimum wage, standards of employment agency, conflict resolution and helps in obeying updated case law on trade unions.
Currently St Margaret nursing home intends to recruit a diverse workforce that have representation from entire society. For doing this the Nursing home needs to promote and support applications of those candidates who are from under-represented part of society.
1.3 Different approaches that will be used to ensure the selection of the best individuals:
The process of recruitment and selection is conducted with focus on getting best talent in the organisation (Best and Holmes, 2010). Whole process can be divided into various task, such as:
Short-listing of candidates
Interviews
Written test
Psychometric assessments
Medical Assessment
St Margaret nursing home has to follow above mentioned approaches for better selection process. Once the applications of candidates are received and best suited applicants are selected, the HR manager will start the selection process where the best candidates will be chosen. HR manager will select a panel for the interviews and further process. These candidates will be called for interviewing at first stage.
Interviews: Interviews are conducted by the organisation while a panel is setup to select the best candidates (Bohdanowicz, Zientara and Novotna, 2011). These interviews are conducted as to know about the employees. What are their qualifications, competencies and experience in the field. Interview gives an interviewer opportunity to have one to one communication with interview.
Written Test: These test are conducted as to know about the actual knowledge a candidate have about the field of nursing. It is very necessary as to see if he have sufficient knowledge or not.
Audition: in some cases, there is a need of live demonstration of work by the candidate. It helps the interviewer in evaluating the skills and abilities of candidates in live environment.
Psychometric Test: Psychometric test are specially designed assessment tools. These test are used as to evaluate psychological qualities of candidates such as personality factors and reasoning ability. These test are follow a standardised method of administration and scores are evaluated and compared.
TASK 2
2.1 Explaining theories how individual interact in group in relating to types of team
When two or more people come together for the common task then that will become the group. Their are various theories that are available which explain the interaction of individual in a group.
Belbin Team Inventory: in this theory there are effective nine key role for becoming the team for some activity (Boxall and Purcell, 2011). This was developed in 1981 but there are some change that have been done in 1988. these nine effective role are: Plant, Resource investigator, chairman or coordinator, strategy shaper, monitor and evaluator, team worker, Company worker and implementer, finisher and specialist.
Tuckman model: this model have been develop by the W. Tunckman in 1965. it have five stage of group development. These are as follows:
Forming: In this the group member behave like individual in the group. They work with according to the guidance of the leader. The leader will take all the decision and show the path to every one individual on which the group member have to perform.
Storming: In this stage the group member will get the competitor for their team members. The conflict come between the group member. The team member also mould there perception, values and beliefs in the group. To move farther the group member have to give the test and show his mentality to solve the problem by effective listening.
Norming: In this stage the manage come together. The group member have to make the engaged in the activity with all (Bratton and Gold, 2012). This will help in solving the problems and issues. The participant will change their idea and facets regarding the team members and team. In this stage the level of trust will increase and relationship will get also developed. This will help in contributing the unity.
Performing: Every group will not reach to this stage. But this stage is the most effective stage. In this group will get the unity and trust of each other. That become the team. That team will make the identity. Every member give their loyalty to wards the team. They will change individual into the team.
Adjourning: This is the last stage on the group making. In this the group will complete their task. Then the department of the group will be done.
Want to Hire Expert Writers?
Writing different academic papers can get puzzling at times. Reach out to the best writers of Global Assignment Help and ask for assistance with all types of essays, assignments, reports & more!
Order Now
2.2 Evaluating the approach that will be helping in developing the team
There are so many approaches to work together in the team or group. Their are different different type of team in this environment as per the need (Chartier, 2014). But the the approach should be the effective for team working. These are the following best approaches may be best for the for the development of the team working:
The diversity of personality and skills is the internal factor that will make the team effective. Their should be compensate on each other weakness.
To insure that the object have been understand by the team or not
To show their responsibility towards the the task
Develop the trust in the team members
Their should be the discussion on different task and objective and make the conclusion by them only.
Make sure that employee have liberty to speak and express.
Conclusion
St Margaret nursing homes is in the mode of expansion. It needs better human resource management as to improve its capabilities further for expansion. The HR manager needs to formulate strategies for the recruitment of capable staff in the organisation. The manager also need to analyse the gap between the actual requirement and current human resource level. The organisation also need proper team management and leadership encouragement. So the organisation can receive more leader from inside of organisation.
References
Abdelhak, M., Grostick, S. and Hanken, M.A., 2014. Health information: management of a strategic resource. Elsevier Health Sciences.
Almalki, M., FitzGerald, G. and Clark, M., 2011. Health care system in Saudi Arabia: an overview/Aperçu du système de santé en Arabie saoudite. Eastern Mediterranean health journal.
Andersen, R.M., Rice, T.H. and Kominski, G.F., 2011. Changing the US health care system: Key issues in health services policy and management. John Wiley & Sons.
Bakker, A.B., Albrecht, S.L. and Leiter, M.P., 2011. Key questions regarding work engagement. European journal of work and organizational psychology.
Balarajan, Y., Selvaraj, S. and Subramanian, S.V., 2011. Health care and equity in India. The Lancet.
Becker, K., 2017. Editorial. Journal of Transnational Management.