How to Structure a Dissertation? Complete Breakdown & Layout
"Hard work spotlights the character of people: some turn up their sleeves, some turn up their noses, and some don't turn up at all." - Sam Ewing
Like Sam Ewing said, handwork is not for all. Most people will shy away from putting in the work that needs to be done in order for them to succeed. While there in an another category that does what is expected of them but with not much willingness. This kind of attitude leads to a similar kind of result. But those who choose to take up the challenge and go for the work yield the benefits too. Students should always strive to be the ones who are ready to roll up their sleeves and get to work.
That is the zeal a student requires while jotting down the dissertation structure for the first time. But all the handwork pays off in the form of good grades. If you are also a student and want to write the best dissertation of your life, you are on the right page. In this blog, the experts of the leading academic writing service, Global Assignment Help, have explained everything a student might find difficult or confusing while working on their dissertation.
So just dive into the process of writing a dissertation head-on with our experts on your side to make it the best experience for you.
A+ Grades @Affordable Prices!
We deliver all academic papers from dissertations & assignments to thesis, & case studies. 5000+ satisfied students, you could be next! Place Your Order Now!
Order Now
What Is the Perfect Structure of a Dissertation?
While writing an academic document, every student is concerned with one thing: "What is the best way to do this?" With a document as precious and lengthy as a dissertation, this question becomes way more important. Students are often confused with the working structure of their dissertation because it is very lengthy and every detail is important. They usually forget one or the other while writing their own dissertation. Here is a list of all the chapters from which a perfect structure of dissertation is created:
The Research Proposal
TitlePage
Abstract
Acknowledgement
Contents Page
Introduction
Literature Review
Research Methodology
Findings / Results / Data Analysis
Discussion
Conclusions
References
Appendices
These are the 13 chapters that students have to write in the same sequence to make their dissertation of top quality and complete. And this sequencing is also known as the "dissertation structure template."
One question that has always been tricky for students to figure out is how to divide the words into different chapters of a dissertation depending upon the word limit. Our experts have sorted that out for all the students. Check out the next section!
How to Breakdown a Dissertation? Learn from Our Experts
This is a genuine question that every student should have very clearly explained to them. Working under a word limit can be tricky as it is, but on top of that, dividing those words reasonably and efficiently between the various chapters can be even more troublesome. To solve the mystery of "how to breakdown a dissertation?", the experts have intervened.
Here is an easy way to understand the math behind the total number of words in each chapter of the dissertation. Divide the words into the sections that have explanatory portions in them. They would include:
The Research Proposal........................................ 8%
Introduction ......................................................... 10%
Acknowledgement................................................ 2%
Literature Review.................................................. 20%
Research Methodology......................................... 20%
Findings / Results / Data Analysis........................ 25%
Conclusion ............................................................10%
Now students should award each section the number of words according to the percentage indicated in front of them. For example, a research proposal could have roughly 1000 words as it contains a brief image of what the dissertation might look like once completed. In the same way, students can get the number of words for each section by dividing their word limit by the percentage mentioned in front of each chapter.
Our writers have made this table to prevent the students from going through the process of overwriting any chapter or having to add more words in another. This will help students to be precise and clear in each section of their dissertation. Next comes a little introduction to every chapter for students to know exactly how to structure a dissertation and what is expected of them to write in each chapter.
Different Chapters of Dissertation & How to Write Them
Now that you know how many chapters you will be writing, it will be easier to divide the time and attention between each of them accordingly. Given below is a detailed explanation of the thirteen chapters of any dissertation.
The Research Proposal
It is a very important working document which will be transformed into a dissertation over the course of the next few months. It is like a road map for the rest of your journey towards finishing the dissertation. It contains:
A working title
An introduction to the chosen topic (aim, objective,research question)
Preliminary literature review
In detail research methodology
Timetable
TitlePage
Your dissertation's title, department, institution, degree programme, and submission date are all listed on the first page of your document. Your student number, supervisor's name, and the university's emblem are sometimes included as well. Your title should be well thought of because it is the first impression that anyone who reads your dissertation will get.
If the dissertation is to be printed or published, this title page is commonly used as the cover page.
Abstract
An abstract of up to 350 words should be included in the dissertation. By summarising the findings, it gives other individuals a sense of what was accomplished without having to read the entire dissertation. A decent abstract is difficult to write and can only be completed once the dissertation has been completed. It is a succinct description of the dissertation study findings. It includes
Aim and objectives: Explaining the main theme and ideas
Boundaries: Describing the background of the dissertation topic
Methodology: The description of the methods used to obtain the results.
Results: What were the main findings of the dissertation
Conclusions: What conclusions did you draw after the completion of your dissertation
Recommendations: Any suggestions that you want to make to solve the problems mentioned in the research objective (if appropriate according to the type of your dissertation)
Acknowledgement
It is a brief statement that is signed by the students. It mentions and expresses the student's gratitude towards everyone who helped them in writing the dissertation. Mention everyone who provided you with direct assistance. Keep the personal touch with family and friends to a minimum. Do not forget to look at the guidelines of your university while drafting the acknowledgement.
Contents Page
This is a simple and straightforward list of all the chapters, headings, appendices, references, etc. that you mention in the dissertation. Don't make it overly lengthy. If you feel your TOC is very detailed, leave behind the extra details and stick to the main ones. Having knowledge of MS-Word's automatic table of content generator can make your work very easy and quick.
Introduction
Now that the research topic has been finalized, it's time to move towards the in-depth part of your dissertation. An introduction is the window to your dissertation; it gives the readers a full view and understanding of your chosen topic. It is important to write a well-defined introduction because it will help the professor see your vision for the theme very clearly. Here is what you should mention in the introduction.
The setting in which your research was conducted
Why is the chosen issue important?
Who are the key participants in the investigation area?
Are there some variables that can confuse the readers, or should they be aware of them?
A clear and unambiguous statement of the aim and objectives of the research that you will address and how will you meet them?
Mould your introduction in such a way that it provides the readers with a road-map of your work. This will help you and them equally because the readers will not be confused and will have a clear understanding of what you want them to see. An introduction can be 800 to 1000 words long.
Literature Review
Academic writing is based on more than just one author's thoughts and experiences. Other sources' ideas and research are also used while doing it. These other sources could be used to support the author's beliefs, or the author could be debating, analyzing, or criticising them. Your literature review should depict and justify the research question and dissertation objectives. Always remember that your literature review should never be only a list of authors, frameworks, and concepts; it should also strive to provide a critical assessment of the writers' work.
In the end, summarise your literature review by including the following points:
What has been discovered by reading all the above-mentioned literature?
Enlist the gaps found in the literature (if there are any), i.e., what has been missed by the previous researchers regarding your topic. And now with your dissertation, you will try to fill it. It can help you justify your research even more.A literature review can take up to 2500-3000 words.
Research Methodology
This is the part that explains how your research came to be. What data did you use and where did it come from (how was it gathered); is the study qualitative or quantitative, and so on? It is important to make readers aware of why you employed the methods that you selected for the purpose of conducting your research.
What Is the Dissertation Methodology Structure and its Use?
It is nothing but simply explaining the research process in steps. This allows the readers to evaluate the reliability of your research. Its structure is:
Describe your methodological approach by introducing the way you researched the topic.
Explain your methods of data collection.
Define each method that you have used for analysing the topic.
Select the best and most effective method that helps you gather the data quickly.
Evaluate and justify your methodological choices.
This chapter will usually be framed between 1000 to 2000 words.
Findings / Results / Data Analysis
This is a big and very crucial chapter in the entire dissertation. Because it culminates the hard work you put into the research, it has to be very organised and to the point. Firstly, list all the findings of your research and then, with the help of graphs, charts, pie-charts, diagrams, etc., make an attractive display of your results. This helps break up the monotonous text format that you will write down, explaining all the findings and results.
While writing the result, remember:
The results chapter should be written in the past tense.
Its length will depend on the data you have collected.
Don't include vague and irrelevant information.
Differentiate your results on the basis of the research methods you have used.
Compare your results with the previous research.
Discussion
It is a bit different from writing results because here you have to express your thoughts and discuss the findings of your dissertation. Remember the following tips while working on a discussion:
Analyze and explain your results
Answer your research question to come up with an effective outcome
Justify every approach you have used to reach to this chapter
Critically compare your discussion chapter like results from previous research
Portray the importance and relevance of your results in the discussion
Conclusions
The conclusion dissertation chapter must be kept shorter than the discussion chapter. In this, you need to summarize everything you have written in the document. It is entirely different from the abstract chapter because, in this, you summarize the document after writing the whole content. Along with this, you should explain what you have learned through the topic findings and how they are valuable.
How to Write a Conclusion?
State the answer to the main research question.
Summarize every chapter within 1000 words.
Include questions and provide strong solutions to them.
Make recommendations for future work on the topic.
Present what new knowledge you have learned and how it contributed in drafting a perfect dissertation.
References
In simple words, referencing is acknowledging someone else's work if you are using it as a source in your document. If one is not giving due credit to the original source, keeping that text in their document would be considered plagiarism, which can lead to poor grades or no grades at all (if the professor hates plagiarism).
Referencing is a formal system; therefore, it has rules and regulations that are to be followed strictly. There are different styles of referencing that could be used by students, like :
Modern Languages Association System(MLA)
American Psychological Association System(APA)
The Harvard Style
Modern Humanities Research Association System
Chicago Style
OSCOLA
Vancouver reference
AMS (American Meteorological Society)
Appendices
Appendices can be used to give important supporting evidence for reference purposes, but they should only be used when absolutely essential. Evidence that supports the originality of their work or illustrates points of principle laid out in the main text, questionnaires, and interview procedures may be included in appendices by students. Appendices should only include supplementary information. Examiners do not read appendices in depth, so students can work according to that.
Free Plagiarism Report For Assurance
The experts at Global Assignment Help ensure that you get 100% original content for submission. With every order, get a Plagiarism report for free!
Order Now
Can't Write Different Chapters of Dissertation? Here's the Solution!
After going through this blog, if you are still facing problems in writing any or all the chapters of the dissertation and are in search for an authentic website to seek assistance from, consider Global Assignment Help. We have PhD certified writers in our team who can make your dissertation structure very impressive. We provide some exclusive guarantees which will build your trust in us. They are:
Quality Content
In-depth Research
Zero-plagiarism
Free Plagiarism Report
Free Unlimited Revisions
24*7 Customer Support
Money-Back Guarantee
By considering all the above mentioned points you can make your own decision whether or not you want your dissertation to be a cut above the rest.
Lowest price
USD 7.13
Get A+ Within Your Budget!
24/7 Customer Support
100% Customer Satisfaction
No Privacy Infringement
Quick Services
Subject Experts
Innovative Documents
FREE Tools
To Make Your Work Original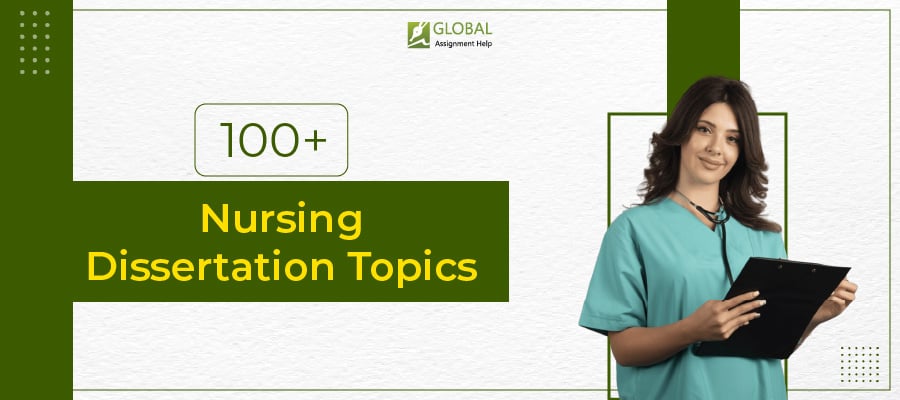 100+ Unique Nursing Dissertation Topics and Titles by Expert