Dissertation Reference Using APA Simplified by Professional Bibliography Writers
Writing a dissertation reference without assistance from established concepts is an impossible task that no one has ever achieved. While you are allowed to choose any of the studies as the base for your theories and findings, you can never copy them as it causes plagiarism. But how is it possible to create something unique with something already done? Well, to solve such problems, referencing was introduced. The concept of Bibliography and referencing simply make it easy for the student to use the extracts they feel are crucial for their study, and it will not be taken as plagiarism.
In reference, you simply credit the original author of the text that you have used to explain your point of view. Referencing is a crucial thing that every student must pay attention to. Sadly, not all of them do it properly, as it is a complicated process to give a proper introduction to the source in just a line. You have to follow certain guidelines assigned by your professor to fulfil the referencing requirements. The most common one in those guidelines is APA referencing. Students find it confusing how to reference a dissertation in APA. Why? Because the sources can vary from a pre-existing paper on the topic to a recently discovered insights on the same, and hence for every source, there is a set format to use. Keeping these in mind is often a tough task, which makes Bibliography writing in APA a typical task to finish.
If you also have a dissertation reference that you are supposed to write using APA but do not know how to go about it, or you are looking for ways to learn how to reference a dissertation APA, then you have reached the perfect spot. This blog is curated by top professional dissertation writers familiar with all the issues you might face while finishing the referencing and Bibliography. Read it till the end to understand all the insights on how to write a perfect bibliography.
Dissertation Referencing - APA, MLA & More
Is referencing not your cup of tea? Seek our dissertation services and get referencing in any style- APA, MLA, CHICAGO, HARVARD, and many more for completely FREE.
Order Now
Why is Referencing Important? Insights on APA Referencing in Dissertation
You might be wondering why after all the hard work that you have done, why do professors pay attention to this one section that does not even matter to the theory as the arguments and evidence exit in the core sections of the document. Firstly, Dissertation reference is what makes your dissertation legitimate. There are times when you rephrase excerpts from a pre-existing document as they are on the same grounds on which you are working. That may cause your document to be plagiarised, which is direct grounds for rejection.
Secondly, you can never complete a dissertation of thousands of words without referring to sources or research. A strong referencing page depicts that you have gone to the depth of finding the tiniest crucial detail on the topic, which enhances your work quality and chances of scoring well. Always remember that a professor might not spend hours going through the entire dissertation, and hence these factors always make a huge difference in the decision-making of your faculty while grading your paper, so that is also a plus.
You may be wondering, "okay, I can pay attention to referencing, but why only APA must be used, and what exactly is the way to implement APA?" You are not wrong to raise the question, but you are not the first one either. The fact is that every university follows a curriculum, and if your university assigns you a task in APA, you have to do it in the same. APA is an 'author/date system used as a format to cite sources in your document. It is a system that simplifies the understanding of whose excerpt has been used and from where. It is a student-friendly referencing system and is quite simplified than other OSCOLA or Harvard referencing systems.
Students also like to read: How to Structure a Dissertation? Complete Breakdown & Layout
Referencing a dissertation using APA is quite simple; you have to write the following details about the source -
The first initials follow the surname.
Year (in round brackets).
Title (in italics).
Level of Thesis or Dissertation [in square brackets].
University, also in [square brackets] following directly after the Level of Thesis, e.g. [Doctoral dissertation, Victoria University]
Database or Archive Name
URL
The first line of each citation is left adjusted. Every subsequent line is indented 5-7 spaces.
When placed in a single sentence, all the information forms an APA citation for the Bibliography. However, you can understand it better with the following example, as shown in the image.

How to Write a Bibliography in a Dissertation? How Many Bibliography For Dissertation?
The Bibliography is the section that consists of all your references in your document. It is the section where you write all the information about the content you have used in your dissertation, the sources you found helpful, and those inspiring to you. This goes especially for students studying theoretical subjects as psychology dissertation help experts suggest that highlighting your sources is important. You can also thank those who had a great influence on your work. A Bibliography can be written by following a set of steps. These are -
It should hold all the citations and references and details about the same.
It should mention the type of citation you have used in your case; it will be APA.
Ensure that no details are missed if your source needs a pre-text, feel free to include it.
There are 5 types of Bibliography for dissertation writing that you can implement in your document; an APA is one. Using these simple 3 steps can be a great addition to your bibliography writing skills. The rest of your Bibliography is nothing but a reference list that holds all the information mentioned above. Ensure you include page numbers and in-text citation hints for the user so there is no problem for the reader to understand what reference is used & where. Assignment help online experts also have to write bibliographies, not limited to dissertations.
Referencing Still Becoming a Trouble? We are the Troubleshooters!
That was all for referencing and Bibliography in the APA. Implementing APA is not easy as it becomes quite complex to remember the elements in a single citation. If there is single misplaced punctuation, Plagiarism takes it as plagiarized content and may reject your document. If you are starting your dissertation reference or Bibliography and have time, you must learn how to create a solid bibliography section. However, if there is no time left to learn and practice, it is time that you call in the experts to the rescue.
We are global leaders in providing the best dissertation help working 24x7 to solve all the issues you may face while working on any section of the dissertation, including referencing APA or Bibliography writing in general. Hope the blog helps you with what you were looking for; good luck!
Lowest price
USD 7.13
Get A+ Within Your Budget!
24/7 Customer Support
100% Customer Satisfaction
No Privacy Infringement
Quick Services
Subject Experts
Innovative Documents
FREE Tools
To Make Your Work Original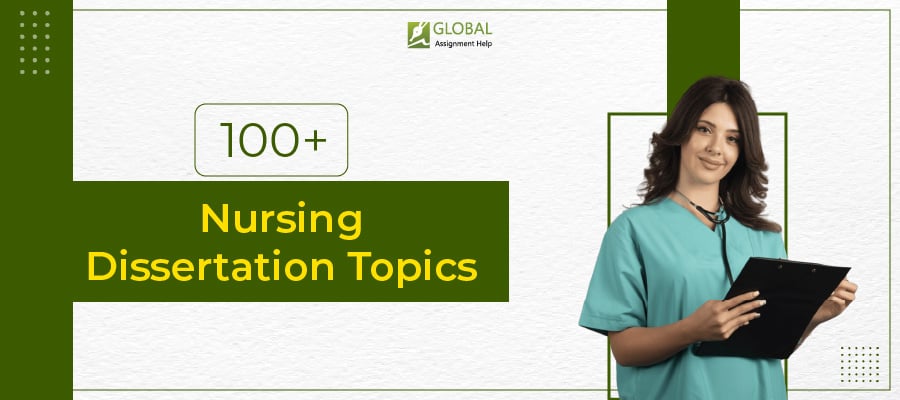 100+ Unique Nursing Dissertation Topics and Titles by Expert
23-09-2023
227
23 minutes