Question :
The assessment cover following questions:
Discuss the MICE industrys scope, organisations involved and range of environment used.
Understand the elements of planning, promoting, costing, implementing, monitoring and appreciating the activities of MICE.
Evaluate how to control and cost, assessment of the risk and comply with relevant laws and legislations.
Answer :
Organization Selected :
MICE Industry
INTRODUCTION
Meeting, Incentives, Conferences and Events (MICE) is regarded as kind of tourism industry where large groups planned each and everything in advance and are brought together (Bowdin and et. al., 2012). This market is referred as specialised niche of group tourism which is dedicated to booking, planning and facilitating seminars, conferences and other events. It is regarded as big moneymaker in travel industry. The main aim of report is to discuss about overview of MICE industry along with related activities. It also covers communication channels used in MICE activities and process required to comply with current legislation.
MAIN BODY
Overview of MICE industry
Meeting, Incentives, Conferences and Events (MICE) industry was valued $805 billion in 2017 and is expected to rise by 7.6% from $1439.3 billion by 2025 (MICE Industry by Event Type (Meetings, Incentives, Conventions, and Exhibitions): Global Opportunity Analysis and Industry Forecast, 2018–2025, 2019). This industry provides tourism services where suppliers and organisers deliver and manage meetings, conferences, events and other related activities in order to achieve high range of business, professional, cultural and academic objectives. It has positive impact in growth of cities, destinations, businesses and others. The person who are organisers of MICE focus on providing various creative services such as showing displays, banners, directional signage, event photography, event marketing, sponsorship management, supplier, virtual meeting and so on. With rise in business, there is growth in MICE industry. There is increase in frequency of activities of business like client meetings, employee training activities, brand promotions and supplemented growth of global MICE industry. The government has made initiatives in promoting SMEs and liberalization of market entry for increasing FDIs in order to boost market. Apart from these factors, other components which assist in promoting growth of market such as change in lifestyle of business travellers, rapid urbanization and industrial growth.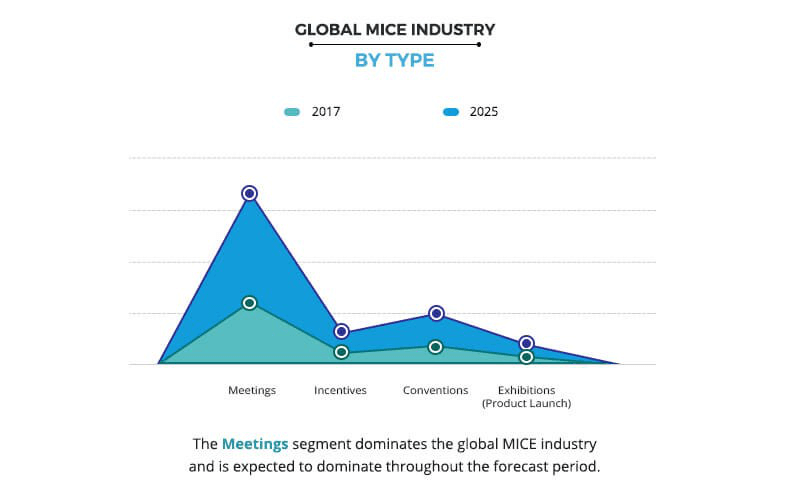 MICE industry is segmented on basis of event type and region. Here, on event type, market is segmented into incentives, meetings, conventions and events and on basis of region, market is studied under four regions such as Europe, North America, LAMEA, Asia-Pacific and so on (Campbell and et. al., 2014). In year 2017, meeting segmented is regarded as highest share in MICE industry which attributes in increasing globalisation of businesses and rise in number of SME all over world and emerging economies. There is rise in travel and tourism along with hospitality sector leads to add growth to particular segment. Recent trends such as hybrid meetings, meeting app and using of social media leads to boost market share in future time period. Here, incentive travel is regarded as management tool to motivate and rewards dealers, production workers, sales representatives, distributors, customers, support staffs and so on. Company has to reward sales representatives who reaches sales target by providing them foreign trips. These incentive trip comes through staying at hotel, tour packages, planned activities like parties, dinners and games.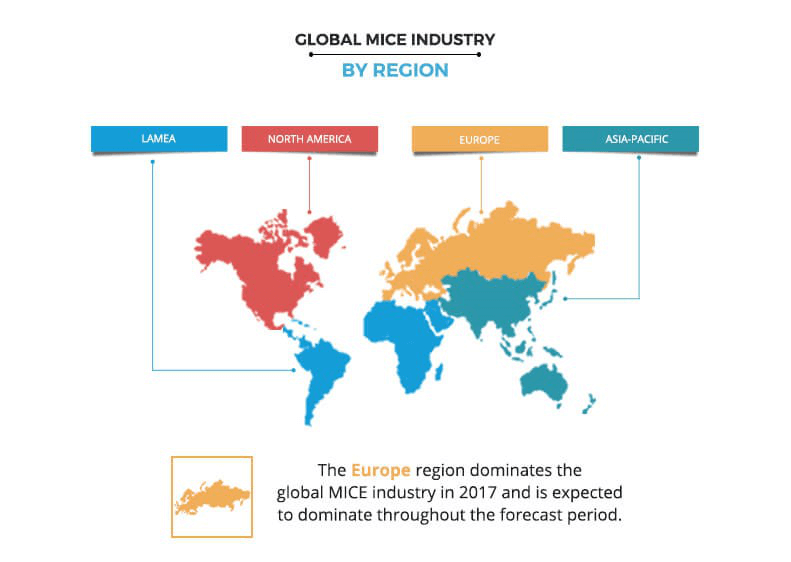 MICE related activities (refer to facilities, services and activities)
Meeting, Incentives, Conventions and Exhibitions (MICE) is regarded as meeting industry (Chen and Mo, 2012). The term MICE has come from travel sector which is evolved to coordinate management, hosting and promotion of enterprise along with strategic initiatives. The market of MICE is dedicated and possess professionals to organise, plan and facilitates events, conferences, seminars in appropriate manner. This is regarded as biggest moneymaker in travel industry. It is sub segment of travel industry which falls under category of business travel. The different types of activities fall under MICE industry that assist in achievement of goal and objectives in an effective and efficient manner. MICE related activities includes following facilities and services:
A+ Grades @Affordable Prices!

We deliver all academic papers from dissertations & assignments to thesis, & case studies. 5000+ satisfied students, you could be next! Place Your Order Now!

Order Now
Accommodating Facilities
While providing accommodation, they have to consider session halls, conference rooms and space for breaking out sessions (Attracting MICE Tourism: Boost your hotel's revenues with events, 2019). This is the activities which is performed under MICE industry. The user should be provided with proper accommodation along with various options so that they can select best one.
Location of Venue
If MICE wants to organisation any events, conference and meeting, then they have to considered location of venue which should be full of security, authenticity, proper climate, distance, connectivity, destination image, interesting place around venue.
Technical Equipment for Events
There are requirements of technical things while conducting events such as proper internet connection and Wi-Fi, projection, presentation, lighting, interpreting equipment, video and sound. These are the facilities which should be considered in MICE industry.
Catering
While providing catering facilities, MICE has to considered menu options, restaurant facilities and setting and decoration options. It is important to considered catering for their people so that they can avail facilities in proper manner.
Releated services - Students travel from one place to another and need homework help services.
Communication channels used in MICE activities
Communication channel is defined as process through which message, information and content is transferred from one person to another in an effective and efficient manner (Mair and Whitford, 2013). It is very important for each and every organisation and industry to use proper channel of communication so that awareness can be created among consumers regarding their products, services and activities. In context of Meeting, Incentives, Conferences and Events (MICE) activities, the different communication channels are used such as:
Face to Face or Personal Communication
It is most richest channel of communication which is used within business. Here, physical presence, tone of speaker's voice, facial experiences assist recipients to deliver message to them in proper manner. For conducting MICE activities, such communication channel assist in knowing about personal experience or opinion through face to face conduct in business. With such method, speaker can know whether audience has received message or not and accordingly make plan.
Broadcast Media Communication
This communication channel includes radio, TV, loud speakers that is used for mass audience (What Are Communication Channels Within an Organization, 2019). In order to show activities of MICE industry, organisation can use broadcast media to communicate with them in proper manner. There are various activities conducted in MICE so they should be made aware among people with helps of broadcasting media.
Mobile Communication Channels
These channel is used when private message is to be sent to small group or individuals. The various activities should be conducted in MICE industry such as meeting, conferences, events and so on which requires proper communication channels with people. In order to conduct meeting or conference, industry has to do proper communication channel with their people so that work can be carried in proper manner.
Electronic Communication Channels
This includes email, intranet, social media platforms, internet and so on. It is the most used communication channel in each and every field and industry (Müller-Christ and et. al., 2014). For MICE activities, business can take help from electronic media in order to conduct meeting, seminars, events and so on. There are various activities which are required to be take place in MICE industry which are aware through use of electronic communication channels.
Therefore, the different activities such as booking hotel, providing facilities in terms of gaming, clubs and so on are taken place in MICE industry. It is regarded as fast growing industry at marketplace in terms of rising market share and profits for business. It is possible through use of effective communication channel to create awareness among people and conduct activities of MICE in successful and effective manner.
Processes to comply with the current legislation
The effective policies and procedures should be established in order to run industry in an effective and efficient manner (Rogers, 2013). This helps in taking right amount of collaboration to right type of distributives mediums and to measure right understanding. It is very important for MICE industry to follow processes in order to comply with current legislation. They follows five process or steps to ensure compliance which is described below:
Meeting Divisional Leaders to Ensure Policies and Procedures
It is defined as first step for ensuring about compliance which begins by including leaders of each section of organisation (5 Steps To Ensure Compliance With Policies And Procedures, 2019). The policies and procedures are created by other people considering requirement of business in effectual manner. They should ensure about that new policies are not misunderstand, using of correct terminology and making sense to employees. In context of MICE industry, it is important to make policies and procedures by considering leaders to meet their requirements.
Determining Best Format of Policies for Audience
There are various departments which contain various schedules, daily experiences and personalities (Sox and et. al., 2013). It is important to consider that delivering high value vessels to employees in comfortable manner. In context of MICE industry, they should use effective channel of communication to find best format for their audience.
Making Policies and Procedures Accessible to Employees
It is very essential to make policies and procedures which are easily accessible to employees who are working in MICE industry. Each and every strategies should be made as per requirement of employees so that positive outcomes can be achieved and attained in proper manner. If they want to introduce new then they have to take permission of others so that proper legislation can be followed in organisation.
Setting Deadlines for Each Policy and Procedures to be Acknowledged
When procedures and policies has been accessible and created then deadline should be made for each policies and procedures in an effective and efficient manner. This helps them to work in proper and effective manner for positive outcomes. MICE industry need to set deadlines for policies and procedures so that meeting, seminars and conferences can be conducted in diligent manner.
Determining Best Way for Measuring Understanding
This is regarded as last step of complying policies and procedures for meeting requirement of industry (Whitfield and et. al., 2014). MICE industry has to measure proper understanding so that positive outcomes can be achieved in proper manner. It is essential to determine best way to measure understanding and achieve goal and objectives.
Therefore, the above mentioned process helps in complying with current legislation to achieve goal and objectives of sector. The MICE industry is largest growing sector at marketplace for positive outcomes.
Experts Are Listening!
Have doubts about academic writing? Clear all of them in a minute! Call the experts and get your answers immediately! Dial Now!Contact Us
CONCLUSION
From the above report, it has summarised that Meeting, Incentives, Conferences and Events (MICE) is part of travel and tourism sector which comes under hospitality industry. It is the fasted growing sector in market that provide opportunities to people to enhance their living standard and increase market share and profits. MICE is classified on basis of type and region for their users. The various facilities like hotels, room, Wi-Fi, services in terms of parking, laundry and so on are provided under MICE industry. For making MICE activities and operations successful, effective communication channels such as face to face, electronic, mobile, and so on are used to create awareness among each others. In order to make MICE activities successful, legislation has to be followed so that goal and objectives can be attained in an effective and efficient manner.
REFERENCES
Bowdin, G. and et. al., 2012. Events management. Routledge.
Campbell, L. M. and et. al., 2014. Studying global environmental meetings to understand global environmental governance: Collaborative event ethnography at the tenth conference of the parties to the convention on biological diversity. Global Environmental Politics. 14(3). pp.1-20.
Chen, Y. F. and Mo, H. E., 2012. Attendees' perspectives on the service quality of an exhibition organizer: A case study of a tourism exhibition. Tourism Management Perspectives. 1. pp.28-33.
Mair, J. and Whitford, M., 2013. An exploration of events research: event topics, themes and emerging trends. International Journal of Event and Festival Management. 4(1). pp.6-30.
Müller-Christ, G. and et. al., 2014. The role of campus, curriculum, and community in higher education for sustainable development–a conference report. Journal of Cleaner Production. 62. pp.134-137.
Rogers, T., 2013. Conferences and conventions 3rd edition: A global industry. Routledge..