Question :
The report below conducts a thorough discussion over the reflective journals which is conducted and completed at the end of the research project. A reflective account is made over the experience and learning of the researcher through the research project made. A sample of reflective account is presented in the article as well.
What is a reflective account or journal?
What aspects are covered in reflective journals prepared for a final research assignment?
Present a sample reflective journal on final research project.
Answer :
REFLECTIVE JOURNAL
Reflective Journal or Account is a document or report made over the experience of the researcher. It is an opportunity for investigators to reflect upon their experiences, learnings, challenges and most importantly the results of their work which is conducted by them in completion of the research assignment. The reflective account is evidence which shows the personal perspectives and understanding of the researcher as well their feeling which they have gone through while conducting the research for collecting evidence in order to support their work and conclusions made.
A key aim of making the reflective account is to inform other about all the actions and activities conducted by the investigators while completing their assignment and offering them a clear understanding as they were not present with the researcher while they are completing their work. Hence, a reflective account is inclusive of varied type of information depending upon researchers individually. Some of the key factors which are mentioned in the research and are discussed in the reflective journals are the methods by which the whole work and research is conducted and completed. The factual data collected while doing so, the learnings of researcher and manner in which the whole assignment is being proceeded alongside the challenges which are faced by the individual.
Experts Are Listening! Have doubts about academic writing? Clear all of them in a minute! Call the experts and get your answers immediately! Dial Now!
Contact Us
In order to make the reflective account in the best manner and appropriately the individual making the journal can make use of different models and frameworks. These models are specifically made for the concern of offering structured framework to people for reflecting on their experience and learnings. Some of these models are Gibbs Reflective Cycle, Kolb Reflective Cycle, Driscoll Model and many more. Most commonly used model is of Gibbs Reflective Cycle, offering a good way of going through an experience covering every little important details. The model enable the righter to reflect on the stand alone work or over the situation through which they are going through frequently and regularly. The model is applied in six different stages which are step by step description of one's experience and knowledge received.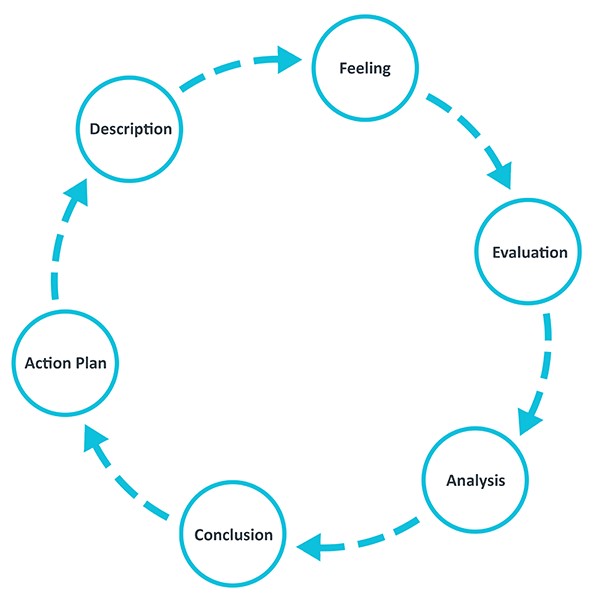 (Source: Gibbs' Reflective Cycle, 2021)
The image above shows the stages and through which a person reflecting will go through for covering each aspects of their research and information they are willing to communicate to others. The stages are as follows:
Description of the experience received.
Feelings and thoughts develop through the experience.
Evaluation of the experience received in considering both negative and positive aspects or bad and good ideas.
Analysis to the situation gone through sensible.
Conclusion over what exactly is learnt by the researcher and how changes can be made in future to perform better by learning form present experiences.
Action Plan is how the individual will be implementing their learnings in future to make while dealing with similar situations.
In regarding to showcase the presented discussion in more expressive manner a sample reflection is presented underneath in regards to a final research assignment. The topic of the research conducted is Mental Wealth. The sample reflection is as under made by using the Gibb's Reflective Cycle.
Related Service: Online Assignment Help Melbourne
REFLECTIVE ACCOUNT
I am glad and very happy that I receive this huge opportunity to conduct research over the topic of Mental Wealth and upgrade as well as improvise my knowledge in regards to the same. Mental Wealth is an aspect concern with developing a positive and well appreciative environment or surroundings around people for their well-being and safe keeping of their mental stability. The research made me realise that the communities, regions and diverse population around needs to be made aware of Mental Wealth and its importance. Through the I will be explaining and going through my journey again over the research I have conducted and data collected through it. I chose this model of reflection as Gibb's Reflective Cycle is a major and one of the most effective tool to do so. The six stages of the model are as follows:
Description- I am pleased that I received this opportunity to make my research over Mental Wealth. My study which I have conducted is based on Quantitative research for which I have used Questionnaire for collecting reliable and most relevant results and information.
Feelings- The most obvious feeling which I got when I first got to known about my research topic is of motivation and high enthusiasm for my work and learnings. While conducting the research and most significantly while collecting data through questionnaire I felt nervous but my communication skills enabled me to be most effective and be very well communicated.
Evaluation- Through this study I evaluated that my communication skills and interactive practices are my strong suit. While doing research on Mental Wealth is also evaluated my weak points like inability to manage my time and work.
Analysis- By performing this investigation and completing the research I analysed the need for me to increase my time management skills. But otherwise my communication skills helped me in completing the assignment faster and attain the aims and objectives of the research.
Conclusion- It can be concluded by my side that while I was completing my research study I happen to be in need of several methods, skills and techniques such as primary and secondary research and so on which supported me and my research in being the best evident one.
Action Plan- This is the last stage of the model which reflects upon the changes and improvisation I will be making for better results in future. Thus, according to which I need to and willing to learn more in regards to develop better time management skills and be more productive in future.
Also Check: Assignment help Online