Capstone Project Assignment Help to Ease Your Writing Burden
Are you pursuing a business management course? If so, you are likely to receive the capstone project assignment writing task in your last semester. Many students often struggle to present their ideas and thoughts correctly, which restricts them from excelling in academics. It also spoils their chances of securing the grades they want. But, you need not worry; with our capstone project assignment help, you can fulfill your dream of scoring an A+ grade.
Our professional writers are qualified and experienced enough to provide unmatched assignment writing services. Thus, it is your chance to unload all your burden and release the stress by availing the best capstone assignment solutions from us. We make sure to include unique research materials in your capstone project so that your draft can stand out.
What Is a Capstone Project?
The capstone project is the last testing parameter on which every student is evaluated. Projects that are stated under this are designed to help students develop some skills like critical, researching, analytical, communication, writing, etc. In this, they need to address their solutions to the project's questions by finding better solutions progressively. It is a multifaceted assignment that specifically requires them to have an intellectual and culminating academic experience.
Generally, many students lack knowledge of how to write a capstone project assignment and invest a lot of time researching the topic. Due to the lack of knowledge of researching, they fail to extract the right information. It ruins their content's quality, and hence, they secure bad grades. Thus, they should focus on enhancing their research skills or can avail capstone project assignment help from experts to include the best information and draft a perfect capstone project at one go. Before knowing how to write a capstone project, you need to know about all the capstone projects.
Are All Capstone Assignment Projects the Same?
According to our capstone project assignment experts, all capstone projects experiences tend to be experiential. It implies that they involve unique and practical research or solving a real-life challenge using the expertise and knowledge you acquired throughout the degree program. The capstone project papers are found at the culmination of the humanities and liberal arts programs. Our capstone project assignment help experts also added that a business degree will require a capstone experience also.
1. Externally-Oriented Projects
Externally-oriented projects are the most common types of capstone assignments. In this project, students are required to develop a solution to any given problem. The problem can be imaginary or actual and linked to a corporate issue.
If you are assigned to this project, you can take capstone project assignment help or you can work on different stages by yourself, such as:
Gathering Information
Undertaking Analysis
Making Decisions
Managing Work-flow
Developing Professional-Style Outcome
2. Academic Inquiry Projects
Academic inquiry projects are the form of disciplines in which you need to develop an outcome appropriate to their research apprenticeship. In this type of capstone project, you need to explain every method used to conduct research and follow the university guidelines to ensure everything is on point. In simple words, you need to inquire about your capstone project assignment topic, identify the best method to extract the data, and draft a compelling assignment at one go.
3. Practice-Oriented Simulations
It is another capstone project assignment that students receive during the last semester of the course and at this stage most of them ask for capstone project assignment help from professionals. In this, they need to recreate the context and conditions to face all the challenges encountered at the time of solving the issue related to the topic. While assigning this task, the professor expects students to take on responsibility as if they were in a live practice environment. It is because these capstone projects are holistic and complex that need you to devote the right amount of time.
After understanding that every project varies from each other, now is the perfect time to know how to draft a capstone project assignment.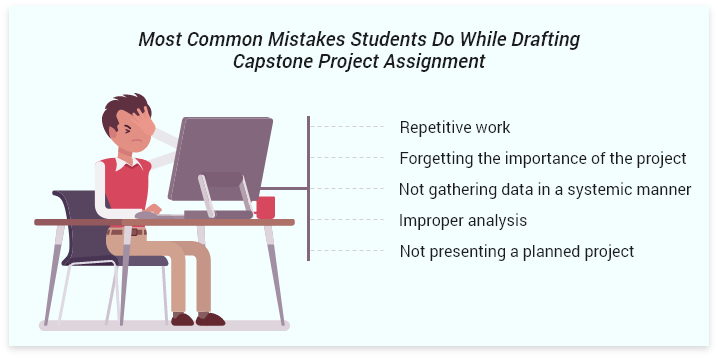 How to Write a Capstone Project Assignment?
While seeking capstone project assignment help, many students have doubts in their head that whether they will receive the document with as per their requirements. And having this thought is perfectly fine because if you are paying for the services, it is your right to ensure whether the work will be as per your expectations.
Our capstone project assignment writers suggest choosing a topic you feel the most passionate about. While capstone project assignment writing, you must demonstrate methodology which is appropriate to the subject. The topic must be of scientific and practical use, and the results of your research must contribute to it.
Here are a few critical points suggested by our capstone project assignment help experts that you should always consider during capstone project assignment writing.
The capstone project assignment should never be less than 45 pages in length. It can be around 10000-12000-word long and must include at least 12-14 sources.
Always demonstrate what you have learned and how you have implemented it while writing the capstone project assignment.
Make sure to use a chart of software to cite authentic references correctly.
Jot down every basic and major information related to the topic to take reference at the time of drafting.
Include a table of content, abstract, results, discussion, etc. to ensure proper flow of information from starting to the end.
These are a few things that you should not miss while capstone project assignment writing. If you are wondering about what steps to undertake to write the assignment, go through the succeeding section.
Step 1: Think of the Topic
Make a list of all the academic tasks that you have performed from the beginning of your freshman year. You also need to prepare notes and write down every idea you had generated during the lectures. Considering the notes will help you think of the topics that interested you and seemed manageable.
Here are some of the best ways provided by our capstone project assignment help team that will aid you to come up with a perfect topic.
Talk to your friends, family, and professors.
Focus on the topics that are connected to your life experiences.
Go through the assignments submitted by the previous batch students.
These approaches will help in finalizing a perfect and compelling topic for your capstone project assignment writing.
Step 2: Create a Capstone Project Assignment Proposal
Before initiating the draft, you need to submit a proposal. Most of the students lack knowledge about this proposal. Thus, the best capstone project assignment help providers of Global Assignment Help have shared detailed information that will assist in creating a proposal.
Explain the topic you have selected and why you want to draft your capstone project assignment on it.
Write about your experience or background, along with your knowledge of the topic.
Mention all the scope of information available and sources.
Tell about the research that you plan to do and what methods you want to use: evaluate a specific process, pick certain products, etc.
Set the aims that you wish to attain with this unique and interesting project.
If you want to write a broader capstone project assignment proposal, you must develop a methodology and literature review. You should include everything that will assure your professor that you are interested in the topic. However, if you fail to write an impressive proposal, then consider seeking capstone project assignment writing services from the best assignment help professionals.
Step 3: Gather the Required Data or Information
You should not miss identifying the sources and search for the required data related to your topic. Remember to look through textbooks from your course. You can even consider finding a list of suggested literature and use it as a basis for your capstone project assignment.
Other than this, the Capstone project assignment help experts recommend students to create a folder on your desktop and save all sources and links in one single place. All this will help you gather the authentic data and arrange it in the best manner so that you can extract it whenever required.
Experts Are Listening! Have doubts about academic writing? Clear all of them in a minute! Call the experts and get your answers immediately! Dial Now!
Contact Us
Step 4: Come Up with the Best Structure
As explained by our capstone project assignment writing help providers, the structure of every project varies form each other. It is better you logically divide every section of your project and focus on the requirements to complete them within the given time.
Here is a general structure of the capstone project:
Title Page
Introduction
Literature Review
Research Methodology
Conclusions and Recommendations
Reference List
Step 5: Prepare a Timeline
Since capstone project assignment writing is quite voluminous, you need to have good time management skills. The best approach will be creating a calendar with tasks and deadlines. Make sure to accomplish every task day-by-day and check the schedule over time. Sometimes, you can complete one task faster, while the other may take more time than the usual. Using organizers in your smartphone or computer to keep track of your progress every time will further prove to be of great capstone project assignment help.
Step 6: Begin with the Writing
In this step, you need to start writing. The basis of your capstone project assignment is the thesis statement, so make sure to come up with a strong yet narrow one. If it is too broad, you won't be able to cover all of the details. You can write your capstone project from any point you like. It means, if you are getting stuck at writing the introduction first, you have an option to write it later. Also, the Capstone project assignment writing services advise students not to forget stating the critical problem (or issue) and list the limitations of the study.
Step 7: Proofread the Entire Document
After finishing the writing part, your capstone project assignment is not done. According to our capstone project assignment helpers you need to invest the right amount of time and proofread the entire document to extract all the mistakes you have made. Initially, you need to go through the structure and ensure it is perfect. When you are done with the structure part, look for incorrect typos, grammar issues, spelling mistakes, and more. Along with this, you also need to ensure that the writing tone is academic.
And at last, format the content in accordance with the university guidelines to make it look neat and easy to understand. Ask someone experienced like your professors or seniors to look through your writing and get feedback.
Following these steps diligently will help you compose an excellent capstone paper. Besides, there are a few do's and don'ts that you need to consider.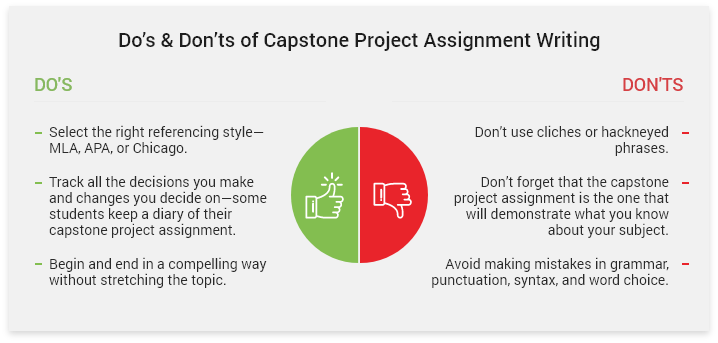 Why Should You Seek Capstone Project Assignment Help from Us?
We know that students have this question in their minds. Being the most reliable capstone project assignment writing service provider, While Working on a Capstone assignment, many students wonder " How to find someone who can solve my assignment for me?" and there is only one answer to their question, Global Assignment Help. We believe in delivering perfect quality content rather than speaking aloud that we are the best. When you look at the feedback section of our website, you will see that students who seek capstone project assignment help from our professional writers always secure an A+ grade. Here are a few reasons why.
1. Expert Writers
When you seek capstone project assignment help from our expert writers, we ensure choosing an appropriate topic that helps you make the perfect title as well. Our writers conduct in-depth research to collect all the required data. They always start the capstone project assignment writing with an appropriate introduction and include all the significant data.
2. Lucrative Deals
While seeking capstone project assignment writing services from us, you can avail some lucrative deals. There are several offers that you can get, such as:
Buying an assignment for the first time? Deposit only half of the actual price now and the rest later.
Avail 10% off on purchases made above £ 1000.
Book 4th order with 20% discount.
5% cashback on all orders.
Get 5 assignments at the price of 4.
These jaw-dropping deals can save some of your money that can be used later to seek help with another assignment.
3. 24*7 Customer Support
To help you resolve several problems that arise during your capstone project assignment writing, Global Assignment Help has come up with an excellent feature of 24*7 customer support. With this feature, you can know at what stage your assignment is right now.
After reading all the points mentioned above, we believe that you will certainly ask for capstone project assignment help from Global Assignment Help writers. They will not disappoint you in any way. We ensure delivering the quality content on time so that you can easily score an A+ grade.
- LATEST BLOGS -
Read Our Latest Assignment Blogs
By High Quality Assignment experts on university, academics, assignment, writing skills & tips, and many more
View More
What Our Happy Customers Have to Say?
Thank You Global assignment help for coming to the rescue. I was really worried about my capstone project submission as there were a lot of complications in completing it. Writers from your website helped me out and in no time I received my document. The cost was also reasonable and the best thing that I found was the referral policy. I asked my friend to buy a capstone assignment and got a decent discount on mine! TOO GOOD!

My capstone project assignment is too good, and I'm thankful to this website. It is because of their assignment writing service I delivered a perfect document in front of my professor. He gave me an A+ grade.

James B. Berry

Mccordsville

I had major problems while writing my capstone project assignment, my friend suggested to take assistance from here. I wasted no time and took help from their writers, they helped me throughout the document with such ease. I will always be thankful for their services.

Wilma D. Maldonado

Kansas
View All Review

You're currently in a different region!
To access content tailored to your location, choose/select service from the below list
Get Help