An Insiders Guide to Write an Appropriate Dissertation Acknowledgement
Table Of Contents
Saying thanks or showing gratitude has always been tough, as everybody cannot do it smoothly. Likewise, delivering a tribute to the supporters who helped you in the dissertation process is not everyone's cup of tea. So, if you are also struggling to draft a dissertation acknowledgement section, you are at the right place. This blog will equip you with all the specifications in this segment. So, let us walk you through the meaning and necessity of creating this section.
Dissertation Acknowledgement: An Overview
Dissertation acknowledgement is a crucial section that you need to include in your dissertation structure. In this section, you have the opportunity to thank and show your gratitude to the people who helped you in your journey of constructing the dissertation. In other words, this part is to acknowledge and thank all those individuals and organisations who have supported you both personally and professionally in the procedure of drafting a dissertation.
Now you might be thinking about why the dissertation acknowledgement section is necessary to include, as you can also thank them personally. So, it is because this will help you to publicly recognise the people who supported you, either in a tangible or intangible way. Although this section is not necessary and the document will not be evaluated on the basis of it. Moreover, it is there to show gratitude for your helping hands. In addition, this section is the announcement to the world to show this gratitude loud and bold. So, you must have got an idea about this section in brief, and then the next thing is to know how to construct it, so let us dive right in.
What to Consider in Dissertation Acknowledgement?
Here are some of the pointers that you must keep in mind while drafting it to make it appropriate:
Who to Acknowledge?
According to the experts of dissertation writing services, completing a dissertation is no less than winning a battle; therefore, you must thank everyone you think helped or supported you in the process. Generally, these people are the ones to include:
Professional Acknowledgement
There are some professional people who might have helped you in the process of constructing your dissertation mentioned below are some of them:
Chairperson
Committee Members
Sponsors
Funder
Editor
Colleague
Librarian
Supervisors
Classmates
Research Candidates
Personal Acknowledgement
There are some of the people who might have helped you in the process of constructing your dissertation mentioned below are some of them:
Friends
Family
Spouse
Pet
God
Previous Teachers
All these individuals fall under the criteria of the acknowledgement section. So, considering them all is not mandatory, you can add or skip some according to your needs.
Check the Requirements
It is a crucial step that you must take before working on this section. It is so because sometimes the university has a requirement for the number of pages or the word limit for the segment. It is why you should confirm and plan the section accordingly. In addition, there might be some limitations by the institute to not add particular persons in this section. For this, you can refer to the dissertation acknowledgements examples available.
Adding Humour or Not?
Although adding humour to your dissertation acknowledgement is not restricted, but you must check the requirements of your institute first. In addition, if you have permission from your professor to add humour, you must not include anything offensive in the name of a joke. Therefore, you must be very careful if you want to add a humorous element, as it can convert into something offensive without you knowing. To keep the track of it, you can seek help from the professionals of dissertation editing services.
Where to Add This Section?
The section will be added after the title page and before the abstract section. It must be created according to the guidelines and should not exceed the word limit.
These were the pointers you must not overlook in your acknowledgements of dissertation. Now, read ahead to perceive the process to make the section appropriate. 
In an Urgency to Draft a Perfect Dissertation for Scoring Well? Get Help from us.
Order Now!
How to Write Acknowledgement for a Dissertation
To create an acknowledgement section of your dissertation, you do not have to follow some strict guidelines and rules, but you must maintain a professional tone to make it appropriate. So, have a look at the basic steps towards impressive acknowledgement in dissertation:
This section is classified into three segments to make it easy for you:
Generate the Idea
The foremost thing that you need to do while going through the procedure of constructing this is to brainstorm. This is same as the dissertation proposal writing process. To do this, you need to think back and go through the previous time when you were working on this document and note down all the people who have supported you. Some of them will be obvious, like chair, professors, funders, and more. But some might be difficult to remember, such as specific classmates, friends, etc. This step is to ensure that you have not left anyone accidentally.
Grouping Individuals
In this step, you must have noticed that some names will have more importance than others. Therefore, in this step, you must classify them according to their dominance. For this, there are three categories that are:
In this group, you should mention all those without whom this document will not be a success. It includes the advisor, parents, spouse, best friend, and more.
In this category, you will be including those who have helped in the process to some extent. These are your flatmates, classmates, librarian, and anyone else who has guided you in the procedure.
It is the last category where you must thank all those who have supported you from the back end. It will be your pet, past professors, children, and more.
These are the categories into which you can divide all the individuals who helped you in your journey of constructing the dissertation.
Structure the Section
In this step, you have to start constructing the acknowledgement. To make it clear there are several dissertation acknowledgements examples to refer, here we have mentioned some of the words or phrases to make it easier for you.
Words to Use for Massive Thanks
I am extremely grateful to......
Words cannot express my gratitude to.........
It would not be possible without........
I would like to express my deepest gratitude to.......
Words to Use for Big Thanks
I am also grateful to.......
Many thanks to........
Special thanks to........
I would like to extend my gratitude to.......
Words to Use for Minor Thanks
Lastly, I would like to thank.....
I would also like to thank.......
I had the pleasure of working with........
I would like to recognise.........
So, these are some phrases you can use to acknowledge the individuals in your dissertation. With this, we have come to an end in the process of drafting this section as well. Move ahead to know the dos and don'ts to consider for this section.
Dos and Don'ts of Acknowledgement
There are several things you must do and some that you should avoid while drafting acknowledgements in dissertation. Some of them are listed below to help you make your document flawless:
What to Do?
Check all the guidelines provided by the university before you begin to work.
Ensure that you have included all the people who have supported you directly in the process.
Write the dissertation acknowledgement section in the first person.
Include the chair of the institute without a doubt.
Make sure to stick to the defined length of this section.
Mention the full names and titles appropriately of the professional persons.
Put your professional acknowledgements first, followed by those of other people.
Include the funded bodies along with what they have funded in your dissertation.
Use professional and formal language in this section.
What Not to Do?
Do not use slang or cliche words in your acknowledgement section.
Do not exceed the word limit provided by your institution.
Do not include individuals who only have a minor impact on the dissertation.
Do not mention random people to increase the length of the section.
Do not ignore anyone, especially professional acknowledgements.
Do not forget to add the title or designation while including professionals.
After getting along with all the necessities to draft an appropriate section, if you are still struggling somewhere, you can look into dissertation acknowledgements examples UK or seek help from experts. In addition, if you have any issues with the whole dissertation document, our experts will assist you in resolving them and provide valuable dissertation help as well. 
How Our Experts Construct the Perfect Acknowledgement? 
So, you are still confused about how to make your acknowledgements of dissertations a perfect section? If yes, you do not have to worry more, as the experts at Global Assignment Help are here to guide you. These professionals are trained in a way that can make your acknowledgement section appropriate, and not only that, they can help you with the entire document. Our team has experts who are well-versed in their specific fields and leave no stone unturned to make your work stand out.
So, what are you thinking? Grab the opportunity and make your dissertation acknowledgement segment a top-notch one.
Lowest price
USD 7.13
Get A+ Within Your Budget!
24/7 Customer Support
100% Customer Satisfaction
No Privacy Infringement
Quick Services
Subject Experts
Innovative Documents
FREE Tools
To Make Your Work Original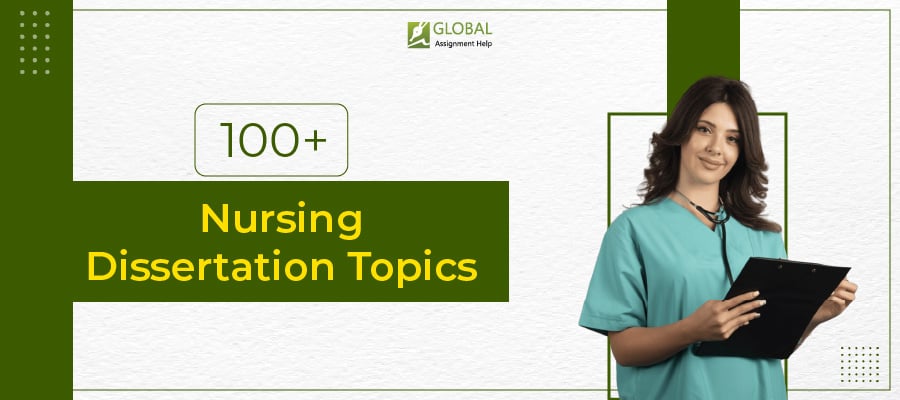 100+ Unique Nursing Dissertation Topics and Titles by Expert
23-09-2023
104
23 minutes