How to Create a Clear & Concise Abstract Page for a Dissertation?
If you have ever gone shopping on a street, you must have observed that the shop with the best display always attracts you. And you are most definitely going to enter that particular shop. This teaches one thing: appearances matter. And for your dissertation or any other academic document, that attractive shop is the abstract page. It is what makes the reader decide if or not they want to indulge in your research any further. As a result, the better your abstract page, the more likely your document will be read.Read this blog, which is perfectly written for you to make your abstract page a conceptual segment.
A+ Grades @Affordable Prices!
We deliver all academic papers from dissertations & assignments to thesis, & case studies. 5000+ satisfied students, you could be next! Place Your Order Now!
Order Now
What Is an Abstract Page?
There are so many ways to define an abstract page, but the way online assignment help experts have defined it is the best because it covers the gist of it. According to them, an abstract is a short summary of any long academic document. These long academic documents can be thesis, dissertation,etc.
An abstract aims at reporting, in a short and sweet manner, the outcomes of the research for the readers. It is supposed to be very concise, and that is why students have to strictly adhere to the word limit. That is in between 150 and 300 words, and not more than that.
Now that you know what an abstract is, you must know the reason behind including an abstract page in any academic document.
Purpose of Writing an Abstract Page
Students can often and very easily get confused while writing an abstract. They may find it similar to other sections like conclusions and summaries. But that is not even remotely true. An abstract page of a dissertation is aimed at giving its readers a precise yet thorough view of the document. To be even more clear, here is the main purpose of writing an abstract for any given academic document:
It is written to give the readers a brief overview of the research topic and the discoveries. The abstract page is where a reader can find out about the research in a wholesome manner without having to read the entire research. It communicates to the reader what the research is about and what were the key findings of the same. They can decide after reading this section whether or not they want to go through your document.
Writing a dissertation abstract is not just important for the readers and the professor, but also for the search engines. A search engine uses the keywords mentioned on this page to access your work and make it reach as many people as possible.
So, do not skim out on the process of creating an abstract page for your dissertation or thesis. Because without it, your academic documents will be like a display less shopping mall. And no one wants to go to a mall like that.
Different Types of Abstract Page
An abstract of PhD dissertation is supposed to be crisp and concrete in order to achieve its target goal of sensitizing the audience to the content. This could be achieved through different types of abstracts. Here is a list of various abstract pages for students to choose from:
1. Informative Abstract
In the informative abstracts, background, noteworthy findings, important points, research methods, the conclusion reached, and any suggestions are all detailed so that readers grasp the main points of the work before diving deeper. The length of these paragraphs is usually 250 words, but it can vary from field to field.
Every field may require different materials, but informative abstracts generally follow the following outline:
Paper's background and goal (e.g., why was this issue researched? Why should anyone be concerned?)
Points that make up the main argument or thesis
The methodologies or approaches employed in the research
Significant discoveries as well as how they could contribute to the wider debate on the issue at hand.
2. Descriptive Abstract
Descriptive abstracts give a high-level summary of the material by highlighting key topics and research techniques. They do not, however, convey major results, conclusions, or suggestions, in contrast to informative abstracts. And they are roughly 100 words long.
As a result, they are less useful than informative summaries in identifying the relevance of a work while performing research.
3. Critical Abstract
Critical abstracts, unlike the previous two, assess and/or analyze the article's results and provide a summary of the paper. Because of the analytical comments, these abstracts are usually lengthier, ranging from 400 to 500 words. They can also compare and contrast outside information, which informative and descriptive abstracts do not allow.
4. Highlight Abstract
Highlight abstracts are seldom utilized in academic writing since they are intended to pique the reader's interest in the work rather than serve as stand-alone summaries. Readers may not get a complete idea of a text's aim and significant conclusions.
It is basically like click bait titles that might not convey the theme of the write up but will most definitely attract the target audience for once.
There is not just one way to create an abstract page. Yes, that is very true; students can choose from different types of abstracts the one that best fits their research. The below section covers different types of abstracts. Have a look at it.
Not only that, abstracts could also be categorized based on the different referencing styles that you might end up using for the academic document. So, if you have used the APA referencing style, the abstract page will be built around and in accordance with its guidelines. All the formatting and structural rules will be as mentioned in the APA guidelines. Similarly, a dissertation abstract could be of the following types too.
The MLA (Modern Languages Association) System
Vancouver System
The APA (American Psychological Association) System
The Harvard System
The OSCALA
The MHRA (Modern Humanities Research Association) System
Oxford System
Chicago System
So, whatever style of referencing you have to use in your academic document, you can pick any type of abstract to go with it.
Now comes the most critical and important part of writing any kind of abstract page , i.e. the structure. So read the next section of this blog to figure out the same.
Students also like to read: Thing Students Need to Know About Dissertation Title Page
How to Write an Abstract Page? Here's the Structure!
Whenever you are trying to write an abstract, always keep in mind the purpose of doing it. Secondly, keep in mind the type of abstract you have chosen to write for your academic document. When you are clear on these two points, move forward to learning the elements of an abstract page. Mentioned below are the important components of any well written abstract :
Introduction
Research significance
Methodology
Results
Conclusion
Every abstract has to have all of the above mentioned components included in it.
The structure of an abstract page is nothing new, it simply follows the structure of your academic document and has to involve the following basic information:
Topic : Mention not just the topic but the background information and the context behind it. Mention the general topic or the wide theme and then the specific topic chosen by you.
The central question : The problem statement and main research question, which should be mentioned along with previous research on the topic and what you aim to unearth through your research.
Rationale : The main goal of your research and how it is relevant are outlined in it. Explain the importance of the chosen research topic and what it will add to the field of your study. Mention the research gap that you discovered, and how will you try to fill it?
Methods : Always make the readers aware of your research methods so that they understand the process.
Findings : Mention your results and findings in a precise manner (tabular).
Arguments : Explain the importance of your research findings and try to give possible solutions to the research problem.
That is all. If you stick to this structure, you are set to write an impressive abstract page of a dissertation.
Turn Your Abstract Page Into a Conceptual Piece/Segment
Every student can get the information about how to write an abstract or what is the correct structure of doing so. There are different websites explaining the relevance of writing an abstract. You can also easily find the different referencing styles and their specific guidelines for the abstract of PhD dissertation . What you will not get easily is the tips to creating this abstract into a masterpiece. Here are some things you can do in order to convert your abstract into a conceptual segment. This will lead to a good impression on the professor and greater grades for you. Keep these points elaborated by the experts of Global Assignment Help.
Always stick to the word limit. An abstract is supposed to be brief and concise. Refer to the guidelines issued by your university or professor. The word limit can vary depending upon the length of your document. But usually, an abstract is supposed to be 200-300 words long.
Make sure to follow all the formatting guidelines properly. This is supposed to be crucial because appearances matter in this type of academic document.
Do not use the abstract page of a dissertation asa place to mention the goals of the study or research that you are conducting. Instead, it is supposed to carry the findings or reveal the discoveries that this research led to.
Include keywords from your entire research in the abstract. Do not just focus on any single section.
Putting the abstract together could be confusing.So, simply follow the two step process:

Step 1: Write the section name and keyword
Step 2: Explain the same section in 1 to 2 lines.
Now keep repeating this process for all the other sections of your dissertation.
Do not make your findings vaguely listed in the abstract. Make a proper reference list so that all the outcomes are clearly feasible.
No one would ever mention this to you, but writing a dissertation abstract inthe beginning could prove to be very time consuming and might not even turn out to be the best abstract in your class. But if you write it after the completion of the research, you will be better equipped to create an authentic abstract.
So, no matter what anyone says, write your abstract page at the end.
Do not worry if you don't feel confident about writing the abstract yet. Go through the examples mentioned below and you will surely be ready to create a world class abstract page of a dissertation.
Examples 1
Examples 2
Experts Are Listening!
Have doubts about academic writing? Clear all of them in a minute! Call the experts and get your answers immediately! Dial Now!Contact Us
#1 Dissertation Writing Services in USA at Your Disposal
Writing a dissertation is no easy task. And students have to give all of their time and attention to this one project if they want to nail it right. And even then, they can face some issues that they might need assistance with. In that case, our experts in dissertation writing services have all the resources to help you out of your abstract issues. They have a team of PhD level experts ready to work on any and every problem that students might face while creating an abstract for their dissertation.
Below are some reasons why you should start taking assistance from these experts in order to create an exceptional and impressive abstract page.
Professional Writers- We have a team of dedicated writers to work on your documents. They have years of experience under their belts and know exactly how to deliver the best and most precise academic writing.
Timely Delivery- We have different people working on research and writing to create the best content for you both structurally and intellectually. This ensures there is no delay in delivering the requested order due to a process related causality.
Multiple Subjects Covered- We have experts in more than 250 subjects working with us. So, whatever course you might be enrolled in, we are always ready to help you. We can provide assistance with multiple subjects.
Affordable- Our aim is to try and help students as much as we can. And in that same pursuit, we have made sure that our charges are very nominal so that it doesn't become a burden on students.
Great Offers- On top of everything else, we have multiple discount offers for students to avail. This makes it even easier for them to access our services. A few such offers are:
Get 5% off on orders placed through the app
Buy a dissertation and get a proposal for free
Get 25% off on your first order
Get 20% off on the fourth order
Buy four assignments and get one for free
Simple Steps to Order- And the best part is, it is so easy to avail our services. We have a 3 step process for ordering any of our numerous services. Here are the steps:
Place your order
Make payment for your order
Receive your order
So, do not miss out on this golden opportunity to access the best help from top dissertation writing services in the USA.
Lowest price
USD 7.13
Get A+ Within Your Budget!
24/7 Customer Support
100% Customer Satisfaction
No Privacy Infringement
Quick Services
Subject Experts
Innovative Documents
FREE Tools
To Make Your Work Original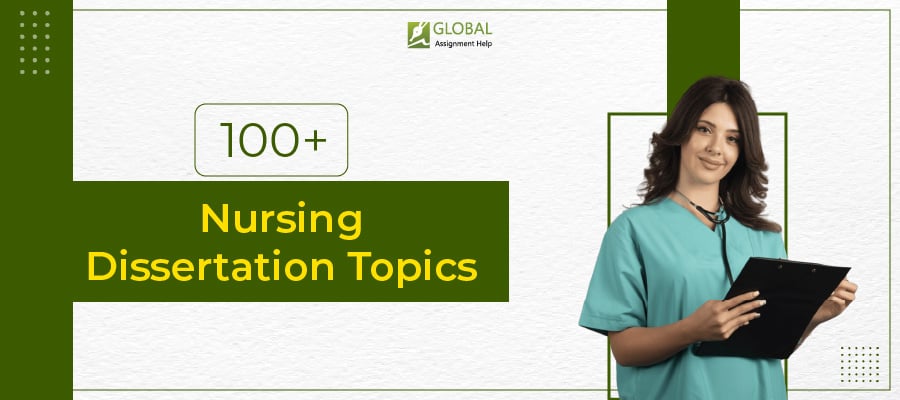 100+ Unique Nursing Dissertation Topics and Titles by Expert
23-09-2023
241
23 minutes