Know these 10 Contemporary Issues faced by Nursing Students
Being a nursing student is not an easy task. You need advanced theoretical knowledge of medicines, clinical theories, and concepts. Apart from this, tremendous efforts are needed in practice. This is because every nursing student has to complete an internship to achieve their degree. But, due to several challenges, many students lose hope towards the end. Well! Do not worry! This blog will discuss the 10 contemporary issues in nursing so that students can prepare themselves!
Why Is It Challenging for Nursing Students to Complete Practice and Study?
Before revealing the contemporary nursing issues, let us discuss their general challenges. One of the most vital problems for students is managing their time effectively. It is because, at times, nurses do not have a fixed schedule, and interns may have to work at night or in the middle of the day. So, these irregular work hours affect their studies and college lectures. Moreover, nursing students must write lengthy assignments and complete paperwork with their other tasks. It becomes a complicated process to finish all the work on time. Lastly, every student has to memorize grueling concepts and complex medical terms. All this makes each day difficult for an aspiring nursing scholar. Moving further, we will shed light on more contemporary issues in nursing. So, keep reading to understand such challenges in detail.
What Are the Contemporary Issues in Nursing Practice and Study?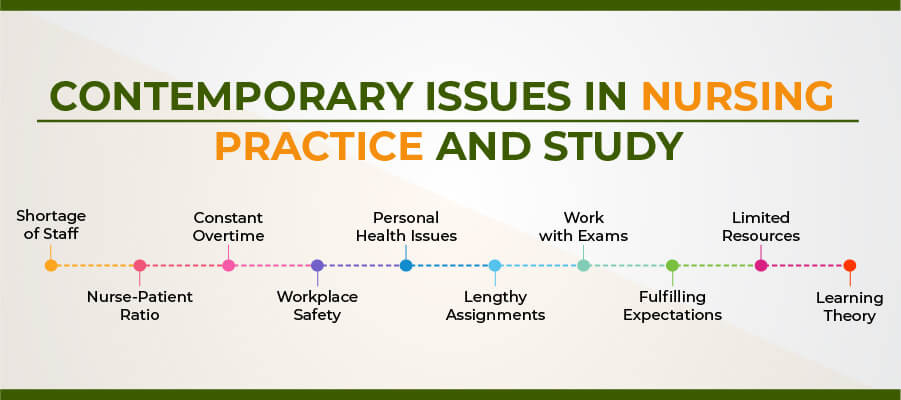 Now you know why it is tough for nursing students to complete their degrees. In the later sections of this blog, our nursing assignment help experts will discuss these issues one by one. So continue reading and keep taking notes!
Shortage of Staff
One of the biggest challenges for nurses is tackling the problem of staff shortages. Various students are completing their practice or full-time employed nurses have to work day and night. Why? This is because the hospitals do not have sufficient manpower and facilities compared to the number of patients.
These contemporary issues in nursing impact students' education as all their time is invested at clinics. Moreover, it also welcomes problems like stress, which in turn hampers their productivity at work. The best alternative for students is to speak to their employers and ask for enough rest time.
Nurse-Patient Ratio
The second contemporary nursing practice challenge is the lack of an adequate nurse-patient ratio. The USA is currently experiencing a healthcare crisis, especially since the pandemic. This is because the coronavirus and several other factors have critical and undermining effects on the nurse-patient ratio. Every nurse should handle an optimal number of subjects, why? It is because these medical experts need to perform various activities like assessments, and monitoring patients. 
Apart from this, they need to participate in administration activities and complete the document. Thus, when the number of patients is increasing and the nurses are short-staffed, it hampers the work and its accuracy. All this leads to chaotic management in the clinics and becomes a great challenge.
Constant Overtime
As discussed earlier, nurses are very short-staffed compared to the number of healthcare patients in hospitals and clinics. No medical institute can administer and function smoothly without the assistance of nurses. It is because these experts not only monitor the overall activities but also take care of the patient's food, medicines, and tests.
So, when there is a shortage of staff, these medical experts have to work double shifts, sometimes for 14–17 hours a day. All this affects their work-life balance. A prime contemporary nursing practice example is taking care of physically disabled patients. In such cases, these medical experts need to spend all day and night with their subjects.
Workplace Safety
One of the most critical contemporary issues in nursing is workplace security. It is because these medical experts come into contact with serious viral diseases every day. Thus, their risk of exposure is higher than others, and they have to provide personal care for them.
Apart from this, sometimes nurses have to experience workplace hazards and violence. Sometimes, the patient's family can curse or pose threats to the medical experts. All these situations can bring multiple challenges and are a rapidly current issue in nursing at the workplace. Thus, it becomes tough to manage things and smooth the work for the staff as well as the patients.
Personal Health Issues
Ignoring the personal health of medical experts is one of the most neglected contemporary issues in nursing. These nurses are exposed to some dangerous diseases every day. Thus, even after taking the utmost care of their health, it is normal for nurses to get sick. Apart from this, sometimes they have to experience rare cases that affect both their mind and body. Working on sick days and going through some traumatizing deaths and scenarios promotes personal health deprivation.
These medical experts can fall ill or have a mild fever, yet they are not allowed to take leaves due to a shortage of employees. Moreover, they must work double shifts, as the entire hospital management can take a toll in their absence.

Lengthy Assignments 
Nursing students complete their practice along with finishing their study program. These youngsters have to work single and double shifts at the clinic, attend classes and seminars, and manage their personal lives. On top of this, the professors expect them to write long nursing assignments on complicated topics.
Investing time in submissions on an already busy schedule is not an easy task. Due to this, students often seek assignment help, as online experts make the entire researching, drafting, and editing process easy. Yet, these academic papers, work shifts, and classes make a nursing student's life more challenging every day.
Work with Exams
Students' contemporary nursing issues often lie in managing work along with their studies. These young minds have so much on their plate with little to no time to spare. One of the prime challenges they face is working at the clinics day and night and preparing for their final exams.
These medical experts can neither risk compromising their grades nor neglect their work at the clinic. All this has a drastic impact on the student's personal life and even leads to problems like stress and anxiety. Thus, seniors need to acknowledge these contemporary issues in nursing and reduce their workload.
Fulfilling Expectations
Being a nurse is like being an all-rounder. Nurses learn theoretical concepts, complete advanced training, learn daily, and face healthy criticism despite their high performance. Apart from this, they manage the workplace, look after the patients and accompanying families, organize the staff routine, and conduct medical assessments.
Moreover, these medical experts sometimes work around 12–16 hours and serve as the right hand to doctors and surgeons in critical surgeries. Regardless of working hard, these medical experts fail to meet the endless expectations of their seniors. Thus, it is essential to resolve these contemporary nursing issues and to make the working lives of these experts easy. So, peers should understand that nurses are humans too, and cannot function like machines.
Limited Resources
The critical contemporary nursing practice issue is the lack of adequate nurses. This department of medical science obtains the minimum funds and has the maximum working requirements. Apart from this, there is a lack of faculty members, and experts have to perform under limited resources. All this brings several challenges to the workplace and affects management at hospitals.
Students are terrified of taking up nursing degrees due to inadequate medical placement opportunities. This is because good options are only available at the top nursing universities. Thus, many scholars have to compromise and adjust according to the available requirements at the clinics.
Learning Theory
Completing a degree in nursing is not as easy as it sounds. Why? It is because the concepts and theories of the subject are difficult to learn and memorize. Moreover, there are several subjects and modules, and each one of them comprises multiple topics. The course requires every student to be remarkable, as clearing nursing examinations is not a cakewalk.
Many students are afraid to conduct seminars as they have to complete surgeries even on their initial days. Moreover, tasks like cutting a frog, learning human anatomy, and memorizing complicated medical terms and uses have become part of the daily routine. All this makes a student's life much more difficult.
Until now, we have discussed the 10 contemporary issues in nursing and why they are challenging each day for students. In the last section of this blog, we will discuss how experts at Global Assignment Help can aid in resolving these challenges.
How Can Global Assignment Help Assist Nursing Students?
The academic writers at Global Assignment Help work day and night to resolve students' challenges. We know that our team cannot tackle all contemporary issues in nursing, but we can guide every academic problem. To learn more about our services, you can visit our website at globalassignmenthelp.com or read below for a crisp overview.
Editing Services

Proofreading tedious assignments can be challenging, but our experts can edit the document for you. So, submit an error-free submission and score the highest marks!

Research Help

It is difficult to gather credible and reliable data on complicated nursing topics. Well, you need not worry, as our PhD experts will source accurate information for you.

24*7 Availability

Our customer support is available all day and night for every nursing student. So, if you need help even at odd hours, contact us, and we will be there.

Doubt Resolution

Yes, we know that nursing is a complicated course. Thus, our doubt resolution services are available at every moment, and you can ask unlimited queries!

Drafting Assistance

Working long hours at the clinic and still completing lengthy nursing assignments on time is not easy. Thus, seek drafting assistance from us, and we will do it for you.

Customized Solutions

Every student faces different challenges while pursuing nursing. Thus, our experts offer individual assistance tailored to your requirements.
Contemporary issues in nursing are an emerging challenge for every nursing student. The college and personal lives of these medical experts become difficult. Moreover, completing the practice and study program has been a much more complicated process. Thus, understand the challenges and problems discussed above and be prepared to tackle them. Lastly, students can seek assistance from globalassignmenthelp.com for any nursing academic-related issues.

Lowest price
USD 7.13
Get A+ Within Your Budget!
24/7 Customer Support
100% Customer Satisfaction
No Privacy Infringement
Quick Services
Subject Experts
Innovative Documents
FREE Tools
To Make Your Work Original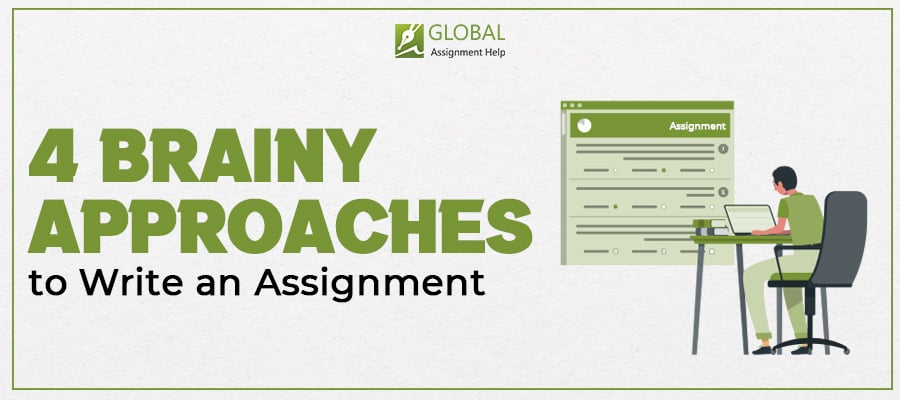 How to Approach an Assignment| Know the Top 4 Ways to Tackle It
21-03-2023
555
19 minutes