Introduction
The storage and information processing for an organization in form of a computer based database is regarded as a Management Information System. The operations which are performed by each and every level of an organization are organized and programmed into the form of a daily report (Scherer and Schapke, 2011). Furthermore, the possibility of formulating special reports is also possible. With such a system, the managers are able to obtain feedback about their own performance. This accounts to be the main purpose served by MIS.
Through the use of Computer-Based Information Systems (CBIS), top-level management is able to do monitoring of processes. This allows comparison of information related to the past, present and future of an organization. It involves the usage of software helping towards decision-making processes. CBIS comprises database, hardware resources, decision support system, people and project management applications, along with additional computerized procedures for enabling the various departments within an organization to run efficiently and effectively.
There are different types of functions that are carried out in the computer-based information system. These include collection, processing, storing, analysis and distribution of data with a agenda or motive for accomplishing the business objectives. Information systems are a major component of this entire environment. Business processes are easily executed when these types of working systems are implemented and aligned with company objectives.
Differentiation between structured, semi-structured and unstructured decisions
Structured decisions
Within this category, all three main procedures of data, process, and evaluation are included. This comprises of routine based decisions that are taken on a regular basis. As contextualized by Tipton and Nozaki, (2012), whenever the management of an organization has to come across a problem then, they are able to get a more clear cut & effective solution with the help of structured decisions. These decisions are very much focused on finding the key solution to a problem. In order to take structured decisions, the Management Information System emerges out to be an effective tool. It can be analyzed that the methodology involved in determining and finding a particular solution towards a problematic situation in case of structured decisions is very well formulated and further executed. They are generally taken by a firm's lower management and staff on a daily regular basis. This category of decision is very well straight forwarded.
Semi-structured decisions
According to the statement given by Laudon, Laudon, and Brabston, (2011), this category of decision comes under the influence of somewhere in the middle of structured & unstructured decisions. While carrying the procedure of making decisions, this category requires the involvement of some sort of judgments from other people. In addition to this, agreements are also being made with respect to the final solution towards the problems within an organization. Semi-structured decisions are generally used by the middle management level.
Unstructured Decisions
The decisions coming under this category account to be very occasional along with the uniqueness in their nature. No such predefined procedure is there for solving these problems, which leads to a conclusion that, for every occurring problem, a new analyzation procedure has to be followed. The higher levels of management often address situations where unstructured decisions have to be taken(Unit 127 - Spatial Decision Support Systems, 2010). These also involve a high level of complexity within them. So, keeping this in mind, no already tried or true methods are available in order to handle them. Furthermore, they involve a much high-risk factor within them.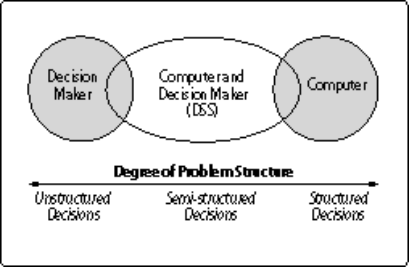 Figure 1 : Different types of decisions
(Source: Unit 127 - Spatial Decision Support Systems, 2010)