Question :
This assessment will cover the following questions:
Exhibit an understanding of the topic.
Study and report the annual cost structures (by reported cost category), revenue sources and profitability of Air New Zealand for period 2012-2017
Study and report on current financial position of Air New Zealand.
Examine understanding of Air New Zealand key financial performance drivers for the period 2012-2017.Use this data to estimate financial performance of airline for next five years to 2022.
Critical analysis of pertinent literature and extant research.
Answer :
Organization Selected :
NZIA
Aircraft maintenance
When aircraft is ready to fly then maintenance check is a major activity which needs to be done. It can be considered as an inspection which is required to be done periodically. This operation is categorised into four parts. These checks are enumerated below:
A-Check:It is a most common maintenance check which is generally occurred over midnight at hanger. This check takes almost 20 to 50 hours in completing the task. This is performed after 500 to 800 hours of flight. This check is done for the sake of security purpose of passengers.
B-Check: This check is very rarely performed as this task is mainly done in every 4 to 6 months of time period because it is very time consuming activity (Dantas, Oliveira and Repolho, 2017). This maintenance requires large human efforts as almost 150 workers are needed to perform this type of operations. This check can be performed within 3 to 4 days of efforts. Therefore, B-Check is happened once in a year.
C-Check: It is very complicated check which is performed after long duration of time period. This task is very complexed it requires large group of people in completion. This is performed in every 2 years. It takes more time than A & B maintenance check. It requires almost 6000 hours of man power efforts in completion of the task which takes over 2 weeks of time.
D-Check: It is very heavy maintenance check which can be performed within 5 to 6 years of duration and this is a major task which involves comprehensive inspection of all the function in aircraft.
These activities needed to be scheduled according to their maintenance checks because proper scheduling will be helpful in completing the tasks on time. This will be resulted in effective operations and hence it will be efficiently performed by crew embers. Most commonly used maintenance check is A &C. Both of these checks are done on a regular basis at the time of flight rotation.
A+ Grades @Affordable Prices!
We deliver all academic papers from dissertations & assignments to thesis, & case studies. 5000+ satisfied students, you could be next! Place Your Order Now!
Order Now
Flight planning-
It refers to planning of schedule, cost, route, etc. in order to run smooth operations. The planning is done between tow routes to identify the distance, fuel costs, etc. this gives a brief idea about how much time will it take, number of passengers travelling and many other things. this is done by collecting a lot of data and information. Also, it is very important to develop plan so that customers can be attracted. In aviation industry, the main elements on which company focus is cost, time involved and distance between routes (Cao, Lv and Zhang, 2015\). Companies engaged in this sector emphasis on developing effective schedule and estimating cost. This is because in recent time customer wants to travel at cheap rate and in minimum time. Moreover, the competition in aviation industry is based on ticket fare. So, it is main reason why organisations prepare schedule between routes. Due to this passenger are able to take connecting flights between destinations. There are several elements which is taken into consideration in flight planning. These are as follows :-
4.1 Route map and network schedule
There are number of airlines that travel from New Zealand to other destinations. Also, there are several competitors that exists in airline industry that is as follows :-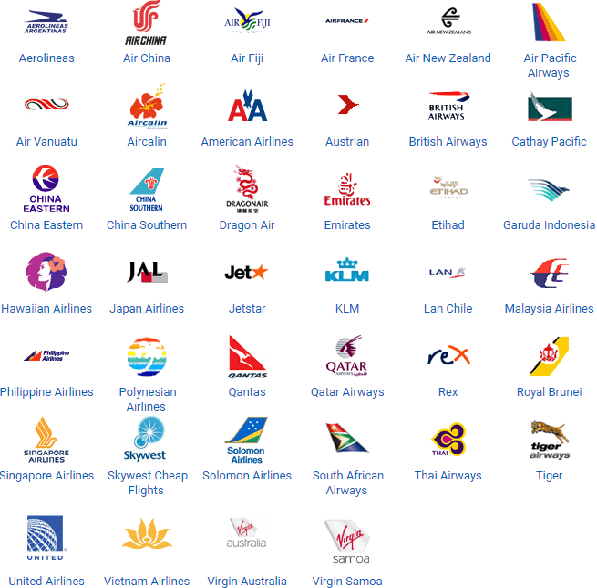 Airlines Flying from New Zealand
In this competitive world when every aircraft is performing so well with the best quality services so it may takes a time to compete in a market. Since in this modernised world may new designs are introduced with fair prices which will be helpful in maximising the growth. So upcoming aircrafts are providing the efficient services of 9000 km with non stop speed in order to increase capacity and frequency of flying jets. The routes of flights are designed to provide services by covering most popular countries of world. Direct flight routes from Auckland are described below:
| | | | |
| --- | --- | --- | --- |
| Destination | Distance | Duration | Turn Around |
| Jakarta | 7665 Kilometre | 10 hours and 10 minutes | 1 hour 50 minutes |
| Ho Chi Minh city | 8854 Kilometre | 11 hours 10 minutes | 50 minutes |
| Kula Lumpur | 8703 Kilometre | 11 hours | 1 hour |
| Tokyo | 8810 Kilometre | 11 hours 10 minutes | 50 minutes |
| Taipei | 8871 kilometres | 11 hours 10 minutes | 50 minutes |
These major routes will mainly cover north Indonesia, Vietnam, Taiwan, japan and Malaysia. These destinations will be served to large passengers of these countries. In spite of these, one more flight is provided at the time of any emergency situations so that passengers do not have to wait for any journey in order to arrive at destination and timely maintenance can also be performed (Jorge-Calderón, 2016). These non-stop route maps are more efficient which covers destination within the shortest span of time and this is a major advantage of NAZIA that it is more efficient flight than other Aircraft.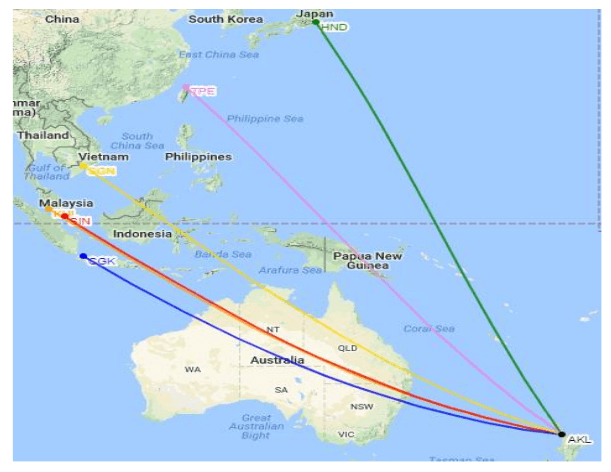 These routes of NZIA are managed according to the timings of other flights and passengers of this flight arrive to the destination before any other airlines arrives at that particular destination. For instance, NZIA flight will be scheduled at 11:55 pm while Malaysian airline is scheduled at 1 hour late at the same destination. NZIA airlines also provides nominal rates of tickets then other airlines by reducing at least 50$ of an economy.
NZIA couldn't retain US and European networks and this is a major drawback because if this flight will cover these regions then it would be hardly possible to again reach back to hub within 24 hours so that next scheduling will be managed (Choi, 2017). Present network of these flight schedule timings and distance is explained below:
| | | |
| --- | --- | --- |
| Areas | Distance covered | Timing of flights |
| Auckland- Nadi | 2127 kilometres | 3 hours and 10 minutes |
| Auckland-New Caledonia | 1804 kilometres | 2 hours and 45 minutes |
| Auckland- Cook Island | 3009 kilometres | 4 hours 15 minutes |
| Christchurch-Sydney | 2140 kilometres | 3 hours and 10 minutes |
| Auckland- Wellington-Christchurch | 493+306 kilometres | 1 hour and 10 minutes+ 55 minutes |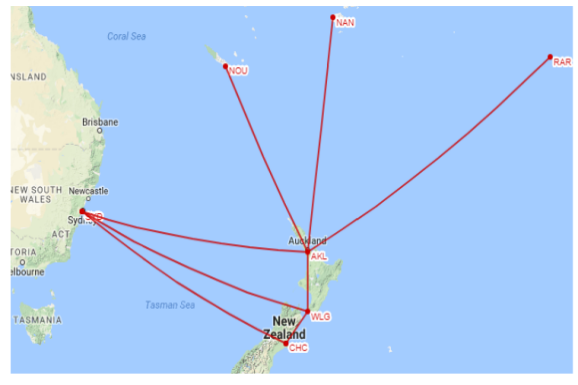 These routes are currently covered by 10 aircraft and some of these airlines are operated with a limited frequency and this will be operated using new destinations by connecting available airlines in these routes. In present scenario, Fleet has to cover a order of 20 Boeing and it could not be possible with 787-9 fleet. So new aircraft are designed to maximise the load factors and high capacity with non-stop delivery of passengers to different destinations. When fight have adopted to change the frequencies this will be resulted in exploring new Australian destinations which are as follows: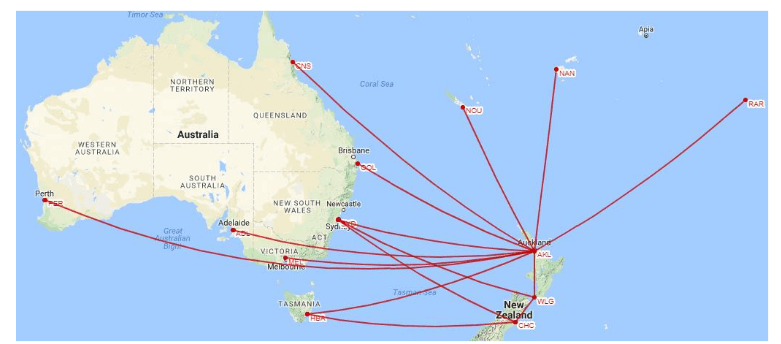 These expanded fleet will be resulted in large network connections and fights will cover new destinations' step by step after maximising the capacity of airlines. At the time of continues rotation of aircrafts, it is required to check the system maintenance properly and resolve the issues of engine but it is not possible that flight scheduling will be cancelled. So there are alternate airlines are replaced to provide timely services to passengers at that particular time period. In this case, flight scheduling is planned according to alternative stopovers in order to circulate major destinations (Mallikarjun, 2015). Replaced fights which design new sectors to cover the distance according to their capacity and improved frequency are as follows:
| | | | |
| --- | --- | --- | --- |
| Sectors | Total flight time | Total Turn Around Time | Frequency |
| AKL-PER-AKL | 14 hours | 1 hour | 1 service |
| AKL-NOU-AKL-MEL-AKL | 13 hours and 10 minutes | 3 hours | 1 service |
| AKL- NAN-AKL-RAR-AKL | 14 hours and 50 minutes | 3 hour | 1 service |
| AKL-SYD-AKL-HBA-AKL | 13 hours and 20 minutes | 3 hours q | 1 service |
| WLG-SYD-WLG-MEL-WLG | 14 hours | 3 hours | 1 service |
| CHC- SYD-CHC-OOL-CHC | 13 hours and 20 minutes | 3 hours | 1 service |
Various sectors are planned for the optimum utilisation of aircraft in order to connect large Australian destinations. Although, a new route is also established which covers Tasmania. This have resulted in increased capacity. According to seasonal demands of tourist passengers, the routes from Auckland to gold coast, cairns, Nadi and Hobert are also provided which are aimed at increasing frequency of passengers. The management team also developed a plan for expanding the terms of leasing to five existing fleets and this are provided in exchange of five other aircrafts to leaser.
Related Service - Paper help
Revenue production and Airfare Structure
New route implementation will attract the new passengers and it also increases competition among different airlines. NZIA had also offered a fare price tickets which are totally differed from the price of competitor airlines in the month of January 2018. It will also helpful in gaining the highest load factor from customers in order to provide nominal price of tickets and efficient services and it will be resulted in expanded and powerful aviation network (Ivanova, 2017). Below described table will help in understanding the prices of competitor airways, which are as follows:
| | | | |
| --- | --- | --- | --- |
| Destination | Best competition | Ticket prices of competitor airlines | NAZIA ticket fares |
| Taipei | Cathay pacific | AU$ 1183 | AU$ 1133 |
| China | Malaysia airlines | AU$1485 | AU$1435 |
| Malaysia | Air new Zealand | AU$1366 | AU$1185 |
| Tokyo | Air new Zealand | AU$1465 | AU$1290 |
| Ho Chi Minh city | Malaysia Airlines | AU$1386 | AU$1315 |
| Singapore | Air New Zealand | AU$1268 | AU$1165 |
The above table will describe the nominal fares which are provided by the NAZIA airlines therefore it is proved to be more efficient than competitor companies as they ask for maximum fares and they might sometimes delay the travellings of passengers (Cook and Billig, 2017). NAZIA is also proved as more effective because it covers non stop long distance with a minimum time.
Product offerings
New Zealand International Airlines have also established 3 new travel classes at long -Houl international routes. Main priority of the NZIA is to provide comfort to passengers. These airlines have introduced three travel classes namely Cullinan, Sancy and Kohinoor. These brand new travel classes can be defined as follows:
CULLINAN: This can be referred as "Comfort Above the clouds". It mainly represents the economy class passengers. These generally includes the benchmark seats which provides an extraordinary degree of comfort. These seats are made by best lightweight material in which economy class passengers are served with good services and even this allow the customers to stream their own devices. These benchmark seats includes RECARO that is CL3170.

SANCY: This class is mainly designed for premium Economy Classes. It provides luxeries comfort to passengers (Gubenko and Ksenofontova, 2015). Here RECARO PL3530 seats are generally available in NZIA which offer a functionality of adjustable seats with extra storage and flyers which opts these types of class are provided with additional amenities and arrival services (Airline Operation Management – IATA, 2018).
KOHINOOR: It can be generally used by business class passenger. Travellers of this brand class are facilitated with full of luxury services and desirable comfort. Here passengers are served with lavish business lounge services, insight dinning facilities, in-flight entertainment, amenities and arrival lounge etc. Most popularly approachable class are business class.

RECARO is mainly a major point which more customers than Qantas and British Airways. In 2018, British Airways have ordered almost 9000 RECARO seats. Staff management of this airways is planning to change seat supplier in replace of lightweight and compact design of RECARO seats.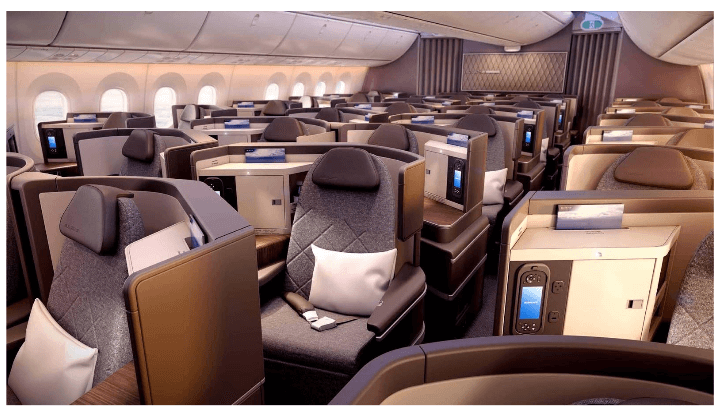 Qantas is also using RECARO seats which offer the comfortable sitting and luxuries to customers. They are planning to develop this type of RECARO structure for Premium Economy class. CL6710 is provides the very good facilities of full flat bed with very good living space (Feng, Li and Shen, 2015). One can feel comfort and easy isle access.
Frequent flyer program
Brand new Flyer program is introduced by NZIA which is named as Zea Flayee. In this program customers are able to earn Zeamiles in exchange of every expenditure on travelling. Aaaaaas these flights are expanding the aeration network over miles of distance in this situation every Airline is implementing new programs and strategies to attract large number of passengers. Competitor airlines are offering new ticket purchasing deals to customers so that it can increase their frequency and in order to maximise the load. It mainly consists of three classes which are as follows:
Gold ZeaFlyer:
Silver Zeaflyer:
Platinum Zeaflyer:
NZAI is also introducing limitted offer concepts of seats so that passengers grab the deals and in order to increase the travellers of the aircrafts. Zea Upgraded Offers are established under the membership of ZeaFlyer in which customers are given nominal tickets and fare price tickets to experience business class services. These types of strategies are also helpful for aircrafts to achieve desired output with top- quality services in order to gain attention of people (Mohideen and Rajak, 2015). This is also helpful in improving public relations with airlines and this will be resulted in public trust and increased load factor on New Zealand international airlines.
Experts Are Listening!
Have doubts about academic writing? Clear all of them in a minute! Call the experts and get your answers immediately! Dial Now!Contact Us
Preflight services
Customers are generally travel in airlines with the common expectations to experience comfortable and memorable journey. So when aircraft management provides luxury services to customer then get more attracted by this type of treatment in flights. So NZAI provides very good preflight services to customers which are as follows:

Luxurious Business Lounges: Airways are planning to introduce own lounging system in upcoming years. So in this situation Qantas and sigapore Airlines have already owned these lounge services which are typically operated by private companies.

NZIA is planning to start up own lounge facilities at their different destinations across the world. This offers business class passengers of NZAI to get best experience in flights. So NZIA is planning to establish business lounges in multiple stations such as Auckland, Sydney and Singapore.

You may also like to read about - Understanding of Different Analytical Models - Hook Norton Brewery
REFERENCES
Cao, Q., Lv, J. and Zhang, J., 2015. Productivity efficiency analysis of the airlines in China after deregulation. Journal of Air Transport Management. 42. pp.135-140.
Choi, K., 2017. Multi-period efficiency and productivity changes in US domestic airlines. Journal of Air Transport Management. 59. pp.18-25.
Cook, G.N. and Billig, B., 2017. Airline Operations and Management: A Management Textbook. Routledge.
Dantas, T. M., Oliveira, F. L. C. and Repolho, H. M. V., 2017. Air transportation demand forecast through Bagging Holt Winters methods. Journal of Air Transport Management. 59. pp.116-123.
Feng, B., Li, Y. and Shen, H., 2015. Tying mechanism for airlines' air cargo capacity allocation. European Journal of Operational Research. 244(1). pp.322-330.
>