Why you need to write assignments
Why you need to write assignments - an expert's perspective
As a mentor, I feel sorry looking at the distraught condition of students who think assignments to be a demon lurking on them in the dark of night. I want my students to have better understanding of why they need to do assignments. Hopefully, this write-up can help them think good about homework and may encourage them to put their best foot forward while working for their coursework.
Assignments are your excuse for learning
Yes, my dear students, I give you assignment only to help you learn. We are not here to judge you in bad light or to make you feel uncomfortable in front of others. But, all we need you to do is learn. Is it really possible for you to absorb everything in one go? I think, not unless you are a born genius. When you take up a course, you come across various such topics that you have not thought of before. So, by way of writing assignments, you get an opportunity to revise and perfect a topic.
You write assignments to sharpen your skills of expression
Writing is one of the best ways of expressing. It is actually voice of introverts who find it difficult to address large audience. I have observed it many times that a student does great in writing an essay but actually shivers when any lecturer asks him any question.
So, why not sharpen your way of expression if that is the only communication tool that you use to convey your thoughts? I hope after reading it, next time you will write not to meet the deadline, but to express your idea or knowledge intelligently.
Do assignments to give definite structure to your learning
If you think that guidelines are meted out to suffocate you, think again! There are loads of information pieces spread all around you in the form of books, classroom notes, journals, past research work etc. So, how will you use all of these at one place in a readable manner? Well, the answer lies in - 'assignments'.
If you do assignments as per the structure, it helps you in understanding the flow of information. Knowing something and knowing something in an organized way are two different things. When you find some piece of information knit in a flow, you will find it easy to comprehend as well as memorize.
Last but not the least, you write assignments to check your knowledge
Instead of just taking a test at the end of the session, if you are given assignments on a regular basis, it can help you in learning the topics better. The idea is to make sure that you do not forget everything and also that you get chance to see how much you have understood. Thus, by writing assignments on time, in a well-structured manner, you get to know your level of learning and accordingly you can plan your learning path for future.
Summary: Learn why your mentor gives you assignments and what he wants from you
Lowest price
USD 7.13
Get A+ Within Your Budget!
24/7 Customer Support
100% Customer Satisfaction
No Privacy Infringement
Quick Services
Subject Experts
Innovative Documents
FREE Tools
To Make Your Work Original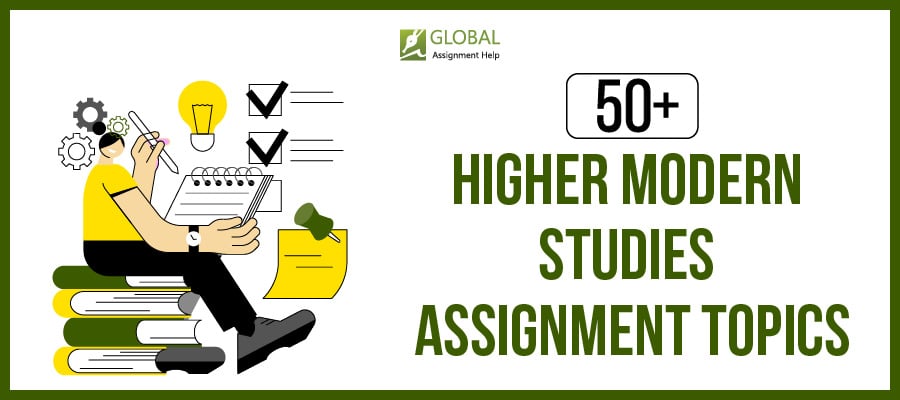 50+ Higher Modern Studies Assignment Topics to Ace Your Paper!
26-09-2023
117
13 minutes