6 Efficient Ways to be a Successful College Student
College is one of the most thrilling and great experiences you will ever undergo in your life. But that certainly doesn't mean it is easy. Success varies from one person to another, but a great academic career is a chance to learn what you want in life, and thus you are expected to do well in class, take part in extracurricular activities, have independence and prepare yourself for the future. There is no secret recipe to be successful; everybody does it differently in their own unique style. The professionals providing assignment writing help to the scholars have listed some ways for succeeding in college.
Attend your classes regularly
The first and foremost important thing that you can do to succeed in college is to attend your classes on a daily basis. This is where you get to learn new lessons, grow as an individual and make new friends. It will also help you make a good impression on your professor. Don't skip the class unless it is genuinely required.
Build effective study habit
Studying is a crucial part of the college to become successful. At least spend two hours a day to learn your lessons. Find a quiet place and avoid distractions to keep your concentration intact on your studies. Group studies with your classmates can also be helpful in reviewing your notes and reading the textbook for each session.
Set an academic goal
Your academic goals will help you to be focused on what you want to achieve in life. Your objectives don't have to be the same as someone else's. Try to be realistic when you set them and balance them with your other goals as getting through college is not all about securing A+ grades.
Participate in student activities
Students should get involved in campus clubs and events. Try to find activities that you enjoy. It is the best way to meet new people and make friends. You won't always be able to follow your passion and enthusiasm in the class, thus should take part in various extracurricular activities.
Take proper care of your body
If you want to be successful in college, then you'll need to take good care of your health. Eat breakfast regularly, avoid junk food, drink lots of water, eat fresh fruits and vegetables, take proper nap are a few essential things that you can follow to maintain your body and health. Moreover, indulging in exercising and physical activities such as cycling, gymming, running, etc., will help you to stay fit and active.
Look for internships or other professions
Try to find something that will help you gain valuable professional experience for your future, build self-esteem and survive in the real world after graduation. Check if there is any such opportunity available in the campus. This way, you can learn teamwork, responsibility, money control and management and also, professionalism.
College is a time when you can learn new things both personally and academically. Going to college can be exciting and enjoyable time, especially if you are focused and committed to being successful.
We hope you found this blog interesting to read, and if you do, then don't forget to share it with your colleagues and friends.
Global Assignment Help is a leading online assignment writing provider in the US, UK, Canada, UAE, Malaysia, Australia, and New Zealand. We assist the scholars with their essays, dissertations, assignments, homework, research papers, theses, etc. So contact us right away and get assured of excellent grades. Have a beautiful day!
Lowest price
USD 7.13
Get A+ Within Your Budget!
24/7 Customer Support
100% Customer Satisfaction
No Privacy Infringement
Quick Services
Subject Experts
Innovative Documents
FREE Tools
To Make Your Work Original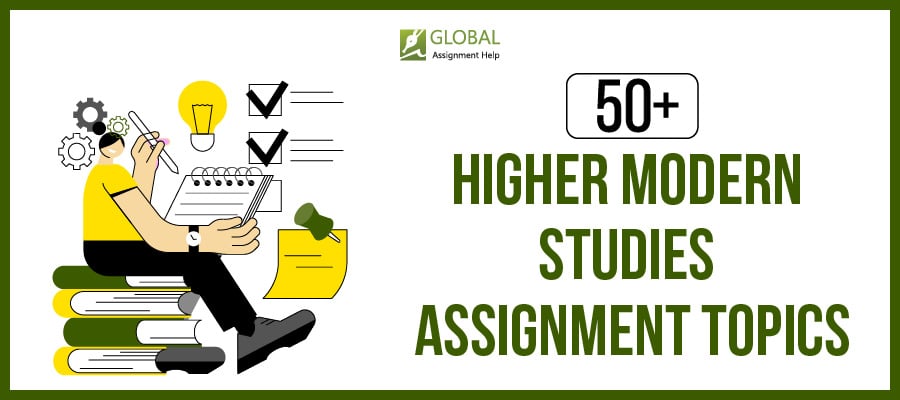 50+ Higher Modern Studies Assignment Topics to Ace Your Paper!
26-09-2023
143
13 minutes