5 Time-Saving Tricks for Future Marketers
Working in the marketing sector has become quite tough nowadays. You will never have enough hours in the day to carry out other activities apart from the job. To make use of your every precious time efficiently, you will have to make some changes in your daily routine. So, here is the list of five tools and tricks which can be beneficial for marketing students.
Time Management
Being a marketer, the best way to track down your time spent on each task during the day, then you will have to maintain a time management sheet. Do any task and mark how much time it is taking on that sheet. It will just take two seconds and will save your time to remember what you did and how long it took at the end of each day.
Online Meeting
You can't be available at two places at the same time, but the marketing sector will require this and people will expect this from you. Doing an online meeting will be a handy tool to make it possible. You can do it through video calling or screen sharing. It holds various other features like at the same time you will be able to show your presence to many people, and you can record its audio as well as video so that you can watch it later if you will need it.
Offline Saving
It's very common that during working hours you may find some important articles, videos, and data but won't be able to read or watch them due to lack of time. You need not worry for that because whenever you find something important on the web but don't have enough time to view it, save it offline or mark it to watch it later. You can watch it anytime even without an internet connection. It will utilize your working hours as well as it will make use of your free time and generate something productive.
Prioritize Properly
It's very crucial to figure out what to do and when. Many marketers don't focus or have a clear direction of what they are trying to do. Prioritizing is knowing what's more important, and to which task one should focus more in comparison with others. Prioritization doesn't mean only working according to deadlines. Your goal with prioritization should always be doing the job that maximizes customer base and utilizes your every second.
Take a Break
While focusing on all the tricks listed above most importantly, don't burn yourself out. When you reach that point where you become clueless about what to do now, it's the sign that you are quite tired. In that case, take a small break and reevaluate your deadlines. It will improve your capability when you get back to work. New researches have also proved that deactivating and reactivating your goals allow you to stay focused. So, it's better to lose 5-10 min in your work than investing worthless hours on it.
It's very rightly said that time and tide wait for none. So, every one should utilize their every second in a productive way. For that, they should make a proper schedule, prioritize things accordingly and always take a break when in need. These all will turn them back on the track and make a successful marketer. Adding on, we also understand that being a marketing student, it's very tough to make time to learn and apply these practical skills. Your assignment must be coming your way. You need not worry as our expert writers of Custom assignment help provide customized service
Lowest price
USD 7.13
Get A+ Within Your Budget!
24/7 Customer Support
100% Customer Satisfaction
No Privacy Infringement
Quick Services
Subject Experts
Innovative Documents
FREE Tools
To Make Your Work Original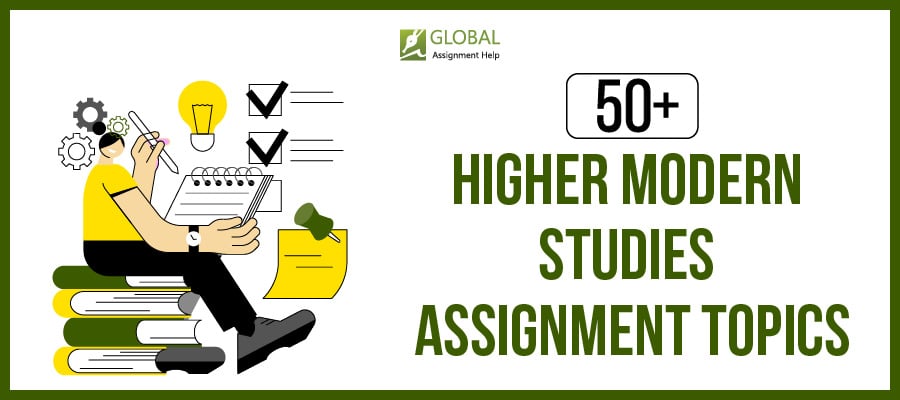 50+ Higher Modern Studies Assignment Topics to Ace Your Paper!
26-09-2023
119
13 minutes