A Detailed Guide on How to Write a Report [Example Included]
It was a late afternoon, a boring lecture was going on, and I was lost in my thoughts. Suddenly I felt chalk hit on my head, and the next moment, my professor was shouting, "Kevin, Are you sleeping again in my lecture? I need you to write a report along with an essay on the same topic and submit them by Monday." Oops! Now, How to Write a Report? What Do I Do? I Need Help!!!
Is your concern the same as Kevin's? If yes, then Voila; You are on the right page! Here the professional writers of Global Assignment Help have provided a detailed guide on report writing. So, let's dive deep into the topic and learn more about it from this blog.
What Is a Report? | 3 Main Types of Reports
A report is a simple factual paper that is used to write about any topic along with a provided solution for the problem discussed on that topic. In simple words, this is a well-structured document following proper format to present the results of any investigation or analysis on the chosen topic. It includes a careful study of the topic, analysis of the problem, a brief into the history of the topic, and recommended solutions to that problem. There are three major types of reports, which are:
1. Academic Reports: As the name suggests, this is used in the academic field to present the results of the study, experiment, or analysis conducted on any topic given by the professor.
2. Business Reports: The business reports are used to publicly present financial, operational, and economic data of the organization or company. This is used to get a clear picture of any particular processing in a company.
3. Technical Reports: This is a crucial report prepared after scientific study. This is done to present the process, progress, or results of the research done on any topic.
These are three major types, but the most commonly used one for students obviously is academic writing. So, now, let's know about the report format that needs to be followed for the same in the below section!
A+ Grades @Affordable Prices!
We deliver all academic papers from dissertations & assignments to thesis, & case studies. 5000+ satisfied students, you could be next! Place Your Order Now!
Order Now
Report Format: 11 Elements to Include in It
If your professor has asked you to write a report suddenly, you get stressed and worry about where to begin from, right? So, here's a hack! Follow this simple structure and do not miss these must-have elements of a report to give a kick-start to your writing:
Title Page - This is used to provide basic details of the student working on the Report and the title of the Report. This is the first page of the document.
Table of Contents - Here, you include a table of all elements in the document along with headings, sub-headings, and page numbers.
Executive Summary - It is a section where the student presents a brief of the document from the purpose, topic question, approaches, and result.
Introduction - This is the section where the topic of the Report is established, and a detailed idea of what to expect from this document is given.
Literature Review - Here, a background is set on the topic covering details such as the existing research and information on this subject.
Methodologies - It is the section that includes a list of different methods used in the research process along with how and where to use them.
Findings - This is used to include all the findings on the chosen topic considering the methods used to research and collect information.
Discussion - In this section, one can discuss the researched topic and explain in-depth what couldn't be explained prior due to the word limit.
Conclusion - Here, you can finally provide a conclusion deriving a result based on your research and analysis on the given topic for the reader.
Recommendations - This is used to provide recommendations of sources that could be referred to by the reader if they want more information.
References - It includes a list of all the sources that are referred to by the student for collecting in-depth information on the chosen topic.
These are the eleven important elements to be included in a report. Now that you know these, you can easily draft an impressive document. But if you are still wondering how to write a report example, then the below section can help you in clearing your doubts.
Students also like to read: Pharmacology Lab Report: How to Make a One That Earns You A+
How to Write a Report? [Example Included]
Here are some simple steps that our assignment help team follows whenever they are asked to write a report. Hope these can be helpful for you as well. So, let's check them out!
Step 1: Know Your Needs
The very first step, to begin with, is to know the needs and requirements of your professor and the task so that they can be met properly without a miss.
Step 2: Have a Handy Plan
The next step is to have a handy plan which you can easily follow so that the outcome of the process is satisfactory and completely stress-free.
Step 3: Prepare an Outline
Now the next step here is to prepare an outline. When you have a clear outline to follow, there are minimum chances of you missing anything.
Step 4: Analyze Data & Findings
The next step is to analyze the data that is researched through the process and read the findings found to ensure that the results are appropriate.
Step 5: Edit and Submit
The last step here is to edit and submit the Report. While editing, make sure to check for all types of mistakes and remove them so that it is flawless.
These are the five simple steps following which can be helpful for students in drafting an effective report. Now that you know how to write a report, let's take a quick look at the example on same below before moving on to the tips that can come in handy to you in the next section.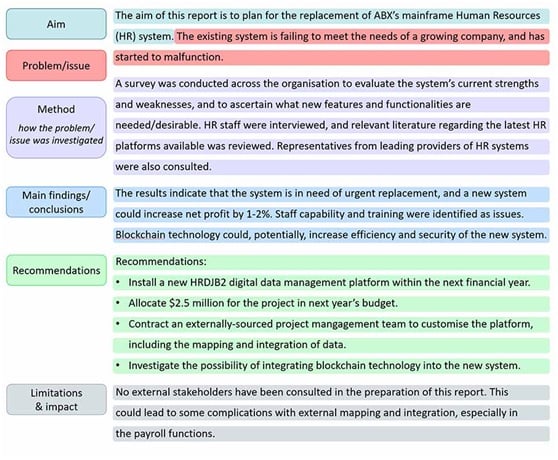 8 Helpful Tips for Flawless Report Writing
Here are some helpful tips for beginner students that can be quite handy in avoiding stress and drafting an amazing report:
Be Audience-Centered
Don't Underestimate Planning
Stick to Only One Font
Use Numbered Sections
Block Your Time Slots
Experiment with Elements
Focus on Proofreading
Use Headings & Sub-Headings
These are some tips our report writing help providers never miss on and the skills they developed over time that bring them closer to success. If you want to know more about our services or how we can help you with report writing, then check out the next section!
Take Report Writing to Next Level With #1 Help
Who doesn't want to score better in academics, and how can one miss out on that opportunity? So, here's how you can take your Report writing to next level with the best assistance from our online research paper help providers. Wondering how we do it? Here's the secret!
We have a team of professional researchers, writers, editors, proofreaders and quality analysts who give their best efforts to deliver top-notch quality service to you. The assignment help expert team uses their years of experience in this knowledge and expertise in delivering you the best document. This all-together will help you in scoring the best grades by impressing your professor.
So, take out enough time to focus on other important activities and leave your academic struggles to our experts. Reach out to us NOW and get started!
Lowest price
USD 7.13
Get A+ Within Your Budget!
24/7 Customer Support
100% Customer Satisfaction
No Privacy Infringement
Quick Services
Subject Experts
Innovative Documents
FREE Tools
To Make Your Work Original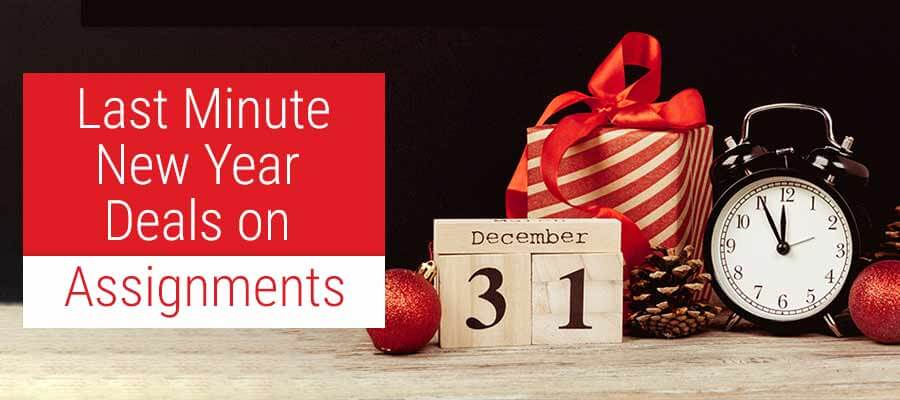 Exciting New Year Deals And Discounts on Assignment Help 2023
29-12-2022
1022
5 minutes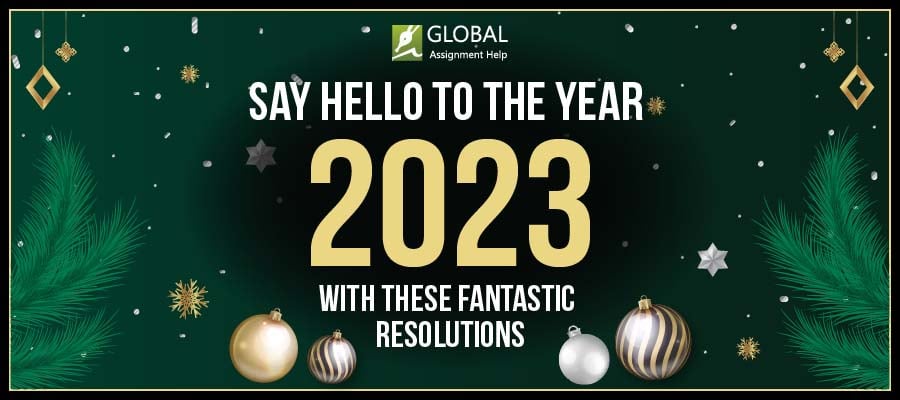 A Helpful Guide For Students To Setting New Year's Resolutions
28-12-2022
256
13 minutes