Definition, Differentiation, Types, and Examples of Dependent Clauses
Many students are dependent upon their parents, siblings, and friends. Similarly, in English subjects, there is a dependent clause that depends upon the independent one. If you leave dependent clauses hanging in the content, surely your reader will get confused. It is likely a headphone that is utterly useless unless you connect it with your electronic devices. On the other hand, the dependent clause or subordinate clause is connected to the independent clause to make a valuable sentence.
However, many students are there who do not know about the dependent clause. Therefore, in this blog, we will expand our knowledge by getting the perfect definition, differentiation, types, and examples. Continue reading to learn more about them.
A+ Grades @Affordable Prices!
We deliver all academic papers from dissertations & assignments to thesis, & case studies. 5000+ satisfied students, you could be next! Place Your Order Now!
Order Now
Define the Term "Dependent Clause"
A dependent clause is a group of words that does not explain the complete sentence. However, it only consists of a subject and a verb, so it does not convey the intended message.Moreover, it is a clause that does not express any meaning when used alone. However, if the independent clause is attached, it adequately gets the meaning. It is just a part of an entire sentence that is comprised of a few words. Now, you must have got what is a dependent clause. Let's move further to understand the difference between an independent and a dependent clause.
Understand the Distinction Between the Independent and Dependent Clauses!
Independent vs dependent clause: Every student wants to know how they are different when they are used together in the same sentence. Well it's not true. There is a major difference between them. Let's have a glance at it.
An independent clause: It is a clause that contains a subject and a verb and explains the entire idea. It can stand alone.
A dependent clause: It is a clause with a subject and verb that does not express a complete idea. A dependent clause cannot stand alone because it needs a group of others to be defined completely.
Now, you must have got the differentiation between the independent and dependent clauses. So, let's gain some more knowledge about dependent clauses by knowing3 types.
3 Types of Dependent Clauses You Should Know Before Writing Your Essays!
Dependent clauses fall under three categories that make your essay writing more effective. So let's read them.
Noun Clauses: Noun clauses typically function as direct objects. They are used when the subordinate clause in the sentence replaces a noun that contains a subject and verb.
Adjective Clauses: An adjective clause, also known as an adjectival clause or relative clause, is a type of dependent clause that gives extra information in a sentence. They are used within the independent clause to modify a noun or noun clause and phrases in English.

Adverbial Clauses: The relative adverbs "where," "when," and "why" provide additional information about a place, time, or reason. When the sentences use relative adverbs that begin with an adjective clause, it converts the nouns or noun phrases.
These are the types of dependent clauses that help the students make the sentences more effective. Now, you must have understood how different types of subordinate clauses are used in sentences. But if you need more clarification, read this blog further and you will learn an interesting dependent clause example.
Interesting Dependent Clause Examples to Get It Better!
Now that you have understood the types of dependent clauses, you must be eager to know how the sentences are framed within these types. So, you should have a glance at them by reading further. Let's get started.
Noun Clause
Whatever you like.
Who let the small cat out of the basket?
Whatever makes you delighted,
Whether he can drive the car that far
Adverb Clause
I can't wait for the taxi, so
Then his sister can
Until the sun sets.
Whenever you decide to pay us a visit,
Adjective Clause
That I sold him.
Who is intelligent?
Whose writing intrigues you?
Where I went to elementary school
These are some of the examples for every type. Now, you must have understood the dependent clause perfectly. But are you one of those who needs someone to help you write the paper? If yes, you surely need the experts of a leading academic writing company.
Experts Are Listening!
Have doubts about academic writing? Clear all of them in a minute! Call the experts and get your answers immediately! Dial Now!Contact Us
Want to Learn More About the Dependent Clause? Ask the Experts!
If you think you want to learn more about the dependent clause, you can resort to our Global Assignment Help experts. Our professional writers will make you understand what a dependent clause is with interesting examples.
These experts, apart from being the writers, have expertise in various subjects. So, if you need assignment help in UK on the dependent clause, call our writers. After all, you can't lower your grade because you don't understand a simple concept.
Here are some excellent reasons why you should take help from our writers:
Timely Assignment Delivery: The experts make sure that you get the document on time so that you do not face the late submission tag on your paper.
Unlimited Revisions: Many students have this query that what if they are not satisfied with the document. Solution for this query is that they can get unlimited revisions. You can call the experts and ask them to make changes at any point of time.
Transparency: It is impossible for students to believe the experts. But now, after coming to our website, you can see all the services, reviews, and offers that are provided by us. We ensure that there is nothing to hide from the students.
Quality Control Norms: Writing quality content in a paper is a dream for many students. But now their dreams can be fulfilled if they come to us and get the paper. Our writers have many years of experience. So, they know how to write the documents with high quality.
Seamless Transactions: We will encounter issues that can complicate things. We have a customer service programme that aims at providing easy transactions of money for getting your assignment.
24*7 Help: You will never find us offline! We are ready to help you at any point in any given time. So, come to us and get your paper within the time frame.
Also Check: Why assignments scare you?
So much to snatch away! Yes, we provide all these perks to the students. So, look no further and come to us to impress the professor.
Lowest price
USD 7.13
Get A+ Within Your Budget!
24/7 Customer Support
100% Customer Satisfaction
No Privacy Infringement
Quick Services
Subject Experts
Innovative Documents
FREE Tools
To Make Your Work Original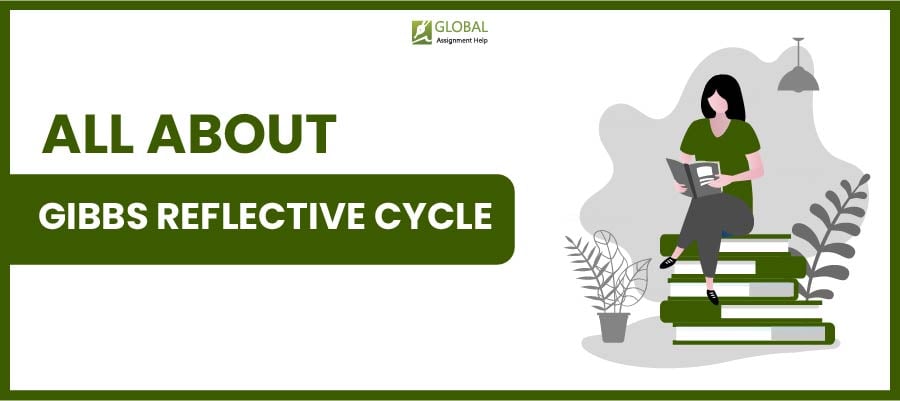 What Is Gibbs Reflective Cycle in Nursing? An Expert Overview
21-08-2023
1736
13 minutes